Ghulam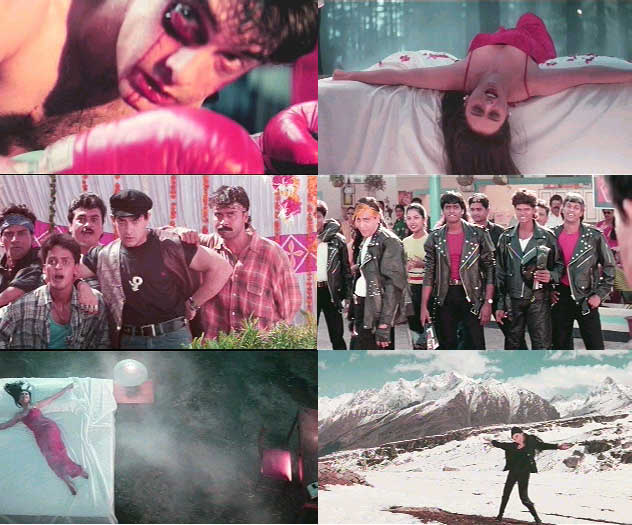 ---
Directed by Vikram Bhatt
Music: Jatin Lalit; Lyrics: Sameer & Indeevar
Year: 1998
Running Time: 165 minutes
Bursting to the seams like an overstuffed grab bag of 50's film nostalgia, Ghulam spills over with nods to territory from On the Waterfront to the Wild Ones to West Side Story and finally to a Shane like showdown. With the long sideburns, motorcycle gangs, leather clad beauties, youthful angst and games of deadly chicken the film revels in its retro feel like a greasy diner hamburger and surrounds itself with a thick explosive level of Indian melodrama. Like many Indian films, it shifts quickly from a light romantic beginning to a dramatic action packed finale, but what really pulls the viewer along throughout are the energetic and highly personable performances from Aamir Khan and the dreamily beautiful Rani Mukerjee. Their dramatic and musical scenes shimmer with sweet chemistry and underplayed sex appeal.

Aamir (Siddharth) is a carefree scamp and a small time thief who makes merry with his small band of followers – like grown-up Artful Dodgers - who sing and dance their impudence on the streets of Bombay. Sometimes though a reluctant Aamir is brought in by his brother to help the ruthless neighbourhood crime boss, Ronnie, by using his fast fists to intimidate certain people. Aamir doesn't really like this side of his life as it conflicts with the humanitarian message that his now dead father tried to impart to him – but his loyalty to his brother makes it difficult for him to say no. This moral conflict will widen and become too painful to ignore as the film progresses.

A run in with a motorcycle gang headed by Deepak Tijori and his tight leather attired glam girlfriend, Rani (when she takes off her helmet and shakes her hair it is one of those movie moments), leads to a game of chicken in which Aamir and Deepak run head on at an oncoming train to see who jumps first. I am sure it wasn't as dangerous as it looked, but somehow they made it look incredibly real with Aamir barely getting out of the way of the train – and it is shown from two angles ala Jackie Chan. His courage wins the respect of the gang but even more importantly some quality time with Rani – who turns out of course to be slumming from a wealthy family – and when he climbs up to her penthouse window from the outside – she is as good as his.

After her drunken father expresses his rage, the two of them go for a walk outside and Aamir cheers her up by breaking into "Aati Kya Khandala" that is a classic song and dance number (which Aamir actually sings as opposed to a playback singer). It's a wonderfully simple but effective number – just the two of them alone on the street at night kept company only by the streetlights above – and they sing back and forth to one another and break into a playful jig, a waltz and other dance styles. This popular number got a comical replay in Kabhi Kushi Kabhie Gham when after finishing the "Shava Shava" number Amitabh breaks into the song, forgets the lyrics and Kajol yells them out to him – and Shahrukh does the lit match thing with his tongue to copy Aamir's ending to the song.

Things don't stay light for long as Aamir is pressured to throw a boxing match (I could have been a contender) by his brother – and stubbornly takes an undefended horrific beating in the ring and then is forced by circumstances to stand up to the ex-boxing champ and now major thug Ronnie for his honor, his pride and to save his neighborhood from his tyranny. In a drag out knock down brutal mano y mano fight with the town's cowered citizens looking on, Aamir fights for his life and for his love. Much of the film may seem cliché driven, but it's done with so much verve and good spirits that it is difficult not to get sucked in.

Though "Aati Kya Khandala" is the outstanding number, all the songs are very solid but what I most appreciated about them was Rani's absolutely alluring presence – as she sizzles, soothes and gives off sexual vibes in a number of the songs. She has rarely been lovelier then she is in this film and though her role comes and goes during the film, it is Aamir's understandable fascination with her that drives his moral change.

My rating for this film: 8.0
---