Jaane Jigar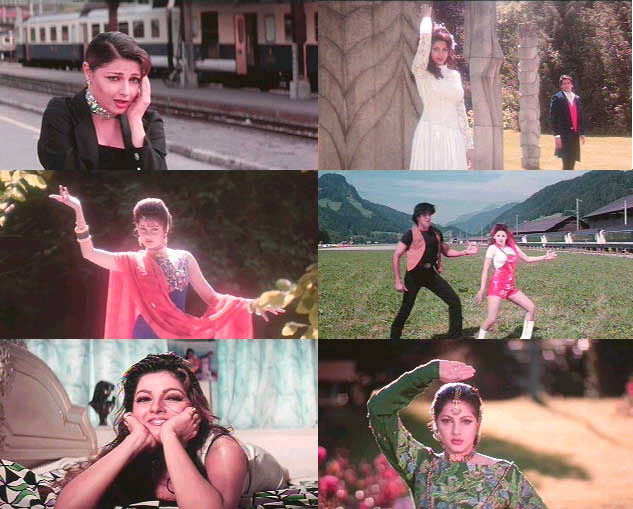 ---
Reviewed by Jack Sobjack
Director: Arshad Khan
Music: Rajesh Roshan. Lyrics: Javed Akhtar
Year: 1998
Running Time: 175 minutes

There's only one thing I want when I watch a movie – to be entertained. That's it. And simply put, Jaane Jigar entertains…and then some. Romance, action, likeable characters, great songs, vengeance, tragedy, sacrifice, revenge, redemption and honor are what you'll find in this film. Plus there's Mamta! One look into those dark eyes and I was hooked.

Ravi (Ayub Khan), a famous singer, and Vijay (Manu Bedi), an underground tournament fighter, are good friends (I actually thought they were brothers for half the film) that both find love in Mamta Kulkarni. Mamta plays two roles as Meena and Meenu. Now the film never really goes into any detail as to whether they're twins separated at birth or just two beings that look exactly alike and have very similar names. The back of the dvd case says something about clones but whatever. There's no mention of that in the film and you shouldn't rack your brain trying to figure it out. The whole dual character is very common with Bollywood films. "Don," for instance, is a classic example. Both characters are identical but aren't related in any way. Bollywood is very big on this. So you should probably treat Jaane Jigar the same way.

Anyways, Meena (whom resides in India) is the apple of Ravi's eye, while Vijay falls head over heels for Meenu (from London visiting India). The amusing thing is the way both Meena and Meenu stalk their potential love interests. Let's just say these weren't chance encounters. But regardless, Ravi and Vijay fall hard.
Just when you think things are going great for all that's when the film does a 180 and kicks you in the face. Rival singer, Monty, isn't too happy with Ravi stealing not only his fans but the woman his father wants him to wed as Meena's father is quite wealthy and Monty's father wants his share of it. So father and son scheme to kidnap Meena and extort her father's wealth but things don't go as planned when they mistakenly kidnap Meenu. I dare not reveal anymore for two reasons: 1) I'd prefer not to spoil it. 2) Things get so twisted and confusing I'd end up pulling my hair out trying to explain it. However, I should mention a bit about Jackie Shroff. His character doesn't appear until the middle of the film but his character, Jai Kishan, plays an important role and has a vested interest in Vijay. Jai (Jackie) is kind of like a modern day robin hood. Disgusted with the way the wealthy suppress the poor; Jai bullies the rich snobs whom are nothing more than sniveling weasels when push comes to shove.

There are some excellent songs in this film. In fact, I liked every song but my favorite is song #5 "Bhangra Pona Aa". It was a thrill seeing such a mass of people dancing along with the music and Jackie looked like he was really enjoying himself. Song #6 is a nifty rendition of the Eagles "Hotel California. It's too bad the soundtrack isn't available on cd.
I highly recommend you check Jaane Jigar out. It has a little something for everyone. I had a blast watching it and I think you will too.

My rating for this film: 7.5

---