Taal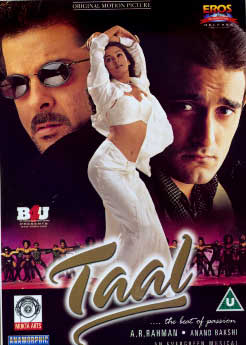 ---
Director: Subhash Ghai
Music: A.R. Rahman, Lyrics: Anand Bakshi
Year: 1999
Running Time: 173 minutes
From the opening magical musical dream sequence Taal spills over you in ravishing colors, glorious images and hypnotic rhythms like a warm luxurious rainfall. The story is simple and fairly well trodden in Indian films, but Subhash surrounds it with stunning style, magnificent musical interludes and the iridescent beauty and breathtaking presence of actress, Aishwarya Rai. This is the film that made me want to explore Bollywood films further, that shattered my misconceptions of what a Bollywood film was like. With sumptuous production values, wonderful settings, thrilling cinematography it has more energy and dazzle than I have witnessed in a while.

As I mentioned the story is a simple one – boy and girl fall in love but one of the sets of fathers doesn't approve and it appears that all will go badly but true love wins . . . or does it? There are a number of interesting aspects to this simple story that go deeper than it might appear. Akshaye Khanna (a well liked and respected actor in India, but I have to say I thought he was a bit of a twit) is the son of an extremely wealthy businessman (Amrish Puri) and he and the family visit their country home for a holiday. While walking through the countryside he chances upon Aishwarya and her two sisters dancing in the rain like goddesses of nature having a momentary fling on earth. I think it was in this musical number that I became an Aishwarya fan for life as she is beyond stunning in her white dress and the camera lingers on her every move, her every expression, her every stretch like a cat with cream on its face.

It turns out she is a local girl and her father (Alok Nath) is a well-known local singer and songwriter. In a series of intimate conversations and smoldering eye contacts the two fall in love – but of course Akshaye's family doesn't approve of his love for such a common girl. Father and daughter visit the family in Bombay to get their blessing, but instead are humiliated and driven away – and Akshaye misjudges what has happened and breaks off his engagement.

Enter the incredible Anil Kapoor as an entrepreneurial music showman who spots Aishwarya and signs her up as a singer. His egotistical on a buzz high-powered performance is mesmerizing and watching him slowly soften in his newfound love for Aishwarya is a revelation. Aish becomes a huge star and Akshaye watches her in melancholy on TV and promises to win her back. At this point though who are we suppose to root for – the rich boy with the pained expression on his face or the charming and charismatic if somewhat manic Anil.

Aishwarya is a former Miss Universe (1994) and her exceptional beauty will hit you like a truck. Though she is often criticized for being too cool on the screen (and off), none of that is in evidence here as she is toasty warm with large luxurious green eyes that will immerse you in tenderness. Though her character is given less of an edge than the others, she gives a terrific performance and her dancing routines are fabulous. When she appears seemingly from nowhere dressed in white dress and halter, bare midriff on display and her hips swaying seductively to "Ramta Jogi" you will be reaching for a lifeline.

Enough cannot be said about how great the music is – every number is excellent and the songs have a lot of variety to them and you will be humming some of them for weeks afterwards. The numbers are also extremely well integrated into the storyline and push the narrative as opposed to slowing it down. Taal means the beat – the beat of your heart, the beat of life, the beat of rhythm and music here brings it out to perfection.

My rating for this film: 9.0
---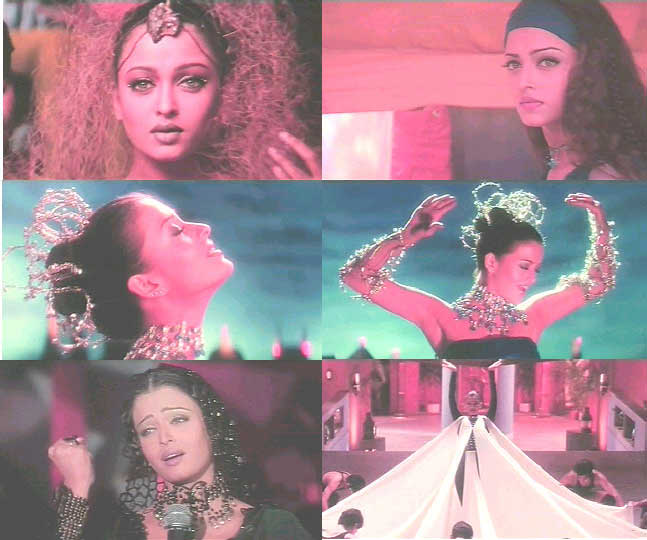 ---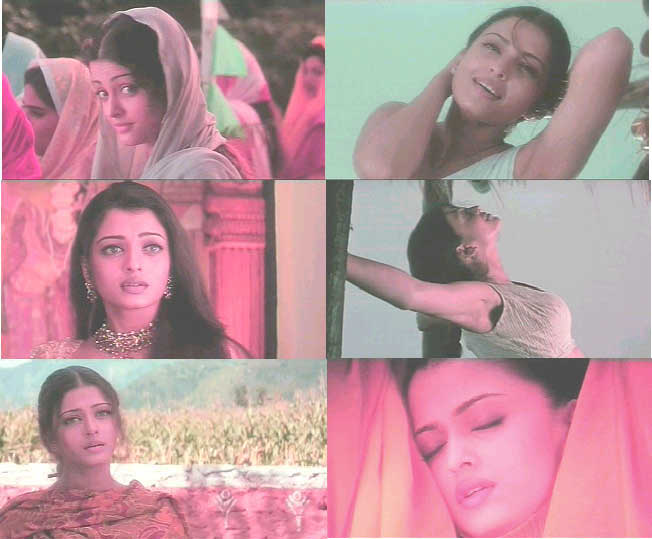 ---