Aa Ab Laut Chalen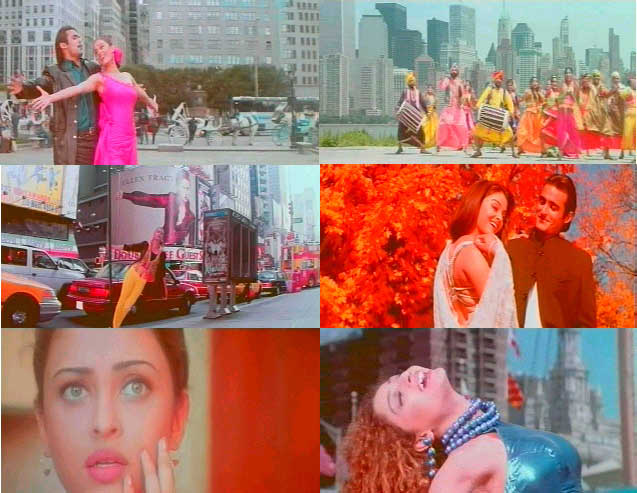 ---
Director: Rishi Kapoor
Music: Nadeem Shravan
Year: 1999
Running Time: 2 hours 56 minutes
I have clearly not been spending enough time in Time Square or Seaside Heights or the South Street Seaport because that's where Bollywood is happening in New York! This is little more than a trifle of a film and apparently it did so badly at the box office that it seems to have brought the RK Studios to a hiatus, but being a New Yorker I have to say I took more pleasure than perhaps I should have just seeing Aishwarya Rai dancing down the boardwalk on the Jersey shore and strutting up Broadway. Now where the heck was I when this was all taking place!

And that's nothing compared to how incredibly cute Aish looks in her Dunkin Donuts uniform – pulling down her short skirt to hide her legs while simultaneously trying to cover the cleavage that is being displayed. Odd, how I had never noticed how enticing those Dunkin Donut uniforms are! If Aish worked in the Dunkin Donut store near my workplace I hate to think how much rounder I would be getting. In fact I would sadly not be so different from the other Americans in this film who are all basically portrayed as lechers lusting for this pure Indian damsel! That's when we are not mugging people of course.

The film begins in India where Akshaye Khanna (who also starred in the same year with Aish in the far superior Taal) is unable to find a job and is enticed by a childhood friend to go to America to strike it rich. Once there though, Akshaye discovers this friend runs a cheap pay by the hour hotel and is unwilling to help Akshaye in the least bit. He is adopted though by members of the Indian community – a Muslim (Kadar Khan) and a Sikh (Jaspal Bhatti) allow him to move in and within hours Akshaye is driving a taxicab! If you live in New York, you could easily believe this. One of his first fares is Aish who has just arrived from India – and much to Akshaye's surprise he discovers that Aish is Indian – "you don't look Indian".

It soon turns out that Aish also has no place to stay and so Akshaye invites her to come stay at the already crowded apartment and the foursome become a homey little unit. Until that is Akshaye is tempted by the dark side – NRI money! He meets a somewhat depraved but extremely sexy Americanized NRI (Suman Ranganathan) with loads of money in the family and Akshaye sees his future and Aish isn't in it. There are a lot of unbelievable things in Indian films – but someone ignoring Aish for money? I didn't buy it for a second. The love story/triangle really doesn't amount to much here – it is a second thread related to Akshaye's long dead father (Rajesh Khanna) that contains most of the melodrama and has the most interest. The other enjoyable elements of the film are the many supporting roles that are well played by a number of various character actors – my favorites being Kadar and Jaspal who both reminded me of Captain Haddock from Tin Tin!

The music is not really all that memorable – the first song doesn't hit the platter until the forty-minute mark – but there are a number of songs after this. The best part about them is simply their settings. All of them are shot around New York I believe – a few in New Jersey, a couple in the city and one in upstate. The one in Seaside Heights is great fun as Aish does her best to break up the couple by dancing and singing up and down the boardwalk and into the skeeball arcades. Another number in and around Central Park and Time Square is enjoyable as well – but what is so strange is how little attention the passersby seem to be giving these little dance and song routines in the middle of the city – in New York I guess anything goes.

My rating for this film: 6.0
---