Pardes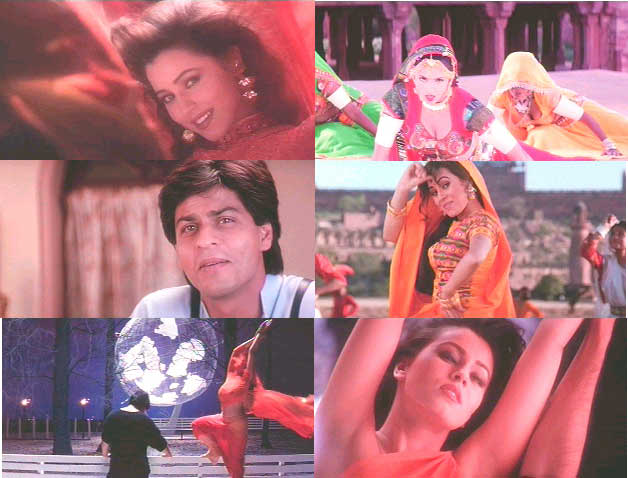 ---
Director: Subash Ghai
Music: Nadeem-Shravan
Year: 1997
Running Time: 3 hours
I Love My India. So goes one of the songs and much of the sentiment in this enjoyable if highly xenophobic melodrama. Being a Westerner and someone who finds ardent displays of nationalistic and cultural pandering very distasteful (I refused to even watch the Winter Olympics), I had to turn a blind eye to it here in order to enjoy this film. If not, you could easily find it bordering on the insulting as Western values and society is viewed as morally corrupt while Indian culture is considered pure and untarnished. These (for me) dislikable aspects of some Indian films are especially visible in stories that deal with Indians living abroad (Non Resident Indians – NRI). The plots often center on the inevitable culture clash between NRIs and local Indians and also how the NRI's yearn nostalgically for Mother India – and that no matter how their living standards have improved by living elsewhere, it is no real substitute for what has been lost. In films such as Dilwale Dulhania Le Jayenge and Kabhi Khushi Khabie Gham, this streak of Indian cultural superiority has been touched upon but not with quite the ball-peen hammer touch that it is here.

In a role very reminiscent of his in DDLJ, Amrish Puri, returns to India after many years in the United States. He left India long ago with only a few rupees in his pocket and became a millionaire. Now he comes back to smell the soil of his homeland and to visit his old friend, Alok Nath, who lives in the country with his large extended family. In his short stay with the family he envies their closeness and values and especially admires the old fashioned ways of the daughter Ganga (Mahima Chaudhury) and decides that she would be the perfect wife for his son, Rajiv (Apoorva Agnihotri). Rajiv has lived all of his life in the States and has completely taken on Western values and Amrish believes that being married to Ganga will inject the values and morals that are missing in his life.

Knowing his son would be against a match with a simple village girl, Amrish sends over his adopted son, Arjun (Shahrukh Khan) to smooth the way. Arjun arrives like a fast talking cyclone and soon has the family charmed. He tries modernizing the compound by moving out the cows and goats, but Ganga stops him with a "to form new relationships we do not break the old" that begins Arjun down the road to love. Rajiv soon makes his appearance and is too charmed by the radiant Ganga and it is agreed that she will return to America and live with the family until the wedding takes place.

Back in America though, she is met with disdain by much of the family who look down on her (as they also do on the adopted Arjun) - and Rajiv begins to show his true arrogant and insensitive colors (gasp – he smokes and drinks!). Only Arjun is there for her support – and he persuades her to stay engaged to Rajiv. But after a ghastly night in Las Vegas in which Rajiv tries to force her to sleep with him and even worse – badmouths India – she can take no more. The ending becomes wonderfully melodramatic – a fabulous scene of Shahrukh defending her honor as he slowly and intentionally slides his hand down a sword drawing lots of his own blood is chilling – "Ganga is as pure as the Ganges".

Though parts of this film are somewhat offensive, it is still solid entertainment with the actors all doing excellent work. Amrish is cast perfectly as the kind but very stern father with his fierce laser like eyes, Mahima is enchanting and sympathetic in her debut film and Shahrukh is utterly likeable and decent as he falls in love with Mahima but cannot display his feelings because of his loyalty to the family.

Even if there is no one song that is outstanding, all six songs are quite solid and enjoyable. It begins with My India in which a few kids are singing "I want to go to America" and Amrish gives that disapproving look of his and changes their tune to I Love My India. Its got a nice beat and I found myself singing the refrain for a few days afterwards which might have struck some around me as odd! Mere Piya is a dream sequence from Ganga as she runs through the fields – looking smashing – and bicycling to the moon. Do Dil is a simple romantic ballad and has the film's most striking image of Ganga draped in an orange sari against a lit up giant globe. Meri Mehboob is a bouncy number that is quite good but Shahrukh should stay away from oversized goofy looking hats. The final number (Nahi Hom Tha) is the most dramatic – a group of local performers are singing with near religious fervor to the percussive beat and around them the final scene plays out perfectly.

My rating for this film: 7.0
---