Bombay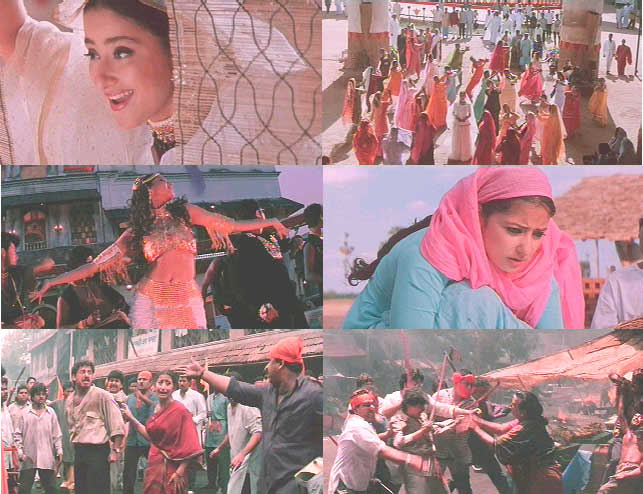 ---
Director: Mani Ratnam
Music: AR Rahman; Lyrics: Mehboob
Year: 1995
Running Time: 2 hours 10 minutes
A small wisp of wind comes off of the water and gently lifts the black veil above her face for a second that seems to last for an eternity. In that moment a love is unleashed and lives are changed forever. Above storm clouds are gathering with rumbles of thunder slowly rolling in. In the distance the fishermen in low slender boats are quickly pulling them to shore before the rain comes hurtling down. So begins this poetic and devastating film that explores a love that crosses religious lines and the religious hatred that attempts to destroy their world. Effectively shown through the personal story of two small lives, this is a powerful indictment of the intolerance that religion can breed. South Indian director Mani Ratnam initially creates a near fairy tale love story, but in the background we can hear the constant ominous beat of religious discord that will eventually engulf this family and tear apart their lives. Still amid the insanity, the violence and the blinding hatred Ratnam allows a speck of generosity, human spirit and courage to crawl out from the darkness and give us all hope.

Much shorter than the typical running time of an Indian film, Bombay spends no time on multiple subplots or comic farce but instead focuses almost entirely upon the two main characters. This is clearly an artistic decision on the part of Ratnam – to show how isolated they become due to their choice. Their love for one another is so intense and yet so forbidden that in a sense they have to block out everything and everyone else and create a family and world of their own that is shorn of its extended family ties. In a culture where the family plays such an important part of their lives, there is no doubt that this causes them great pain but once they have chosen love over family and tradition there is no turning back, no second guessing, no compromises. All that matters is going forward with their lives and Ratnam follows them like a shadow from that first glance through the horror that springs out like a tethered demon.

Shekhar (Avind Swamy) returns after two years of study in Bombay to visit his family in their small village. It is clear that his relationship with his strict Hindu father (Nasar) is uneasy, but he promises his father that he will only marry a village girl and not someone from Bombay. He soon witnesses the wind blown veil of Bano (Manisha Koirala) and falls under her tender spell. Bano comes from a religious Muslim family and Shekhar's friend tries to warn him that even looking at the girl could get him killed. Even so he feels a need to follow her and talk to her – even to the point of wearing a veil so that he can talk to her in disguise. When he makes his desire to marry her known to the families, both fathers come to near violence against Shekhar and against one another.

Shekhar returns to Bombay but can't forget Bano and writes to ask her to come to Bombay where they will get married. She breaks from her family and runs off to Bombay where they immediately get married and move into a small apartment. Years pass, their happiness grows, children come but their families do not. Then the horror begins and Bombay is ablaze with insanity and murder and destruction. The family is caught in the middle of it all and no place is safe. The only part that mars this film is the very ending where no doubt Ratnam was attempting to send his audience a message of unity, but it feels more like a "We are the World" video that rings false.

When Bombay was made in 1995 it immediately ran into a hail of protests and controversy as elements of both the Hindu and Muslim communities were upset with how they were depicted during the rioting. The riots in the film are based on a historical incident that began in 1992 when Hindus attacked a mosque in Ayodhya and soon after horrific communal riots broke out in Bombay that caused thousands of deaths. Ratnam attempts to keep an even balance as he portrays both religions as being at fault and both committing terrible atrocities. He even has some Muslim cast members playing Hindu's and vice versa, but he still received numerous death threats and was forced to edit the film by the board of censors. Nevertheless this Tamil film was a huge box office success and was dubbed into Hindi for a nationwide release. This also gave a huge shot in the arm to Manisha's career and she was to star in Ratnam's follow up, Dil Se.

The music from A.R. Rahman is a bit of a mix in this film. There are six songs of which three are very good and the other three seem quite average. As it turns out, the three terrific songs are also the first three songs. The highlight is Kehna Hi Kya that takes place at a wedding ceremony in which Shekhar sees Bano for the second time and he watches her dance in awe struck love. There is also a lovely soft balled, Tu Hi Re that is a duet of awakening feelings between the two as they begin to express their feelings to one another. After Shekhar and Bano are married circumstances force them to postpone their wedding night for three days, but in a torrid number (Hamma Hamma) they finally consummate their marriage as Sonali Bendre (in a guest appearance) dances up a storm outside of their residence while they do so inside.

My rating for this film: 8.0
---