Solva Saal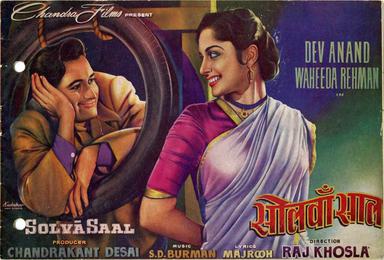 ---
Director: Raj Khosla
Year: 1958
Rating: 8.0
---
Translation - Sixteenth Year


Bollywood in Glorious Black and White

An absolutely delightful light on its traveling feet romantic comedy from the combo of director Raj Khosla and actor Dev Anand. This was their third film in a row together. Their first film Milap in 1955 was Khosla's debut and is supposedly a remake of Mr. Deeds Goes to Town, while this one certainly has echoes of It Happened One Night - but if you are going to be influenced by someone, Capra isn't a bad place to start.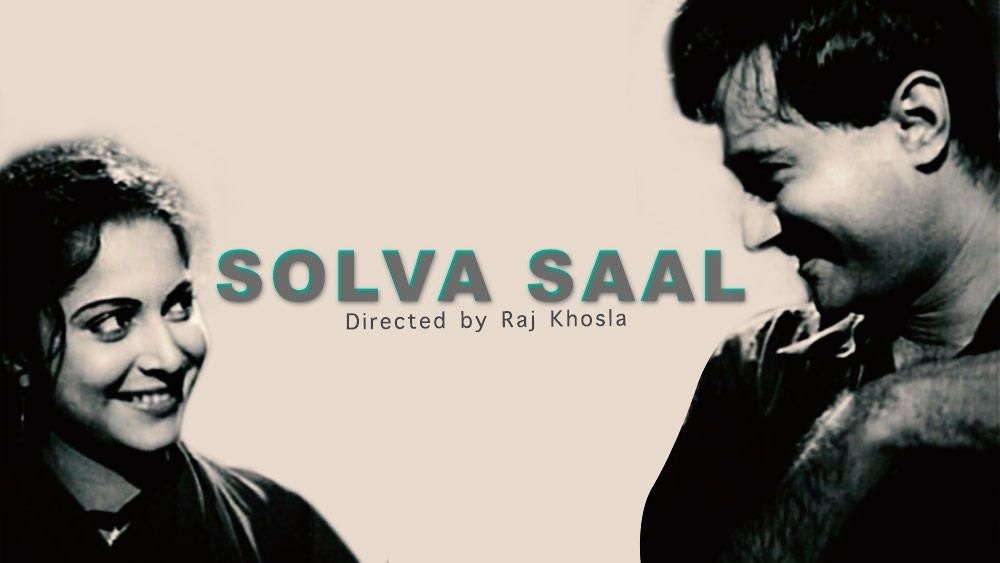 The other side of the romantic equation is Waheeda Rehman. She was to go on to legendary status with loads of nominations and awards but this is very early in her career and one of her first leading roles. She had been in Khosla's C.I.D. but she had the secondary female role. She was only nineteen at this time and had started off in a few Telegu films primarily as a dance item specialist. She had trained in dancing and was to become one of the best dancers in Bollywood (though not really shown in this film). Meantime though, she had caught the eye of director Guru Dutt and she became his muse and appeared in some of his now classic films (not necessarily box office hits at the time) - Pyaasa, Kaagaz Ke Phool. Chaudhvin Ka Chand which he either directed or produced.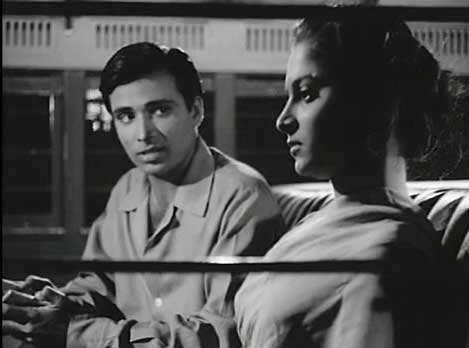 It is a sweet simple plot that takes a while to get going but once it does in the second hour, it just a lot of fun with a big chunk of it taking place in a film studio. Laaj (means shy) is a college student madly in love with a young man but her father is arranging a marriage to someone that the father's friend thinks would be a proper match. Terrified at the thought, she and her boyfriend decide to elope but without funds of any kind, she takes an expensive necklace to live on. The man though is a cad - a bounder - a dirty swine - and on the train trip to "meet" his parents he runs off with the necklace. He has an actress that he wants to marry and this is his entry ticket. Laaj realizes what a fool he has been, but she can't go home without the necklace. And she is suppose to wake up her father at 5am. So she has to find the man, get the necklace, get home, replace it and wake up dad in a few hours - and she is miles away in Bombay. In steps our hero - Nath (Dev) who has witnessed the entire thing and sees a story - he is a newsman. He offers to help her.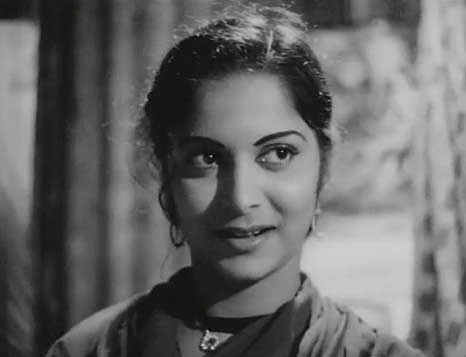 From this point on there are some wonderful moments - a few good musical numbers from S.D. Burman, an excursion into a studio shooting a film in which a large wannabe actress (Tun Tun) steals the show for a few minutes, a big chase, even a scene where they have to change clothes and put up a blanket between them. You may see the ending coming - if you have seen a few Bollywood films you will - but it still hit high on my happy meter.