Dil Deke Dekho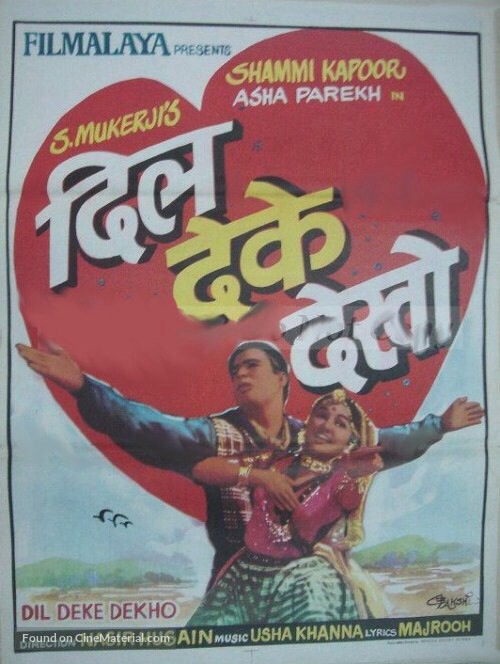 ---
Director: Nasir Hussain
Year: 1959
Rating: 8.0
---
This is another one of those Bollywood films that I would never recommend to anyone who hadn't been bitten badly by the Bollywood bug. For one thing it is in black and white. For another it is just a whisker short of three hours. Then there are the multitude of songs that pop up like prairie dogs in heat. It is as old-fashioned, well-worn and comfortable as your favorite pair of slippers that you have been meaning to throw out. And whoever came up with the tangled spaghetti absurdist plot should have worked for the CIA Dirty Tricks Unit. It is totally objectively nutty and yet taken as seriously as a dead woman in your bed in the morning. But for me watching this film was as enjoyable as sinking into a warm bath with bubbles; happy bubbles. Where others would throw bric-a-bracs at the TV screen for all the coincidences, I just thought but of course; the blind father who just had his sight given back to him in surgery had to show up just as his son was being beaten by his mother who had no idea he was her son that she lost years before and has cried for every night since. Where others might laugh at poetic romantic dialogue that escapes from their lips like confectionary moonbeams, I thought shabash - well said!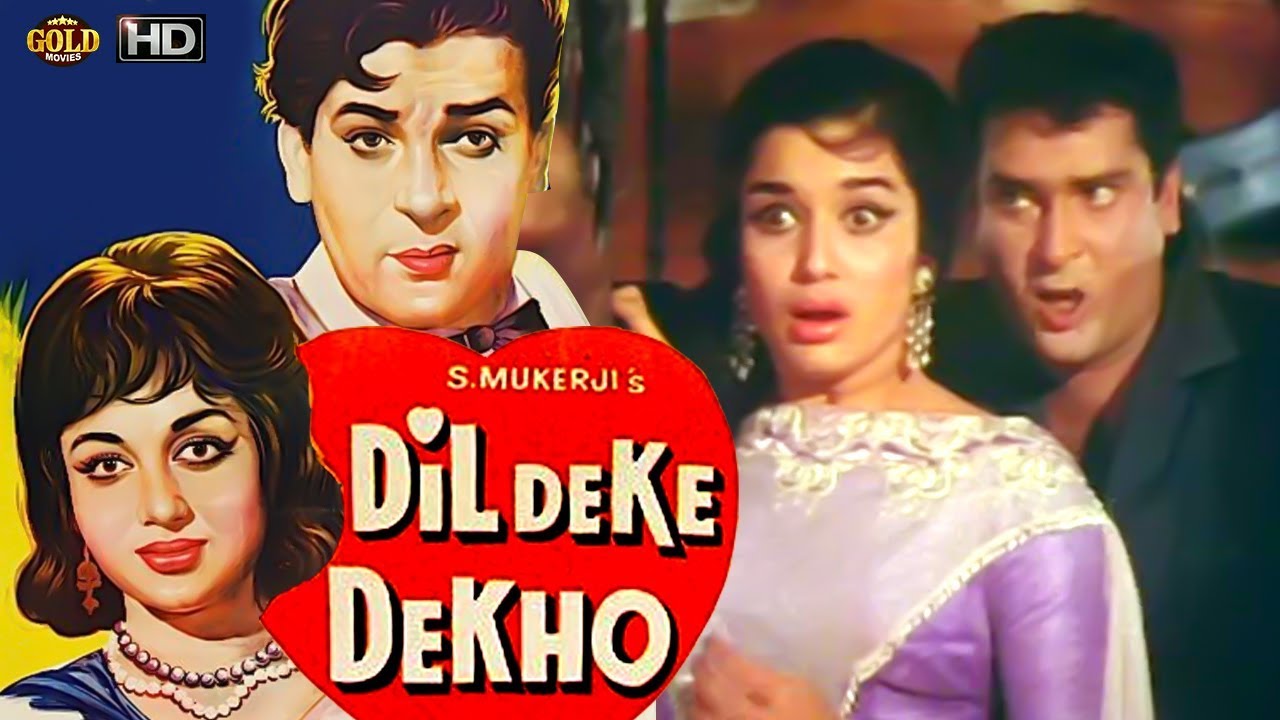 A simple recount of the plot if I may - Harichand has it in for another family and wants his small boy to inherit the money from the wife of the happy family some day. What could be easier. So he finds a dead body, shoots it in the head thus making it unidentifiable, leaves a suicide note saying he had an affair with that wife named Jamuna and disappears. Jamuna's husband Jagat sees the note and immediately leaves his rich wife and vanishes with their son, Roop. She is left with the son of Harichand who is named Kailash to bring up. Why she does so, I don't know.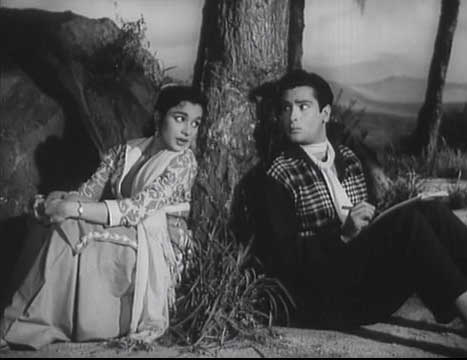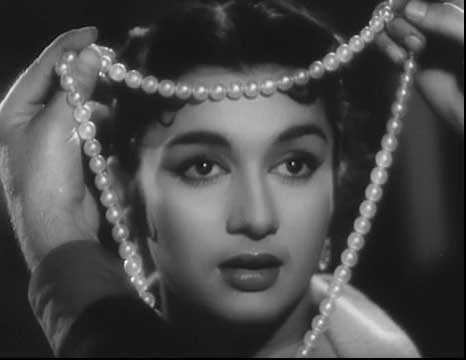 Needless to say some 25 years later all these people come back together but no one knows who is who. Throw in another son of Harichand's who pretends to be Roop in order to marry the cousin of Jamuna and get the fortune. She is Neeta, who is expected to marry Kailash but is in love with Raja the drummer in a band who she of course initially hated, but who is in fact Roop but doesn't know the old lady is his mother. That is when he doesn't disguise himself as Professor Samrii, a fixer of relationship problems who is simultaneously hired by Neeta to rid herself of Kailash and by Kailash to get rid of a man flirting with Neeta. Got that? There is plenty of mother worshipping - a common theme - at one point Raj/Roop and Jamuna pass each other and stop - look back - don't I know you from somewhere - it feels that way - I wish I had a mother like you in my life. That kind of thing. And then she slaps him for being in love with Neeta.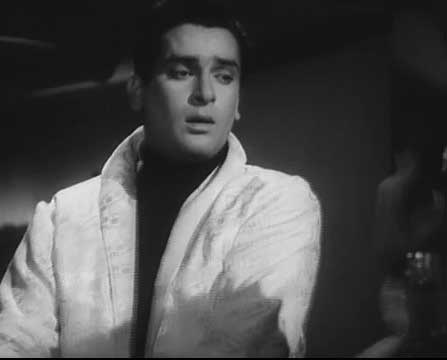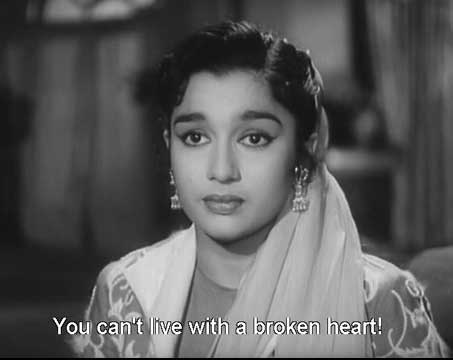 But that just skims the surface. Three hours is a lot of time to fill and there are other sub-plots that surface and sink along the way. This is above all a romantic comedy with the usual complications that all these films have. Love is never a straight road but there is always a soft landing - it is the getting there that makes these films so much fun.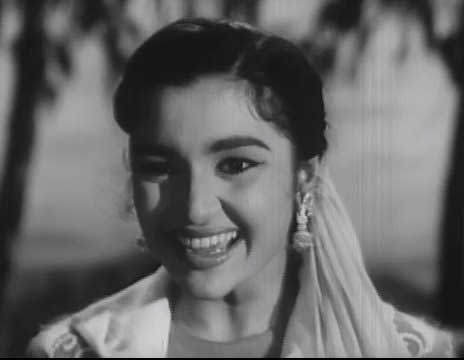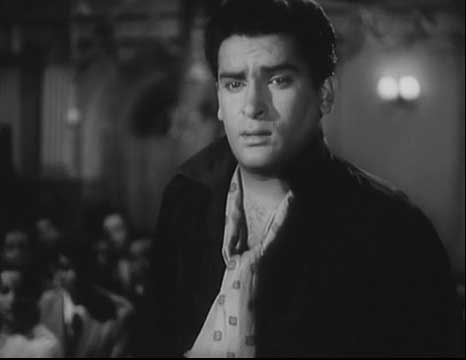 It also helps to have two enormously charming and charismatic actors playing out the two main parts. Shammi Kapoor was just hitting his stride in this film. He is one of the three famous Kapoor brothers who have spawned a litter of other actors - but back in 1959 Raj Kapoor was already a huge success both in directing and acting, Sashi didn't make his film debut until 1961 and Shammi had been in films since 1954 but not being all that successful until director Nasir Hussain took him for his film Tumsa Nahin Dekha in 1957 and created the Shammi style that became a phenomenon. Charming, comical, insouciant, quick of mouth and wit, a little bit rude, flirtatious and he could dance! Something most male stars disdained. There was no one else like him that could capture the swinging sixties that were coming up. Tumsa was a big hit and Nasir was to direct Shammi in a number of films including this one. At this point Shammi is lean and lionesque - very handsome - in a few years admittedly his weight was to get the better of him in his battle with chapattis.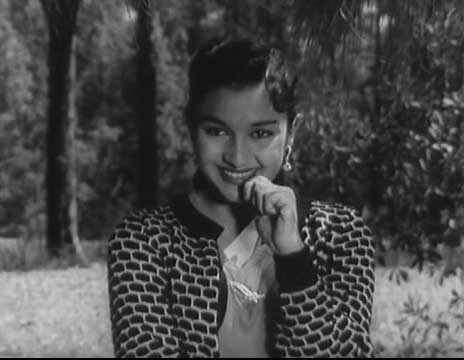 On the other side of this romantic equation was a new actress in her first starring role. 16 years old though she seems older in the film so it never feels creepy. From the get go she is captivating and was to become an enormous star, Asha Parekh. A favorite of mine. She was always to play the good girl, the good wife, the good widow - she was India's sweetheart. There is one lovely moment in the film that I wish had gone on longer - she is outside and inside the hotel music is being played and she can't help herself from dancing on her own - playful and charming - until Shammi comes out to join her - because this was Shammi's film and he dominates; she just adds luster by the layer. They were to appear together a few times - in Teesri Manzil also directed by Nasir and likely my favorite Bollywood film ever.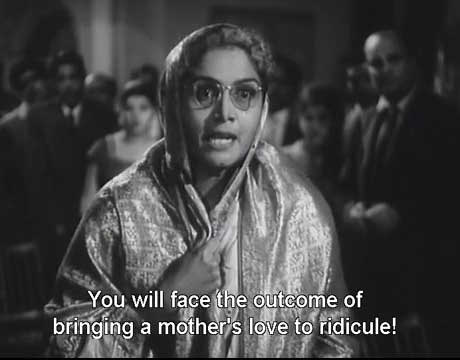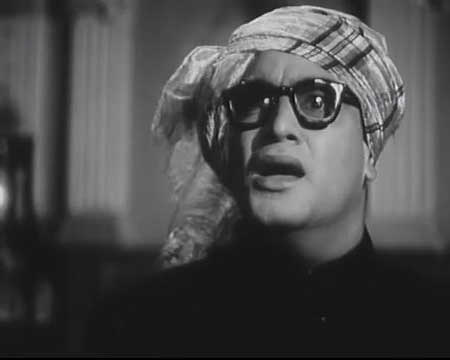 In the cast are also Sulochana Latkar as dear old mom, Rajendra as Kailash (he was to appear in many of Shammi's films as the comic foil), Surendra as Harichand and the devious impersonator Sohan is played by Siddhu in his debut.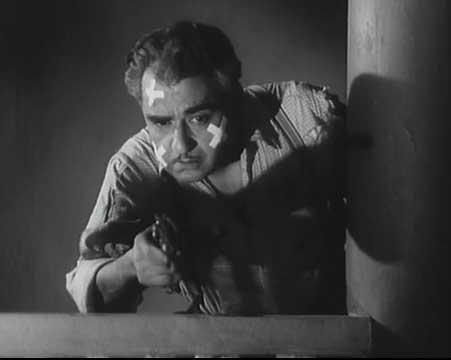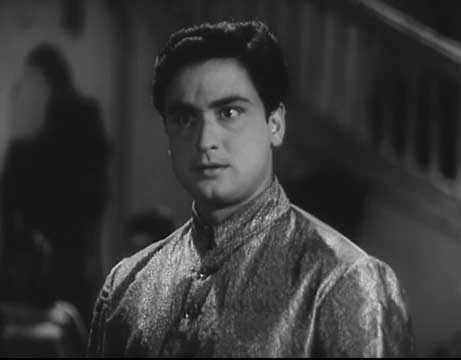 The musical director is Usha Khanna, one of the very few female film composers back then. It is a terrific melodic varied soundtrack and sung by the two greats - Mohammed Rafi and Asha Bhosle.