Mann (Conscious)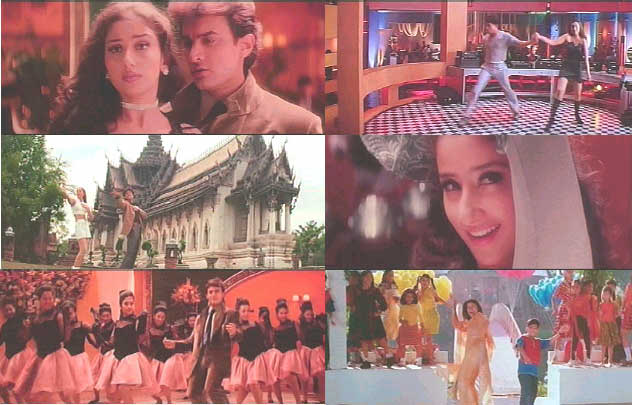 ---
Director: Indra Kumar
Music: Sanjeev/ Darshan; Lyrics: Sameer
Year: 1999
Running Time: 2 hours 54 minutes
It is interesting to note how two different film cultures approach the same story. Mann is a remake of the Hollywood classic An Affair to Remember produced in 1957. An Affair is a cherished tearjerker starring the two British actors, Cary Grant and Deborah Kerr, at their most urbane, charismatic and stiff upper lip best. Mann which stars Aamir Khan in the Grant role and Manisha Koirala in the Kerr role push this film into the furthest realms of melodrama – no stiff upper lip reticence from these two as their lips quiver with love, passion, emotion and heartbreak.

And yet though both films come from a different direction, they are both very effective in wringing out the tears from the audience. The famous climatic scene is played out almost exactly the same – the woman sitting on the couch with the blanket covering her legs, the man full of reproach at her supposed untrustworthiness, she takes the brunt of his accusations without a murmur of dissent and then he sees the painting and realizes the truth. A moment of pure cinematic emotion and release – but the Hollywood version has them only grab each other in a passionate embrace while in Bollywood they cry buckets of tears. The Hollywood film ends on this poignant scene while the Bollywood version feels the need to go on to one more scene in an attempt to keep the tears flowing for just a bit longer.

For those who have no idea what I am talking about because they have not seen An Affair - here is a plot summary of Mann (and to a large degree of An Affair to Remember). On a passenger cruise ship two very different people brush up against one another during the trip. Aamir is a playboy with a wealthy family in his background that has allowed him to live a life of ease and irresponsibility. Manisha on the other hand is a rock solid character with strong moral values (in Affair Deborah Kerr was likely a kept woman but still very proper). Both are engaged to others – Manisha to Anil Kapoor who has treated her with immense kindness in her life for which she is deeply indebted; Aamir whose money has finally run out is about to marry the daughter of an extremely rich businessman that will allow him to continue his life of leisure.

Needless to say they initially clash, then spark and then fall in love – deeply. Wanting to make sure that this feeling is truly love they promise to stay apart for six months and meet on a specific day underneath the Gateway of India in Bombay. If one of them does not appear, the other promises to understand that their love faded and not to go in search of them. Aamir turns around his life completely and becomes a critically successful painter (beginning by painting street dividers and billboards!) and he shows up on the appointed day. Manisha doesn't. Pain and tears follow.

I don't think this film equals the original – perhaps the need to push it to the three hour mark causes it to become unfocused at times and stretches out certain scenes – and there is also some painfully unfunny bits by some minor supporting characters that feels totally out of synch with the delightful and charming characterizations from Aamir and Manisha. After seeing Manisha in a few serious films (Dil Se, Laaja), it is very pleasant seeing her do a bit of light comedy in the first half of the film. It is these two leads and the small roles from the legendary actress, Sharmila Tagore as Aamir's grandmother and by Anil, that make this film highly enjoyable and eventually emotionally riveting.

The music is certainly acceptable if far from overwhelming, but what the musical interludes have going for them in spades is the joyful enthusiasm from the performers. In the first song (of eight) Aamir gets into a little dance floor frug with Rani Mukerjee that is a lot of fun and then in the following number Nasha Pyar Ka, Aamir dances and Manisha reacts in a sweet comedic way. The seventh song as the two of them rush to meet is also full of good energy and Manisha just appears to be having a grand time.

My rating for this film: 7.5
---