Phir Wohi Dil Laya Hoon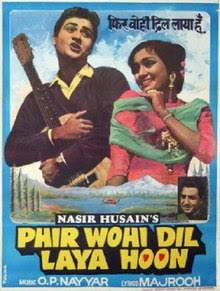 ---
Director: Nasir Hussain
Music:
O.P. Nayyer
Year: 1963
Rating: 7.5
---
The film opens with a doctor telling the father of a sick boy that the boy's high temperature will not come down until his mother holds him. I am not sure what class that was taught in at medical school. The class of Mother India? But the father has kicked out the mother because he believes that she has cheated on him - of course she hasn't because this is an Indian film and wives don't do that. When the father goes out to get a phone call someone sneaks into the room and kidnaps the boy. As he and the doctor go after the man, the doctor tells the father that if anything happens to him, the father has to adopt his little girl.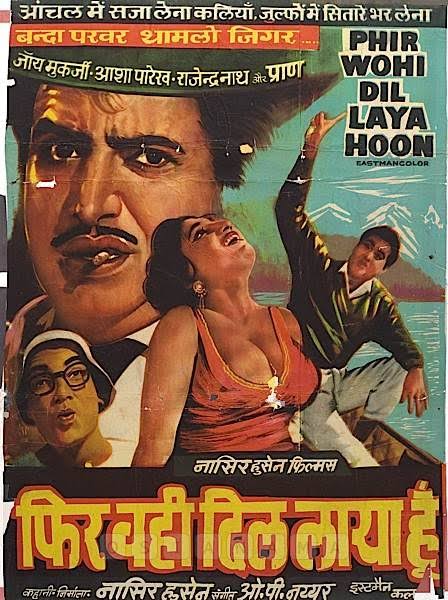 (Don't Believe the Poster - no cleavage to be seen)



Full stop. At this point you can pretty much write the script for the following 2 hours and 10 minutes. This falls into that tried and true Indian genre of missing children or brothers or fathers and rules are followed. The doctor is going to die, the father will bring up the little girl and through one of those Bollywood miracles the grown up versions of the boy and girl will meet because India is such a small place and fall in love. Pretty much with a few twists and turns I didn't see coming. The mother was behind the kidnapping and she has brought up the boy Mohan (Joy Mukherjee) to resent his father and the girl Mona grew up to be Asha Parekh, one of my favorite Bollywood sweetie pie actresses from the 1960's. Mukherjee and Parekh teamed up a few times to good advantage - they have a nice playful chemistry - Love in Tokyo in particular is terrific.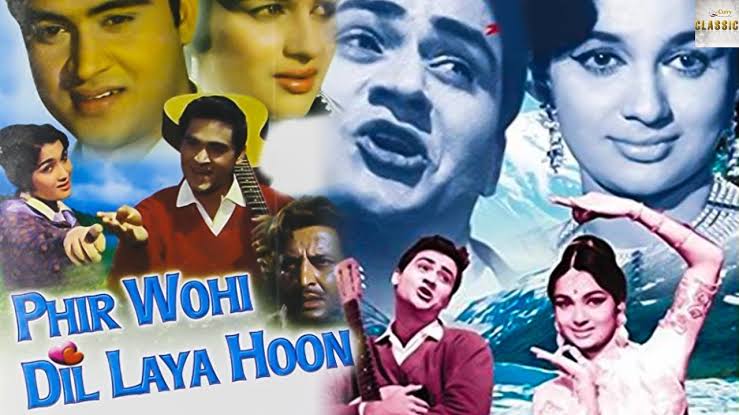 Complications come in the form of Difu as in Doofus who her adopted father has arranged for her to be married to. Played by usual comic side kick Rajendra Nath one can assume that he will be a buffoon and he is. Usually just billed as Rajendra, he like so many Bollywood actors had family connections that helped him along the way. He and his two brothers - also both actors - were good friends with the Kapoor family as their sister married Raj Kapoor. Rajendra is one of the few of these comic foils who I actually enjoy though here he goes way overboard in silliness. There is also a villain of course though he doesn't show his face until the 90 minute mark - the always villainous Pran - who has a plan to pretend he is the missing son. Everybody ends up in a small town in Kashmir where melodrama strikes like a sledge hammer.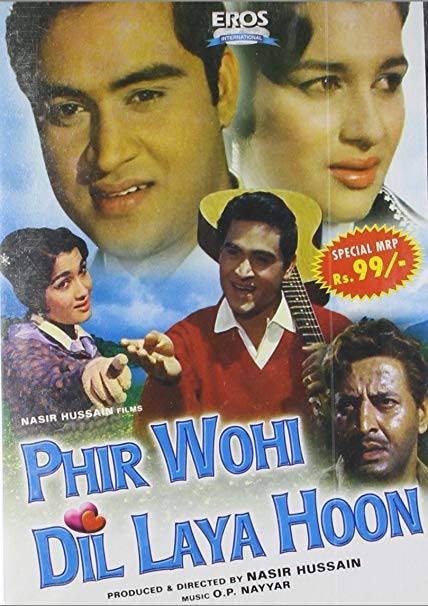 Good location shooting - the first half takes place in New Delhi and we get to tour about a bit and see the Red Fort and the second half takes place in beautiful Kashmir - something you won't be seeing any time soon. Though much of this is very familiar ground, director Nasir Hussain knows how to work these Bollywood tropes like a master manipulator - squeezing every bit of drama and tears out of it that he can - quite effectively. The music from O.P Nayyer and lyrics by Majrooh Sultanpuri add a lot to the story - some 8 songs and every one of them good to terrific. The first musical number Dekho Bijalee Dole Bin Baadal Kee is a traditional dance competition between Asha and another female dancer who I don't know and it was fabulous. In the realm of Bollywood romantic melodramas this was a pretty good one.