Love in Simla
---

Director: R.K. Nayyar
Music: Iqbal Qureshi
Year: 1960
Rating: 5.5

---
This is a rather difficult romantic tale to immerse oneself in. It is very much based on Cinderella but only if everyone in that fairy tale was a bit of a selfish dick. I doubt if that was the intention of the filmmakers but attitudes have changed a lot in 60 years and what seemed romantic back then feels slightly off-putting now. It is the same with courting in many Bollywood films – men chasing after women who initially want nothing to do with them to such an extent that today we would term it stalking. In America the women would be issuing restraining orders against the men; in Bollywood they eventually fall in love.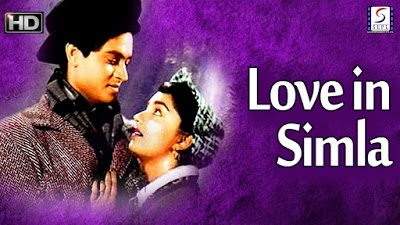 This romantic puddle isn't helped by the fact that the film comes much too close to hitting the three hour mark though as soon as you realize this is Cinderella without a shoe it is pretty clear where it will end up. You just have to get there through the many twists and turns of misbegotten love. Admittedly, of the three hours an awful lot of it is taken up by music – 12 songs – and they are quite good and come at you like subways – just wait a few minutes and another will be arriving.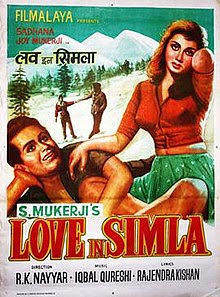 Simla – or Shimla – is near the top of India up in higher altitudes and is much cooler in the summer and has snow in the winter. It is a getaway for the wealthy and during the British Raj they would move their capital to Simla during the summer months. Kipling wrote often of the place – sort of a love hate relationship in describing the Raj and the society they created to isolate themselves from the Indians that they were at the same time ruling. It is in this somewhat rarefied air of now Indian wealth and privilege in which this tale takes place during winter with piles of snow to dance and frolic in.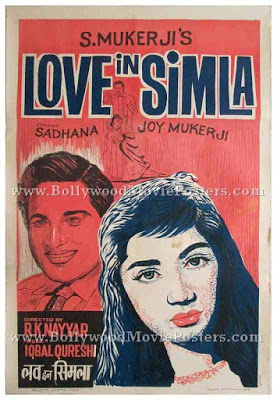 The Singh's are waiting for the arrival of Dev (Joy Mukherjee of the Mukherjee filmi clan whose father produced this film) to visit their daughter Sheela (Azra) in order to hopefully get a marriage proposal out of him. He is everything a family and daughter could want – handsome, charming and of course financially well off. No love mind you, but he crosses off everything necessary on the Husband to Be checklist. There is also the ugly duckling orphan daughter of a dead brother that they take care of. This is Sonia behind glasses as large as the Taj Mahal and in jeans only the Amish would not be embarrassed to wear. Sheela is constantly mocking her looks and telling her that no man would ever have a thing to do with her. And in fact they stay clear of her like a communicable disease.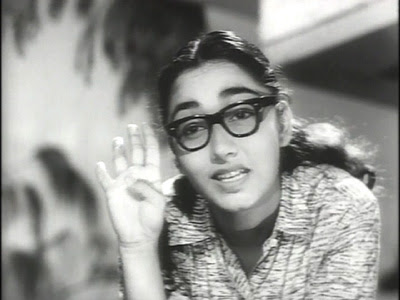 The only problem with this is that the actress is Sadhana in her film debut and even in baggy jeans, glasses and no make-up she is clearly a doll waiting to emerge. In a burst of rage, Sonia tells Sheela that she will steal the heart of Dev. They all laugh. But with a makeover from the grandmother aka Fairy Godmother – she does just that to hurt Sheela and the family that has taken her in. Dev is as shallow as a cup of tea as he tries to play both girls at the same time and lies as easily as a well-practiced con man or President. In a way these three deserve each other. I kept hoping the two girls would band together and screw with this two bit Lothario. But this is Bollywood.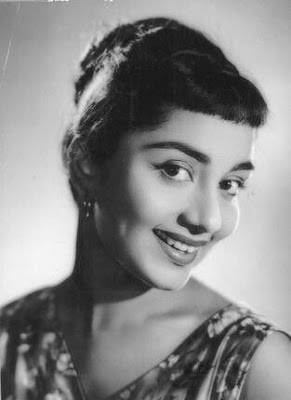 Sadhana is very good in this – especially considering it is her first film – devious, manipulative, impish and ridiculously charming with her facial expressions that span the globe. She had been given a style of haircut and look that was intended to bring Audrey Hepburn to mind and she does at times - ie Audrey in Sabrina from tomboy to glam. Sadhana was to become a huge star over the next decade and at times the highest paid actress in Bollywood. Some six years later she was to marry the director (R.K. Nayyer) of this film and they stayed together till his death. The music is supplied by Iqbal Qureshi and playback provided primarily by Asha Bhosle and Mohammed Rafi, two of the best. The Joy Mukherjee romantic film Love in Tokyo is a better bet than this one - quite wonderful, but this Love not so much.