Chalti Ka Naam Gaadi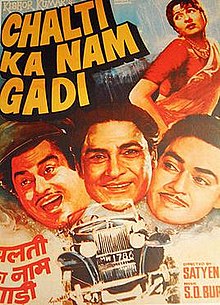 ---

Director: Satyen Bose
Music: S.D. Burman
Year: 1958
Rating: 8.0

---
Translation – That Which Moves is Called a Car

I have learned to keep my distance from Bollywood comedies like I would a wrecking ball in motion. They just don't hit my funny bone for the most part – too broad and too foolish for my taste. Nearly all their films have some comedy relief in the form of various specialists – Johnny Lever, Johnny Walker, Mehmood and others who are brought into a film for this purpose and to my mind can bring a film to a grinding screeching halt with their antics. But I wanted to see more of Madhubala and took a chance on a full length comedy. What doesn't kill you will just make you stronger. And it was wonderful. Delightful, sweet, touching and yes . . . funny. Not fall down funny but often amusing with a twinkle in its eye. Just good natured without being sophomoric. The humor was based on situations and characters with the comic interplay between the actors crisp and clever with perfect timing. Which is probably due to the fact that they are brothers. Three of them.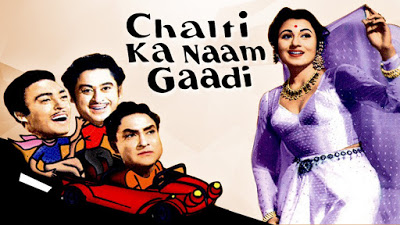 Manu, Jaggu and Brijmohan are three middle-aged brothers who own a car repair shop. They have one rule to live by. No women! Not even photos of them. Not a smell of them. Don't talk to them and never fall in love with one. Love can only break your heart. It is working just fine until late one night in a pouring rain the soaking sari clad Renu needs help with a stalled car. The car may be stalled but not Manu's heart which is banging out a rhythm of fast syncopated beats. She is the daughter of a wealthy man and so there is no chance that they will get together – other than the fact that this is a Bollywood film. Their chemistry is enchanting and very appealing though they don't really want to voice it because of the difference in their status.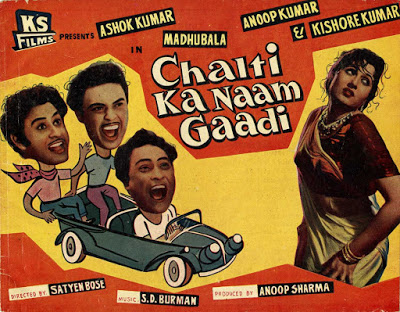 The older brother Brijmohan is dead set against this liaison because as it turns out he nearly killed himself over a girl who ditched him for a wealthy man years ago. The films falls into melodrama later when her father tries to marry her off to a Prince who not surprisingly turns out to be a swine. But most of the film is as light as air with some excellent songs coming from S.D. Burman. It is all resolved in a way that will put a bit of a lively hop in your step.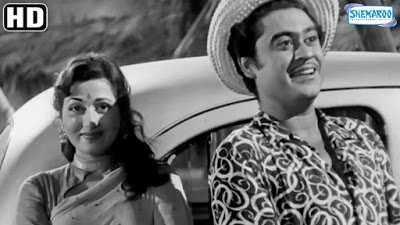 The three brothers are played by real life brothers – Ashok Kumar, Kishore Kumar and Anoop Kumar. They are great fun – part the Three Stooges, part the three Musketeers – one for all and all for one when they are not hitting one another. Ashok is of course the big star of the three – called the First Superstar of Bollywood – but Kishore was a well-known actor but even a better known playback singer. One of the best in the business with no voice training at all. His singing is very playful with yelps and yodels thrown in when he felt appropriate. He sings nearly every song in the film. Having an actor who could sing his part is very unusual in Bollywood - almost all of them have playback singers that they move their mouths to. It has always surprised me that they never developed actors who could do both. Kishore began as an actor and it was discovered that he was a hell of a singer too. The third brother Anoop is the least known but appeared in many films but never became a star.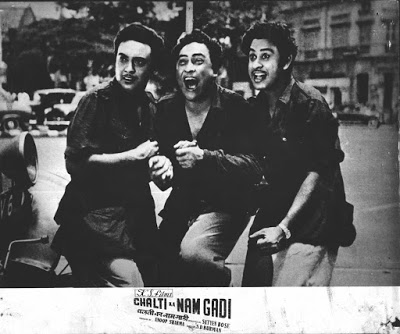 Ashok generously hands the film over to his two brothers in particular Kishore who runs with it. He is great and his female counter party is Madhubala who could charm a snake back into its basket. The two of them were married two years later but the fact that she was Muslim and he had to convert caused some family issues. Playing the main villain is K.L. Singh who has now shown up in three straight films. A very good bad guy. There is also a traditional item dance number from Helen and Cuckoo. This is the Bollywood comedy to see if you ever have to see one.