Kaho Naa . . . Pyaar Hai (Say this is Love)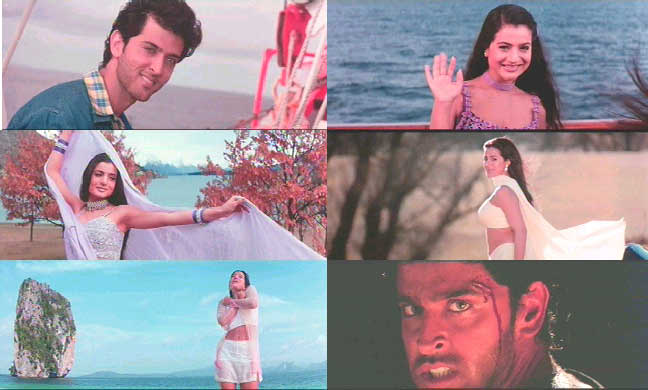 ---
Director: Rakesh Roshan
Music: Rajesh Roshan, Lyrics: Saawan, Kumar Tak, Ibrahim Ashq, Vijay Akela
Year: 2000
Running Time: 2 hours 57 minutes
Like most junk food in the world this film has a very homogenized bland taste to it, but also like junk food it is difficult to put down. There is a popcorn appeal in this film and before you know it the whole bucket has been eaten without thinking. That's how I was with this high budget affair – once I began watching I couldn't stop it as much as my brain was telling me to (Brian there are many better ways to spend 3 hours) and before I knew it the film was over and it was almost time to get up for work. Starting a Bollywood film at midnight is a sure fire way to find yourself propping open your eyes the following day.
The Roshan family are a big thing in Indian films – Rohan is a major producer – his two sons – one a producer/director and the other is one of the more important composers of film music and this was their film to introduce Rakesh's son Hrithik to the public. There was a fair amount of publicity around the film and great expectations of Hrithik to carry on the family tradition. The film was also the introduction of actress, Amisha Patel (whose grandfather was a member of the Indian Congress) to film.

Both actors do quite well in their premiere film – not that they display a lot of acting skills at this point in their career – in fact much of their acting is rather nondescript – but both throw large amounts of energy, vitality and personality at the screen. Though Hrithik is clearly a hunk, he makes an attempt to bring an intellectual sensitivity to his role and it's only near the end where he goes into action and shirtless mode to display his muscular build. He is in danger though of coming across as smug at times and his always-present one-day growth of facial hair seems a bit of a phony rugged affectation.

Amisha has rather an interesting face – it strikes me as ever so slightly lopsided with large ears and a somewhat crinkled face – but it works more than one might think. The fact that she had to play a petulant but sweet wealthy airhead may have gone in her favor as she has only to basically maneuver between the expressions of puppy dog love and spoiled milk spilled annoyance. Still the scenes of her jumping with joy when she discovers Hrithik loves her are quite buoyantly charming.

The film comes at you in two very discrete sections and moods – the first a basic boy meets girl and lets fall in love – and then the second section becomes much darker and suspenseful. Hrithik is an aspiring singer/songwriter unable to get a break in the music business until he takes it upon himself to sing at Amisha's birthday party and in true Bollywood fashion the guests are soon following him down the beach and dancing. This gets him a job on a cruise ship as well as a piece of Amisha's heart. After leading the entire ship on a merry dance around the deck, the two of them end up getting stuck on a deserted island where they spend most of the time making cow eyes at one another. Amisha's father, Anupam Kher, rescues them and he takes one look at Hrithik and knows he isn't good enough for his precious daughter and demands that he never contact her again. I don't want to give away too many more plot details, but the film doesn't go at all where you might expect it to at this point and becomes a thriller with a bunch of corrupt cops trying to kill the character that Hrithik is playing because they believe he has evidence of their crimes and both he and Amisha go on the run. A large section of the film is shot in New Zealand and possibly islands off of Phuket in Thailand.

The music by Rajesh Roshan is somewhat disappointing overall. Most of the songs have a nice melody and some lovely singing, but the cocktail lounge arrangements detract from this. The first song, Chand Sitare, is a simple ballad and perhaps the best song of the bunch and is later repeated in a more electronic version. The song Pyar Ki Kashti that is sung on the ship is quite popish and forgettable. The "we are in love" song Kaho Naa is solid with a hummable refrain but again the arrangement around it feels tinny and the song is most memorable for the short white skirt that Amisha sings in. The next two songs consist of a disco driven piece (Ek Pal) that feels tired, but the next song,Kyon Chalti, is wonderfully sung and has the best visuals of any of the musical numbers.

My rating for this film: 6.0
---