Howrah Bridge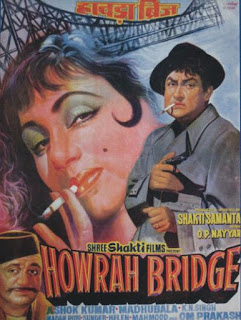 ---

Director: Shakti Samanta
Music: O.P. Nayyer
Year: 1958
Rating: 7.5

---
The song Mera Naam Chin Chin Chu (My Name is Chin Chin Chu. How do you do) should come with a warning label. It is a simple little silly ditty that may ring around in your head for days like a trapped bee after hearing it. It is sung by the great playback singer Geeta Dutt and picturized in dance by the legendary Helen. Not that Helen was a legend at the time when she did this item number (a one song appearance in a film), but this was the song that set her on that path. As she swung her hips India fell in love with her. Males huzzaed her in the theaters. Back in 1958 swinging hips were a big deal. She never became a leading lady – her mixed birth – Anglo father and Burmese mother stopped that – but she often played the vamp or did item numbers and always got the best songs.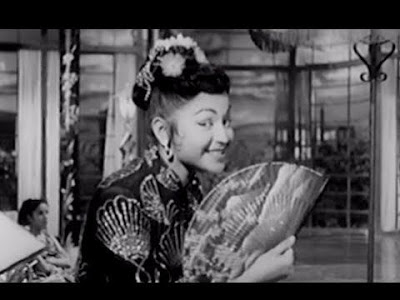 Propelled partly by this song but even more so by the two huge stars in it the film was a huge success and is considered a classic film today. It was shot in black and white shortly before Bollywood went full tilt to color and if you are used to Bollywood films with vibrant splashing colors, it takes a bit of an adjustment to see some of the pre-1960 films – but once you do they are great – often elegantly photographed using light and shadow to portray faces dramatically. This is a suspense crime romance film without admittedly much in the way of suspense. That is almost always a problem with Bollywood films from that era up until even today with a few exceptions – you know the lovers will unite in the end and that the bad guys will either end up in jail or be on their way to being recycled for their next life. So many of these films survive on their charms – of the actors, the cinematography and of course the songs. Howrah Bridge is chock-loaded with songs with music from O.P. Nayyer and lyrics from Jalalabadi. The eight songs – it sure felt like more – were primarily sung by Mohd. Raffi and Asha Bhosle – two more legends.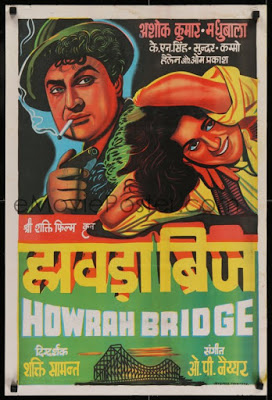 Bollywood often anoints certain actors as Superstars – applied to Amitabh, Shahrukh, Dev Anand, Raj and Shammi Kapoor – but the first one to receive it was Ashok Kumar. Kumar had been a star since the late 1930's when he was a technician at a film company who needed a fill in for their star after he ran off with the boss's wife. The boss forgave her but not him and threw Kumar into the role opposite his wife – the film was a smash hit and Kumar went on to one big hit after another. By the time of this film Kumar was 47 - often a co-star rather than the leading man – he had started the careers of Dev Anand and Raj Kapoor who were now huge stars – and he looks remarkably – to my eye – like a middle-aged Edward G Robinson having grown a little stout through the mid-section. But this film once again showed what a box office draw he was.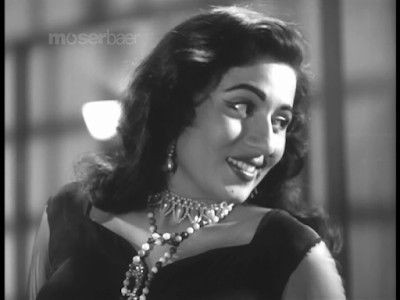 It didn't hurt that his co-star was Madhubala, a huge star in her own right with a series of hits but who was to die young at 36 and be called The Hindu Marilyn Monroe. She has a wonderful face that from certain angles and light is sumptuous – a slightly cleft chin, luminous eyes and a full mouth makes her almost appear Italian – if I was going to name her anything it would have been the Hindu Sophia Loren. In one scene she and Kumar are on a boat in the moonlight with the wind blowing her hair all over and the close-ups of her are radiant. The film is directed by Shakti Samanta who was to go on to direct a few of my favorite films – Singapore, An Evening in Paris, Kati Patang and The Great Gambler.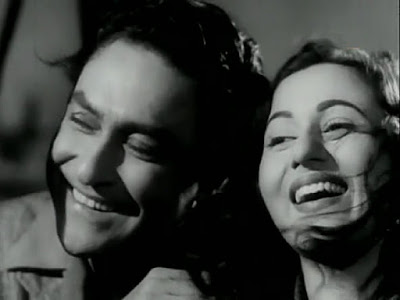 The plot is a bit clunky and not quite believable – but still you have to go with it. Prem (Kumar) lives in Rangoon with his father and they discover that his brother has stolen a very valuable family heirloom. When he turns up dead in Calcutta – now Kolkata – on the Howrah Bridge Prem takes the slow boat to Calcutta to investigate. On board he makes the acquaintance of the nightly performer Edna (Madhubala) but doesn't pay her much attention. Once in Calcutta he discovers that she and her uncle may somehow be involved in the theft or drug smuggling – so he stays at their hotel and courts her in order to find information. And who can blame him. Many twists and turns and songs and comic bits later Prem realizes who is behind all of this and is set up for murder and on the run. It ends with a long chase up and down the Howrah Bridge.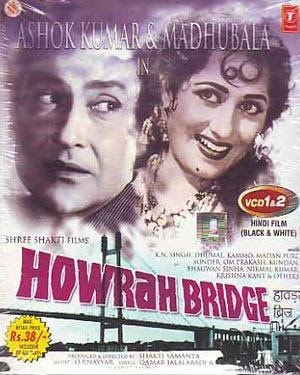 I actually lived in Calcutta right about this time – but didn't see myself and sadly have no recollection of the Howrah Bridge. It is a fun film which probably hasn't aged all that well – the villains played by Madan Puri and K.N. Singh are near caricatures of bad guys with Puri doing a high-pitched sing song voice and bad limp in imitation of a Chinese man and Singh just being rotten to the core (except when he is around Madhubala of course). It is also filled with character actors who are just plain goofy. But it has charms and of course great music.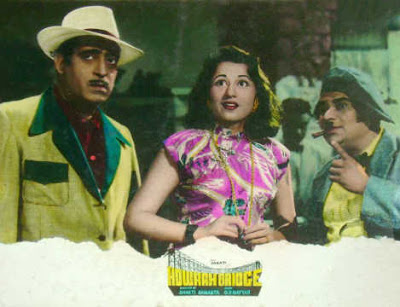 Just as a note of interest to myself and probably only to myself – Bollywood is famous for the intertwining of movie families – generation after generation who are introduced into films. This was certainly the case with Kumar's family – his real name being Kumudlal Ganguly. His brother took on the name of Kishore Kumar who became another very famous playback singer and who married Madhubala. His sister married Sashadhar Mukherjee and from whence actors such as Joy Mukherjee, Kajol and Rani come from among many others. Asha's sister was Lata Mangeshkar, the most famous of playback singers. And there is a wonderful musical number which a man and a woman perform – Mehmood and Minoo Mumtaz – who are in fact real life brother and sister.