Bombay to Goa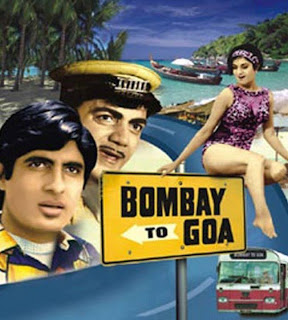 ---

Director: S. Ramanthan
Music: R. D. Burman
Year: 1972
Rating: 6/10


I was in the mood for an old Bollywood film and took this one on. I like Bollywood but in particular their films from the 1960's and 70's when they had huge stars, big ambitions, beautiful melodic songs and an attitude that you give the people what they want - like all the leftovers mashed together and sprayed on the screen. You like comedy? Here is some of that. Action? Sure why not? Romance? But of course. Bombay to Goa is not among the pantheon of Bollywood films. But it has its moments of insanity. For the first five minutes you might think this is going to be a tense crime story - a woman (Aruna Irani, who usually played the vamp seductress in films or danced item numbers) witnesses a murder by a gang and goes on the run. She hops on the first bus that comes her way and finds that it is going to Goa. The gang follows and this tall thin dude in a horrible magenta Liberace shirt lurks in the background. This is Amitabh Bachchan who has his first leading man role. Within a year he would be the biggest star in Bollywood but honestly you would not know it from this film.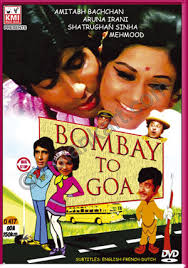 Once the bus ride begins the films falls smack into nutty comedy territory as the conductor is Mehmood, one of the top comedians of his time, and pretty much every one else on the bus is a nitwit, crazy, scheming or just plain nuts. They do pick up Kishore Kumar for a few minutes - playing himself - himself being one of Bollywood's greatest playback singers. And he sings a song - composed by R.D. Burman - another great - that has an amazing similarity to Help Me Rhonda. Just coincidence I am sure. The trip to Goa is sort of like Stagecoach if it were a Fellini movie for mental patients. But I found myself laughing which I probably should not admit. I was just in the mood for idiocy and I got it in spades.