Singapore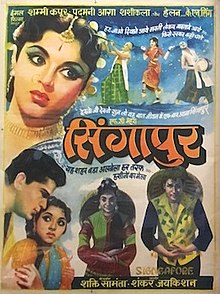 ---

Director: Shakti Samanta
Music: Jaikishan/Shankar
Year: 1960
Rating: 6/10


Singapore used to be such a fun place! Nightclubs on every corner. Dancing in the streets. Beautiful welcoming girls fashionably adorned. What happened? Of course, everywhere Shammi Kapoor goes turns into a party. He is the sort of guy who walks into a dance club and within a minute is leading everyone in a musical number. Or if two killers are chasing him he grabs a big floppy hat to hide his face and begins to dance with the village belle. Ah, when Shammi was still sleek and slim no one was cooler. He brought a zest and charm to Bollywood that no one before him or after him has been able to equal. Better looking. Sure. Tougher. Easy. More romantic. By all means. But no one was as at ease, as fun, as self-mocking as Shammi was. Which is why so many of us who came late to Bollywood films hunt down as many of his early films as we can. This one is in black and white - a few years before Bollywood went to color.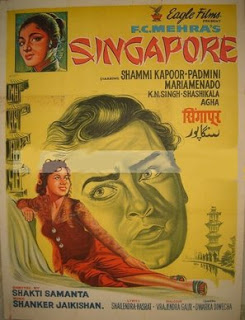 Here Shammi is told in a reserved long distance call (as you had to do back then) by the manager of his rubber plantation in Malaysia that he needs to come to Singapore but can't tell him why. By the time Shammi gets there his manager has disappeared. On the plane down he sits next to the femme fatale of the film - Malaysian actress Maria Menado who was a big star in Malaysia and was called Malaysia's Most Beautiful by none other than Time Magazine. But she is all bad here.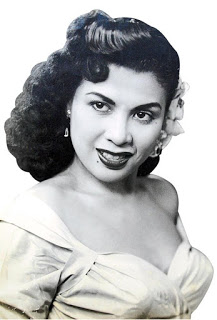 In his search, Shammi comes across Padmini - primarily a South Indian film actress - and a very fine dancer - but she and Shammi don't sparkle like he does with some of his future co-stars such as Asha Parekh, Rajshree or Sharmila Tagore. The romance never takes off and in a Bollywood film the chemistry between hero and heroine is everything. And neither really does the film - it has the usual components of mystery, kidnappings, murder, fights, underground lairs, hanging from a helicopter and disguises but it never quite clicks. It never feels as crazy as some of Shammi's other films.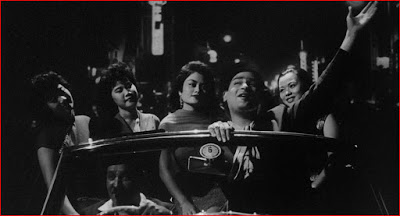 The songs though do click with a terrific set of music from the legendary team of Shankar-Jaikishan and the singing voices of Lata and Rafi (who always sang for Shammi). Songs break out all over the place like a teenager with pimples - some of it with great location shooting in Singapore. And as almost became a habit, with Shammi the great Helen pops in for a guest dance. Director Shakti Samanta was to do better work with Shammi in China Town and the wonderful An Evening in Paris - this was their first film together and at 2 hours 15 minutes it was too long and never got into a rhythm. Still it is Shammi and that is always a good thing.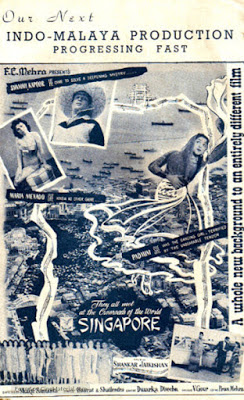 As a totally pointless aside - in the musical number where the five girl chorus sings "Singapore, Singapore, Singapore" you can spot the logo for the Shaw Brothers twice - which isn't too surprising as Malaysia and Singapore is where Shaw began - but in the credits the films say this is a Malaysia-India co-production and that they used the facilities of Cathay - Shaw's main competitor in HK - but who also began in Singapore.