Dilwale Dulhania Le Jayenge
(The Lover will Carry the Bride Away)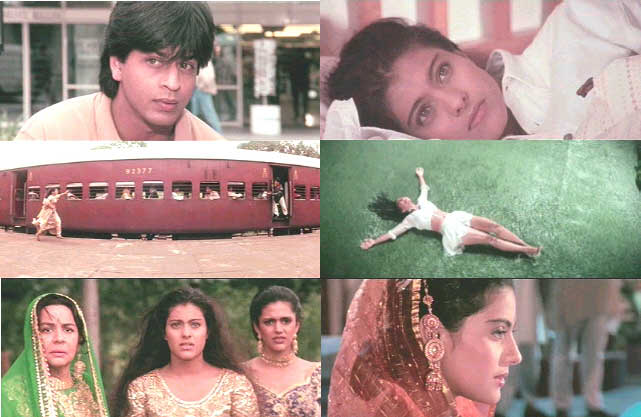 ---
Director: Aditya Chopra
Music: Jatin Latin, Lyrics: Anand Bakshi
Year: 1995
Running Time: 3 hours 9 minutes
First time director Aditya Chopra (who comes from a famous film family) struck both pure gold and pure hearts with this simple but very affecting romance between two young lovers who have to overcome the usual Bollywood parental roadblocks and hurdles to find happiness. The film breaks no new ground in terms of plot but brings enormous heapings of charm that it sprinkles like a fairytale snowfall throughout. The film was huge – made its two main leads super stars – won a record number of awards and apparently the film is still playing in theaters some six years after its release - the longest running Indian film in history.

From a flint-eyed perspective, it is perhaps difficult to understand quite why this film had the impact that it did because it certainly has its share of faults. At times it feels slightly ragged, it drags in bits, is played too broadly at times and the transitions from scene to scene occasionally feel rough, but it somehow overcomes this lack of polish to pull the viewer in like a slow moving gravitational vortex. Almost against your better judgment you start to really care about this twosome and the seemingly insurmountable odds against them. More than the script and more than the direction, this has to primarily be attributed to the wonderful performances of Shahrukh Khan and Kajol who lightly and lovingly tread on this old material and give it a lovely freshness and spark that it almost doesn't deserve. They are by turns sweet, annoying, petulant, lovable, radiant, emotional and always very real and natural.

There are times during the film in which you want to smack Shahrukh for being such an obnoxious smart aleck and for giving Kajol such a difficult time, but as his feelings for her slowly change from a shallow flirtation to a deep-rooted love, he takes on a surprising depth and strength. In a short period of time love forces him into adulthood and his resolve to marry her makes the best in him surface. Shahrukh is in near constant motion and oozes silliness and sentiment in a manner that makes him very likable.

Though Shahrukh is initially a bit of a git, Kajol steals your affections from the first frame as she stands at a window, her face being covered by her wind blown hair, and parts it to reveal a face full of innocence, high spirits and hope. Minutes later she is ecstatically dancing in the rain simply at the thought of love even though no one has yet entered her life. Her character is the most interesting and best developed in the film – Westernized but still very traditional as she accepts her fathers wishes with a sense of fatalism that is touching and yet tragic. When Shahrukh's father (Anupam Kher) meets her for the first time and says he now understands why his son loves her so completely – so do we.

Kajol (Simran) has lived in London with her younger sister, her mother (Farida Jalal) and her father (Amrish Puri) for all of her life – but conservative Indian traditions are still a large part of the family's life and her father still feels that even after twenty two years his stay in London is only on a temporary basis – faraway Punjab is still his true home. This theme of Indians abroad longing for home – never feeling a part of the fabric of their adopted country – plays out in a number of recent Indian films. In the book Bollywood Cinema by Vijay Mishra he spends a good deal of time on this film in his chapter on the Indian diaspora and its effect on Indian film. He writes that DDLJ was the first film to fully approach this subject and play intentionally to the overseas Indian population. But though the film seems to be full of nostalgia for the customs of the home country it gives a conflicting message at the same time as it is those traditions that cause the troubles and that have to be changed for the film to come to a satisfactory ending. A streak of nationalism pervades the film – such as Shahrukh telling Kajol when she thinks her honor has been compromised "You think I am a wastrel. I'm not scum. I'm Hindustani and I know what honor means for the Hindustani Woman".

Kajol is hit with a body blow when she reads her father's letter from an old friend that announces that their pledge to marry their children to one another is now ready to be acted upon. As Kajol tells her sympathetic mother "I had forgotten I haven't the right to dream". She tells her father that since she only has one last month to live her own life she wants to go to Europe with some girlfriends. In an intimate and touching father/daughter scene, he agrees. She soon runs into the fast talking Shahrukh (Raj) who is also with two friends (one of whom is Karan Johar, the future director of two of Shahrukhs and Kajols biggest hits – Kuch Kuch Hata Hoi and Khabie Khushi Kabhie Gham) and the two of them want nothing to do with one another – but when they miss a train they have to travel on their own together (and Kajol produces the magic purse that seemingly holds multitudes of clothing changes!) and though unable to admit it to one another – eventually fall in love. Upon returning to London Kajol is whisked away to India for the marriage – Shahrukh decides to follow and win not only her love but even more importantly the consent of her father.
The film not only gets the two terrific performances from Kajol and Shahrukh, but also very effective ones from the supporting cast. Both fathers give distinct characterizations – Anupam's is comical and affectionate, Amrish's stern, forbidding and yet he is a father who clearly cherishes his daughters. In a smallish role, Mandira Bedi is very sweet as the girl in India who falls for Shahrukh. But it's Farida as Kajol's mother who gives an especially memorable turn here. In particular she has two scenes that got her the Best Supporting Actress award – one in which she tells Kajol to put her dreams away and accept the sad but unavoidable fate of the Indian woman and then later when she pleads with Kajol to seize her love and live her life on her terms.

The music is uniformly wonderful with the centerpiece being Tujhe Dekha a beautiful and haunting tune with a lovely mandolin refrain in which Kajol and Shahrukh admit their feelings for one another. Other standouts are Mere Khwabon Mein with Kajol practically exploding on screen in a scene of sexual awakening as she dances coquettishly in a towel and then squirms provocatively in the pouring rain. Much of the choreography though is surprisingly uninventive and only the lively Mehndi Lagake really hits home with its call and response scenario between the men and the women at the engagement party.

The DVD for this film was just released after being delayed for years due to a legal issue about rights – but unfortunately the transfer is much less than one might expect for such a high profile and treasured film. It shows a fair amount of wear and the aspect ratio doesn't look right. It does come with loads of extras though and I particularly liked the interview with Kajol in which the questioner asks her how is she able to be laughing around on the set seconds before a dramatic scene and then go right into it with such fervor – to which Kajol responds "because that's what I get paid to do".
Here is an article on the fabulous Kajol that I came across on the Internet.
My rating for this film: 8.5
---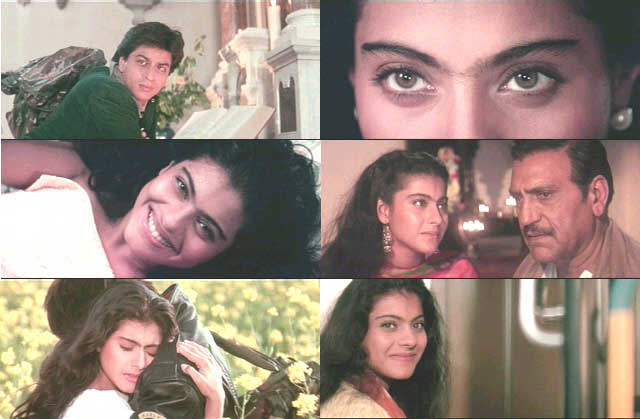 ---