Sssshhh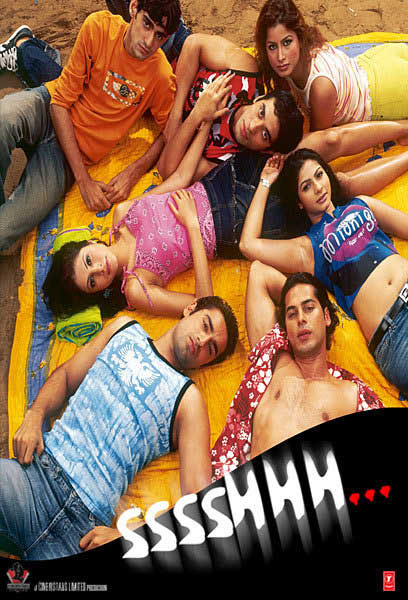 ---
Sssshhh
Director: Pavan Kaul
Year: 2003
Duration: 166 minutes
Malini (Simone Singh) is having a bad hair day on the squash court. First her back hand is out of sorts, then a ball she slams like a 45 slug just misses sideswiping her face on the rebound and next her buddy Sunny falls dead against the glass door covered in blood. As if that isn't enough, an ethereal voice out of the darkness tells her she is next on the cutting board of life. And so she is, as a person hiding behind a laughing clown's mask catches her in the deserted building and slices and dices her like a raw onion. It is a very effective beginning to this rarity – a Bollywood slasher film. In fact, a musical slasher film. Just what the world needed. Not a campy one, mind you but a straight up slash and gore film with musical numbers. I had my doubts about the camp aspect when the film jumps right from Malini's corpse to a musical interlude/credit sequence in which all the background dancers were carrying blades on them – but no this is actually a fairly decent if waaaaay too long slash and splash film (kind of like if Annette, Frankie and friends were being gutted).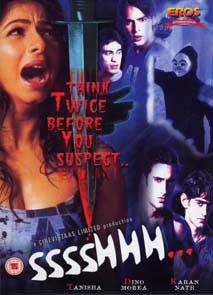 Back in 2003 Bollywood was hitting the skids and there were a number of attempts to give audiences something different and so a few films like this came out. The films are clearly greatly influenced by that I Saw You Last Summer type of film – young good looking actors who nearly all come to bad ends and one of them is doing it. That is certainly the case here – a group of new actors with the exception of Dino Morea who had been around a few years trying to make it as a Hero in "A" films but never quite getting there. He is handsome enough I expect but there is just something intangible missing – you can't warm to this fellow – he is the kind of person I would not trust to hold my bag lunch while I ran an errand. But the big news in the casting was Tanisha in her film debut. Tanisha probably figures she can go by one name because it didn't hurt her sister too much – that being Kajol. It was her first film so it is unfair to judge her acting skills and I haven't seen her in anything since so I won't – but my guess is that if she was say Tanisha Smith instead of Tanisha Mukerjee she would not have gotten within a mile of the studio. Nothing wrong with using connections though and she is cute, well built and from certain angles she has a definite resemblance to the great Kajol.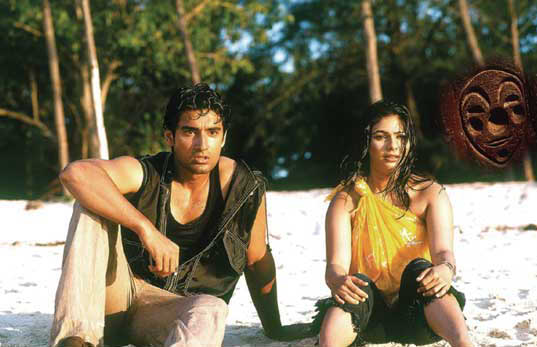 It is six months later and Malini's sister Mahek (Tanisha) is still in a state of shock and cries every time she sees a squash racquet. She lives with her mother and goes to nearby Simon College where she has a small clique of close friends. Let me introduce them to you since we will be seeing a lot of them in the next 160 minutes. There is Rocky (Dino) who is the group tough guy – giving lip to the cops but clearly smitten by Mahek. His nerdy buddy Rajat (Gaurav Kapoor) – these kind of films always have one – gives him love advice but seems to take none himself. Mahek's best friend is Gehna (Suvarna Jha), a tough talking no nonsense girl who may have a thing for Rocky or maybe for Mahek – hard to tell. Then there is Nikhil (Kushal Punjab) and his girlfriend Rhea (Tina Choudhary) who seem like love birds, almost too much so. Finally, there is the new kid in class, Suraj (Karan Nath), a quiet guy who is immediately attracted to Mahek as well. One of these nice people is very likely a psychotic killer. But which one? The film keeps you guessing till the very end as they decide to play Ten Little Indians and begin to die one after the other. At one point or another I suspected everyone – even Mahek's mother, the cops, the neighborhood dog or maybe even Kajol out to stop her baby sister before she replaced her. So at some point I was right!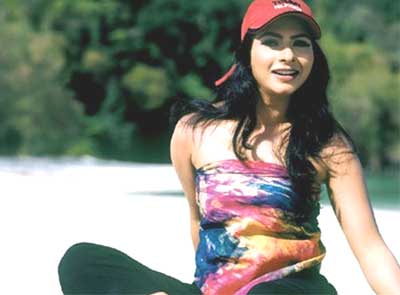 Coming in at nearly 3 hours is just too long for a suspense film – the viewer can easily weary long before the end of Mahek continuously escaping this killer who is out to get her in his crazy clown mask. But the individual set pieces (i.e. murders) all work fine and the actors are all charming and attractive and the locations are stunning. I am not sure where the first half takes place – somewhere up in the hills of India but good Lord it is gorgeous. I'd love to visit. And never leave. Then at the halfway mark the group decides to take a holiday from death and go to Thailand! So there are some nice shots in Bangkok and then off to one of Thailand's magnificent Koh's – islands – where you feel like you could spend a month just looking at the beautiful clear water and the stunning rock formations. I think it was Phi Phi Island where other films have been shot – the Bond film, The Man with the Golden Gun, being one. Sadly, our little group thought they were stuck on a deserted island where they could get no help. I kept wanting to shout out – just walk a mile in any direction and you are sure to run into hordes of sun baked red Europeans drinking beer in the bars.

The music comes from Anu Malik, one of the current day's most prolific composers, and it is fine if nothing I need to hear again. The songs are placed well though so as not to interrupt the build up too much – my favorite being when they get to Thailand and see a sign advertising Punjabi Night at the local disco! I know that's where I always am on Friday nights in Thailand!

My rating for this film: 6.5

---