The Burning Train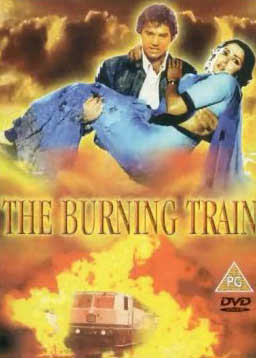 ---
Director: Ravi Chopra
Music: RD Burman; Lyrics: Sahir
Year: 1980
Running Time: 143 minutes
Much to everyone's surprise this big budget film with its gigantic cast crashed and burned when it was released back in 1980. It certainly had all the ingredients that go into a hit - it was produced by B.R. Chopra (brother of Yash), it had some of the biggest stars of the day, the songs were from RD Burman and it had a unique for Bollywood disaster scenario that is actually quite tense and at times moving. Over the years its reputation has grown, but mysteriously at the time no one wanted to see it. In many ways it not coincidentally resembles the spate of disaster flicks that had filled screens in the US in the 1970's with fare like Towering Inferno or The Poseidon Adventure – a group of strangers all with their own little dramas occurring face imminent death and have to struggle for survival – but no one was singing and dancing in Airport were they! But the main difference here is a lengthy back story of two friends and the loves of their lives that give the film an intimacy that the Hollywood films were missing. Of course, the special effects were not quite up to Hollywood's standards, but other than a patently obvious toy train model being used in a few scenes the usage of fire on a speeding train is quite well done and you can only hope that the bodies writhing in flames were paid more than minimum wage.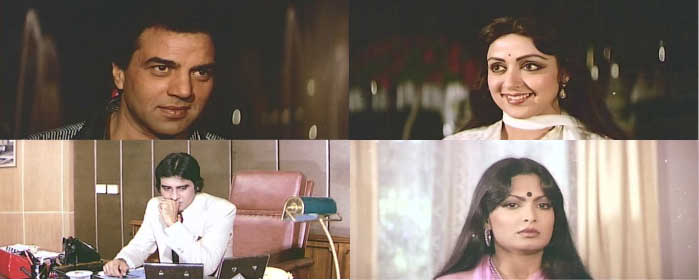 Two boyhood friends both have their dreams – Vinod (Vinod Khanna) wants to design train engines and Ashok (Dharmendra) wants to do the same for automobiles. Their friendship also comes in handy when they go courting – using the well worn but often successful ploy of saving a damsel in distress - Ashok and Vinod play good guy/bad guy to win the respective hearts of Seema (Hema Malini) and Sheetal (Parveen Babi). Unfortunately, the girls turn out to be friends and wonder at the amazing coincidence of this and soon discover the farce – but in true Bollywood fashion find this trickery charming and quickly fall in love while double dating on bicycles and boats. Vinod and Sheetal soon exchange wedding vows but the romance of the other pair goes asunder when Ashok's father goes bankrupt and kills himself leaving his son a pauper. He soon receives a Dear Ashok letter breaking off the relationship due to his financial status. This leaves Ashok not only a poor man but a broken hearted and embittered one as well.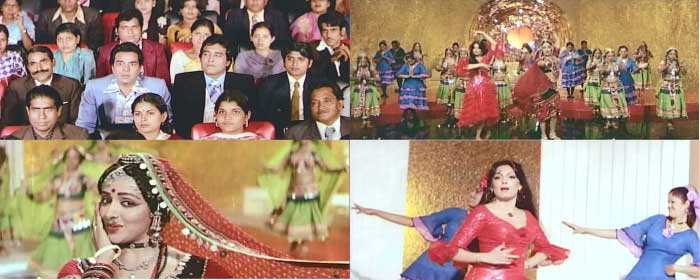 Seven years later Ashok has disappeared but Vinod has succeeded in his dream – designing a Super Express train that he proclaims equals the Japanese bullet trains. This is a good thing as shown in the film Bombay 405 Miles of the same year when Vinod Khanna's character at one point jumps from the moving train to get a girl a glass of water and runs a 100 yards to and from a hut and is still able to easily catch the train. What this Vinod doesn't know is that he has created a crazed enemy – Ranbir (Danny Denzongpa) who lost both his love and his train design to Vinod and who has a little revenge in mind. Finally, the day of the train's maiden journey has arrived and on board are loads of people with their own little stories playing out - a pair of jewel smugglers, an undercover cop, a newly married couple on their honeymoon, a pregnant woman (any bets on when she goes into labor?) and many others of all religious persuasions – which comes in handy when they later do a lot of praying. Of note in this crowd are also a light fingered thief (Jeetendra) and his target (Neetu Singh), Vinod's son who is being sent to Bombay to get away from the bickering parents. Not surprisingly Ashok reappears to take the train only to quickly realize that Seema too is on the train! Many of the train passengers are played by familiar faced character actors from Bollywood with a special bent towards those who appear for comic relief. When a bomb goes off cutting the breaks and a fire breaks out with a speeding train out of control it is time for the big boys – Dharmendra, Vinod and Jeetendra - to do their heroics and try to save the day and win back their loved ones. It is good stuff.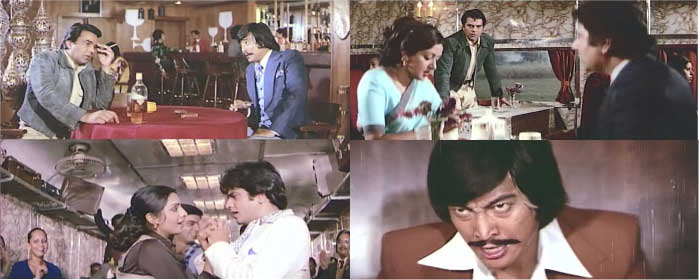 Looking back at the cast today it is interesting to note how many of them were part of acting families to come. Dharmendra was to have two sons with his first wife – Sunny and Bobby Deol – and Esha Deol with his second wife. His second wife (and concurrent with his first one) was of course Hema Malini. Also, in the family business was Vinod Khanna who had a son named Akshaye, one of today's bigger Bollywood stars. Jeetendra's real name is Ravi Kapoor and though he is not related to the legendary Kapoor family his son is Tusshar, another major actor in Bollywood and his daughter is Ekta a well-known TV producer. It doesn't quite stop there – Neetu went on to marry Rishi Kapoor and their son Ranbir is just beginning his career in acting (and of course her nieces are Kareena and Karishma). The marriage between Dharmendra and Hema was a major scandal at the time but it amazingly didn't drag down the career of either as both were so popular. Hema had initially tried to break into the Tamil film industry in 1964 but was told by a director that she had no star appeal and should try something else. Instead, she went to Bombay and by the early 1970's was a huge star and nicknamed The Dream Girl. Almost always playing the traditional good girl, her saucer sized eyes spoke volumes of vulnerability and heartfelt love. Much of this apparently translated off the screen as well as she was a much sought after lover. Two other actors Sanjeev Kumar and none other than Jeetendra both asked her to marry them – in fact Jeetendra was suppose to go to her to speak for his friend Sanjeev but fell in love himself. But she ended up going after Dharmendra instead and they are still married today – as he is to his first wife.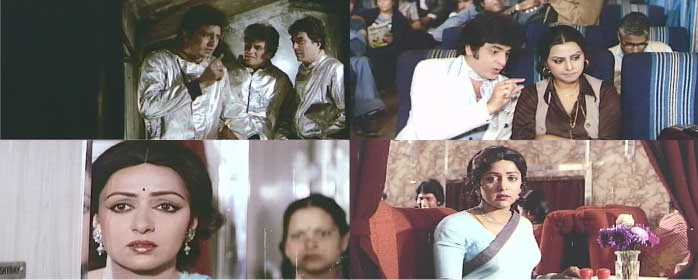 The music from R.D. Burman didn't strike me as nearly his strongest – perhaps a factor in the box office numbers – by 1980 many of his classic tunes were in the past. Other than the wailing "Burning train" refrain there isn't much of this that stayed with me though there is also a fun energetic song performed on the train in which many of the passengers participate and almost makes you want to travel that way in India. Almost.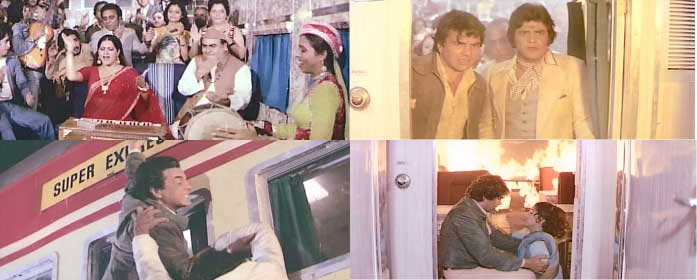 My rating for this film: 7.5

---
Note the poster in the background: