Pyaar Ke Side Effects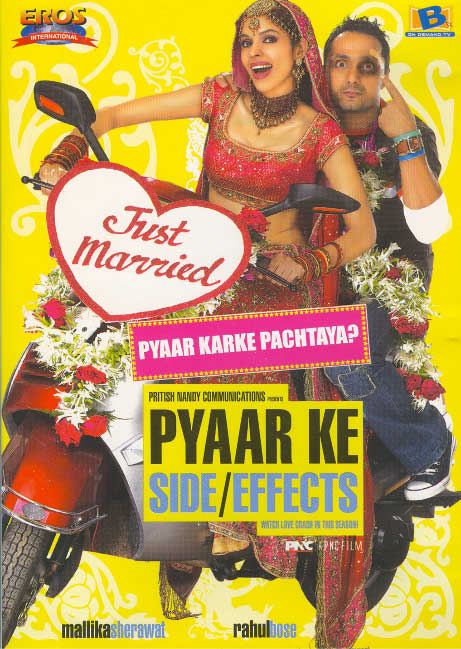 ---
Director: Saket Chaudhari
Duration: 127 minutes
Year: 2006
For those who nearly gag at the thought of watching a Bollywood film, this may be one that could keep that reflex in check. It is a very sweet romantic comedy that feels more New York than Mumbai as it marries Bollywood to what they call the parallel film industry in India (i.e. non-musicals). It has a few short casual musical interludes, but its running time of slightly over two hours is primarily dedicated to a subtle sly comedy tracking the relationship of a couple from their first meeting through courtship, engagement, meet the parents, breakup and reconciliation. The script is constantly amusing in a very un-Bollywood manner – no silly pratfalls or goofy faces – just well written dialogue and sympathetic characters.
The two leads also come from the two distinct film industries. The male lead is played by Rahul Bose, a simply terrific actor who has staked a claim as the premier new name in the parallel cinema with works such as Mr. and Mrs Iyer, Jhankaar Beats and Chameli (another Indian hybrid with Kareena Kapoor). On the other side of the equation is the astonishingly sexy Mallika Sherawat who hit the Bollywood screens with a big voluptuous bang in 2003 in Khwahish (Desire) and Murder in 2004. She quickly gained a reputation for flaunting her sexuality both on the screen and off where her revealing outfits managed to stay on by near magic and thought control. A rumor of a home sex video of her on the internet a few years back caused a near crash of the Indian communications sector with millions of men watching it in any way they could. It turned out to be a look alike. Some of you may recognize Mallika for her small but memorable role as the Indian princess in Jackie Chan's The Myth in 2005. Bringing these two actors together may make little sense on paper, but it works surprisingly well as their two very contrasting personalities and styles of acting make for a very cute but always at odds couple!
The story is seen through the perspective of Sid (Rahul Bose) as he brings the audience along on his relationship journey and often addresses his thoughts directly to the camera. He tries to convince us that he is something of a philosopher on love and relationships and explains the side effects of various actions – i.e. becoming engaged – but in truth as the film progresses we begin to realize that like most of us men he is totally clueless and in the dark about these things. He is also no match for the bewitching Trisha (Mallika) in the game of love and manipulation.
Sid (short for Siddhartha) is a professional DJ and he first sees Trisha at her wedding in New Delhi – just as she is getting the jitters and making an escape. A few months later he crosses her path once again in Mumbai where she has moved to and where he lives. They go out for drinks in which they tease one another about his lack of height and her being a New Delhi girl among other things and both make clear that they have no interest in dating the other. Many drinks later they are back in her apartment in a frenzied kiss. Three years on they are still together and she proposes – he panics – and so begins a series of what you might term relationship adjustments or break ups and make ups. During one of their break ups, he begins to date the sexy Sophie Chaudhary (a DJ and pop singer in real life) who is every man's fantasy after being in the video Baby Girl Vol. 3, but he discovers that he can't have her "coffee". There is only one girl's coffee for him.
Much of the material here is certainly very familiar – fear of commitment – meeting the dreaded parents – the ex-boyfriend – the silly friends who offer advice – riffs on marriage/dating (i.e. why are super heroes never married) and so on, but that doesn't really lessen the enjoyment of the film. It is a tried and true formula that works yet one more time due primarily to a wonderfully charming performance from Rahul who takes us into his confidence and allows us to see all of his flaws. Mallika is fine as well in a smaller narrower role but an endearing one. By the end you realize how much they need to be together and yet you know it will always be a constant series of small wars and many kisses.
My rating for this film: 7.5
An unrelated video with Sophie just because I like her

---