Woh Kaun Thi? (Who Was She?)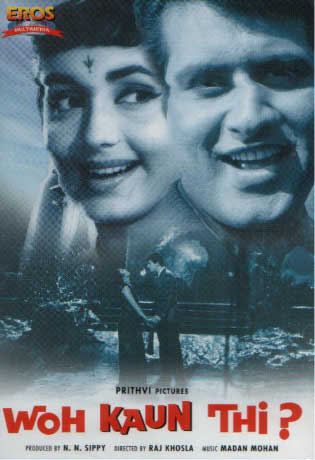 ---
Director: Raj Khosla
Music: Madan Mohan
Length: 142 minutes
Year: 1964
This was my first foray into the world of black and white Bollywood – something I have avoided because one of the things that first attracted me to these films like a baby to a shiny object was the delirious collision of colors that infuses their sets and saris. Bollywood movies so often explode with rich colors and quite honestly the lack of it has held me off from exploring any films from what many consider to be their Golden Age in the 1950's. But I accidentally stumbled on to this film without realizing that it was black and white since by the mid-1960's most of their top flight productions had switched to color. But luckily this turned out to be a fine choice for the shadowy world of black and white – an eerily atmospheric story of mystery, insanity and murder that often hides its face in the darkness of the night.
It is late in the evening and the rain is pouring down as Dr. Anand (Manoj Kumar) makes his way home in his car. He nearly runs over a solitary woman in white who appears like a specter in the middle of the road and who answers his concerned queries elliptically – "who are you?", "Nobody", "Where do you want to go?", "Nowhere". Nevertheless she agrees to go with him as long as he asks no more questions and she has him drop her off at a cemetery where the gate opens on its own and she disappears into the fog. A lyrical sad song (Naina barse rimjhim) creeps out of the graveyard and sends shivers down his spine. Trying to shake this off, he returns to civilization and his fiancée – Seema – played by the wonderful Helen with eye lashes lacquered to a fine sharp point and a grin to match them. In a rare instance, Helen isn't the vamp but a good hearted girl in love – though westernized enough that she likes to dance and get cozy.
Anand is a successful doctor with a woman he loves, but his world is about to fall apart. But thankfully not before Helen gets to dance in two numbers! In the first she comes down a slide as if to announce that you have entered Helen territory and this moment is hers. In the nonsense sounding song Tikkire tikkiri takiri she takes to the dance floor with glee and does the twist as men line up for her in adulation. Seema though is soon murdered by a lethal injection of cyanide and there are no suspects and yet at the same time many suspects (and sadly no more Helen dance numbers). Anand goes into a black depression and this isn't helped when he receives a phone call at home asking him to please make a visitation to a sick woman. When he arrives late at night he is led through a spacious but dilapidated mansion that is filled with cobwebs and the past – and he comes face to face with the woman on the road – now dead he is told by her mother. Outside, two police officers tell him that this has happened before – a doctor is called, the girl is dead and then they all vanish.
As Bollywood mothers are apt to do, Anand's thinks he needs a wife to get over his grief – and he agrees to marry a woman of his mother's choice – and doesn't even see her until he takes her home after the wedding and she lifts her veil. You don't have to be a genius to guess that she looks exactly like the ghostly woman – then a newspaper clipping comes to his attention with a picture of the woman, Sandhya, and it notes that she died long ago in a train crash - Anand suspects that she is a demon and avoids her. It must either be this or he is going mad. Insanity begins to build a good case as he sees her everywhere and the eerie song that follows her.
The film builds a terrific mood of slow unease with the use of dark and light, shadows playing on faces, off-setting camera shots and jangly background music that sometimes alternates with deadly silence. Sandhya is played by the elegant and lovely Sadhana in wonderfully enigmatic fashion – is she bad or good – a victim or a killer – in love or in cahoots – only one thing is clear - when the wind blows her hair across her face in close-up, she is stunningly desirable. Manoj is excellent in this as well – his mental breakdown and confusion writ on his startled face. This was made a few years before he became a big star. Born in 1937 in what is now Pakistan, his family was forced to leave in 1947 during the Partition. He took on his stage name after his idol Dilip Kumar and from a role Dilip played in a film. He became famous for the uber patriotic films that he directed and acted in – Upkar in 1967 being a huge hit. His nickname became Mr. Bharat (Mr. India).
My rating for this film: 7.5
Info on Manoj from Wikipedia.
---