Ankhen (Eyes)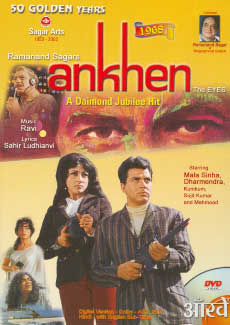 ---
Director: Ramanand Sagars
Music: Ravi, Lyrics: Sahir Ludhianvi
Year: 1968
Duration: 173 minutes
With the world in global turmoil and nation's divided into opposing camps of thought, the 1960's was a prime feeding ground for espionage films of all kinds and this genre found life in many of the film industries around the world. Some of these films have withstood the test of time, while many others seem sadly outdated or clumsy in their gauche 60's mannerisms and styles. The Bond films stand out the most from that period and are still a terrific watch – but even here while the Connery films feel fresh those starring Moore are beginning to seem rather overdone and mildly tedious. Another British spy (why were they so much cooler than American spies?) was the insouciant Harry Palmer played by Michael Caine in the wonderful "Ipcress File" and "Funeral in Berlin", but by the end of the 60's this series too was showing its age with "The Billion Dollar Brain" that was of interest primarily because the Russians come off as the good guys and because it was directed by the flamboyant Ken Russell. The American's had Derek Flint portrayed by James Coburn as an ultra hip anti-authoritarian playboy. These still have a certain pop nostalgic charm about them but can't be taken seriously for a moment.

There were female spies as well but the best known of these "Modesty Blaise" starring Monica Vitti hemorrhages under the weight of its 60's hyper mod cheekiness. Dean Martin as Matt Helm suffered from this same need to be cocktail cool and today its campy appeal is only mildly interesting. Hong Kong also caught the Bond bug and produced numerous spy films for both the Mandarin and the Cantonese markets. Here interestingly, females made for the best spies as Josephine Siao and Connie Chan made loads of them for the Cantonese market and Lily Ho took a few turns in her two "Angel with the Iron Fist" films.

India too has had its share of spy films, but unlike these others that tended to be drenched with cynicism, irony or playfulness, the ones from India tend to be seriously patriotic and paint their adversaries in the blackest of colors to the point of absurd caricature. This hasn't changed that much through the decades as evidenced by "The Great Gambler" in the 1970's, "Mr. India" in the 80's and 2003's "Hero" starring Sunny Deol (whose father is the star of this film). The enemy (dushman) has remained the same as well – their neighbors to the west. Though often unnamed specifically, there is little doubt that these villains are the dastardly Pakistani's and their faces would often feel right at home in a Boris Karloff movie.

Though "Aankhen" was a big hit at the time and clearly has a good budget as it jumps around from Japan to India to Lebanon, time has roughed it up a bit. From a 2005 perspective it is neither thrilling enough nor outrageous enough to grab one by the throat, but is instead a fairly straightforward if somewhat absurd spy narrative that bumps along through some fun stretches and some dull ones. Still it contains some good music, lots of stylish fashion changes, a modicum of solid action and a young annoying child in danger of being brutally and satisfyingly killed by a wall of moving spikes. Throw in your typical spy gear like miniature cameras, secret codes, quick change disguises, hidden microphones, secret doors, sliding panels and always our favorite device – a rubber mask that allows you to impersonate another person. I just caught this trick on an episode of Alias (season 3) the other night and its no more convincing 37 years later. Along with some nice locale shooting, this all makes for an enjoyable but far from deliriously fun spy yarn.

Enemies from outside are intent on destabilizing India from within – by blowing up trains, supplying certain elements with weapons and creating an atmosphere of fear and panic. But India is watching them – thus the title of the film – The Eyes. Not only is the Indian government keeping watch, but various patriotic groups have also taken it upon themselves to create a network of spies to keep tabs on these intruders. When one fellow suggests that perhaps they should leave this to the government to handle, Sunil (Dharmendra) silences him with "If you saw your mother being mugged would you stand by and wait for the police to come?" Hmmm – let me think about that one. Sunil is an agent working for the Major (Nasir Hussain) who has formed this group and keeps in contact with his far flung network with a giant radio set hidden behind the bookshelf in his study. Sunil has just returned from studying Judo in Japan where he also took the time to meet a young Japanese girl who stalks him across India and turns out to speak perfect Hindi – not too surprising since she is half Indian and played by Mala Sinha. Meenakshi seems to know all about him – even his role as a spy. He asks her "Who taught you how to spy?" to which she purrs back "Love". Well, if her bright canary yellow hip huggers and green sombrero combo didn't scare him, I guess this response wouldn't either and they soon fall magically in love. But he tells her "The path I choose rubs hard on death" and returns to his duty in India. Don't worry – they will meet again.

Back in India the Major tells Sunil that he has to go to Beirut where the gun smuggling originates. He will work with a group of agents who are disguised as a troupe of nightclub singers and dancers. They must have known they would be in a Bollywood movie! The group is headed by a woman – a beautiful woman – gasp – Meenakshi is her name. A slight smile worms its way onto Sunil's face. There is a double agent though in the Major's camp and the bad guys know exactly who Sunil is. Much cat and mouse and a few gunfights ensue – they even throw a Mata Hari princess (Zeb Rehman) at him in order to seduce him first and kill him second, but like all good agents he is irresistible and she falls for him – "love can change even an evil woman like me". Sunil has his way with a tiger as well that is guarding him at one point – as he shows the animal that he passed his judo exam with flying colors.

Meanwhile back at home, the evil ones have kidnapped Babloo who is Sunil's nephew and taken him through a trap door in a hospital that leads to a vast underground bunker that is filled with armaments and enclosed him behind a glass window with a threat to make sushi out of him. Another trap door leads to the top of a tall hill in which the hospital is not even in sight. That was some monumental digging job and I thought the Indians were watching. The conclusion leads of course to a big finale in the bunkers in which the prinz-nez wearing villain hits the self destruct button and tells his minions they have 20 seconds to evacuate and then manages to extend his speech for another thirty seconds where upon they all run like hell. The music is more than serviceable – some six songs with a few stand outs such as the big cabaret number and the one sung by Meenaskshi to Sunil as he flirts with the Princess "Oh my love, don't be so cruel. I'll be torn, I'll be dead. Oh my love, don't be so merciless". The voices behind the music aren't too shabby either – Mohd. Rafi, Lata and Asha.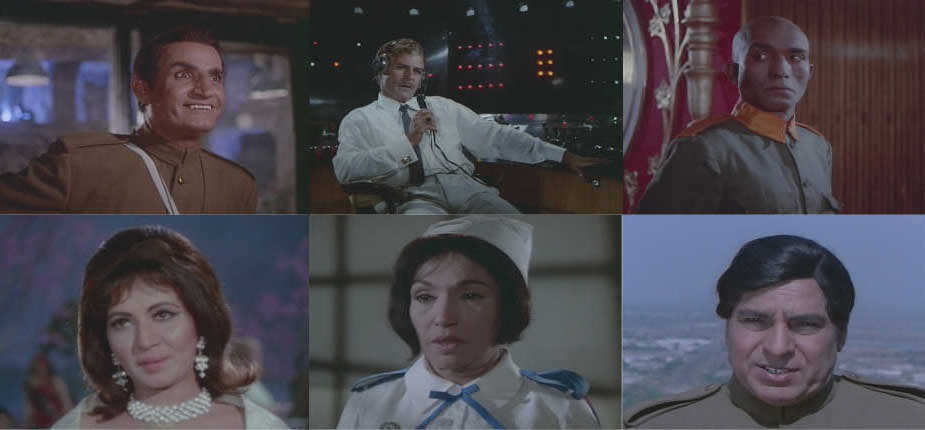 Mala was already a big star at the time of the film while Dharmendra was at the beginning of his career – this film being a big plus in his emerging role as an action hero – and like most of his films he avoids dancing and singing as much as possible. In fact, Mala gets first billing in the credits – somewhat unusual for a female in a Bollywood action movie. She had apparently lost some weight for this role and used her svelter figure to good advantage with an array of elegant outfits in which her side arms make for chic accessories. She was a Nepali Christian and had begun in the Bengali film industry in the early 1950's before jumping into Hindi films a few years later. She didn't make much impact though until Guru Dutt cast her in his classic film, "Pyaasa" in 1957. From this point on she had a number of successes and always made a point of only taking roles in which the female had more than a "flower vase" role and was more than willing to star with younger actors trying to break into the industry. "Aankhen" doesn't give her much room for acting range and she is more famous for her emoting in purple melodramas. She continued acting into the early 90's before retiring.
My rating for this film: 6.5

---