Nagin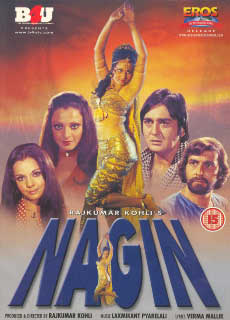 ---
Director: Rajkumar Kohli
Music: Laxmikant Pyarelali Lyrics: Verma Mallik
Year: 1976
Duration: 144 minutes
Love is in the air and hormones and glands are raging. Tonight is the night and these love birds are finally ready to consummate their relationship after a very long wait. As the male romantically says "tonight we copulate" and the two merrily dance and undulate across an open field of grass. The two of them are dressed in rather odd revealing anachronistic fashions and stare at each other passionately, yearning for this evening to quickly come. Love is all around us. Of course these are snakes (cobra's to be exact), but even so love is a fine thing. These are "miraculous" snakes that have lived for over 100 years and have gained the ability to take on human form – any human form. The female snake (Nagin) has had the good taste to take on the features of actress Reena Roy with her well-placed curves and shattering green eyes, while the male snake transforms into the manly shape of Jeetendra. Perhaps both are Bollywood fans and taking on the looks of their idols.

Snakes have a mythical place in Asian culture and religion and many films have depicted legends of snakes transforming into humans – generally female snakes transforming into beautiful seductive women. Hong Kong has a slew of films around this theme that include classics like "Green Snake", "Love of the White Snake" and the fairly recent cult classic "Phantom of Snake", while Bollywood too has eaten up this subject with this film, Nagina with Sridevi in 1986 and "Jaani Dushman – Ek Anokhi Kahani" in 2002 to name a few. The snake woman theme is especially perfect for Bollywood of course because snakes are great dancers and there have been some classic dance numbers performed by these snake women – in particular by Sridevi whose famous number in Nagina was parodied in "Bride and Prejudice". To read a very good piece on this subject, check out Peter Nepstadt's Illuminated Lantern website. Hollywood has ventured down this path at least once that I know of with the terrific B film "Cult of the Cobra" in 1955 but even the genesis of that plot begins in India. The thing to remember is that snakes are like people too – or at least they are imbued with many of the same emotions that we pride ourselves in having – love, looking good and revenge. All three play pivotal roles in this film – especially revenge – the lesson learned here is to not piss off a female snake on copulation night.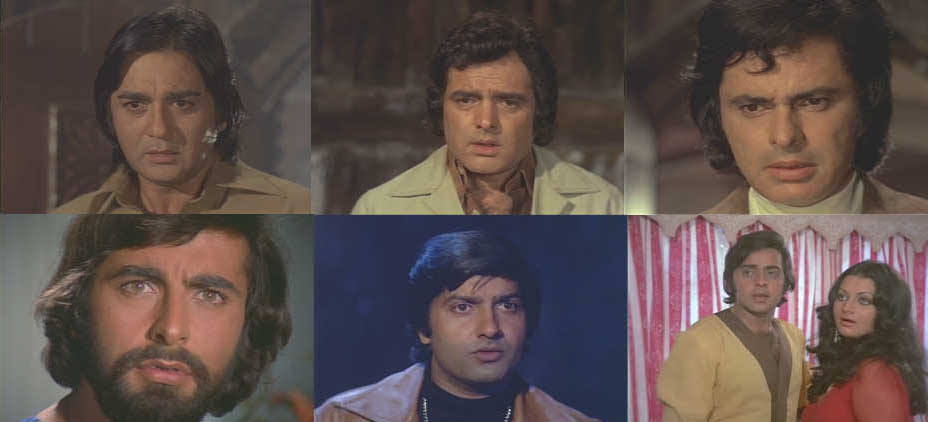 But that's exactly what a group of six men do. During the day Vijay (Sunil Dutt) comes across a posse of ungainly stuffed vultures on strings attacking a man in the jungle and he saves his life. Vijay explains to the man that he is looking for the "miraculous" snake in the jungle and co-incidentally it turns out that this man is one of them! As a gesture of his thanks, the man (Jeetendra) takes snake form and tells Vijay that he will be meeting his love in the moonlight later on and he is welcome to watch. Ooh cool – snake porno. Vijay invites five of his male friends to come watch the show and to bring beer and popcorn and though they don't believe a word he has told them when they hear the eerie moody singing of the now classic tune "tere sang pyar" they venture out and witness a stunning woman dancing sensuously in the jungle moonlight like a vision out of a Sabu movie. When suddenly a snake leaps out at her, one of the men Kiran (Anil Dhawan) pulls out his pistol and shoots it to protect her. Big mistake. It is a little known fact, but the final images that a snake captures in its two beady eyes as it dies are retained and can be used as evidence in a trial or used by a vengeful female snake to track down the killers and this snake sees all six men before it gasps its final hissss. His last words to his love could break your heart, "Our night of copulation has turned into a night of mourning". The stuff that tragedy is made of. I wonder if they took that line from Shakespeare?

Again the men don't worry too much about this legend – not even when Nagin appears in Reena Roy form at the house of Kiran and tells him a woeful story about being a snake charmer and being held prisoner by the male snake. He sympathizes and leers at the same time and invites her in for a hoped for night of fun – a few love bites later and he lays dead and deformed with venom coursing through his body as she laughs maniacally into the night. The other men hope that with the killer dead that perhaps this will end it – not likely as the Nagin is nearly mad with grief and anger. You can imagine how pissed off you would be if you could not get laid for another 100 years. Rajesh (Vinod Mehra) and his full figured girlfriend Rita (Yogita Bali) – director Kohli seems to appreciate big hipped women in tight slacks – are cavorting around in his hotel room and Rajesh doesn't find it suspicious that his chaste girlfriend is suddenly so randy and willing to jump into the sack – and after a neat modern dance number (with the wonderful Aruna Irani participating) – he doesn't find it odd that she goes under the bed and stays there. When he peeks underneath he finds something very different than his willing girlfriend waiting for him.

The men now get the assistance of a religious man – a fakir – similar of course to the Hong Kong films where a Taoist priest is usually brought in to unmask the snake in human form – but the killings continue – this is basically a snake serial killer movie after all and Uday (Kabir Bedi), Suraj (Sanjay Khan), Raj (Feroz Khan) and Vijay await their fates. Plenty of other stars make an appearance in this very star studded affair. Mumtaz (billed as her final appearance in the credits) appears at Raj's doorstep with a book on Indian snakes in hand and gives every indication of snakely charms in her tight pants and shrouded eyes – but is she or not? Rekha all glammed up is Vijay's girlfriend and one of the many highlights of the film is her kung fu catfight with the Nagin. But the best is left for the end – picture this – our hero is forced onto a rope crossing between two high rises, his hands bloody and a little girl hanging from his legs hundreds of feet in the air – and a slithering snake slowly making its way towards them on the rope – a totally unintentionally hilariously wonderful moment in a film full of them. There are little pleasures to be derived within the film from a snake duel to a bear rug on a wall to the amazingly wonderful fashion sense of a female snake who seems to subscribe to Vogue magazine.

There are not a lot of songs – though "tere sang pyar" plays often, but the playback singers are the best – Lata, Asha, Mohd. Rafi and Kishore Kumar. The film though somewhat creaky by today's standards and with special effects that look like they are from the 1920's has a terrific cast, a couple wriggly snake dances from Reena and a terrifically silly one from Rekha (Nagin in reality) in which she does a victory dance on top of one of her victims and lots of female glamour on parade. This is simply great silly fun.

My rating for this film: 7.5

---