Ajanabee (Ajnabee)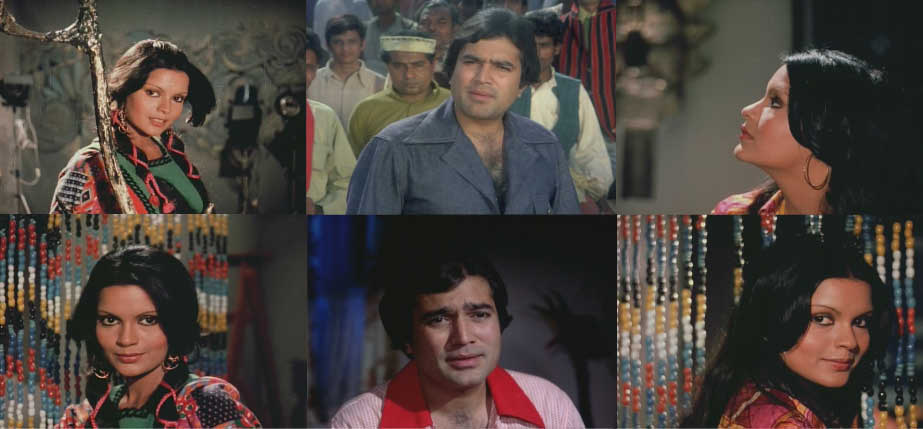 ---
Director: Shakti Samanta
Music: RD Burman Lyrics: Anand Bakshi
Year: 1974
Duration: 139 minutes
By the early 1970's there were no hotter stars than Rajesh Khanna and Zeenat Aman in the business and one expects romantic fireworks in their pairing here, but it never quite erupts into more than a mild sizzle. Rajesh was one of the last of the quiet wistful romantics that were the fiber of Bollywood heroes in the 1950's and 60's. They tended to be urbane, poetic, gentlemanly and somewhat passive in those days – but exactly what young women in the audience found to be desirable as good material for husbands. Those days were coming to an end though and a more masculine hero was on its way with stars like Dharmendra and Amitabh Bachchan beginning to take center stage with more action oriented rough hewed personas. Interestingly, a similar thing was occurring in Hong Kong film with the scholarly effete male leads making way for a more hard edged action male hero. Soon Zeenat was to become a mainstay in the arms of Amitabh in numerous films and actors like Rajesh were shunted to the side. While watching this film, one can almost feel the frustration some in the audience must have had in the passive victimized character that Rajesh plays and found themselves wanting someone who would fight back with his fists ala Amitabh.

The film begins with a young woman dressed fashionably in high boots and a lime green raincoat rushing into a small out of the way train station to buy a ticket to Bombay. Sonia (Yogita Bali) just misses the train and asks the stationmaster Rohit (Rajesh Khanna) if he can lock her briefcase in the station safe and he does so. Since the next train will not be until the next morning, he also offers her his modest home to sleep in where she will be safe while he remains working in the station. Later she calls him to ask for cigarettes and hopes that he doesn't think her a wanton woman for smoking and they get into a conversation that brings old memories back to Rohit like a shot to the head. He tells Sonia that he is married but his wife no longer lives with him and describes her as "a fragrance that lingers but cannot be possessed" and as he lights her cigarette, he muses "Unlike a cigarette that gets burnt, love burns the lover". Depressed and broken on the pillar of love, his mind flashes back in time.

Rohit is a carefree young man just out of school and looking to make his way in the world, but coming from a lower middle class family with no social connections he has few prospects and few hopes. Driving along a country road in a reddish orange jumpsuit that matches the color of his motorcycle, he gets into a flirting duel with a beautiful woman behind the steering wheel of her convertible. He quickly falls victim to her stunning looks and her English phrases such as "Oh shut up" and "You stupid old so and so" and when it turns out they are going to the same wedding ceremony he sings her a song that wins her heart. That old Bollywood bugaboo raises its ugly head though – she is the daughter of a wealthy father with vast landholdings and she has a lecherous widowed brother-in-law (the always vile Prem Chopra) who wants her and the inheritance. Rashmi (Zeenat) is able to get a job for Rohit working for the brother-in –law, Mr. Moti, but when he discovers that money is missing and that Mr. Moto is likely responsible he is framed for attempted rape by the lovely Bijli (Chandra Sekhar) and is horsewhipped and thrown out of town as Rashmi looks on in silence.

She soon learns the truth though and rather than telling her father what's going on she jumps on the train with Rohit and they do a mini-Dil Se by singing and dancing on the top of the moving train. Life is good. Love is good. They get married. She sings and dances in her nightgown in the rain thus speeding up male heartbeats all over the world. She cooks badly in an adorable polka-dotted dress. What could go wrong? Money, that's what. Rohit has a mid-level job in a publicity firm working for the hideously dressed badly color co-coordinated Mr. Puri (Madan Puri) and brings home a measly 400 rupees a month – barely enough to pay for her fingernail polish and mascara and certainly no more polka-dot dresses in her future. So she decides to become a model – not just a model – but the biggest model in Bombay – the talk of the town with men ogling her with lust in their loins. This doesn't sit well with Rohit and things quickly go downhill and he soon finds himself alone and trying to escape his past and his heavy heart by banishing himself to the hinterlands – and he soon finds himself framed yet again – this time for murder!

None of this is particularly compelling and the lovers don't have much chemistry together except during the throbbing rain dance duet. For Zeenat fans though there is plenty to enjoy as she looks great and has lovely fashion sense for all occasions. The same can't be said for the men in the film and one can only hope and pray that these clothes fashions never make a comeback! The music from RD Burman is as usual quite good with a couple standout songs to the voices of Lata, Asha and Kishore. The character of Rajesh is just a bit of a sullen sod and he never really fights back – he is the antithesis of the soon to come "angry young man" – perhaps the "somber young man" - he acts as if this is his fate in the world because he wasn't born privileged and so accepts it with a kick me in the pants look on his face. Bring on Amitabh, who would have shot Mr. Moti with a smile on his face, had Zeenat over his knee and begging for more and strung up the men who try and frame him.

My rating for this film: 6.0


---