Hum Aapke Dil Mein Rehte Hain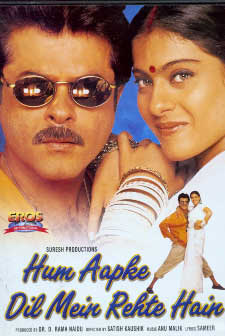 ---
Director: Satish Kaushik
Music: Anu Malik, Lyrics: Sameer
Year: 1999
Running Time: 160 minutes
This film changes moods more often than a runway model changes clothes as it switches back and forth constantly between comedy, action, tragedy and melodrama. Parts of it feel quite clunky – especially towards the conclusion when co-incidences hit you with the speed of a Jackie Chan flurry – but the end result achieves its purpose of sucking you reluctantly into the story.

Anil Kapoor comes back to visit dad (Anupam Kher) after being away in America for many years. During these years he has adopted some American traits such as not really wanting to work too hard or to settle down and raise a family. His father tries to kill himself on sweets and gets Anil to promise to marry a woman of the father's choosing – but Anil stipulates that if after a year of marriage he is not in love he will exit the marriage.

Where to find a good Indian woman that will accept a one-year contract? It so happens that dad's secretary (Kajol) is in dire need to stabilize her finances with an unmarried pregnant sister, a sister with a heart condition that the husband has thrown out and a brother who can't find a job. So she takes up this burden in hopes that within a year her husband will come to love her. With Kajol what are the chances that he wouldn't? You would have to be made of steel to resist her impish charm and warm chapattis. Anil it turns out though isn't so much steel as mush and even when she brings him back from death's door – praying till her knees bleed – he doesn't seem more than a touch grateful. He finally realizes too late what all of us knew – and now has to win back an embittered Kajol. It nearly spins out of control in the melodrama that follows and the need to stretch the film to nearly three hours – with an ending that is so absurd that one can only shake your head and go with it.

Kajol is wonderful and is given full rein to display her emotions here and has a couple rip out your heart scenes, while Anil is appropriately mellow like a south California surfer dude until he realizes how much he loves Kajol and then gets all misty-eyed. The main drawback of the film is an ongoing vaudeville routine between three other characters (Johnny Lever and Satish Kaushik being two of them) that was initially mildly amusing but becomes painful as they keep banging on the same nail. Appearing also is a sultry Mink Singh and Shakti Kapoor as her uncle.

The music fills out the film nicely, but is nothing that stays in your mind. A couple of the numbers are catchy – Meri Life and Dil Mein – and the choreography is competent if not all that imaginative as they jump from Europe to the Himalayas to a Caribbean resort for some reason.

My rating for this film: 7.0

---