Police Tales.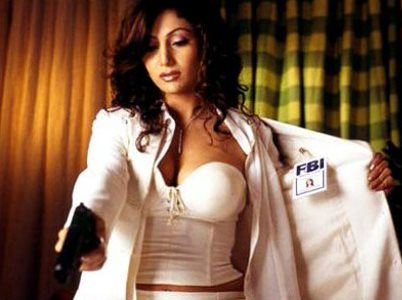 Up until Indian independence the female was often considered the "home maker" in Indian society. Whilst this role might have involved more responsibilities than in western society it was still usually subservient to her male counterpart. However, in common with most democracies, women have been making substantial inroads into jobs and professions usually considered male oriented. This certainly applies to the Indian justice system including the police force where, if Bollywood is to be believed, female emancipation is quite well established. Dimple Kapadia was a well known actress in the 1980's who sometimes played a strong willed police officer and this kind of role was not unique to her and has been been occurring even more frequently in modern Indian film making. This tenet also applies to the Indian armed forces as the following selection of screen captures attempts to demonstrate.

In fact it could be argued that it is perfectly acceptable for major actresses to play a gun toting police woman but a dubious career step if there is serious and persistent wrong doing without good cause (an evil twin is acceptable). Amongst actresses who have donned the uniform to protect mother India are Preity Zinta in Sangharsh and Sushmita Sen in Samay. In fact both of these films were particularly risky for Preity and Sushmita considering the potentially controversial and unpleasant nature of the story lines, concentrating as they do on child abduction and murder. Both actresses should be congratulated for accepting these challenging roles in films unlikely to impress mainstream audiences but giving creditable performances in both instances.

Another big name star who tried the police action genre was Bipasha Basu in Gunnah (more later) though she probably wish she hadn't. Whilst she proved herself to be an adequate action heroine the film itself was a a minor let down. However it did pave the way for the more glamorous plain clothes policewoman to start appearing in more and more films. Juhi Chawla was certainly effective as a supporter of law and order in One 2 Ka 4 and the film benefited from a great script, great stunts and starred the always entertaining new King of Bollywood Shahrukh Khan. One Two Ka Four is a rarity in that if the film is compared to equivalent western action movies it would score very favorably and beat most. Female cops were also present in similar Bollywood blockbuster action films Dus (Esha Deol and Shilpa Shetty) and Dhoom 2 (Bipasha Basu). However the female interest is pushed aside for the male superstars

One of the interesting aspects of Indian police dramas, both film and TV, is the accepted brutality and corruptibility of the agencies of law and order. Whilst accepting that movie scripting has always had license to stretch the truth to extraordinary levels it is still surprising that little to no comment is passed upon films which depict routine beatings and criminality, or maybe I am taking things too literally - after all nobody mentions this trait in western film. Negative traits are not restricted to male role films but sometimes work their way in to their female equivalent. In Gharv a corrupt lesbian jail warder also displays murderous tendencies. The actress is Mita Vashist who has always placed being an accomplished actress at a higher priority than being a popular model actress. Also shown are a few stills from the lightweight disaster of a film called Ms 420 where the heroine (Sheeba) seems to have little compunction about administrating her own brand of justice without reference to the judiciary. It is a real pity because the female supercop is not really a genre which has been explored in any great depth. The film was castigated upon release and as a result this avenue of action film for the girls was closed.