Early Days and a Brief History (To the 1980's)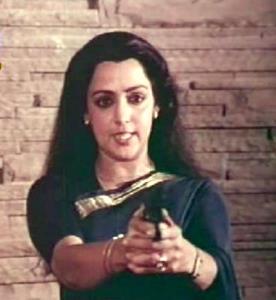 I am indebted to Brian for giving me a steer on a Bollywood heroine who started making films in the 1930's and continued into the 1960's. Her name was Fearless Nadia and she featured in a whole range of films requiring her to perform, from what I have read, some breathtaking stunts as she took on the bad guys of Indian Film and righting wrongs. Most film historians agree that such boldness would not have been tolerated if Fearless Nadia was a native born Indian but her blue eyed, blond looks (she was originally from Australia and called Mary Evans) enabled her to circumvent the strict stereotypes of the time and captivate Indian audiences for decades. Like many stars from the early days of the movies her pioneering achievements have been forgotten by many and her work is difficult to find but a homage to this remarkable sounding lady was made by her grandson in the 1993.

One of the early examples of GWG cinema is Khyber Mail. In retrospect it looks like this film was Pakistan's equivalent to a Fearless Nadia film featuring, as it does, a masked female whip cracking, gunslinger. It stars the Pakistani actress Neelo and is reminiscent of the old Zorro/Lone Ranger films except the main protagonist is female. Neelo was popular in the late 1950's and 1960's so my guess is that Khyber Mail was made sometime around then. I would guess that it was quite startling to have a native born Pakistani actress playing a role which demanded that she ride around the countryside meeting out summary and fairly brutal justice to all and sundry.

Khyber Mail is far from unique in the that the film also features a bad girl role (not shown). The bad girl or "vamp" as she is colloquially known in this type of film has been a constant character in Indian film. Until relatively recent times the role was generally set firmly in the background. Her role was to scheme and to look evil and seductive. Quite often there was an attempt to subvert the film's hero from the straight and narrow which often was hinted at by sexually provocative dancing plus some socially risqué habits for an Indian woman of the time such as smoking or drinking. In the 1970's and 1980's the roles often became more forceful with the vamp pushed further into the line of criminality and sometimes even taking over the role of chief villain. One example of this is Qurbani made in 1980. Aruna Irani plays one half of a brother and sister crime cartel. Towards the end of the film it is obvious that it is the woman who is just as much the driving force behind the criminality and is an prime example of liberation that women were beginning to have in Bollywood film. Aruna often played vamp roles during her acting days and is still active as a producer and actress in today's Bollywood.
Even with the steady increase of roles featuring dominant or powerful women the roles still tended to stick to stereotype. That is the women were relegated to bystanders in the action sequences or alternatively limited to engaging in a catfight with the film's good girl. Throughout the 1970's and 1980's the frequency of girls wielding guns was increasing but still relatively small. One actress who sometimes bucked the trend was the very talented and very cute Zeenat Aman. She played the good girl in Qurbani (see previous) but her characters often displayed a moral ambivalence. In both Don and The Great Gambler she played a gun toting moll who has in fact infiltrated the bad guys to gain revenge for a past wrong. This role was extended further when she played the avenging rape victim in Insaf Ka Tarazu though this film more rightly belongs in a set of films discussed later in these pages - the "Avenging Woman" genre.

Another lady who regularly played tough girl roles is Lollywood actress Anjuman, the pinnacle of her career was in the 1980s. Anjuman obtained near legendary status both for her provocative dancing and her action packed roles including Daku Haseena, Hunterwali and countless others. This woman did everything, apart from act very well but who needs that when you can watch the spectacle of the Amazonian like Anjuman shoot, ride and fight along with the best of them. Anjuman, together with Babra Sharif dominated Pakistani film in the 1980s and is still revered despite the ungracious way she was forced to quit the Lollywood film industry at the beginning of the millennium.