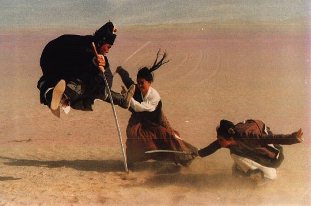 Dragon Inn
---

---
Asian Film News Sites
---
Roast Pork Sliced from a Rusty Cleaver
---
Asian Film Resource Sites
Ryan's Hong Kong Movie Data Base
This is the bible of up to date information on HK films and a ton more

---

Internet Movie Data Base
Their listing of Asian films has improved dramatically over the past few years

---

Box Office Mojo
The Box Office numbers around the world

---
---
Asian Film Forums
---
BollyWhat Forum
---
---
Asian Film Review Sites
Subway Cinema
Though this is the site for the Best Asian Film Festival in the world, it also has many film reviews

---
Great reviews from Simon Booth

---
---
Asian Film Strike
---


Love HK Film
Excellent site with many terrific reviews of recent films and a friendly forum.

---

So Good
A HK movie review site from Sweden that has a nice selection of films and seems to be growing quickly and also gives some DVD information.

---

Love and Bullets
A very snazzy looking site that covers HK DVDs.

---

The Illuminated Lantern
An absolutely terrific, informative and well thought out web site unlike any other around

---

Hong Kong Express
This site is written in Italian but looks to be very interesting with a number of pictures.

---

Kung Fu Cinema
Great site in regards to content and design that covers action films from both Hong Kong and Japan.

---

HK Film Net
HK Reviews with interesting factoids and a load of other good stuff.

---

City on Fire
Stylish web page with many reviews and other HK related things.

---

Shelly Kraicer's Chinese Cinema Page
Very perceptive reviews of Chinese and HK art films

---

Far East Films
Information on HK films and reviews

---

Heroic Cinema
Humorous and informative HK movie information from Australia.

---

Asian Cinema Drifter
This site takes a pan-Asian look at film with many reviews

---

Asian Cinema
Two guys from Denmark have put together this excellent site on Asian films

---

Eastern Kicks
Nicely designed site with lots of good reviews

---

Alex in Wonderland
This site covers a lot of interesting territory - but this link will take you only to the Asian film reviews

---

Shaw Brothers Page
Information on the Shaw movie studio

---

Darcy's Korean Film Page
One of the best sites to cover Korean cinema

---

Midnight Eye
The best site that covers Japanese films on the Internet

---

SciFi Japan
News and Reviews on Japanese scifi films

---

Molodezhnaja Thai Style
The Thai film reviews are in German - but the titles are in English and a star rating is given

---

Wise Kwai's Thai Film Journal
This fellow is living in Thailand and is kind enough to keep an up to date site on Thai films

---

Criticine
Elevating discourse on South East Asian Cinema

---

Other Non-Asian Film Sites/Blogs

Girls with Guns
The world of Girls with Guns - many reviews of these types of films from all over
---

Video Watchdog
From the creator of my favorite film magazine comes a terrific blog as well

---
Out of the Past
---
Die Danger Die Die Kill


---
Double O Section


---
Unseen Films


---
Coffee Coffee and More Coffee

---
Classic Film and TV Cafe
---
Cin Eater
---

Hell on Frisco Bay
Often with a focus on films appearing in San Francisco, this blog covers a wide gamut of genres

---

The Evening Class
There seems to be a tilt towards Asian films here, but anything is up for grabs on this very excellent blog

---
---
Bollywood Film Sites
---
So They Danced
---
Aspi's Drift
---
Filmi Geek
---
Memsaab Story
---
Asian Film Star Sites
---
Angela Mao with links to Chia Ling, Kitty Meng and other female kung fu fighters
---
Chow Yun Fat - Realvideo Interview Archive
---
Michelle Yeoh Web Theater
---