Mother of the Bride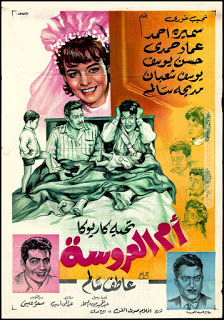 ---
Director: Atef Selem
Year: 1963
Rating: 7.5
Country: Egypt
---
Every time I watch one of these Egyptian films from the 1950's and 60's I want to see more. They are charming, humanistic, musical and with a big serving of sentiment thrown in. The brilliant noir like Cairo Station is an exception to this. I spent some time looking around the Internet last night hoping to find many more but ones with English subs are few and far between. There were some - a couple with Omar Sharif before he became a Western star in Lawrence of Arabia - and I will follow up on those. They just paint such a different picture of Egypt and Cairo then we have now - traditional but edging towards modernity, women in Western dress, couples dancing, drinking, flirting - a country under Nasser that felt hopeful about its future. Of course, that was the movies.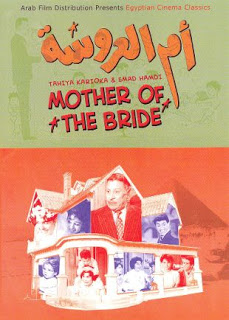 This 1963 portrayal of a middle class family - the father is a civil servant - in Cairo is amusing, sweet, romantic and heartfelt. Also chaotic. As best as I could count the middle aged couple of Hussain and Zeinab had sprouted seven children - it was hard counting because they were almost always in motion - except the baby who was usually crying. The children range from a newborn to a girl (Ahlam played by Samira Ahmed) on the cusp of womanhood and ready for love. Proper love of course. Her sister played by Samira's real life sister (Khayria Ahmed) isn't far behind. The two of them are like two Egyptian Gidget's.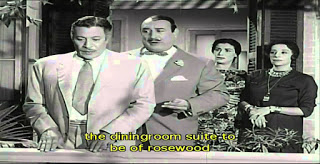 Well Gidget, I mean Ahlam, goes to the engagement party of a friend and falls in love with Galal from across the room and he with her - with only a few words exchanged. Love moves quickly in Cairo and the very next day Galal along with his family go to Ahlam's home and propose marriage to the family and it is accepted! One phrase used in the film regarding women is "Are you going to stay home" meaning are you going to university or will you stay home and learn how to cook and clean from your mother - i.e. train to be a good wife. Ahlam was a stayer. You can't be both. After the marriage is agreed to it gets even more chaotic as the dowry has to be negotiated like a Peace Treaty and the money squeeze is on for the father who is not poor but far from rich and the mother is intent on giving her first born a wedding to make the neighbors take notice. It gets a little dramatic along the way but this being an Egyptian film from that period I think you can feel assured all will end up happily.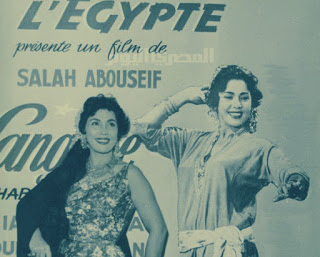 From what little I could find out about the actors of the parents, they were quite famous in Egyptian cinema - in particular the rotund mother played by Tahiyah Kariokka (or Carioca because she could dance the samba). She was a famous belly dancer and actress who somehow managed to have 14 husbands. That sounds exhausting. Both she and the henpecked husband (Imad Hamdi) are terrific.