The Maigret films are of course based on the enduring and endearing character created by Georges Simenon. There have been numerous adaptations of his books with multiple films and a few TV series. Just recently a series was produced starring the unlikely Rowan Atkinson as the opaque stern faced Inspector Maigret. They are fairly decent though treading familiar ground if you have seen most of the other Maigret films or TV shows. I just recently started watching the French Bruno Cremer TV series that lasted from 1991 to 2005 and consisted of 54 episodes which is also quite good. My favorite films though are the three French films starring Jean Gabin. I don't know if he really nailed the character as I see him in the books but they are very good films. Cremer probably comes the closest of the different Maigret's I have seen. Here are reviews of the three Gabin films.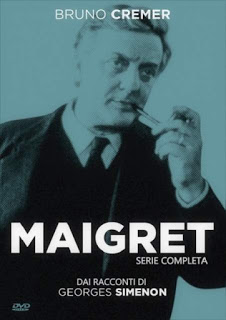 Maigret Sets a Trap (1958) – 7.5/10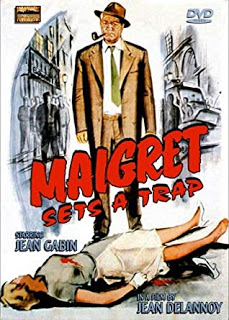 The book of the same title published in 1955 was an unusual one for Simenon. Closer in some ways to his harder edged Roman Durs than to Maigret. In most of the Maigret books they are intimate murders, personal and driven by greed or grievance. The murders are within the Parisian bourgeois world of comfort and sensibility – no one would suspect that the people murdered would become victims. All three of these Gabin films fall outside of that context to some degree with one being about a serial killer, the next a Comtesse as the victim and the third about criminal gangs. Maigret generally solves his cases with patience, getting the facts, fitting the pieces together, understanding the relationships and knowing the human condition. Rarely is there any action or gunplay. This one is somewhat different.
A melancholy song wafts gently through the humid night air as families sit outdoors on their steps to stay as cool as they can, beers are sipped at cafes, a butcher carves up his orders for the next day, women walk down shadowy cobblestone alleyways - and a killer is at work. He too carves up his work for the night. The Marais Killer. This night was his fourth victim. His timetable seems to be speeding up. His preference is full figured brunettes.
In charge of the case is Inspector Maigret who decides to bait the killer and set a trap. He puts out all of the female police in plain clothes as offerings to the killer and tells them to just walk around all night. Other cops will be watching. And in fact the killer strikes but he gets away leaving behind only a button in the hand of the officer. In the book this button leads the investigators to eventually narrow in on the killer, but this being a movie they have to move faster and the link to the suspect seems tenuous at best. But the thinnest of threads leads Maigret to a tortured marriage of infidelity and impotence and to a wife and mother savagely competing for the man they love. Maigret brings these forces together in grand theater and through cajoling, harassment and mercy he becomes their Father Confessor.
One of Maigret's men is played by the terrific Lino Ventura in a small role near the beginning of his career. When Gabin and Ventura are in the same frame it is like a French Mount Rushmore.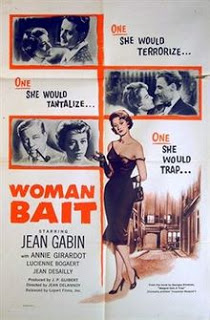 Simenon is of course best known for his series of Inspector Maigret mysteries. As he should be because they made Simenon famous, wealthy, beloved and for years the bestselling writer in the world. I have been a fan of the Maigret books for decades and have probably read about 20 of them over the years. But the Maigret series is but a portion of Simenon's catalogue – he was an astonishingly prolific writer – so much so that even his biographers are not sure how many books he has written. For the first ten years of his career he wrote under various aliases but never under his real name and with different publishers so it has gotten very murky and many of these early books are long out of print. Under his own name he wrote 193 novels and under pseudonyms over 200 books. This doesn't account for hundreds of articles in magazines and newspapers, short stories and his twenty-one memoirs about himself. For most of us one memoir does the trick, but he clearly liked writing about himself.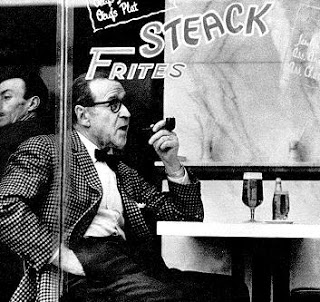 But even more prolific than his writing was his love-making. Simenon claims to have had sex with 10,000 different women. Assuming he exaggerates like most men do and doubled it, that is still a lot of restless energy. One of his lovers was Josephine Baker when he was part of that ex-pat life in Paris in the 1920's. During one period of his life in America (where he lived for a few years after WWII) he was living with his wife, his maid and his secretary and having sex with all of them. He interviewed his good friend the director Fellini when Fellini was making Casanova and intimated that Casanova was an amateur for having slept with so few women (120 or so detailed in his memoirs). How did Simenon find the time to write?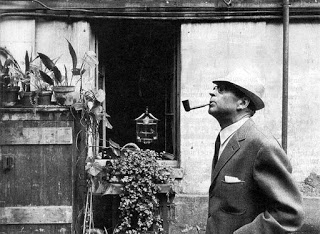 Simenon was born in 1903 in Leige, Belgium to a very lower class working family. He loved his father and hated his mother. In school he excelled in French – his language was Flemish – but dropped out during the German occupation of his city and at the age of 15 became a journalist at a newspaper and soon did the crime beat. He wrote his first novel at 19 and after his father died he left for Paris to get away from his mother in 1922. There he began writing for a journal published by the famous Collette who taught him the value of words – or the value of not using them unnecessarily – as he would parse one version after another until she was satisfied with it. This is a lesson that Simenon kept and his books are lean and poetic and with a few brush strokes he is able to capture a scene or a person beautifully. I wonder if he ever ran into Hemingway in those years and if they talked about the art of writing.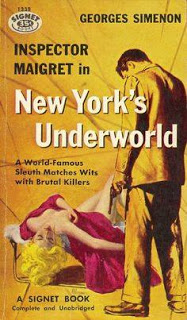 He wrote at an enormous pace under different names but soon gained a reputation as so fast a writer that he was accused of using different people but Simenon could churn out a book in 1-2 weeks when he needed to and he was at one point offered a job to write an entire novel while sitting in a glass booth in the public. He accepted but it never happened and how he would have kept up his voracious sex life in those conditions is hard to imagine!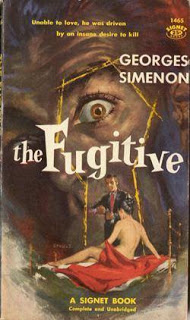 In 1931 he writes his first Maigret novel and does it under his own name for the first time. He finally felt that he was a writer and wanted to be known. His publisher had not even known his full name. Maigret was an immediate success and Simenon was to write 75 of them over the next 40 years. At one point in 1934 he decided to write no more of them and the Inspector retires, but during the occupation he returned to Maigret in 1942. The Maigret mysteries are comfort food for the soul. He kept them short to around 120 pages so that readers could finish them in one sitting and he created a wonderful character who likes his drink, his pipe and food, his patient wife and who slowly and gently ponders his way to the solution. Around him Simenon paints a Parisian milieu that transports you right there – the smell of bread, the clink of glasses, the small streets, the seedy bars. The crimes in the Maigret novels tend to be simple - nothing complicated in terms of the deed, no locked-room mysteries and the victims generally were of the bourgeois class - small store owners, retired pensioners, old ladies living alone, a man on a park bench. In fact, often people in which the mystery is why would anyone want to kill them, but Maigret puts it together bit by bit until he has his killer.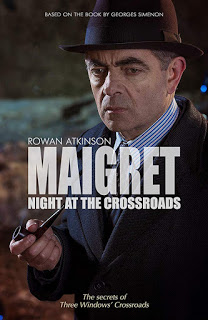 Simenon though also wrote quite a few novels that came to be called Roman Durs or "hard novels" that are tough, cynical, bleak, full of despair and disreputable characters. They are as far away from Maigret as the Earth from Jupiter. They cover all sorts of the human psyche and with vastly different plots but you rarely get a happy ending.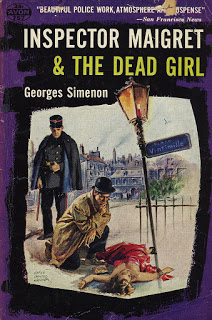 Simenon never really reconciled with his mother. Every visit would end up in bitterness. But she read all of his books, often criticizing them, rarely a good word – but when she passed away in 1970, Simenon finished up two novels he had begun and never wrote another one. It was as if he had always been writing for his mother, for her approval and once she was dead he saw no point. He lived for another 19 years in Switzerland to 1989 working on his memoirs but writing nothing at all for the last 9 years of his life.

Maigret and the St. Fiacre Case (1959) – 7.5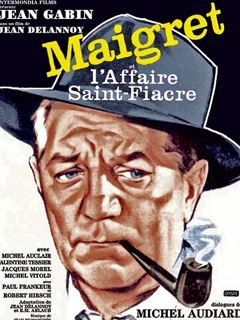 This was the second film in which the legendary Jean Gabin portrayed Inspector Maigret; the first being Inspector Maigret aka Maigret Sets a Trap. He was to do it one more time in 1963 with Maigret Sees Red. All three are excellent. The first two were directed by Jean Delannoy who was one of France's more esteemed directors in the 1930's and 40's only to fall into disfavor with the critics in the late fifties through the sixties. Not having seen many of his films I can't judge but considering that both these Maigret films fell into his supposed fallow period I have to wonder because they are lovely slow motion moody police crime films.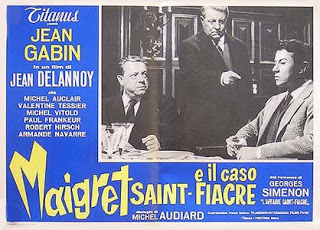 Based on a Simenon 1932 novel, it creates a wonderfully French feeling and ambience in the small things - nearly everyone has a cigarette dangling from their mouths (except Maigret of course who thinks best when puffing on his pipe), men discussing the proper height of beer foam in a glass, 3-cushion pool being played, cabbage soup and a dancer named Lulu in the Hula Hoop room. Perhaps I am a subconscious Francophile with my love for 1960's French pop music, Simenon novels, profiteroles and Paris. I don't know but I do like the gritty French films from this period.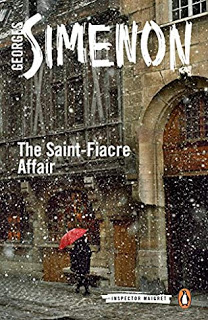 And nothing could be more French than Gabin as he got older and thicker with his large broken potato nose, his world weary eyes, passive face who moves through the film like Father France taking up space with his heavy Gallic presence; never smiling, relentlessly pursuing the truth. Gabin was a French institution by the time of this film; a laborer when he was young, he brought that experience to many of his early classics - Pepe le Moko, Le Grande Illusion, Le Bete Humaine. During WW II he joined De Gaulle and fought for the Free French in Africa. Later he began to take on older roles with a chameleon like ability playing crooks, bureaucrats, lovers and cops. His Maigret films were quite popular. I only wish there were a dozen more.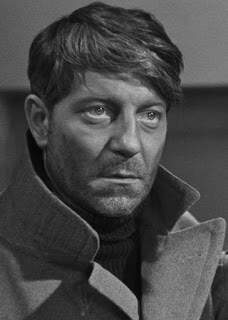 In this one Maigret receives a call from La Comtesse de St. Fiacre who has received a telegram saying that she will die no later than Ash Wednesday. Maigret's father had been the overseer at her Chateau and lands many years ago. When his father died Maigret left the small town and never returned. That was 41 years ago. So of course he journeys into the country to see what he can do for a woman, now elderly, but who he worshipped as a child.
When he goes into the grand chateau he walks through nearly empty rooms that echo of declining fortunes and nostalgic memories for Maigret. At Mass the following day right in front of Maigret the Comtesse dies of an apparent heart attack but Maigret has his suspicions and latches on to them like a dog on a lean bone. He knows there is a killer out there. He plans to find him.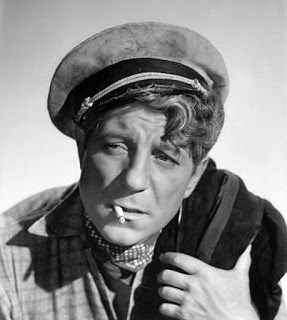 Maigret Sees Red (1963) – 7/10
This is a terrific French policier that gets pretty much everything right from the glistening streets of Paris to posters on the grimy walls to low rent hotels and a small bar with a bowling alley. Everything feels authentic. Inspector Maigret is after a couple of American gangsters who have come to his town to kill a man.
One of the interesting things about the Maigret books that Simenon authored is that while so many of the murder mysteries of the time in the early 1930's - in particular in America and England - often dealt with the upper classes and manors, most of Maigret's cases were the murders of very ordinary people by ordinary people. Here someone remarks to Maigret that he should step away from the case because these are not amateur killers. He shrugs and keeps on with the case.
Here though (based on the book Maigret and the Gangsters) the American killers who are brought into the story forces it to be more action oriented and quicker paced than most of the crimes he solves. From the opening hit the film zips around Paris accompanied to the jazzy score from legend Michel Legrand.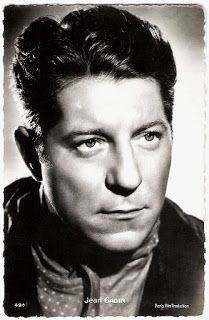 Maigret is played by the great Jean Gabin who portrayed this character in three films. Gabin was a huge matinee idol in the 1930's and 40's with his classic performances. If you had to compare him to an American actor Bogart would come to mind - not classically handsome but a rough tough charisma there. By the time he did his first Maigret in 1958 he was in his mid-50's and his form had filled out to French provincial which fits Maigret just right.