Crimson Gold

---
Director: Jafar Panahi
Year: 2003
Rating: 6.0
Country: Iran
---
In Jafar Panahi's fourth film, scripted by Iranian director Abbas Kiarostami, he leaves his sly humor on the cutting room floor and instead gives us a critical slice of Iranian life that is grim and real. And seemingly as meandering as the motorbike that Hossain rides in his job as a delivery man - but each little unrelated episode stitched together makes for a picture of Iran society that could not have pleased the Mullahs. All quite restrained for the most part.
Hossein and his buddy Ali hang out in teashops, ride through Tehran and both eke out a minimal living as delivery men of pizza - a decidedly Western food. Though it is never stated something is a little wrong with Hossein - a veteran of the Iran-Iraq war - the dead faraway look in his eyes - his lack of responsiveness - and in fact the actor, Hossain Emadeddin, who is not a professional actor (someone who Panahi talks about in his film This is Not a Film) is diagnosed as a paranoid schizophrenic. His large broad shouldered body and slit eyes always feels slightly menacing on the edge as if something is going to go badly wrong - an Iranian Lenny perhaps.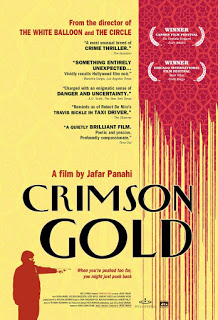 His nightly sojourns take him to a block party where the police are waiting to nab people as they leave for dancing and drinking, to a comrade he was in the war with, to the son of a wealthy Iranian who is living in this enormous apartment while his parents are away in America. The son invites Hossein into the apartment to eat with him and you keep waiting for something to happen - for Hossein to explode. He feels meaningless in this society and has no future and it is building up, waiting for a spark.
As seems to normally be the case with Panahi's films it was smuggled out of Iran and entered in Cannes where it won the Un Certain Regard Jury Award. It was of course banned in Iran.