Mission Bloody Mary (1965) - 6.0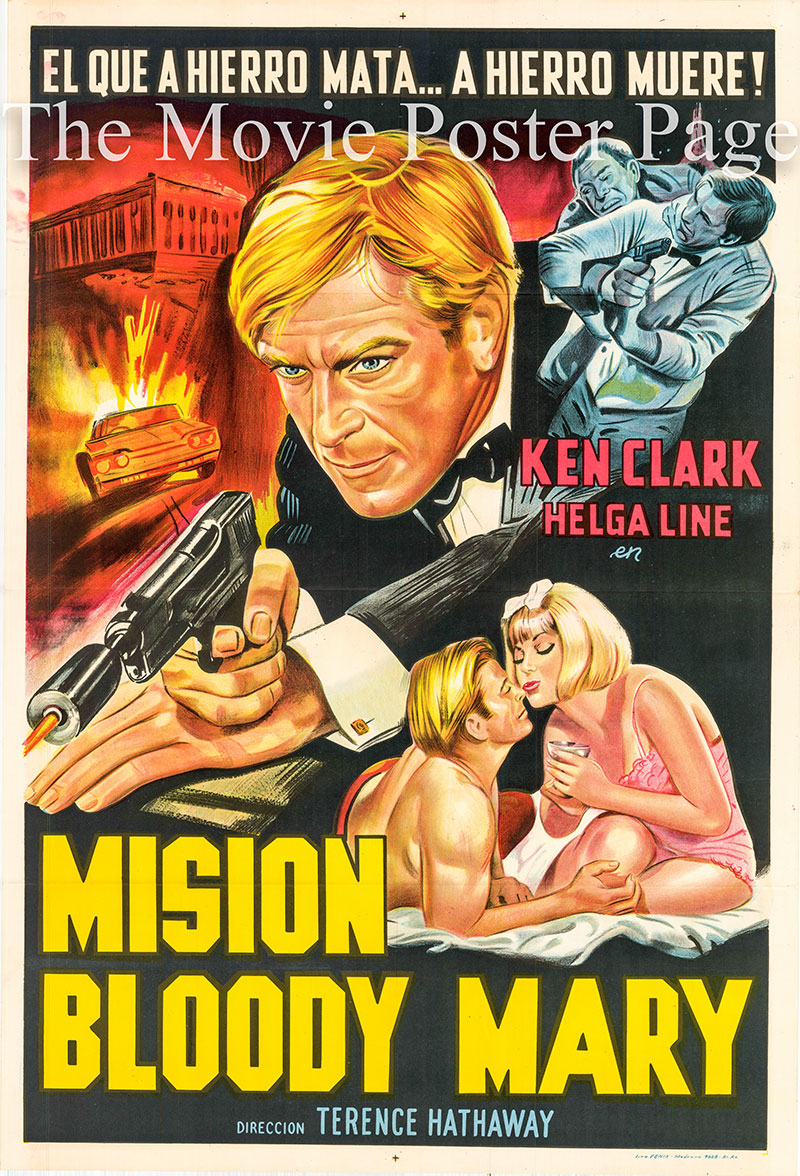 Aka - Agente 077 missione Bloody Mary
This Euro production of this series is one of the more polished James Bond styled films to come out of Europe in the 1960's. It plods along a bit and the dubbing into English does it no favors but it has a good budget, is nicely shot with clean visuals, has a plot that isn't as scattershot as some I have seen, has that travelogue aspect that I enjoy as it goes from Paris to Spain and on to Italy, has the requisite beautiful women, lots of action scenes and Ken Clark is more than adequate as the CIA agent. Clark was another American who found his way over to Europe when the pickings got slim at home and he got roles in Westerns, Peplum and spy films. He has a Lex Barker clean cut all American look to him - looks good in a suit and out of one - but that is definitely not him doing the vocals - or so I hope because they are not great. He starred in three of these films as Dick Malloy Agent O77. Other Euro films later took on the character of 077 but Malloy was the first.
The film takes its cues from Thunderball which came out in the same year and steals a scene from From Russia with Love (the fight on the train) - but that was par for the course back then. The Bond films changed spy films forever. A navigator is killed and his place is taken by a member of the Black Lilly gang. He crashes a military jet and steals a new kind of nuclear bomb. They are selling it to the Chinese but the Russians are in the hunt as well. At times it feels like everyone but my grandmother is trying to get their hands on the device. The CIA send Malloy who has a taste for busty blondes and Nat King Cole on the stereo to track it down. He hooks up with a fellow agent Elsa (Helga Liné, who was in her share of Euro Trash) who is quite the lovely but initially immune to Malloy's charms. But not for long. She can only be positively identified by two moles on her left breast. Malloy goes in for a closer look.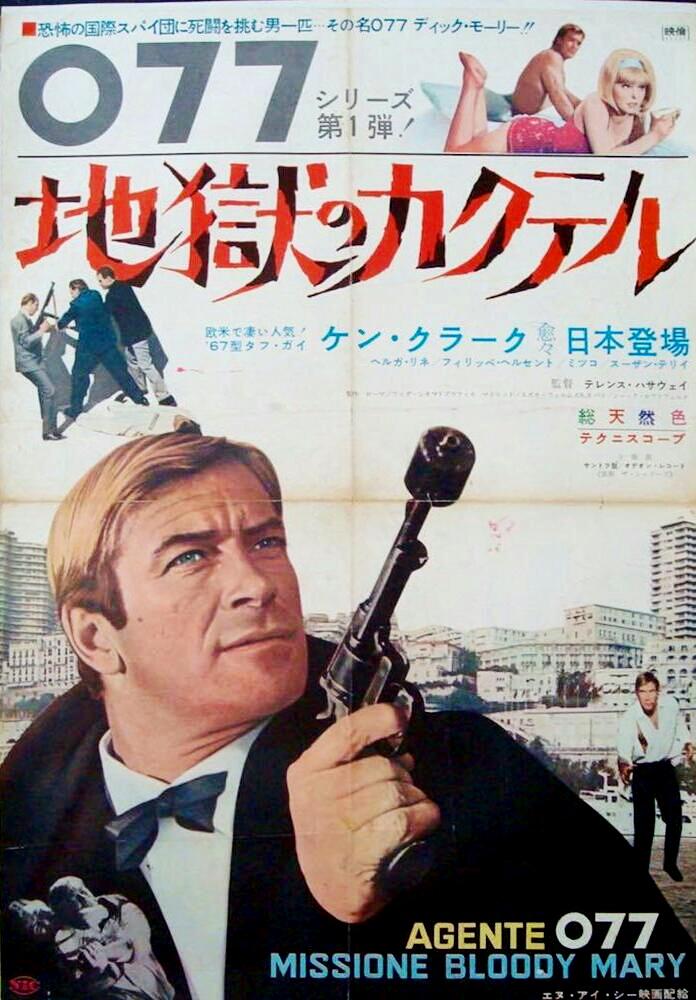 The opposition are not the smartest people in the world or the best shots - they all know who Malloy is and have a myriad of opportunities to kill him - but neglect to do so. It is that usual tactic - keep him alive or the movie will be over. A couple nifty tricks - he gets a message written on a bra strap from a stripper (Maryse Guy Mitsouko - a small role in Thunderball), there is a normal looking room that turns into a fire hazard to burn people alive, cyanide tucked into his hair - but the film generally stays basic - nothing really fancy or imaginative but instead relies on a lot of fisticuffs and shoot outs. It is directed by Sergio Grieco under the name of Terence Hathaway which he used for many of his spy films. He seems to have mainly directed Peplum films till he took this one and switched to spy films with the next two in the series and a bunch of others and then moved on to crime films. He stayed with whatever was popular at the time.
---
From the Orient with Fury (1965) - 6.5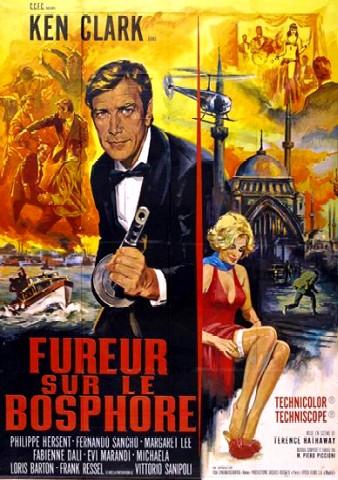 Aka - Agente 077 dall'oriente con furore
Aka - Fury on the Bosphorus
As the film opens you can see minarets far in the distance pressed against the sky and you know you are in Istanbul. And if it is in Istanbul, you know there have to be spies and sure enough this is the second film in the Agent 077 series with Ken Clark as Dick Malloy, all American boy with a taste for whiskey, trouble and dames willing to tumble into bed with him. Like the first one, Mission Bloody Mary, this has terrific production values for a Euro spy film with lots of location shooting in Istanbul, Italy and Spain, more fights than Boxing Night at Madison Sq Garden and a foursome bevy of beauties that just get better as the film goes along. Though it runs for 105 minutes (ten minutes longer than IMDB says) it moves quickly because there is always something going on - action, chases and women. And the bad guys being dumb. You want to shout out to them, just kill him - that is what they hire you for. No, don't tie him up and turn on the gas and leave.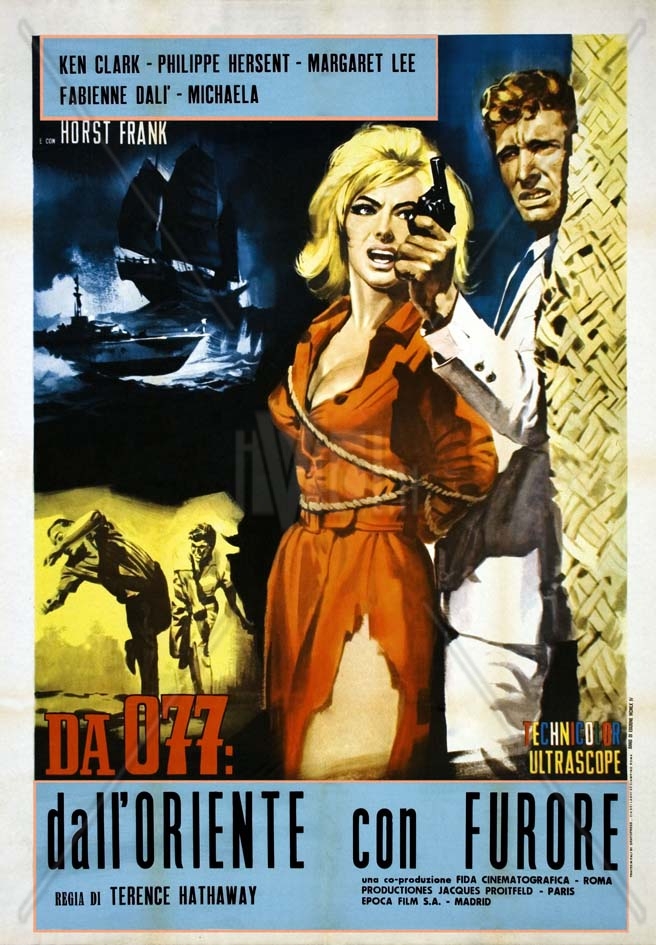 A scientist is kidnapped in Istanbul by thugs wanting his Disintegration Gun. Always handy in almost any situation. It makes things disappear with one blast. The NRA is fully behind it. Every house wife should have one. Malloy is on vacation honing his skills by getting into a bar room brawl with a full house - there is an even bigger one later - but he gets away and is on the case. Or the woman. Some decent gadgets in this one - poison dart shot from a cigarette lighter, a belt that is a camera as well as able to send Morse code and a car with machine guns that come out of the back (very Q like).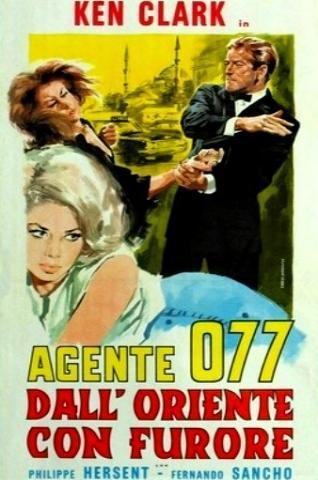 Better than those gadgets are though are the four women that swish through the film in fine style. All gorgeous and sexy like they were back then - all actresses that appear in bunches of these Euro spy or crime films. Fabienne Dali (Bava's Kill Baby . . . Kill) is the villainess, Evi Marandi (Bava's Planet of the Vampire) is the perhaps not so innocent daughter of the scientist, Mikaela is the wealthy woman with an itch that needs scratching by Malloy and finally the cherry on the top is the zoom zoom girl - Margaret Lee, looking like Marilyn Monroe. The whole film has a good classy look to it with luxury hotels, well adorned apartments the size of football fields and night clubs that spell out get it while you can. These films always have to have a night club scene. These films seem to have a couple and I like them all. Good film hurt again by drab dubbing - it just brings them down to average which is a shame. I don't know if the Italian versions would be any better because then you would still get dubbing.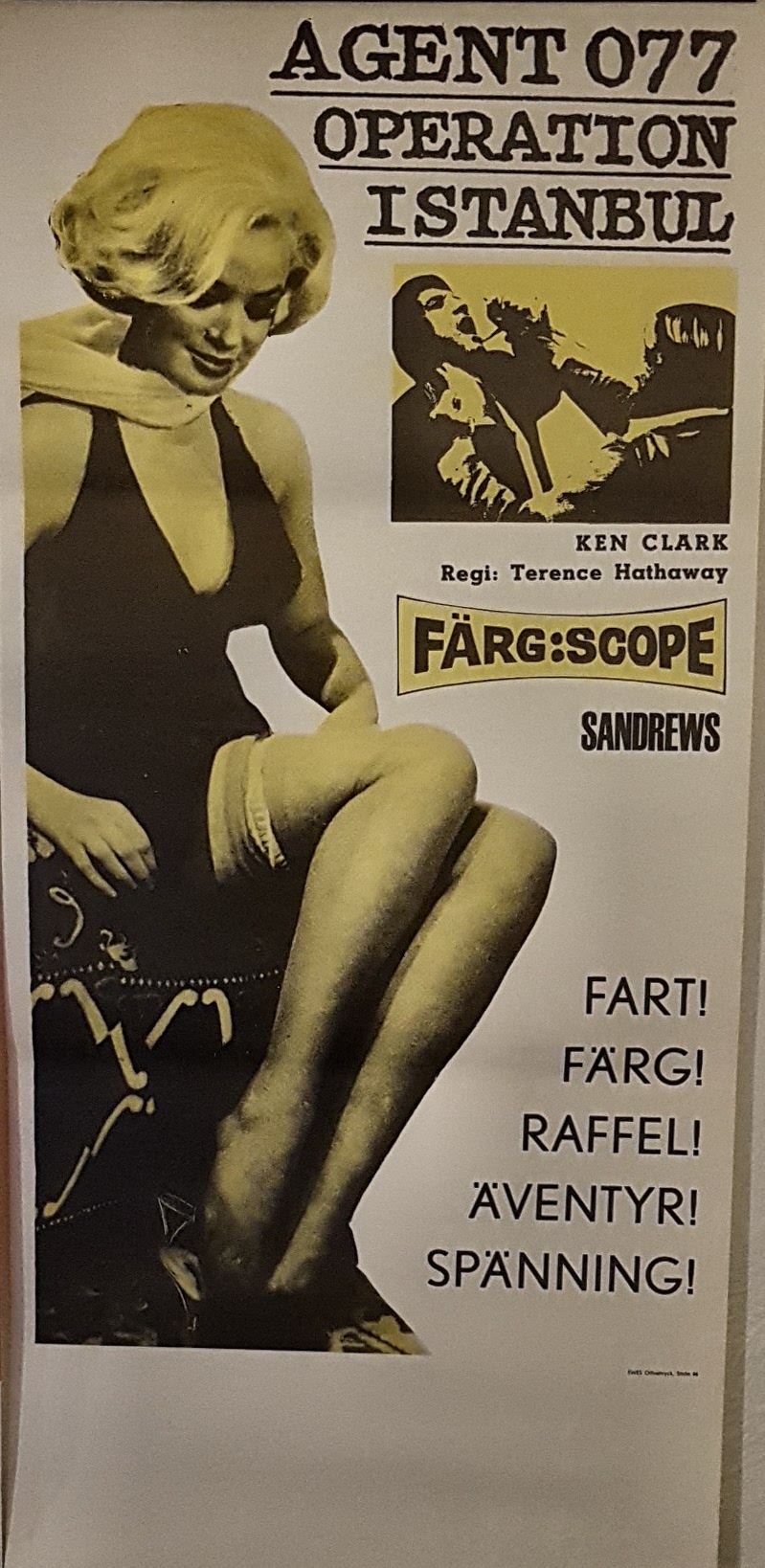 ---
Special Mission Lady Chaplin (1966) - 7.0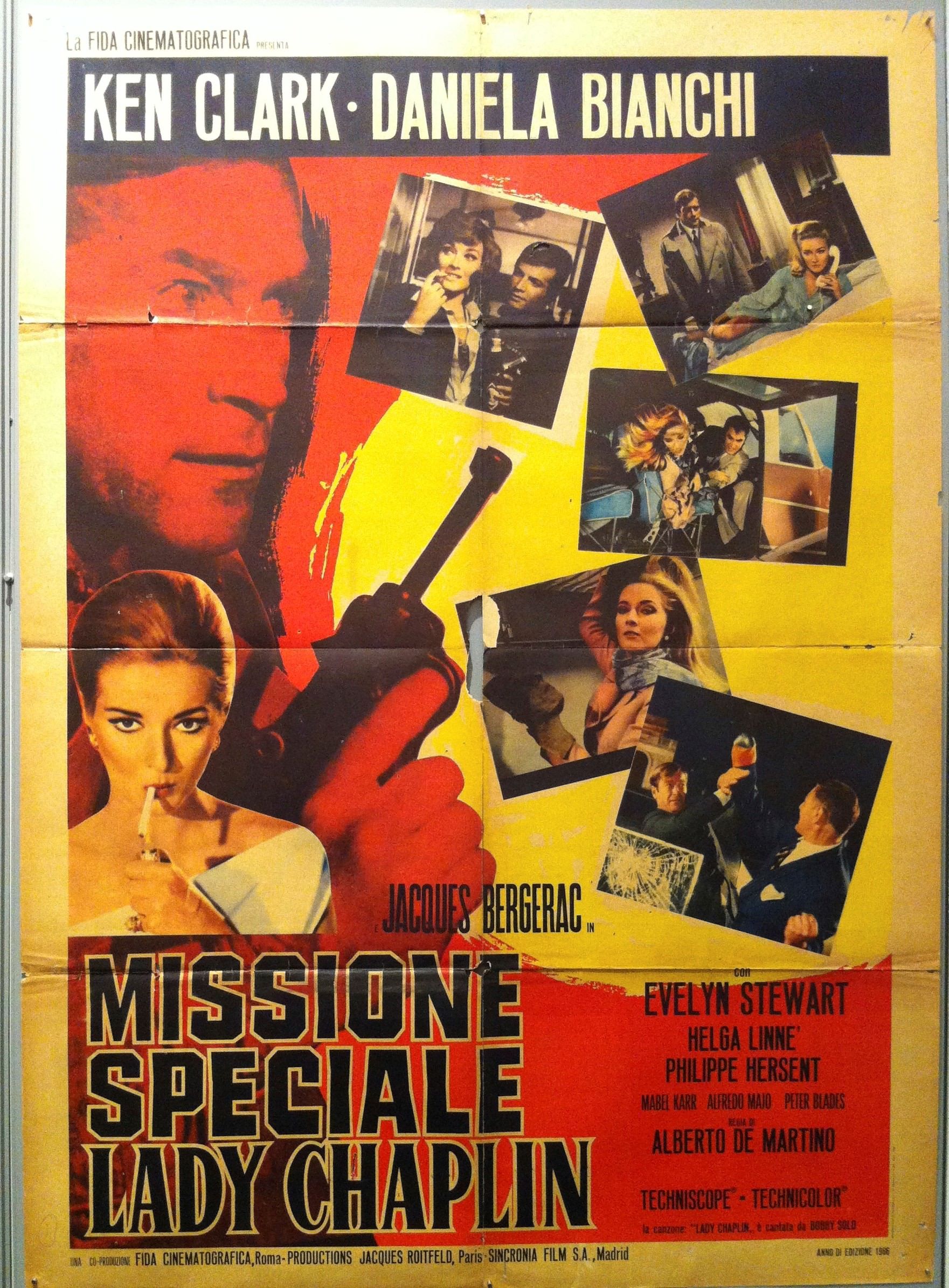 Aka - Missione speciale Lady Chaplin
This third and final film in the 077 series with Ken Clark has a strong connection to the Bond films in a few ways but the main one is a Bond Girl. One of my top five along with Ursula Andress, Honor Blackman, Jane Seymour and Shirley Eaton (and I would like to squeeze Martine Beswick in there as well if I could). Daniela Bianchi who was in From Russia with Love. An Italian actress picked out of hundreds for the role who didn't even speak any English and had to be dubbed. It didn't matter. She was soft and gorgeous. And is as well here. Malloy (Clark) is warned by his boss that she is dangerous and to be avoided - but he replies I know but she is a whole lot of woman.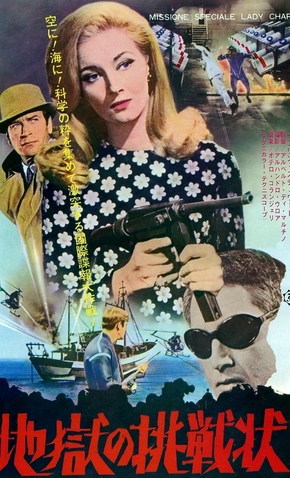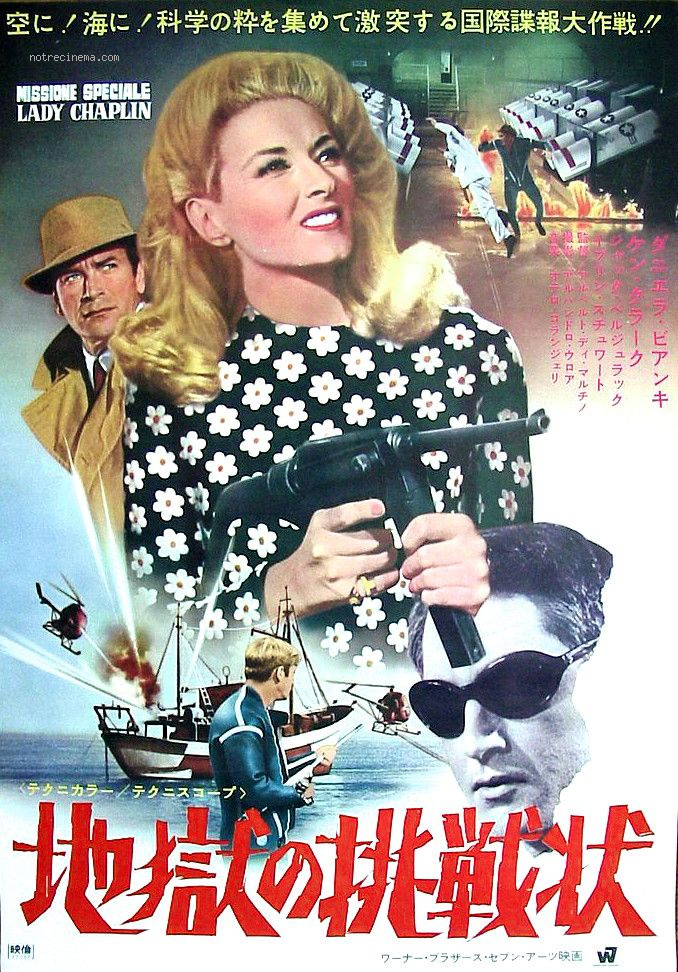 In From Russia her role was quite passive - just look vulnerable and delectable - here she is a bad girl. A very bad girl. Not sexually but with a machine gun. In the opening scene she is dressed as a nun delivering bread to monks in a monastery but is delivering death instead. A good beginning to an action packed film and the best of the three. It has it all - gadgets and girls and gunplay- and honestly if it had starred Connery with that humor and relaxed cynicism that he brought, this would be better than a bunch of the later Bond films. It feels like they took out a loan from the Treasury for this film. Big budget and simply goes from one action scene to another.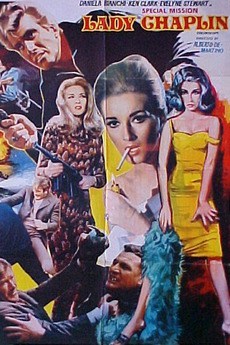 And they are all well done - a few big ones like the shootout in a bull ring or on the boat to small impersonal kills like Bianchi (dubbed again in the English version) dressed as an old lady in a wheelchair making a hit on a witness. And of course the attempts to kill Malloy - the henchman with the hook instead of an arm tries a few times, the machine that crushes cars another (Malloy pushes a button that shoots him out the back end). But Bianchi is the star that steals the show with a series of ever changing pop fashionable outfits and her methodical efficient way of killing. Her best moment is when she is pushed out of an airplane and turns her lovely dress into a parachute and pulls a machine gun from God knows where and starts killing people below.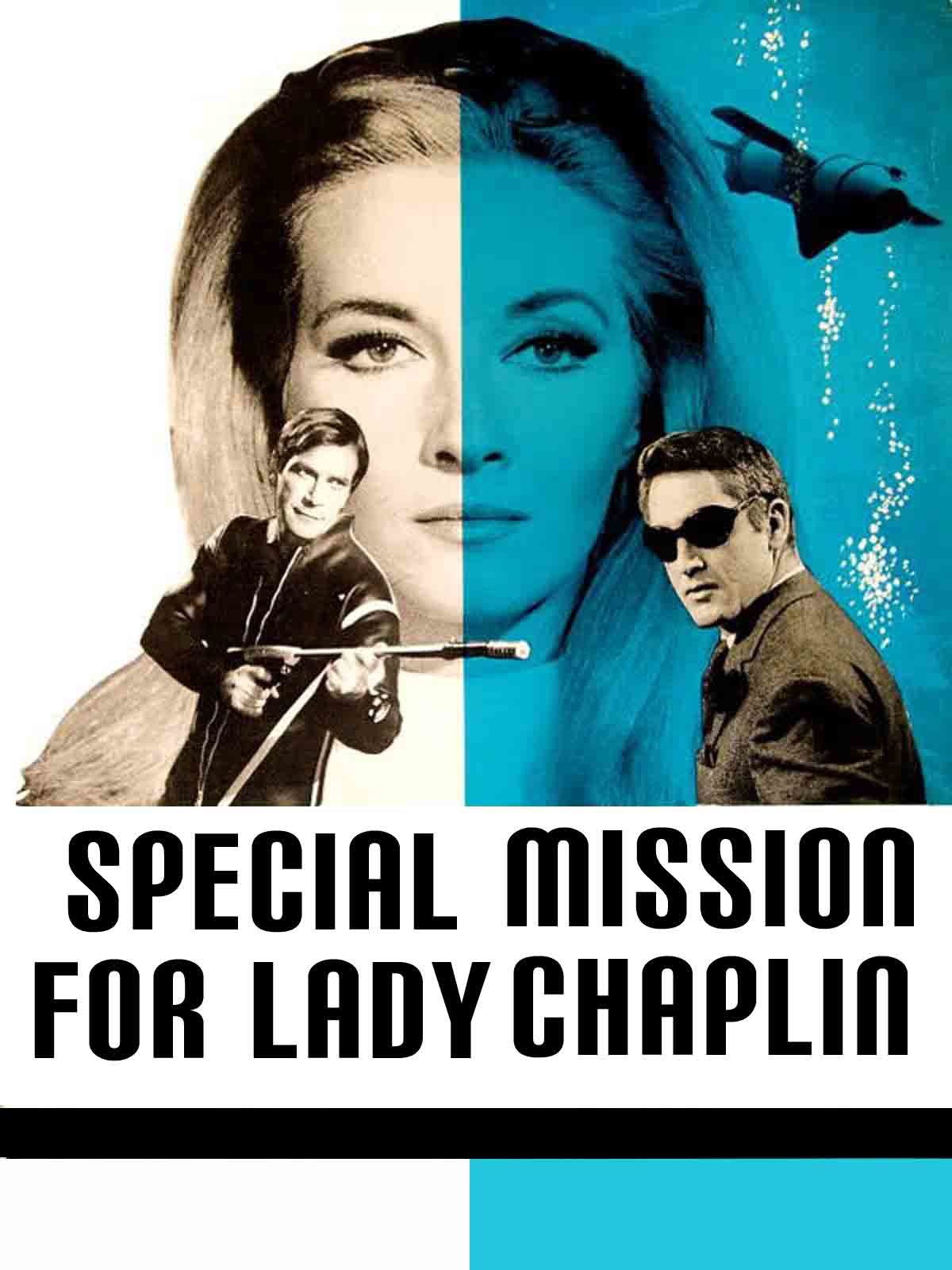 A US Navy sub has sunk miles below the surface with nukes on board. The CIA suspects that someone may have stolen them but who has the resources to do so. Malloy targets in on a rich business man - Zoltan. With a name like that and that he wears sunglasses inside and enjoys watching scorpions fight - can there be any doubt. He is played by Jacques Bergerac who had the honor of being married to Dorothy Malone and later Ginger Rogers. Directing credit goes to Grieco again but also to Alberto De Martino, who directed an assortment of Euro genre films - Peplum, spy, westerns and crime. Bianchi was to get married in 1970 and quit show business.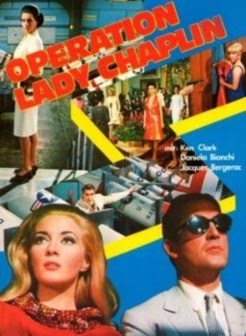 I picked up the dvds for these three films years ago when they were released from Dorado Films in the states - but they seem to be unavailable on Amazon now but may be available on Prime depending where you are.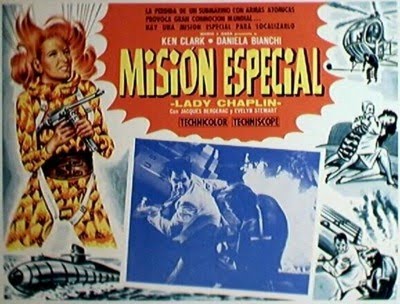 ---