The Nancy Drew Films - 1938 - 1939

---
Nancy Drew, Detective (1938) - 5.0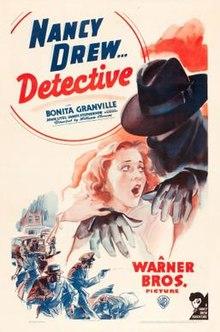 Young Adult Literature came into popularity in the first half of the 20th century. It is still around of course but it has matured with increasingly more complicated characters and fantastic plots. Back in the days when I began reading these books it was all pretty innocent - usually centering on young boys and girls - with male characters being targeted to a boy audience and girls to a female audience. They usually consisted of these children solving crimes, going on adventures or simply having fun often under the radar of their parents. There were a handful of authors who dominated this market in America - Franklin Dixon (Hardy Boys and the Ted Scott Flying stories), Laura Lee Hope (the Bobbsey Twins and The Outdoor Girls), Arthur Winfield (The Rover Boys), Victor Appleton (Tom Swift and the Don Sturdy books), Roy Rockwood (Bomba the Jungle Boy), Clarence Young (the Motor Boys), Margaret Penrose ( The Motor Girls) and Carolyn Keene (Nancy Drew).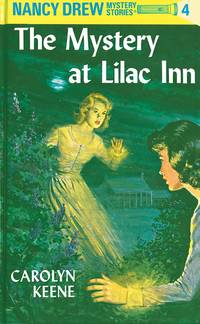 Of course as it turned out, much to my surprise when I was older that none of these authors existed. They were all pseudonyms. And not just pseudonyms for a single author who wrote the individual series but often various authors using the same name. What they had in common was that they were all the brainchild of one man - Edward Stratemeyer. He was an amazing man and those of us who loved one of his many book series - in 1926 he had 25 going - have him to thank. He was born in 1862 and began writing books while still young but it wasn't until he started writing books for teenagers that he found success. He was a prolific writer. But he kept on expanding the offerings and so eventually he saw an opportunity. Write an outline of the plot and characters but hire other authors and pay them to write the books. He would work with them, edit the books, make suggestions, deal with the publisher and pay them at least for decades the grand total of $50 to $100 per book with no money coming from the sales. Authors were expendable and would come and go. When he passed away in 1930, his daughter took on the job. Many of these series are long forgotten but a few are still very much in the public conscience. Nancy Drew was just in a TV series. In the first episode which is the only one I watched, she was getting boffed in a trailer. Nancy Drew has come a long ways I thought. The Stratemeyer's insisted on their characters being pure souls - no boffing. In Nancy Drew's case she was not allowed a boyfriend really and getting married was totally off limits. But in 1987 the syndicate that controlled all these books was sold. And now she can boff.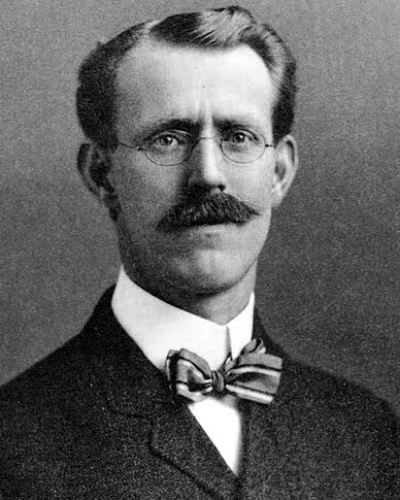 The early Nancy Drew books were written by Mildred Augustine - who got the job soon after graduating from college and marriage - and wrote 23 of them between 1930 (the first) and 1953 - but since then many other authors - over 20 - have written Nancy Drew books. There are 175 Nancy Drew books, the last one was in 2003 - Werewolf in a Winter Wonderland. Mildred wrote a number of other female centric series- none of which I have heard of - Kay Tracey, Penny Parker, Dana Girls and a few others. One of the stipulations of writing the books was that the author could never publicly let out that they were the author. Later Mildred went to court and won the right to say she was the original Carolyn Keene. Over the years the books have been modified - modernized and any stereotypes erased. I was like most boys a Hardy Boy fan - and looked down on Nancy but I was very aware of her because her books would be right next to the Hardy Boys in the bookstore.



In 1938 Harriet Stratemeyer sold the rights to five books to Warner Brothers. Only four were produced. Nancy is played in all four by Bonita Granville - a cherubic blonde who began acting in films when she was nine - was nominated for an Academy Award when she was thirteen (These Three) and was seventeen when she became Nancy Drew. After she married in 1947 she basically dropped out of acting but produced Lassie for fourteen years. Her perky, bubbly, never say quit characterization of Nancy makes you want to kick her. But that was close to the Nancy of the books - always good at everything, head of all the school committees, the leader of the pack - the sort of girl most of us hated in high school. Irritating as hell.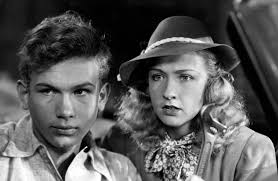 This is the first film in the series - more for children than adults - with Nancy and her buddy Ted (Nick in the books) Nickerson (Frankie Thomas) solving a crime and showing the adult what dunces they are - except her father (John Litel) who just wants her to stay safe. An elderly lady has announced that she wants to leave Nancy's school $250,000 for however they want to use it - a swimming pool. But before she fills out the papers she disappears - gone to a rest home her lawyer says. Nancy doesn't believe it for a minute and corrals Ted into helping her investigate which involves following a pigeon, disguising themselves as a nurse and patient and using an x-ray machine to send out Morse code. No idea if you can do that! It comes in at a smidgeon over 60 minutes and is ok. Maybe it will get better.

---
Nancy Drew . . . Reporter (1939) - 6.0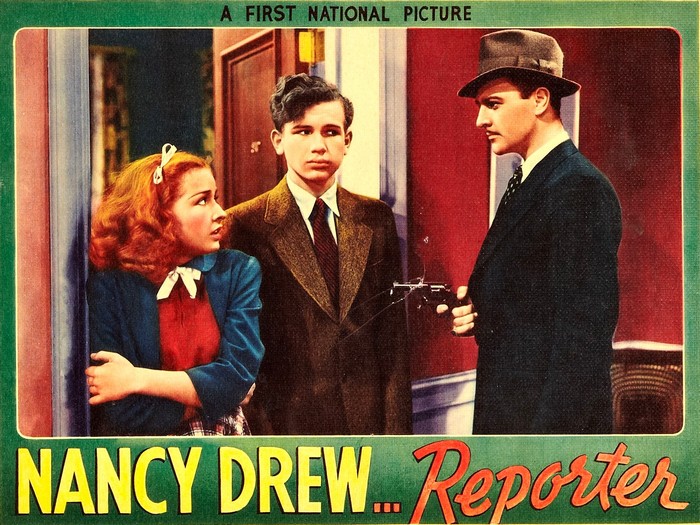 This is a nice improvement over the first Nancy Drew film. It never slows down, has some humor thrown in and Nancy isn't quite as annoying. Still there are four child actors in this one who can test anyone's patience. These films were produced by Warner Brothers who I guess had their coterie of child stars. Bonita Granville as Nancy Drew and Frankie Thomas as Ted Nickerson were in the first film, but in this one they add Dickie Jones and Mary Lee as two little brats pulling practical jokes on Nancy. Both were known at the time - Mary Lee was at fifteen a fine singer (they all participate in one musical number with Mary doing most of the singing) who was in a number of the Gene Autrey singing Westerns - and Dickie Jones was already a fine horseman and rodeo star and was to appear in many low budget Westerns in film and on TV. He did a number of live performances in which his derring-do was amazing. He was twelve when he appeared in this film.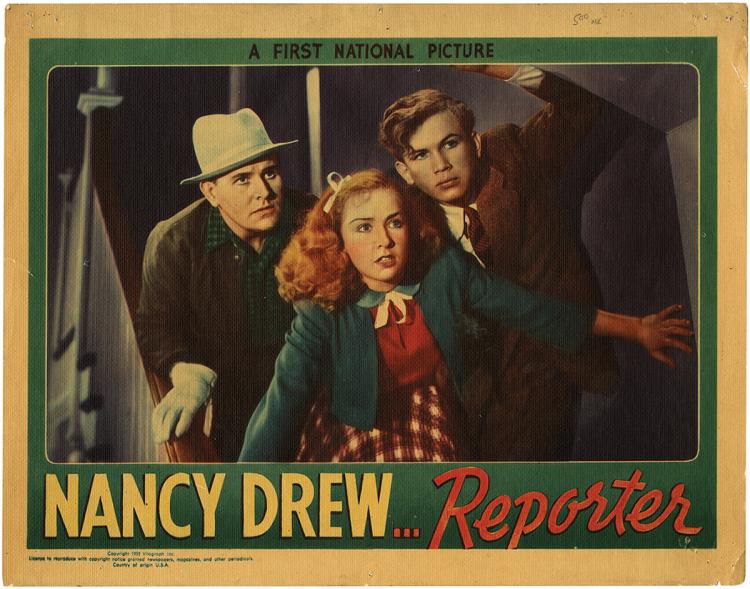 Nancy gets to compete with other school children in a contest sponsored by a newspaper as to who can write the best story. The editor gives them harmless assignments but Nancy notices that an assignment has been given to an absent reporter to cover a murder trial and steals it from his desk and replaces her own. She becomes convinced that the woman on trial is innocent and digs deeper. And of course drags a reluctant Ted along - and the two brats get in the way. It is a nice children's adventure as they follow a suspect at high speed in Nancy's fancy roadster - her single father (John Litel) spoils her considerably (in the books Nancy's mother died when she was young), get chased by a thug, Ted gets himself into a boxing match and they set up a trap for the killers. All by themselves. No adults allowed for the most part. Litel who is a fine actor and was a steady and often used character actor must have been miserable - but it was a few easy days work.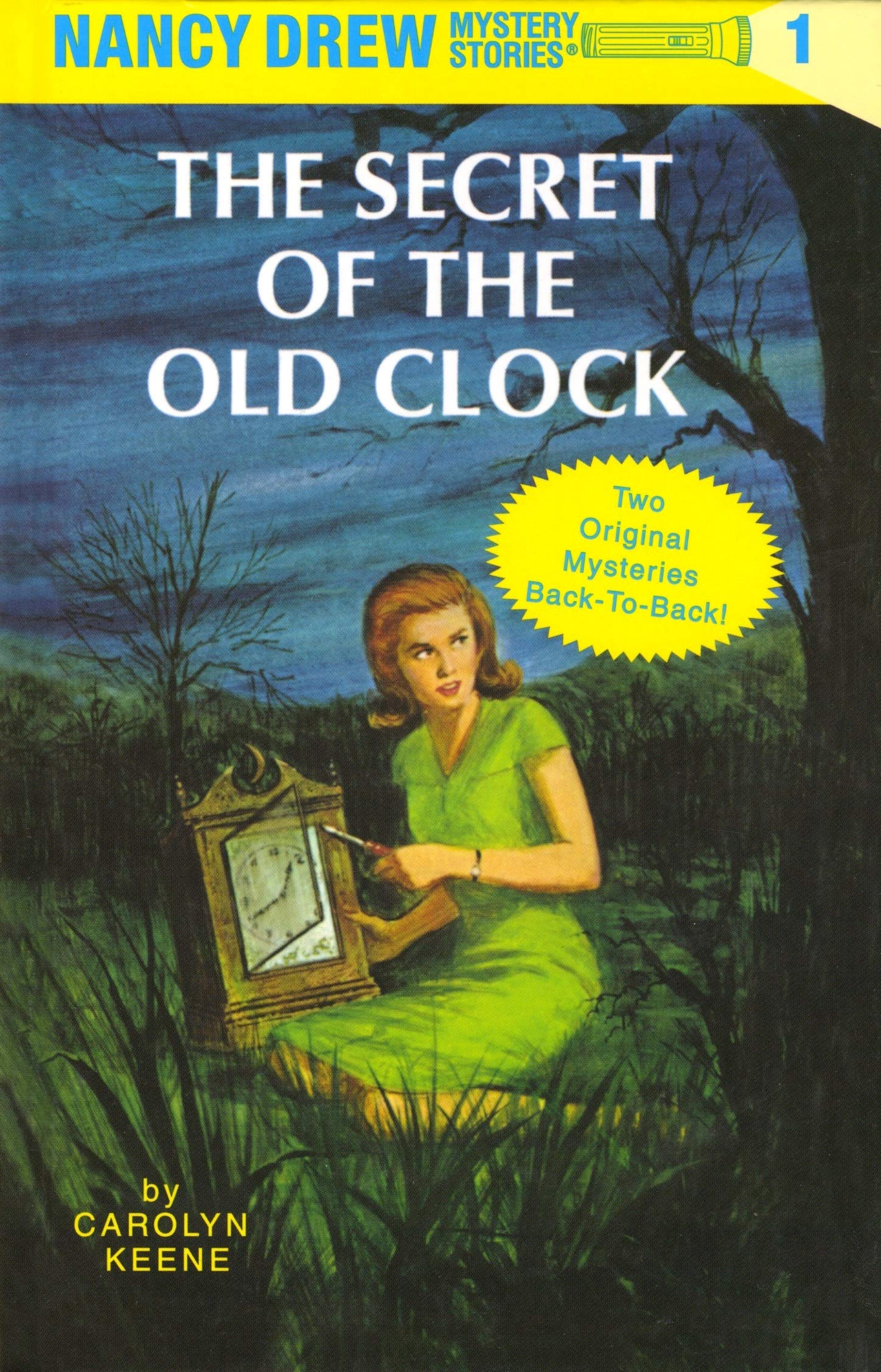 ---
Nancy Drew . . . Trouble Shooter (1939) - 5.0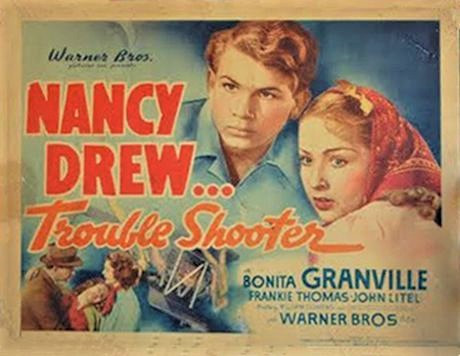 Nancy Drew is back for her third film and solving a murder again. Murder is Her Business. This one is a step back as some really corny comedy intrudes and the whole Dad Love thing feels creepy. But trying to put my feet into the shoes of children back in 1939 I imagine this was good enough as a second feature and the comedy much more appreciated. The nuclear crew is back again - Bonita Granville as Nancy, Frankie Thomas as Ted, John Litel as the father and Renie Riano for the third time as the housekeeper. Much to a modern audience's dismay they bring on Willie Best as the slow thinking, slower talking black farm hand. I am not sure if one scene of him dressed in white with a high pointed hat was a KKK joke but it very well might have been. The things that were funny 80 years ago.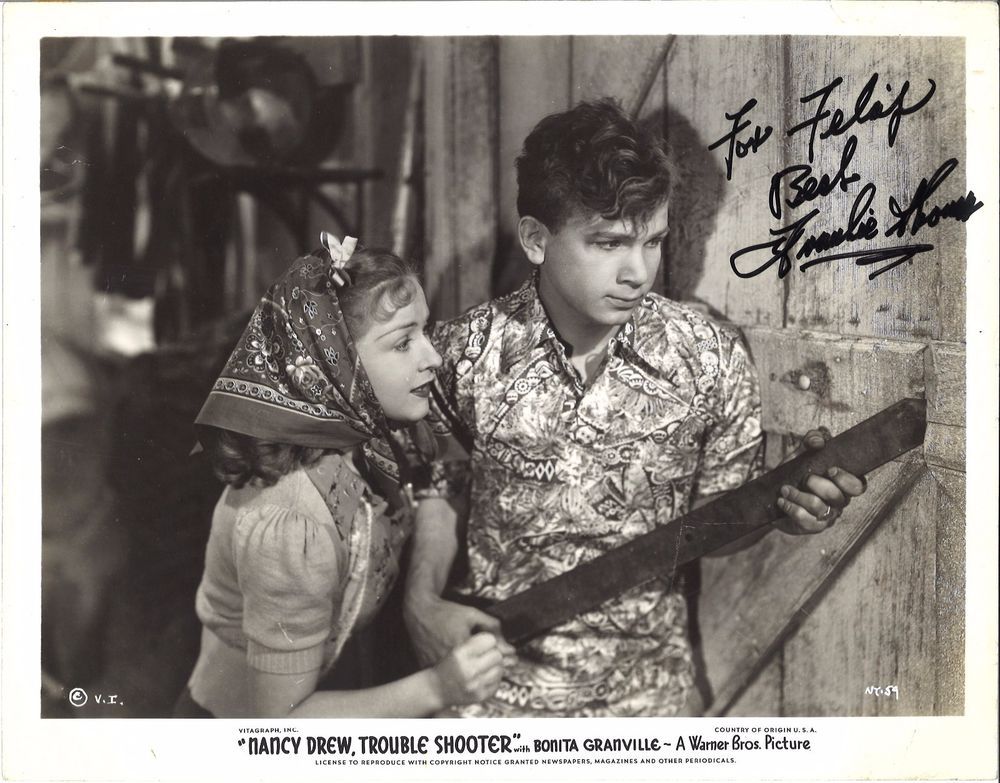 The father Carson Drew receives a letter from an old friend that he has been arrested for murder and needs help. The family packs up some clothes and goes to Silver Lake to see what they can do. Carson meets the female next door neighbor (Charlotte Wynters) and swoons for her much to Nancy's horror who then brings in Ted who is vacationing at the lake to help her with this Electra Complex. Instead he falls for her too. The only thing that strikes me as interesting about Charlotte Wynters in real life is that she was married to Barton MacLane - the omnipresent slow burn character actor in so many B films - for 30 years. Eventually, the film gets back to the murder case in which a tropical flower growing on top of the buried dead man is the clue. During the investigation they have to out run a charging bull and fly a plane. We will see in the next one if Carson gets lucky.


---
Nancy Drew and the Hidden Staircase (1939) - 6.0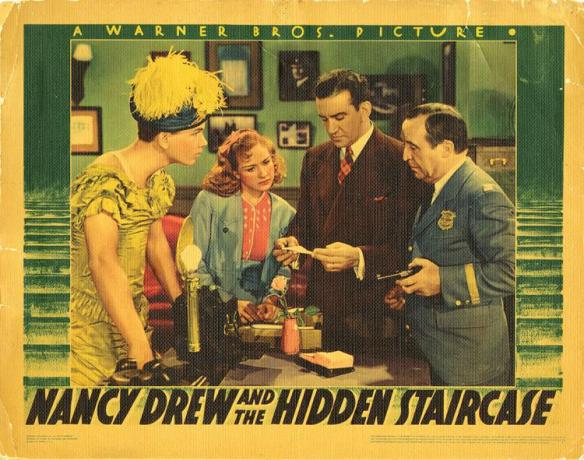 The last one in the Warner Brother's Nancy Drew series. There was supposed to be five in total but Warner's thought they were not popular enough. One of their weaknesses is an uninteresting supporting cast. Most of these series from this period brought in a lot of entertaining character actors to add some spice to the films, but these are really full of obscure actors. Perhaps because they were meant for children Warner's just didn't think it was worth the cost or use of better known character actors. So it is again the main four in the cast with Frank Orth showing up as Police Captain Tweedy for his third film. Another not very bright cop. The actor who stands out in these films is Frankie Thomas who plays Ted Nickerson, the mate of Drew and manipulated by Nancy to be in the middle of all the cases. He is very natural in his acting - quite a good looking kid and adds a lot to the film. Other than these four films he doesn't have much else of significance in his filmography other than 80 episodes as Tom Corbet, Space Cadet in 1950. He became a bridge master later on in his life.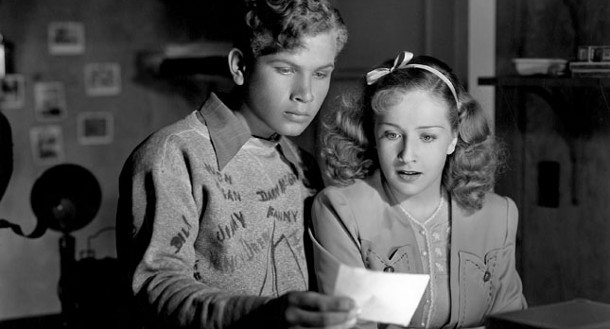 Someone is trying to scare two elderly sisters out of their old home. Their father drew up one of those nutty wills that so many of these films have - they had to live in the home for 20 years and one of them always has to spend the night at home before they legally inherit the home. When a servant is killed, it is time to bring in Nancy and Ted to solve it. Nickerson gets to cross-dress for the second film, Nancy plants false evidence and they nearly drown in a tunnel. Though Nancy is the driver of all the action, they still have to make her girlie enough by having her terrified of frogs and it is often Ted and his technical knowledge that wins the day. In the books he is a minor character and Nancy always saves the day. The director of all four of these is William Clemens. This one still has its share of goofy comedy but stays serious for the most part and I enjoyed seeing Ted as a delivery ice man - what one of my grandfather's did right about the same time in Worcester till he passed away.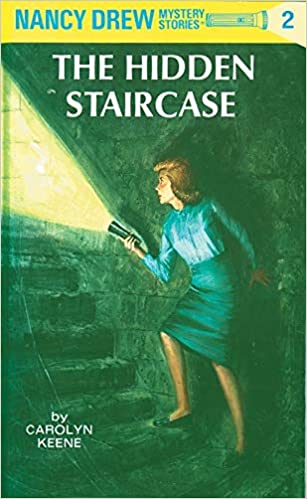 ---