So no doubt my millions of readers are asking themselves and perhaps their neighbors, passing strangers and the occasional 7-11 clerk, if I haven't been watching Asian films over the past couple of years then what have I been watching. Not a lot actually and certainly more TV than I should be doing. But I decided that after having gotten somewhat burned out on Asian films – due primarily to viewing well over one hundred fifty screeners a year as part of the New York Asian Film Festival – that I wanted to go back and get familiar again with classic Hollywood. That was what I was brought up on and watched before I was waylaid by Brigitte Lin, Michelle Yeoh and Chow Yun Fat in the mid-90's.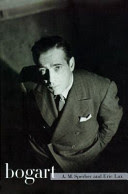 But I wanted to put some structure around my viewing and so came up with a number of actors and directors whose work I wanted to explore with some depth and read a book on them as I slowly progressed through their filmographies. This way I would see a number of films that I always should have seen but never did, rewatch some films that I saw decades ago and also see a lot of obscure movies that are largely forgotten. At the top of the list was Humphrey Bogart who I have always loved whether as the darkly cynical Sam Spade of The Maltese Falcon or the tormented screen writer of In a Lonely Place. He always seemed different to me from other actors; modern, troubled and world weary spitting out his dialogue in his trademark manner. An actor set down in a warring fearful world. No spit and polish around him as there was with most of the leading men of that period. So I set about collecting as many of his films as I could find and picked up a biography titled Bogart by A. M. Sperber and Eric Lax and as I got to a film in the book that I had I would set the book aside and watch the movie. Bogart made a lot of movies. I mean a lot of movies and I ended up watching 56 of them. It took ages but I was glad I saw them, even the many knock-out B films that he was in during the 1930's. You can match his best films against the best of any actor I would think.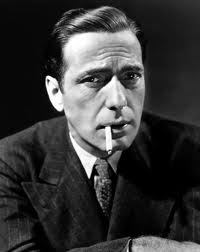 Reading an honest biography about someone that you had always admired from afar can sometimes be a hard bullet to swallow because you discover things that in many ways you really did not want to know. That was certainly the case with this book and Bogart. Bogart was a very complicated deeply conflicted person full of insecurities and anger offset by enormous charm, great generosity, strong loyalties and principled political beliefs. He was a dedicated drunkard and out of this seeped a poisonous brew of wife beating (not Bacall), brawling, hurtful insults and a life often on the brink of collapse. At the same time he had the guts to stand up to the right wing Communist witch hunts of the 1940's and never backed down from what his ingrained principals were or wavered in his friendships. He so wanted to be successful as an actor, often seething with imaginary slights during his "B" years yet when he finally became a huge star he never seemed content or happy for long. After reading the book, I wasn't really sure how I felt about Bogart the man – to some degree just sorry for him and his inner demons that he could never shake no matter how famous he became nor even when married to a woman like Lauren Bacall. But I am grateful for the film performances that he left us.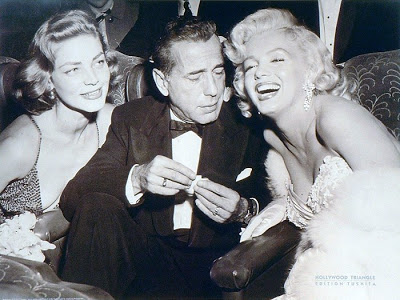 Here is a very quick summary of his life and career. The book is great and highly recommended to all. Bogart was born to privilege. His father was a wealthy New York City doctor and his mother was a famous illustrator. His parents were also drug addicts and completely neglected their children. Bogart grew up with no ambitions, doing badly at school, getting thrown out of Andover and being a general layabout. He joined the navy in 1917 when he turned eighteen during WWI but never saw action. After the war he eventually drifted into acting because he needed money and had no idea what else to do. He began with tiny non-speaking roles on Broadway and slowly worked his way up to bigger ones. He entered into marriage with another actress that was unhappy almost from the beginning. It did not last long. After a number of years in theater he tried out for roles in Hollywood but he made no impact. By 1935 he was broke, out of a job and drunk much of the time.
Out in Hollywood, Warner Brothers had acquired the rights to a successful play, The Petrified Forest by Sherwood Anderson, and wanted Leslie Howard who had the lead role on Broadway to star, Bette Davis to be the ingénue and Edward G Robinson to take on the role of Duke Mantee, the sardonically cruel gangster. But Howard who owned the rights to the play insisted that the Mantee role go to Bogart who had been his co-star in the play. Finally Warner's assented and Bogart got his real start in Hollywood.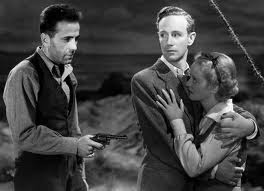 The Petrified Forest plays beautifully into Bogart's style of rugged skeptical acting. Anderson's tale is a clash between the genteel old pre-war manners crashing into the modern age of savagery and cynicism. Guess which role Bogart takes. It was also a clash of acting styles with Howard being theatrical, poetic and diffident while Bogart is like a slice of raw red meat spitting out his lines like a verbal grinning slap in the face. It is a revelation and Bogart steals the movie. It goes on to great reviews as does he and he waits for his next big role. It doesn't come. For years. Jack Warner had no idea what to do with Bogart. He didn't think he was good looking enough for leading man roles and so just sticks him in B movie after B movie that are almost indistinguishable from one another.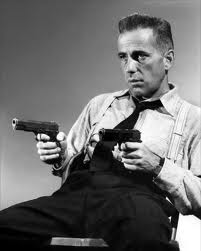 Warner Brothers was very much into stories lifted off the front pages, primarily crime stories in a period in which gangsters and their molls ruled the day and were the talk of the country. So Warners churned out loads of crime films, some great; some not so great. Bogart for the most part got roles in the not so great ones like Bullets or Ballots, Marked Woman, San Quentin, Dead End, Crime School, Racket Busters, You Can't Get Away with Murder and the wonderfully titled The Amazing Dr. Clitterhouse (which Bogart gleefully referred to as The Amazing Dr Clitoris). As "B" films go some of these like Marked Woman with Bette Davis as a hostess/call girl who gets scarred by a gangster and then seeks revenge are actually good fun or Bullets and Ballots having Bogart as a sadistic gang enforcer in what was to become his trademark trench coat are intriguing, but Bogart's roles were secondary in films that did not do much for his career.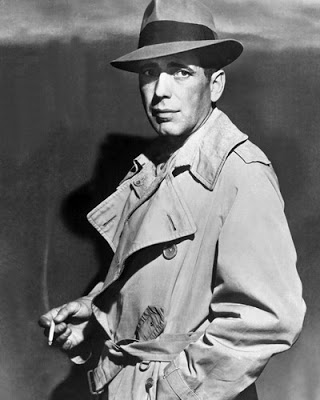 He did get a few co-starring roles in some better and bigger crime films such as Angels with Dirty Faces, King of the Underworld and the terrific The Roaring Twenties. One film that Bogart excels in but went nowhere is Black Legion in which he portrays a union man who turns in anger to an organization that persecutes immigrants – i.e. if remade today it would be titled The Tea Party. In almost all of the crime films Bogart played the heavy, the sneering killer showing no mercy. He was good at it. But it wasn't what he wanted. He felt stuck in a movie studio system that did not value him and just tossed him in various films to make it worthwhile to keep paying him his weekly wage. Warners even cast him in two westerns – The Oklahoma Kid with Cagney (who Bogart loathed) and Virginia City with Errol Flynn (who no doubt was a better drinking partner) – a genre that Bogart was clearly unsuited for even if he was once again playing the villain.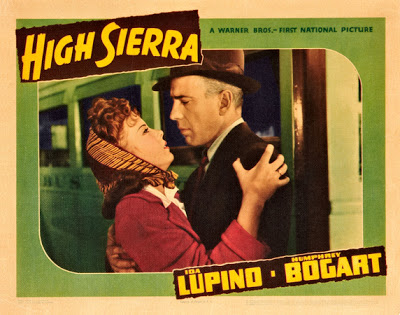 By 1941 Bogart was entering his early forties and had primarily played villains and other supporting roles – basically a character actor and with his drinking and another disastrous marriage underway he seemed aimed to be headed nowhere but down. Then the studio acquired the rights to a crime novel called High Sierra by W. R. Burnett and Bogart began lobbying the powers that be to get the main role of Roy "Mad Dog" Earle. It was another bad guy role but one with complexities and layers of character. Bogart as usual was not the first choice for a leading man role. They wanted Paul Muni who years earlier had starred in one of the first great gangster films, Scarface, and Muni agreed to do the film as long as Warner's also let him make a biography of Beethoven. Bogart seethed in frustration and went to one of the main producers to complain. The producer tells him "You want Raft's roles, Raft wants Eddie Robinson's roles, Robinson wants Muni's roles" to which Bogart replies "All I do is bump off Muni. And we all move up a step". As it turned out, he didn't have to. The studio first agreed on the Beethoven film and then reneged and Muni ripped up his contract and left Warners for good. Next they wanted George Raft. So Bogart goes to Raft and tells him what a crap role it is for some one of his giant stature and so Raft refuses the role. Bogart gets it. The up and coming script writer John Huston working with the author of the book give Bogart his best role yet and he aces it with a terrifically poignant harsh portrayal of a good man gone bad during hard times.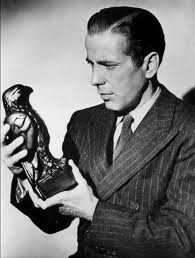 High Sierra is a great film on its own merits but beyond that it brought together Bogart and Huston and they went on to make some great classic films together. In the same year that High Sierra was released Huston finally got the opportunity to direct his own film. He chose a slim little novel that had already been made into a film twice, the beautiful pitch perfect The Maltese Falcon by Dashiell Hammet. Again the studio wanted Raft as Sam Spade but he refused to work with a first time director and Huston says he rejoiced when he heard that. He wanted Bogie and he got him. For me The Maltese Falcon is the first great noir film with an amazing ensemble of character actors, a snappy script that closely follows the novel, camera work that still looks fresh today and a deep burnt in cynicism that is lovely to behold. And Bogart as Sam Spade. Nobody could have done it better. He even came up with the classic line "The stuff that dreams are made of". The film was critically acclaimed and did great at the box office. Suddenly Bogart was a star.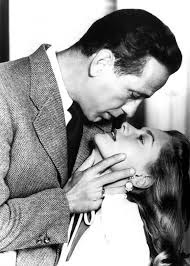 And he remained one till he died of cancer in 1957. He had his portion of clunkers – the studio system made that nearly impossible to avoid but he made some great films over the next sixteen years and worked almost to his death. He was a flawed person but a truly great actor. Here would be my picks of ten of his must see films. None of them are surprising though perhaps a few omissions may be.
1. The Maltese Falcon
2. The Big Sleep
3. In a Lonely Place
4. High Sierra
5. The Treasure of Sierra Madre
6. Sabrina
7. Casablanca
8. The Petrified Forest
9. To Have and Have Not (where he met and romanced his 19-year old co-star Lauren Bacall)
10. Key Largo
I had never been a big fan of Casablanca primarily because the Paris flashback always felt so corny and out of place breaking the rhythm of the film. It still does but while watching it again I realized what a near perfect film it was in some cinematic magical way – badly strung together at times but with so many great individual scenes that it has rightfully entered into our collective consciousness. Two films that many might choose but I don't really like either of them are The African Queen (Katherine Hepburn drives me nutty other than in Bringing Up Baby) and The Caine Mutiny which has a great performance from Bogart but just doesn't click with me. So that's that. I just wanted to get Bogart off my chest. I think I did.