From 1926 to 1939 S.S. Van Dine wrote 12 murder mysteries with his detective Philo Vance. They were enormously popular and though I gave it my best I could not get through the one I tried. The language feels very stiff and formal and Philo is a bit of an annoying somewhat foppish snob. A series of 15 films based on the books was produced from 1929 to 1947 with a number of different actors playing him – a few who would go on to some fame. I was able to find and watch 12 of them. The other three may be lost and sadly one of these is The Gracie Allen Murder Case with that nutty comedienne working with Philo (Warren William) on the case – I would love to see that one. I can't honestly say these are all that great never rising above B films but I have a weakness for these old detective series.
S.S. Van Dine was the pseudonym for Willard Huntington Wright, born into a well to do family in 1888 along with his brother Stanton, who was to become a top painter during the early 1900's. Willard was an aesthetic, a dilettante in many of the arts, an erudite, a would be poet and philosopher. He loved the intellectual world and society of writers and thinkers. He had high ambitions that he would become one of them but that wasn't where he found his fame. For years he took on various writing jobs for magazines – an editor, a reviewer of films, an article writer on demand. But none of them took him to where he wanted to be – a literary lion. He became depressed – something that would stick to him all his life – and when he began having fits he took to opium and became an addict. His mother sent him to France to enter a sanitarium to cure him and while there he read nothing but detective novels – hundreds of them.
He came away from that experience cured but also sure that he could write mystery novels and created the character Philo Vance who in many ways was much like Willard – snobbish, intellectual, confident of his abilities and able to solve crimes through psychology as much as clues. He took on the name of SS Dine because the initials reminded him of travel and the last name of food. He did his best to keep his real identity a secret because he was a bit embarrassed by his very commercial books. His first book was The Benson Murder Case (1926) and right from the moment of being published it was an enormous success. As were the Philo Vance novels that followed. He became very wealthy and eventually his real identity was revealed by newsmen who figured it out. Willard was to write until he died. One of his book reviewers was Dashiell Hammett who hated them – upper class twits in manor houses that was all the rage back then – and of course he was to change the direction and style of murder mysteries to something rougher and realer.
---
The Canary Murder Case (1929) – 5.0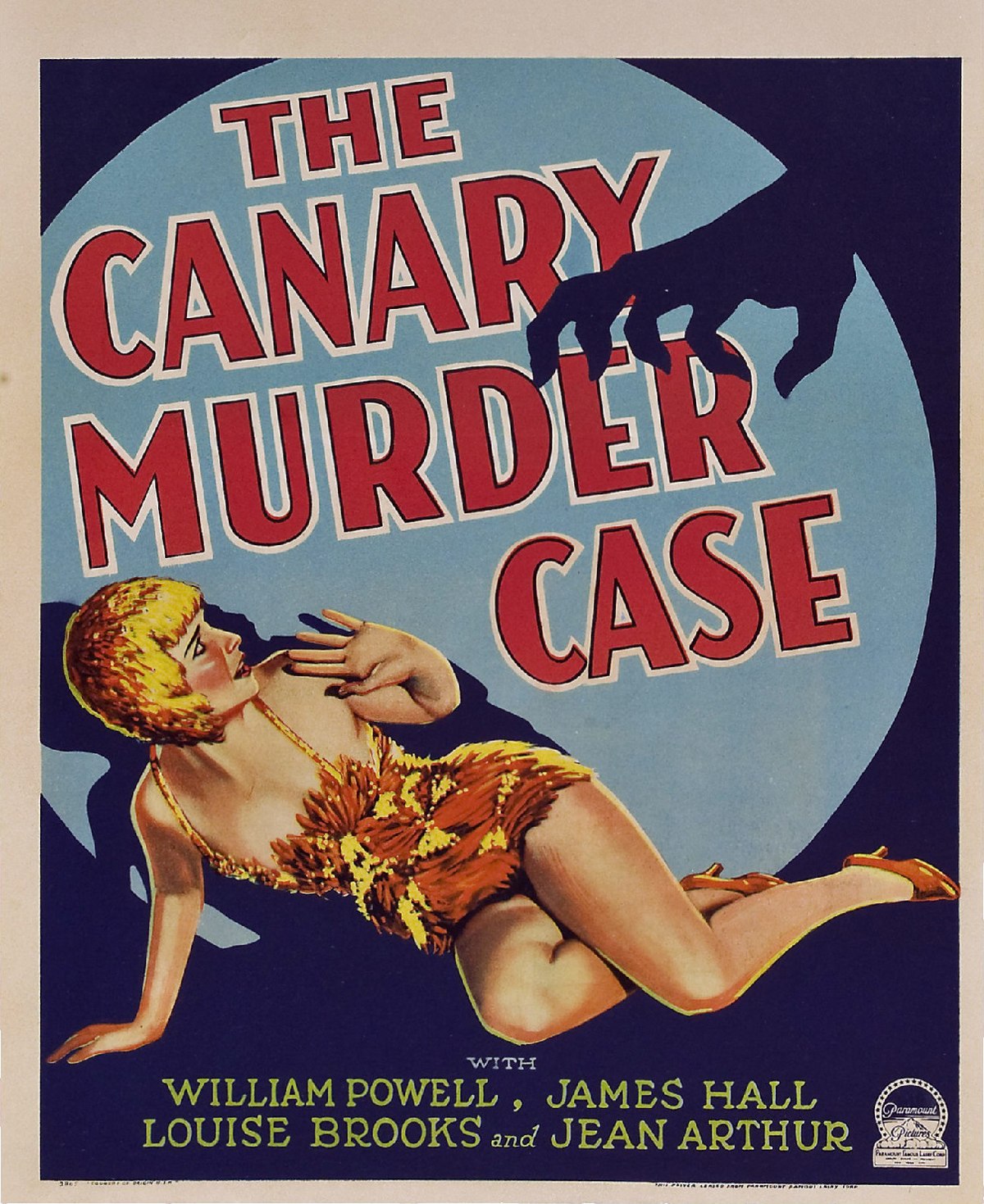 Paramount took out a contract on three of the Vance novels and looked around for an actor to star in them. William Powell had been kicking around in silent films for about five years without a lot of success, usually playing dastardly villains but through pure luck Paramount chose him and that was of course just the break he needed. He was to do two others for Paramount before jumping to Warner Brothers where he did one more Vance film - The Kennel Murder Case - in 1933. Then he moved over to MGM and gained his fame with the Thin Man series and one can speculate that his role as Philo Vance had a lot to do with him being chosen - and thank God for that. Interestingly, the wonderful frog-voiced Eugene Pallette also somehow managed to show up in all four of Powell's Vance films.
Showing up here is a young Jean Arthur who also had been having little success in her career thus far after slogging through a number of silent films and into talkies. She gained a reputation as a terrible actress but she kept plugging away but it really wasn't until the mid-30's after The Whole Town is Talking and Mr. Deeds Goes to Town that she became a star.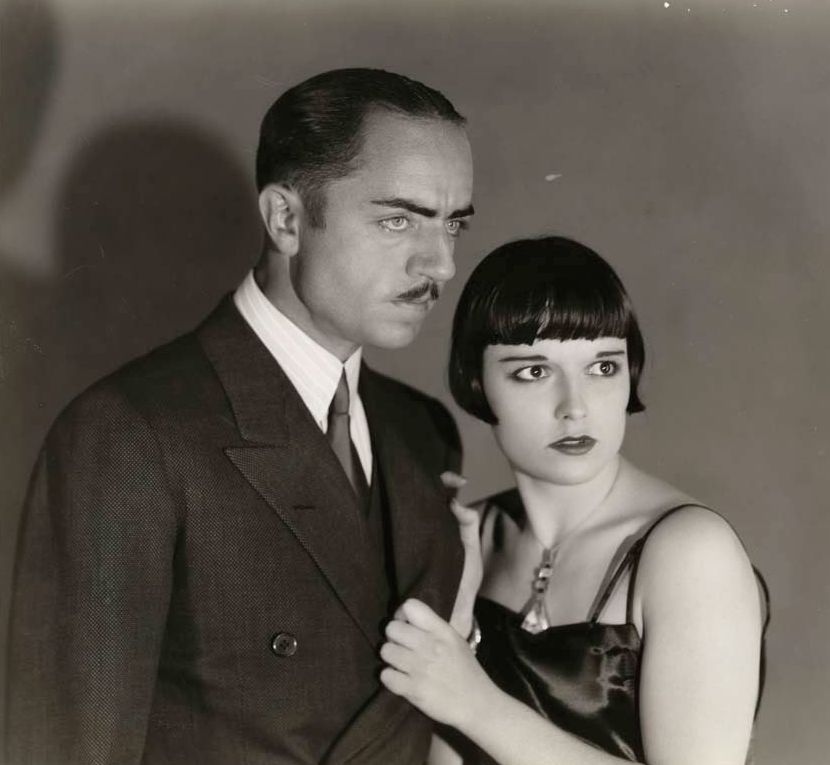 And of course there is the appearance of the legendary Louise Brooks who made two silent films in the same year as this one that cemented her legendary status - Pandora's Box and Diary of a Lost Girl both directed in Germany by G.W. Pabst. So it is very odd and unexpected to come across her in this mediocrity - and I see that her voice was dubbed - I was horrified that Louise Brooks spoke with a twangy Brooklyn accent - but that is not her. She never made it in America though and her last film which I saw a few months ago was a 1938 low-budget John Wayne western called Overland Stage Raiders.
Other than this, the film - and the copy quality I saw was awful - is very much stuck in place with bad acting, bad stage direction and bad sound as the talkies were really just getting underway and in that period the technology was really not around yet for the actors to move and be able to capture the sound well. In fairness to the film it began production as a silent film and then it was decided that it would be a talkie. By the time they had made this decision Brooks had filmed her parts and gone to Europe – thus the dubbing. For reasons unknown, the character of Vance is changed to a large degree – gone is the supercilious style and phony English accent – he was now William Powell at his most serious and dull. Not so much his real social life. Apparently, Powell and Willard became drinking buddies and used to go around to all the places of ill-repute. What would Myrna Loy think!
---
The Greene Murder Case (1929) – 5.0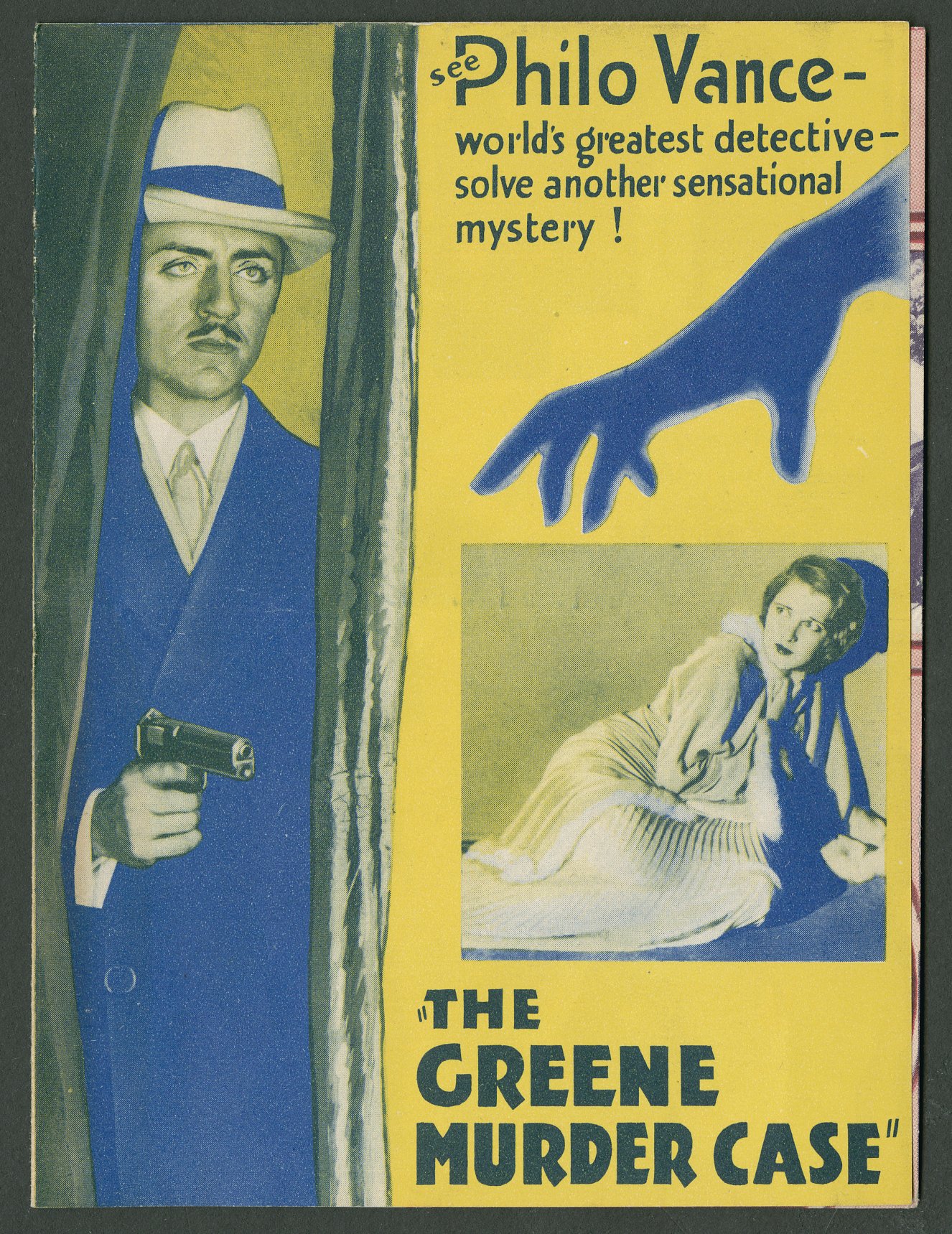 This and the previous Philo Vance film, The Canary Murder Case, must have been made around the same time I expect but released at different times. In Canary they mention the Greene case and in the Greene Murder Case they make mention of the Canary Murder Case. In the series of 12 novels by S.S. Van Dine The Canary Murder Case was written first. Both films were released in 1929 and both suffer from the new transition to sound. Also, as far as I know there are no good quality versions available and so the viewer has to suffer through both bad sound and murky video. Both also star the very young Jean Arthur but in different roles as well as William Powell as Vance and the great character actor Eugene Pallette as the one step behind policeman.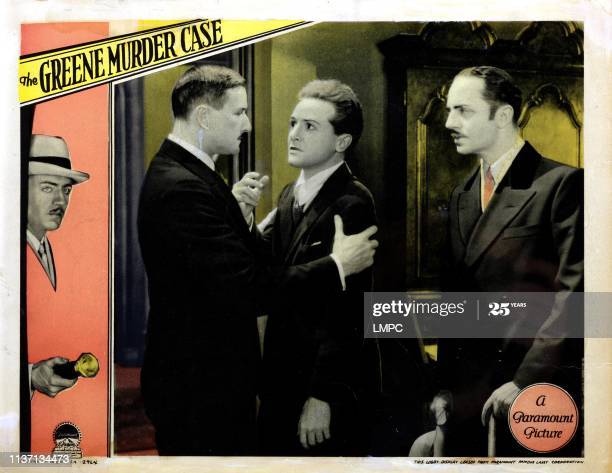 This one has a lot more dead bodies then The Canary thus making it a bit more intriguing and director Frank Tuttle showed a little more camera movement - even at one point oddly shooting the roof top from across the street - he was to go on to a solid career with perhaps This Gun for Hire being his best-known film. He also directed the next Philo Vance film The Benson Murder Case. And he too became a drinking partner of Powell and SS Dine. The murder case revolves around one of those complicated wills that almost ensure murders will ensue. The money is spilt among the wealthy Greene family but if they should die, then their portion comes to the others in a family in which everyone already hates everyone else. With the will as an incentive, the bodies begin to drop.
---
The Benson Murder Case (1930) – 6.0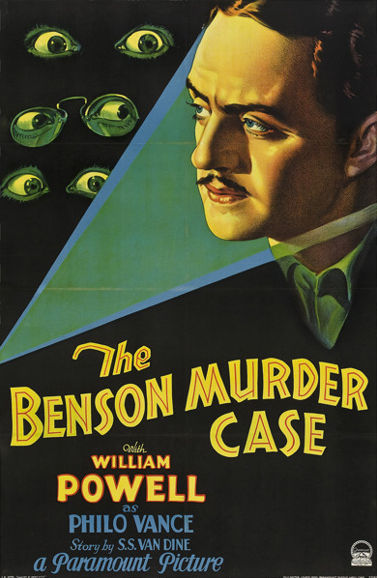 This one is an improvement from the two previous Philo Vance films. Again starring William Powell but with a little bit more pep and wit about him. The crime is reasonably well done with a house full of suspects and what would seem an impossible murder but murder it is. The film is set in 1929 and the markets are collapsing and people are losing everything they have with ill-advised margin calls. Their broker is Anthony Benson who seems rather cavalier about his client's losses and so gives them all a motive to kill him. Later that night they all show up independently at his house in the country and being a good if not too bright host he invites all these people who wish him dead to stay the night. That won't end well.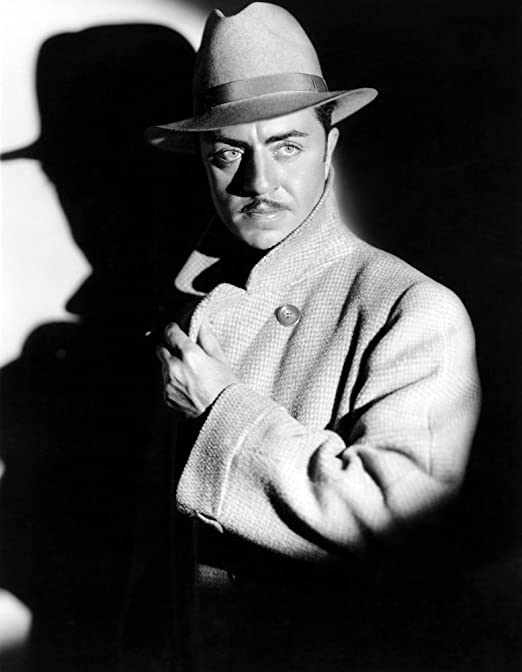 Eugene Pallette is back as a policeman adding a few laughs and Paul Lukas is one of the suspects. Lukas is at the beginning of his Hollywood career after coming from Europe and he would not become a star for a few more years. He actually takes on the role of Philo Vance in The Casino Murder Case in 1935. One last name might be familiar to many – William Boyd – but not the Hopalong Cassidy William Boyd. This one got into trouble with drugs and the cops and the newspapers got him confused with Hopalong badly damaging his career for a while!
---
The Bishop Murder Case (1930) – 5.0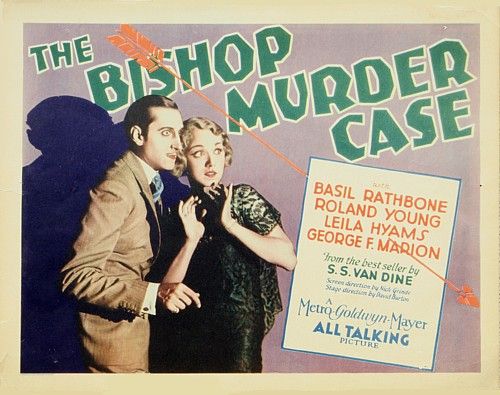 The Philo Vance series was picked up by MGM after Paramount did two of them with William Powell, but unfortunately the film is as static and stagey as were the Paramount films. In this one Philo Vance isn't exactly the smartest guy around as pretty much every suspect has to be killed before he figures it out. Vance is played by a very natty and saturnine Basil Rathbone nearly a decade before he became famous as another detective. Amusingly - from today's perspective - one character keeps referring to him as Holmes and the D.A. as Watson. But even more so if you have read any of books from the pen of S.S. Dine who wrote 12 Philo Vance mysteries. It is quite obvious that Vance is modeled very much on Holmes and even has his Watson type narrator, his friend and lawyer Van Dine who at least up to this point does not show up in the films. There is an instance in the film when Philo looks at a man and tells him what he was up to the night before including that he didn't have the money to pay a bill. Very Sherlockian.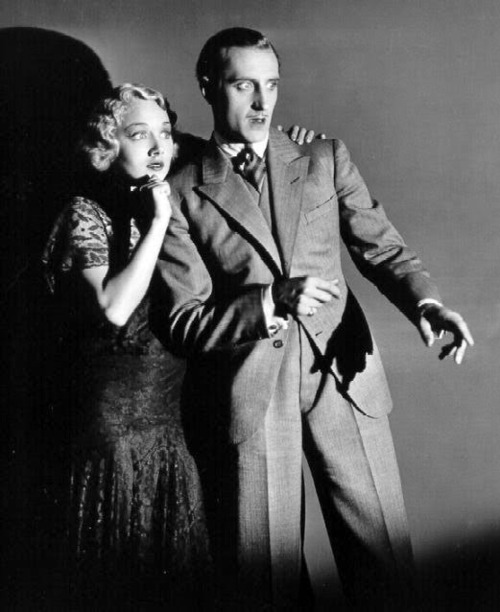 Most of the supporting actors over play it like they are a third rate theatrical group on the road. Rathbone and one of the suspects, Roland Young, seem to be in a different film than the others acting wise. That includes Delmer Daves who some 13 years later began a very solid directing career - among his films were Destination Tokyo, Dark Passage with Bogart and Bacall, Broken Arrow and 3:10 to Yuma. His last directed film was in 1965. He has only a small part but is quite bad in it.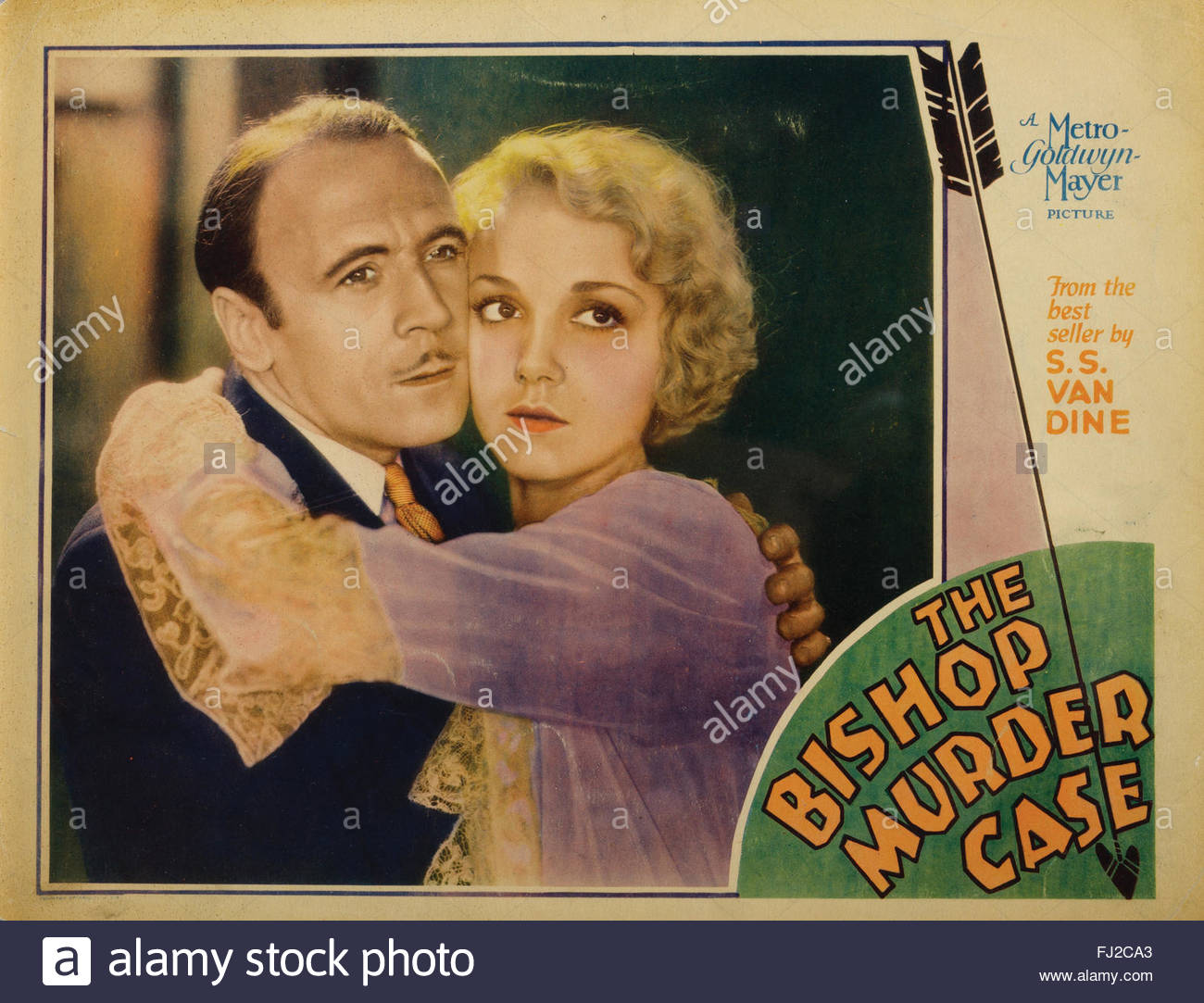 A man named Robin is found in the enclosed garden of some wealthy homes - with an arrow stuck in his chest and a note in the mailbox about Cock Robin. The nursey rhyme about him says:
Who killed Cock Robin?
I, said the Sparrow,
with my bow and arrow,
I killed Cock Robin.
And this begins a series of murders all with nursey rhymes attached such as Humpy Dumpy fell off a great wall. Vance is brought into the case as one after another of the suspects gets rhymed to death. By the end there are only a few left to choose from. Rathbone is fine here in what I think was only his second talkie and an early one for Roland Young who already seems to have his droll style of speech down.
---
The Kennel Murder Case (1933) – 6.5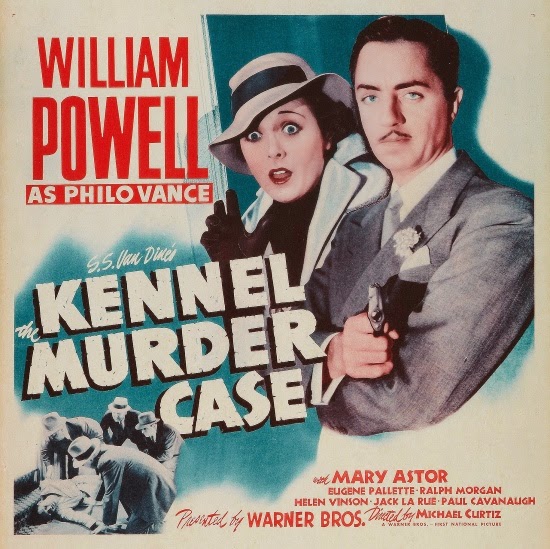 This is a giant leap forward from the previous Philo Vance films. Part of that is simply a reflection of how quickly films were technically progressing from those earlier films made just as sound came in, part of it is a much better script, a more relaxed William Powell and of course the direction of the great Michael Curtiz. Curtiz had already made a large number of films in his native Hungary and other countries in Europe before moving to the USA in 1926 where he immediately began directing, but it wasn't really until he teamed up with Errol Flynn in Captain Blood in 1935 that he became well-known.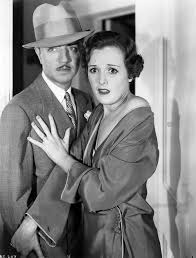 Powell was one year away from the Thin Man but many of his Thin Man trademarks are in place - the same look, the same sharpness and even a small dog that we first meet at a dog show. The film Philo Vance character is very different than the book one. In the book he wears a monocle, is an English accented dilettante and quite smug. Thankfully, the films took some liberties. After the film Warner Brothers reduced the salary of Powell from $6,000 to $4,000 a week and Powell objected. Warners blamed it on the Depression but also didn't think Powell was worth it – so they came to an agreement that Powell could get out of his contract and leave Warners. He entered into contract negotiations with Columbia but in the meantime made a film with MGM called Manhattan Melodrama in which he was teamed up with Myrna Loy. The film did well – it also had Gable in it – and W.S Van Dyke the director saw magic and put Powell and Loy into The Thin Man. And MGM bought out Columbia's contract. A lucky break for Powell and Loy.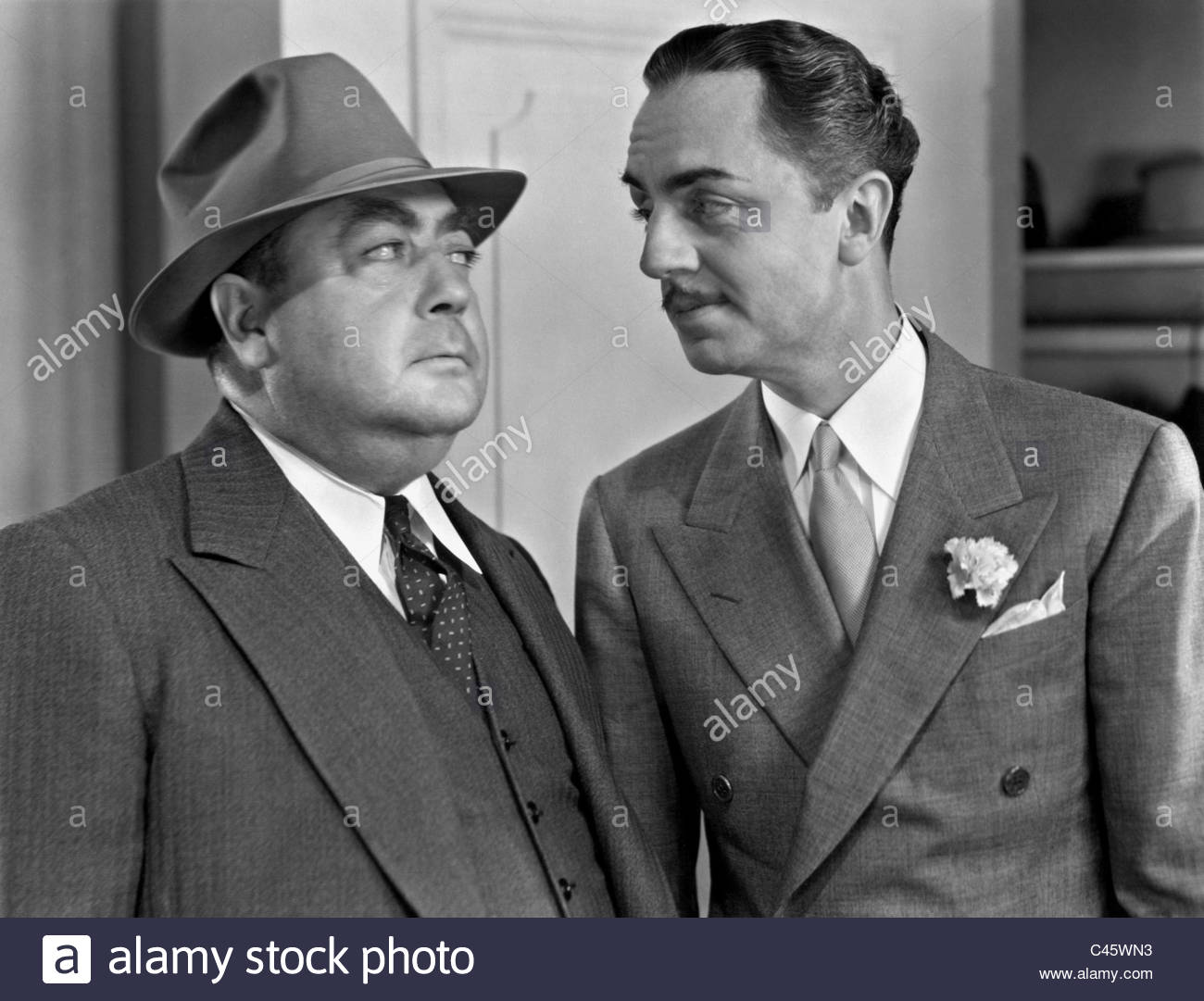 It is a good film with a bunch of suspects and a fairly complicated locked door murder and the lovely Mary Astor. When Powell gives his rendition of how these complicated murders all took place, it is like a puzzle coming together. He is in top form - so much better than in his early talkies. Powell is teamed up with Eugene Pallette again here. Pallette had played the bullfrogged voiced Sgt Heath in three previous Philo Vance films with the last one with Powell being The Benson Murder Case in 1930. When they meet each in this one, they give each other a smile and say its been a long time since we saw each other. With Powell leaving the studio, Warners had to find a replacement.
---
The Dragon Murder Case (1934) – 5.5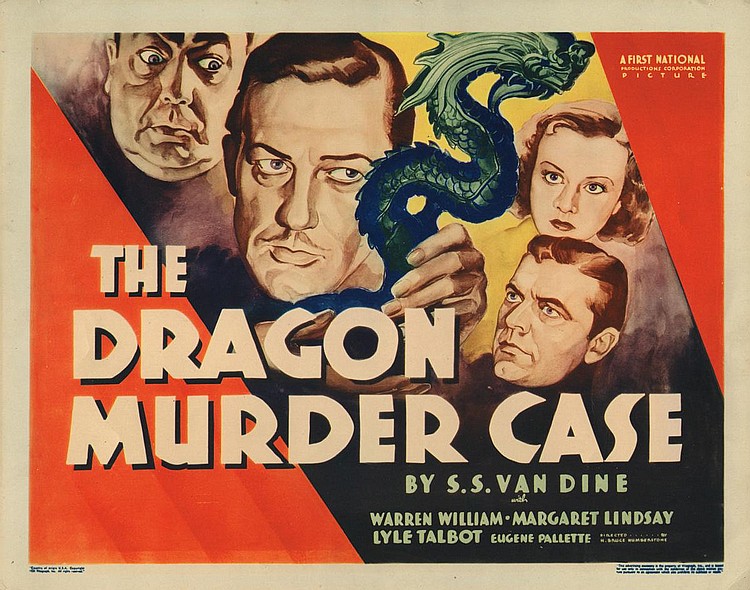 I seem to be running into Warren William a lot as of late - as Perry Mason, in the Arsene Lupin film, in the Lone Wolf series. He was quite popular in his time and could easily switch from good guys to bad guys with that slightly wicked look he had. Here after two others played Philo Vance - William Powell and Basil Rathbone - William takes on the role for two films - though other actors played the role in between his portrayals. His other Vance film is the1939 lost The Gracie Allen Murder Case. Warners was also having trouble finding a director. A few of them looked at the script – Curtiz, Archie Mayo, Mervyn LeRoy and Alfred Green but they all gave it a big no. So did H. Bruce Humberstone until Jack Warner called him into his office and said direct this film or I will make sure you never direct another one. Humberstone accepted and much to his surprise the film was a hit and tropical fish that he featured in the film became a craze.
In the books Philo Vance is a wealthy dilettante who is friends with the DA and tags along on cases usually involving the upper class, always solving them with his psychological insights. In the films he is more a traditional detective looking for clues. This one is decent enough - a lot of suspects and it moves along. As in most of the Vance books, it appears on first impression to be an impossible murder but murder it is. In this instance, a group at a house party go swimming in a natural pool - the Dragon Pool and one of them doesn't come up. And when the pool is drained the next day he is nowhere to be seen. No one liked him, not even his fiancée so there are plenty of suspects. The killer comes as no surprise if you apply basic film technique detection skills!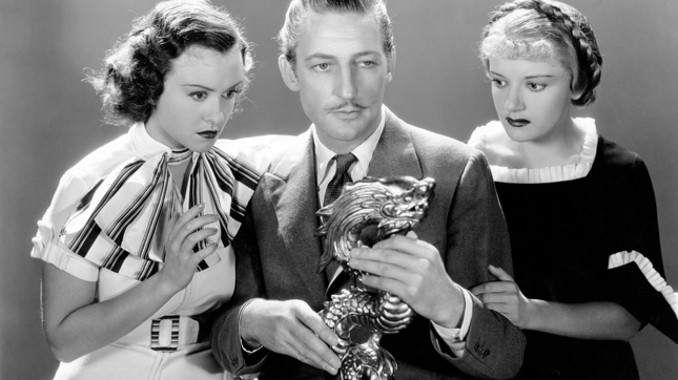 Eugene Pallette picks up again as Sgt, Heath even with a switch of Philo from Powell to William. He has some good zingers in this one and as nearly always the film ends with Heath saying to Vance, "We solved another case didn't we". In the cast also is Margaret Lindsay, Lyle Talbot, George Stone and Dorothy Tree (Confessions of a Nazi Spy, Nazi Agent, Hitler Dead or Alive) who later on became a famous voice teacher.
---
The Casino Murder Case (1935) – 6.0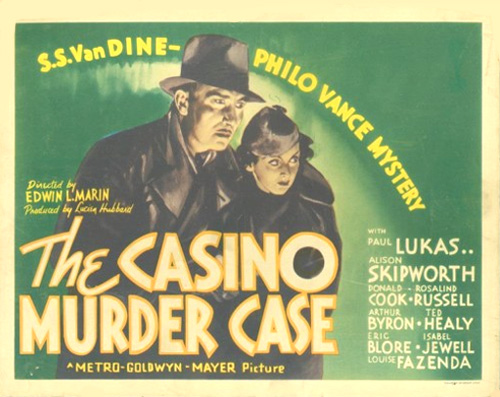 I kept thinking through this film that the actress sure looks a lot like Rosalind Russell and what do you know, it was! I just know her for her roles from a few years later on such as The Women and His Girl Friday where she looks older. The Philo Vance films seem to be bouncing back and forth between MGM, Paramount and Warner Bros. for some reason - I would guess the studios were buying specific books from S.S. Dine rather than rights to the character. This one is MGM and they make a peculiar choice for Philo - Paul Lukas - a Hungarian who always sounds French to me - who moved to the USA in1927. Once you get used to the accent he is fine and he has solid chemistry with Rosalind.
Not as complicated or clever as some of his other cases, this feels a bit lazy in the plot. It seems that Philo's previous cases are in book form and Rosalind's character remarks that she has read them all – but skipped the parts where he gets too wordy – which is rather spot on for the S.S. Dine novels. A wealthy family – they are always wealthy in his books – is coming down with a bad case of being poisoned. One of the sons at a casino but he lives, his wife at home but she doesn't, the mother, Rosalind who is the secretary to the mother. And it almost has to be another family member doing it. The ending denouement is a change of pace. Vance has written how the killings were done and who did them in a letter and at the point of a gun the killer asks him to read it. And that he will kill him when it is finished – to which Vance replies I wish it was a longer letter.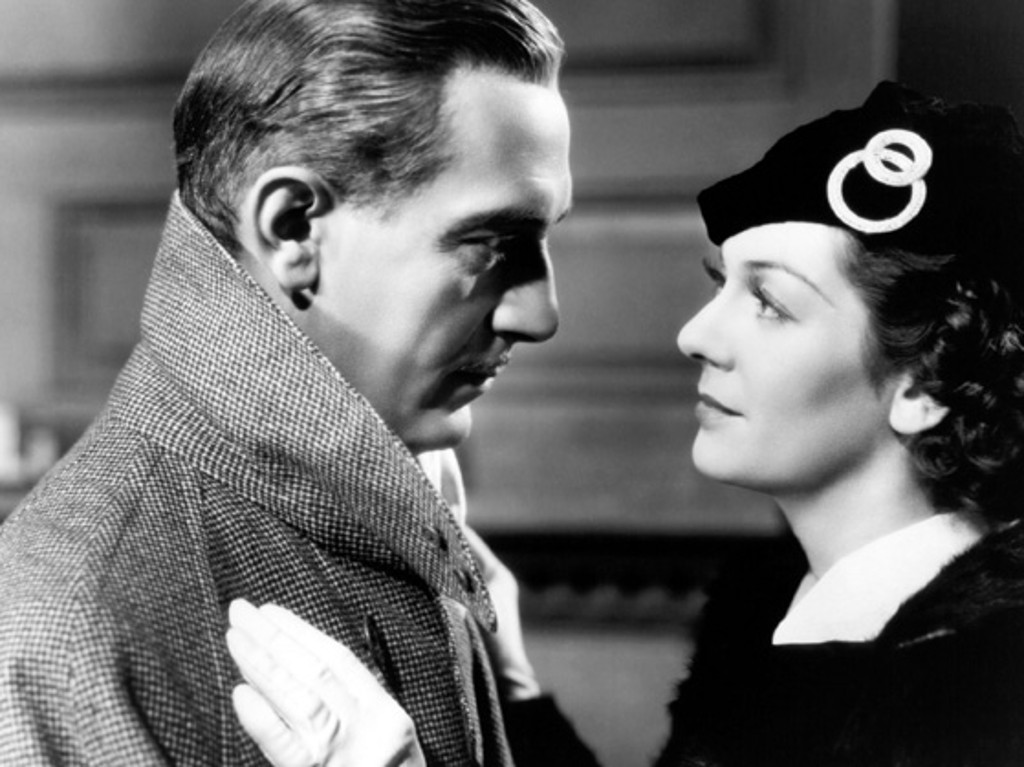 A decent mystery with some good character actors showing up - the always entertaining Eric Blore as his butler (he had a career playing English butlers), Leo G Carroll (Waverly in The Man from Uncle tv show) also as a butler, a short appearance from William Demarest as an auctioneer and if you look really closely that is Keye Luke as the Chinese pidgin speaking employee in the casino. At the same time, he was appearing in his first Charlie Chan film. Heath who is often played by Eugene Pallette, depending on the studio, is played by Ted Healy - a very popular entertainer at the time though from the few times I have seen him in films, I can't imagine why - but he is credited with bringing the Three Stooges together - either a blessing or a curse depending on your point of view!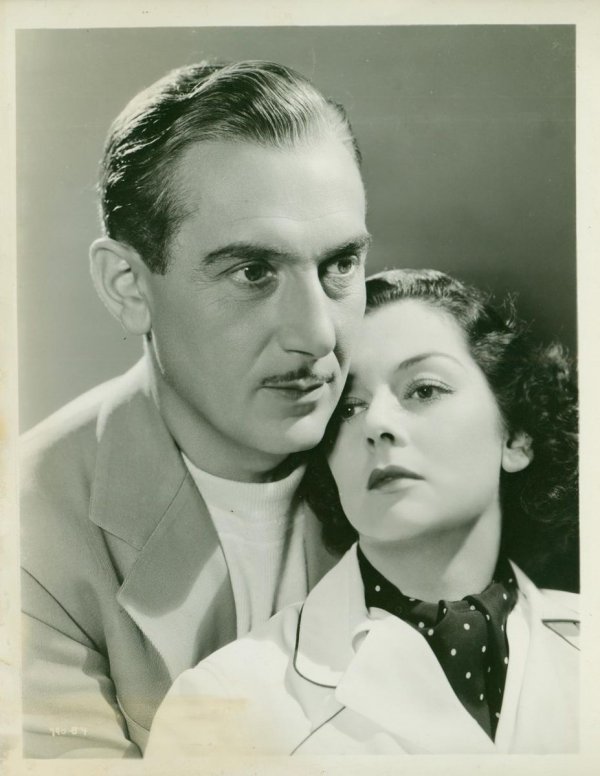 One interesting aspect was the use of heavy water in the plot (being produced in a makeshift lab in the basement!)- I can't imagine this was well known at the time as it was only first produced in 1932.
---
The Garden Murder Case (1936) – 5.0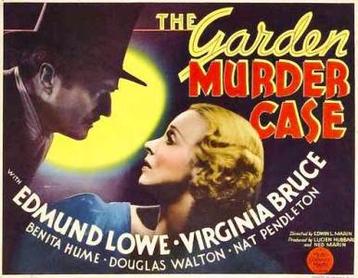 Where there is fire, there is Philo. But which Philo. There have been so many. Another actor takes on the role of Philo Vance in this MGM production. It seems that no one wanted to play him very often either at MGM or at Paramount. I can't say I had ever heard of Edmund Lowe and after this film I can see why. He takes up space but not much more; kind of a poor man's Ronald Colman. Fortunately two of the co-stars make up for it - the always entertaining Nat Pendleton as Sgt. Healy. Healy in all the films is a little slow of thought and Pendleton almost always played dimwitted character so it was a good match. Also, playing the romantic foil to Vance is Virginia Bruce who I keep running into recently. Quite the fragile chiseled blonde face with the bedroom eyes. She never quite made it out of B films though she often appeared on the verge of doing so but she is always a welcome addition.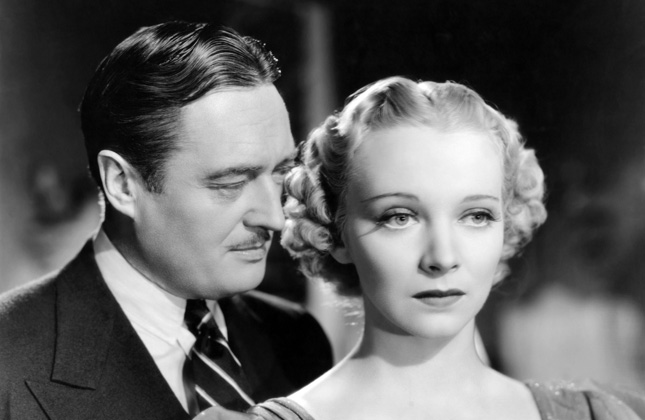 Taken from an S.S. Dine novel, it feels like they must have simplified it down to almost nothing that makes much sense. I think I figured out the method of the killing about 55 minutes before Vance does and the film runs a neat 60 minutes. At a race track a jockey in a daze keeps telling everyone that he is going to fall and break his neck and manages to do so. Gene Lockhart who almost always plays amusing rich guys plays a swinish rich guy this time who everyone hates except his swinish mother (Jessie Ralph) who would just as well rip your head off as not. When he is murdered no one in the audience is surprised. Though I knew the method, I wasn't so sure about the who - and it was a bit of a surprise.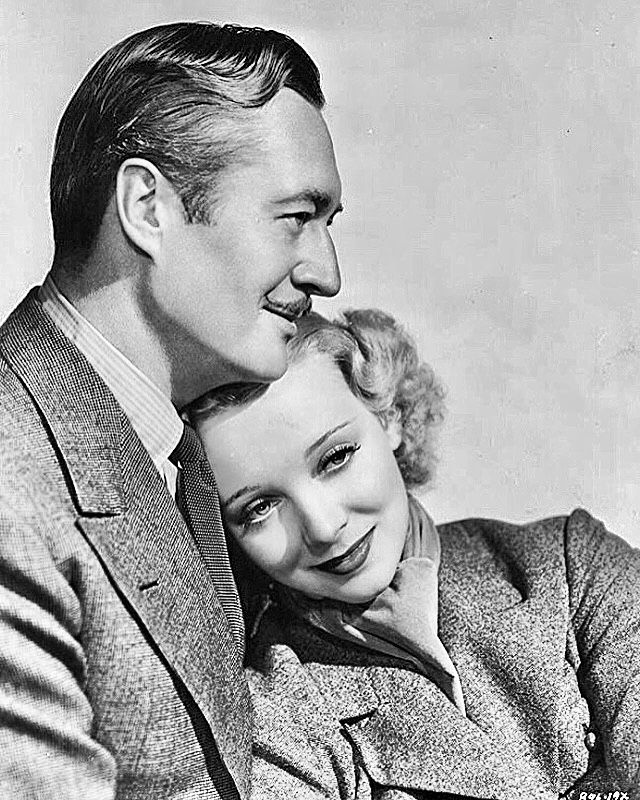 Also on hand is Benita Hume as the blackmailing nurse. Hume had been married to both George Sanders and Ronald Colman - so she clearly had something going for her - and H.B, Warner, Kent Smith (Cat People and Curse of the Cat People) and Grant Mitchell. All familiar faces. In his last appearance in the Philo Vance films is the coroner played by Etienne Girardot, who had played the same ornery character in The Dragon Murder Case and The Kennel Murder Case. This is ok - but Lowe just doesn't add much zip to it and this film needed some zip.
---
Calling Philo Vance (194O) – 6.0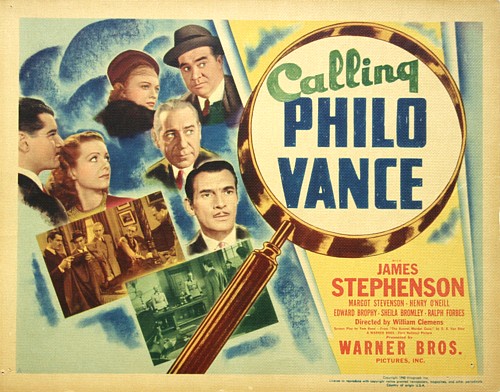 This is a remake of the earlier Philo Vance film, The Kennel Murder Case made in 1932 with William Powell as Vance. This being 1940 though the film throws in a spy angle with Vance working for the State Department to stop some top secret plans from being stolen by Germany or Japan or Italy. It may have only been 1940 but we already knew who are enemies were. The Italian is mentioned to have been in the Ethiopian campaign, while the Chinese woman had her area in China over run by the Japanese and is now working for them and at the beginning of the film, Vance is in Vienna, clearly Nazi held. Munitions manufacturers are willing to sell to the highest bidder even if against the law.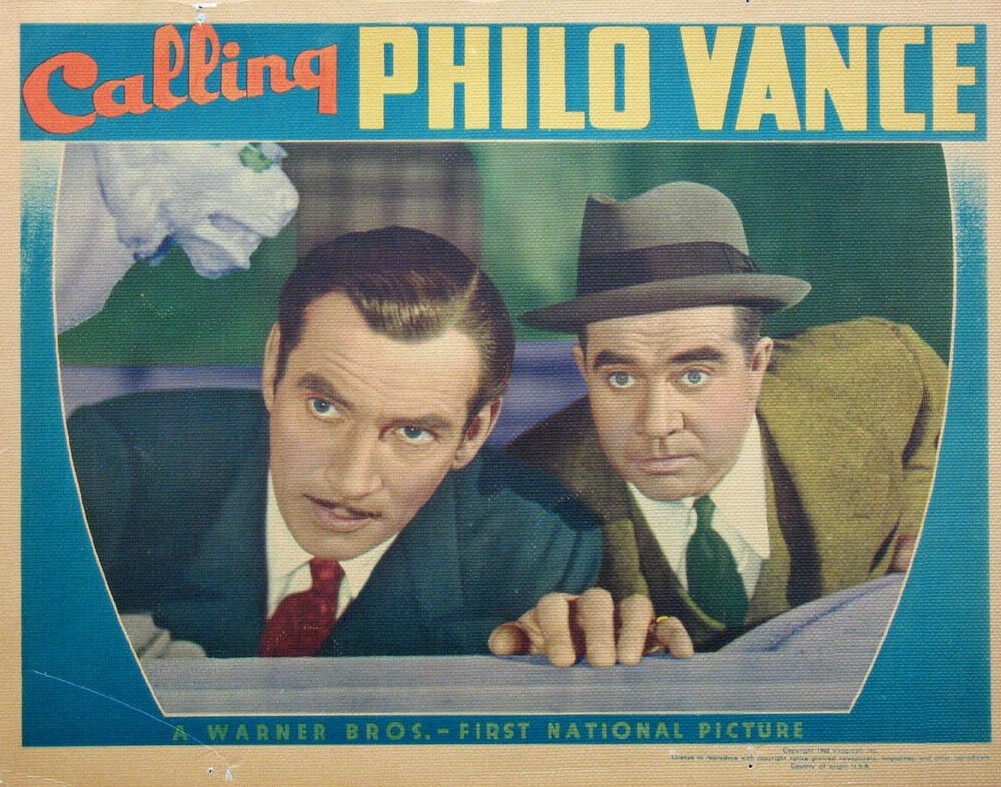 The murders themselves though play out almost exactly in the same way they did in The Kennel Murder Case and with the same ending. But this comes in about 11 minutes shorter than the previous film, so it is rushed with things cut out - for example the whole scene at the kennel and the dead dog - thus not being able to call it the Kennel Murder Case! In those pre-video days I guess doing a remake only eight years later made sense. How many people remembered the plot of the 1932 film? This is a very good Warner Brothers B film that moves quickly and smoothly.
Between this film and the 1936 The Garden Murder Case were three Philo Vance films produced by Paramount that are either lost, never released to video or very difficult to get your hands on.
1.The Scarab Murder Case (1936) with Wilfrid Hyde-White (lost film)
2. Night of Mystery (1937) (based on The Greene Murder Case) with Grant Richards - sold to MCI and never released.
3. The Gracie Allen Murder Case (1939) with Warren William as Philo Vance - Paramount - I can't find this one. I sure would love to see the Gracie Allen one - she is a real favorite of mine.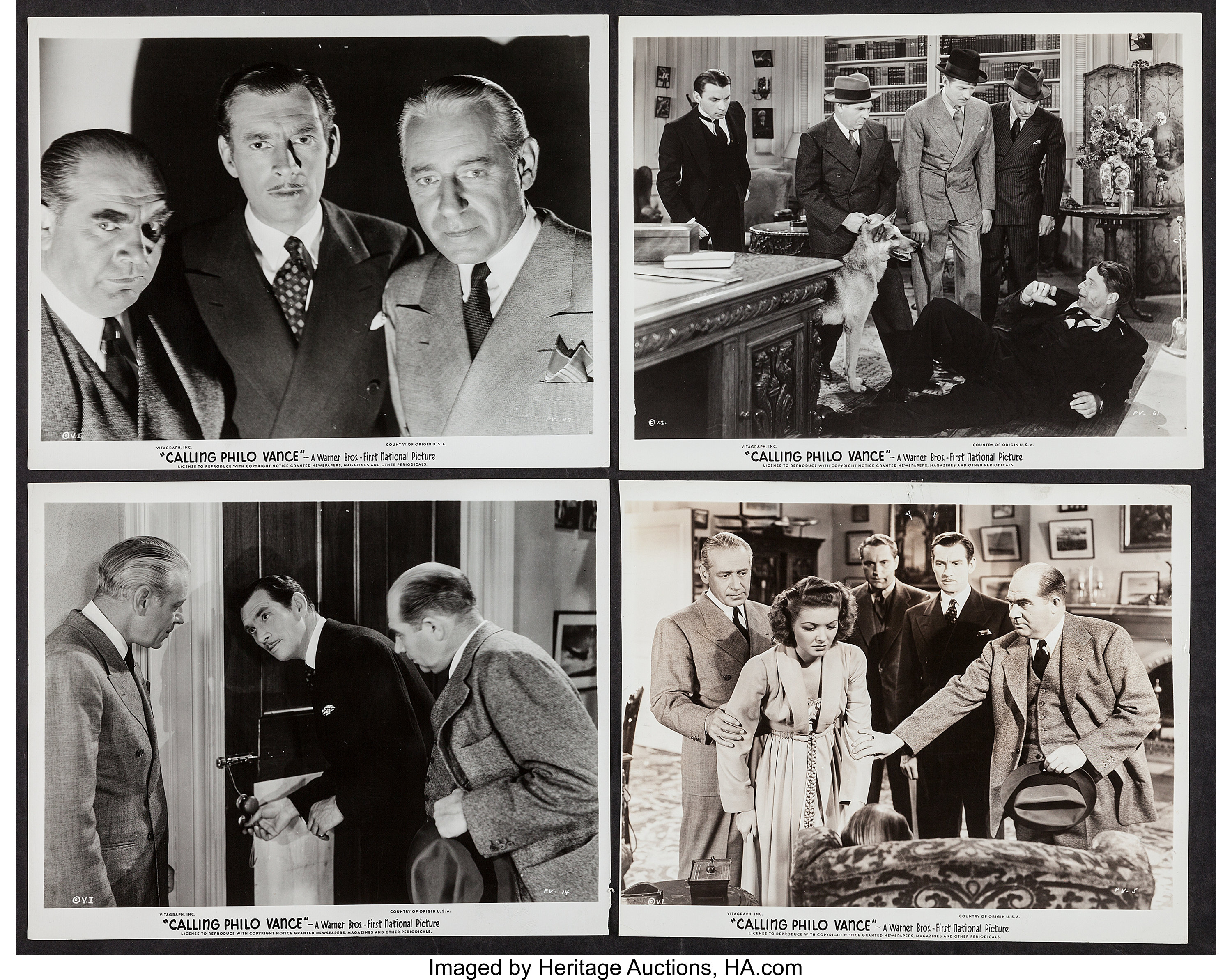 James Stephenson is a very credible Vance with his urbane British manner. The reason you have likely never heard of him is that he didn't make his film debut until 1937 at the age of 49 and was to die a mere 4 years later, but he still has 40 credits. A real shame as he has a bit of that British class about him.
---
Philo Vance Returns (1947) – 6.0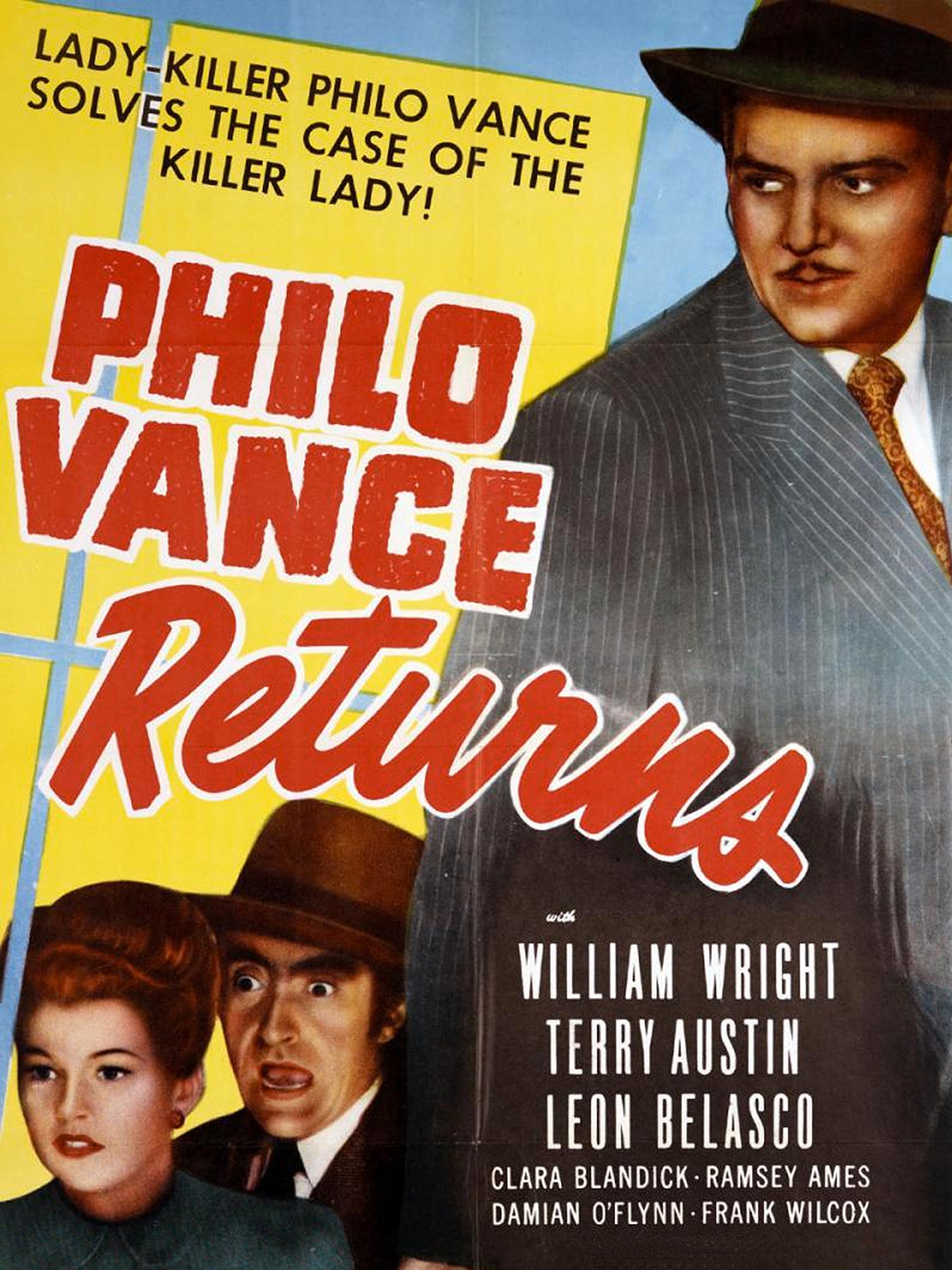 Well considering that I didn't know anyone in the cast and that this is clearly a B film, it isn't totally bad at all and that is probably due to the direction of William Beaudine, who directed more B films than you would ever want to watch. A decent script as well leads to multiple murders, a few witticisms and many suspects. By 1947 the Philo Vance books had come to an end (last one in 1937) and the previous film with Philo as a character had been 7 years before. The Philo Vance character here shares practically no traits with the earlier films or the books. For one thing he lives in a crummy hotel room so I guess Vance has come down in the world since his Penthouse days. He also dresses in bad suits and has a working class accent. Hard to understand why the producers would pay for the rights to Philo Vance and then make him nothing like the character. Vance in this one is played by William Wright. Apparently, during the war Columbia tried to market him as the next Gable but it didn't take and he sank into obscurity faster than a drowning man in a hurricane. By 1950 he was out of the picture business.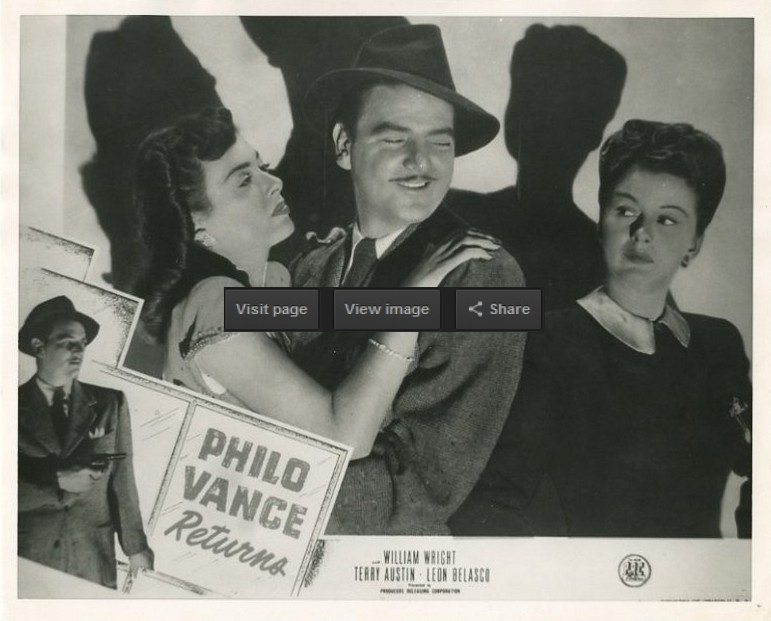 This is pretty much a straight ahead solving of the crime without Vance's psychological analysis of the suspects which the books were based on. Still a quick moving film of some small merit. It just looks so darn cheap though. Larry, a friend of Vance, meets a singer and immediately wines and dines her and proposes marriage and takes her mom to meet sweet old Grandma. Grandma shows her the Rogues Gallery - all the ex-wives and a fan fan dancer that he almost married. Well, no point in paying salaries in a B movies and so in quick succession the fiancée, Larry and one of the ex-wives are written out of the script with murder. More to come. Not sure it made much sense when you get to the end but it isn't too bad getting there. One of the ex-wives is played by Vivian Austin, a dish for sure - she had been voted Miss Hollywood - but you have not heard of her because she had to quit the business when she became blind this same year. But not before she starred in the next Vance film. Many years later she found a doctor who cured her and she married him. Nice ending.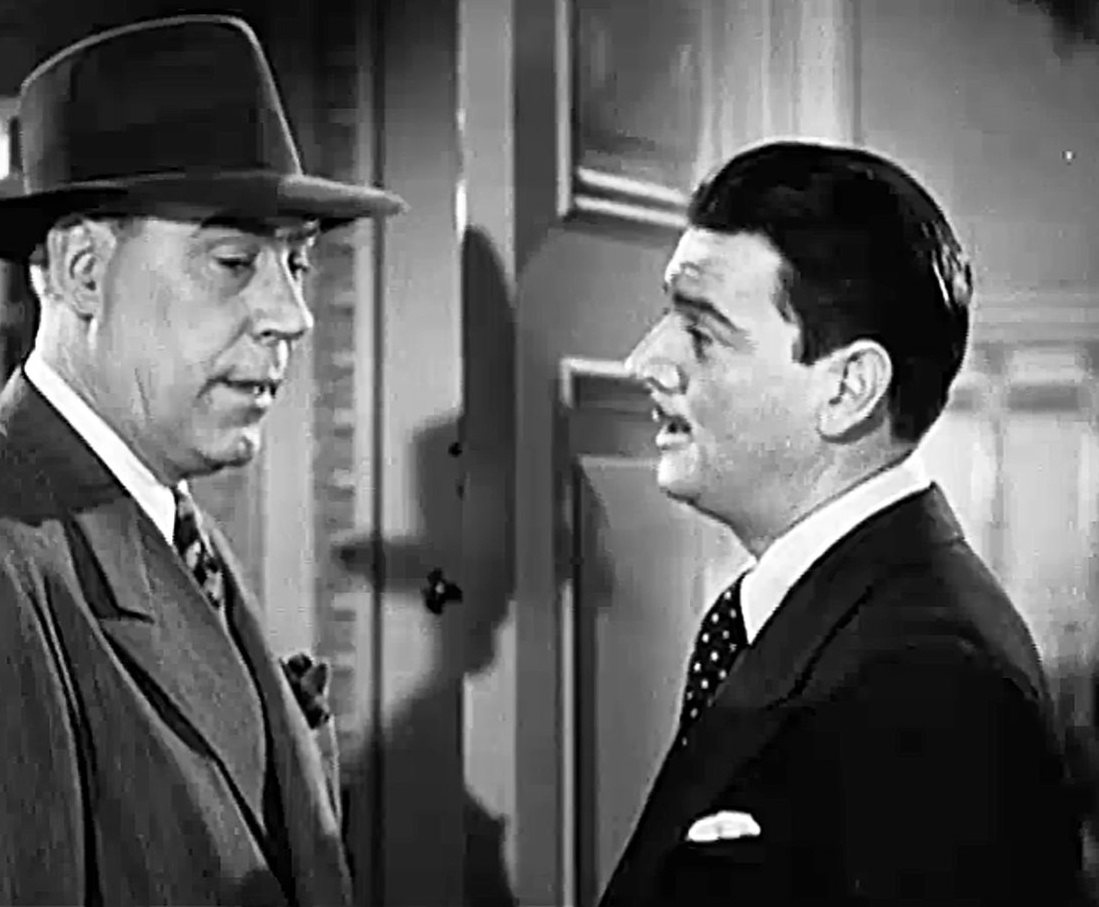 These last three films are produced by the Poverty Row studio PRC, one of the better studios under that label. They made 179 films all on the cheap but some of them are not bad at all. Edgar G Ulmer directed 3 films for them, Sirk made one film for them and The Devil Bat with Bela Lugosi was one of theirs.
---
Philo Vance's Gamble (1947) – 6.0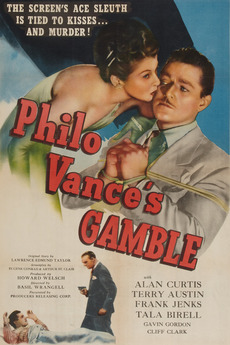 Another low budget entry in the three B films that PRC produced in the Philo Vance series. This one is a slight upgrade from the previous PRC film both in production values and in Vance. This time it is Alan Curtis as Vance and he has a bit more spit and polish than William Wright did. And Vance is at least living in a decent apartment though still a step down from the old days. Curtis was to die at the early age of 43 in 1953 after a surgery. The only other film I have seen him in besides the Vance films was the terrific noir Phantom Lady, where he plays the husband suspected of killing his wife. There are at least a couple other names I know in this one - the always oily Dan Seymour, Frank Jenks as Vance's garrulous sidekick and the femme fatale is played by Vivian Austin, who was in the previous Vance film.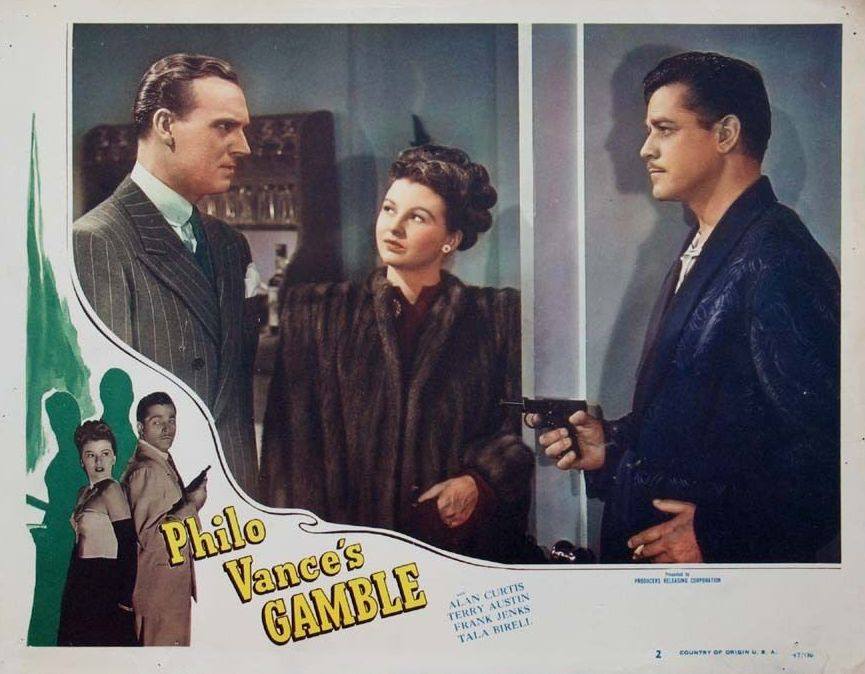 This one has the requisite numbers of murders, mystery and suspects as it involves a jewel swindle that ropes Vance into the case. That and a beautiful brunette. All the initial Philo Vance films were based on specific books but by this time there were no more books so PRC came up with their own scripts which are surprisingly good though any resemblance to the Philo Vance of the books is purely accidental. It has a decent script and the acting is fine.
---
Philo Vance's Secret Mission (1947) – 5.5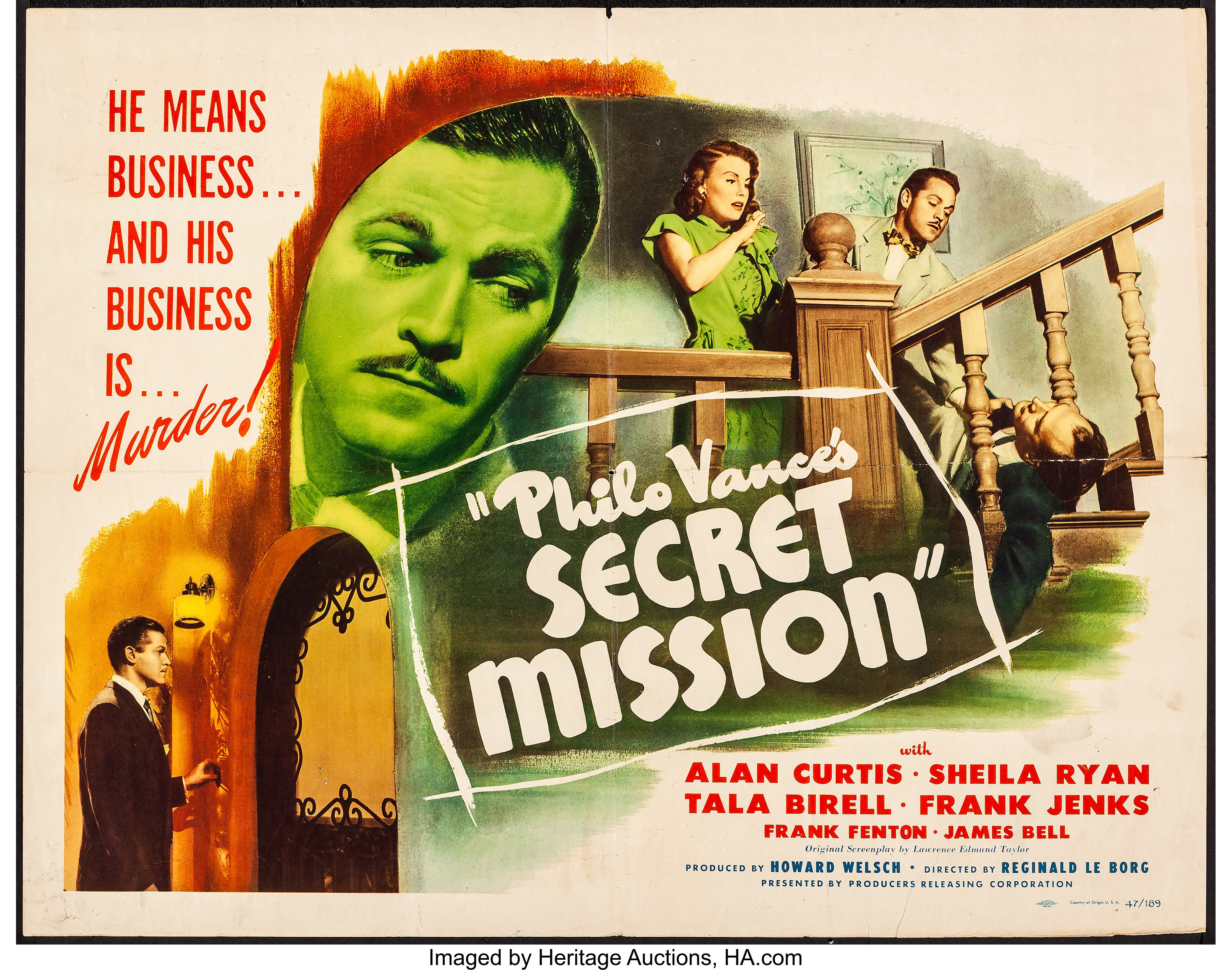 This is the final of the three Philo Vance films that were produced by Producers Releasing Company, a low budget Poverty Row company during the 1940's. It at least has a little continuity from the previous one with Alan Curtis still as Vance and Frank Jenks as his sidekick. It is a decent enough script with a lovely girl in the picture, Sheila Ryan. Vance is called in to write a book about a true murder that happened seven years previously, but the man who wants it is murdered. There is a room full of suspects and one of them is trying to kill Vance. This was truly the end of Philo Vance - derived from a series of popular books and then a series of films starring a number of different good actors as Vance - William Powell, Basil Rathbone, Paul Lukas and William Warren. No American versions of Philo have came after. It is hard to see Philo Vance being picked up again with his books and his films pretty much forgotten.

---