Fast Company - The Sloane Mysteries
---
Fast Company (1938) - 6.0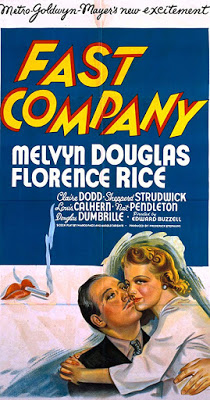 I guess it isn't too surprising that MGM tried to imitate its own hit of the Thin Man series with this one - what may be more surprising is that there were so few attempts. But it isn't easy making a married couple interesting, fun and romantic. It goes against the grain of films. Maybe it took Dashiell Hammett to do it and then scriptwriters to piggyback off of him. They sure try here and it isn't a bad effort at all. Our married couple banter back and forth like marathon runners and much of it is witty and comes close to the edge of being sexual in nature - close but still staying well clear of the Censors who kept everything pure for us. For one moment he is on her bed - in their twin bed room of course - married or not you don't want kids thinking a couple would share one bed - when there is a knock on the door ending that risqué moment.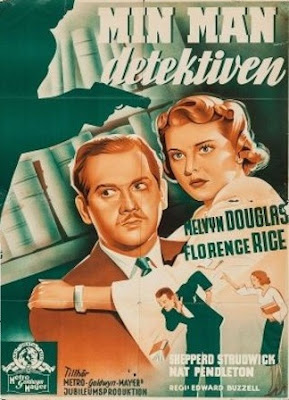 MGM made three of these films - all written by Harry Kurnitz who based the first one - this one - on his book. They center on a married couple who sell rare books. Can't beat that for excitement, but they get involved in murders which spices up their marriage considerably. But this couple - Joel and Garda Sloane - are played by different actors in all three films. This goes against everything a mystery series is suppose to be. Audiences want to come back to the same actors every time. But to give MGM credit, they provide some good actors. In this one we get Melvyn Douglas who was very much a William Powell type and Florence Rice (ya I don't know her either). The next one Fast and Loose adds to the star luster with Robert Montgomery and Rosalind Russell and the final one, Fast and Furious, isn't bad either with Franchot Tone and Ann Sheridan. That is what a studio can do.



My good man George Zucco plays another rare book seller but one without a lot of ethics and when he is bashed over the head with his good luck charm, a friend of the Sloane's is charged with the crime. They get on the case. Fast in the title is the key word - at 74 minutes it goes by like an express train - all charm with nice curves - no time is wasted - our couple is either looking for clues, trying to stay alive, smooching or flirting with one another or another woman. The mystery is decent enough but not the reason you would really watch this - that would be the rapid fire dialogue and good performances. As soon as the credits show up, I knew I was in good hands. Claire Dodd with a bit of the femme fatale about her, Louis Calhern, Nat Pendleton (I would love to see him play a genius sometime), Douglass Dumbrille and Dwight Frye. I am not sure if this was considered a B film but it has some of my favorite B actors. Of course, it is hard not to miss Myrna Loy.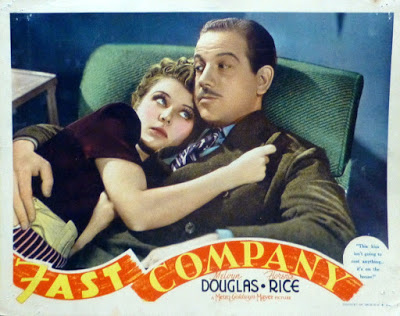 ---
Fast and Loose (1939) - 6.0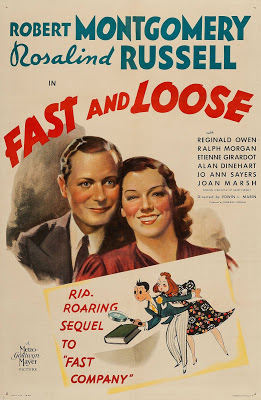 The Sloane's are back as the nifty fast-talking husband-wife crime sleuth couple in the second of three films in the series. Who would have thought rare books could be so dangerous. For reasons unknown, MGM dropped Melvyn Douglas and Florence Rice and substituted them with Robert Montgomery and Rosalind Russell. Not a downgrade by any means. Montgomery was a steady hand at MGM and was the President of the Screen Actors Guild from 1935-1938 and this was a nice warm up for Russell who had The Women and His Girl Friday right around the corner.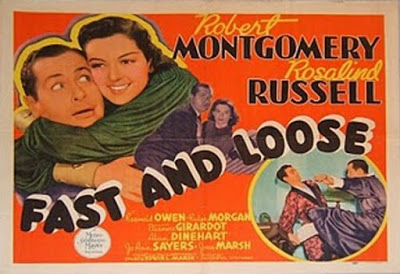 The screenplay is again from Harry Kurnitz who was to have a long and successful career as a writer in Hollywood - a few of his other credits are two of the Thin Man films (a natural fit), Witness for the Prosecution, A Shot in the Dark, Hatari and How to Steal a Million. He has a way with clever repartee with just a hint of sex far in the background. The script and mystery here is solid enough with enough suspects to fill a lifeboat and really no clues to identify the killer - unless you are a crackerjack rare book seller with a wife at his side admonishing him to stop taking risks. In truth it is not really a fair partnership as Mr. Sloane has most of the fun while leaving the Mrs. back in safety - she still gets into trouble of course. Fortunately, no dog or child though.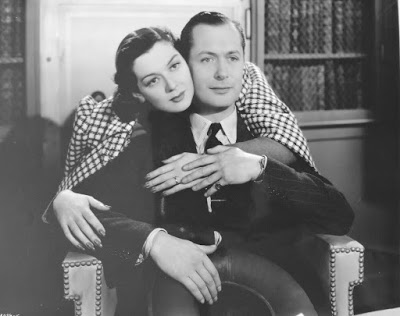 The Sloane's are broke with the landlord on the doorstep when they get an offer to act as agents to buy a manuscript by Shakespeare from a wealthy man with cash flow problems. They are invited to his mansion to go over the deal and the couple soon find themselves waist deep in murder, forgeries, stolen books and witty back and forth. There are no returning actors from the first film except for Donald Douglas as the cop. Montgomery and Russell have decent enough chemistry though she looks a tad bored at times playing second fiddle.

---
Fast and Furious (1939) - 6.0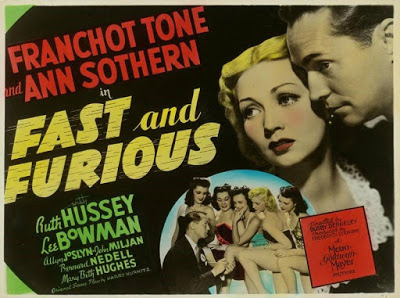 No, not that one. This one is the third in the Sloane murder mystery series. This time Mr. and Mrs. Sloane are portrayed by Franchot Tone and Ann Southern - again a very solid combination - but here they push the narrative much deeper into comedy than suspense - even using lions in the bedroom for a few laughs. It had nothing to do with the film really but why not. This one was the last in the series which is a shame - they are not great by any means but decent mysteries with a few laughs along the way. It seems they could not keep anyone in the two main roles - they should have gone totally B and brought on some actors like Ralph Bellamy and Glenda Farrell to keep it going.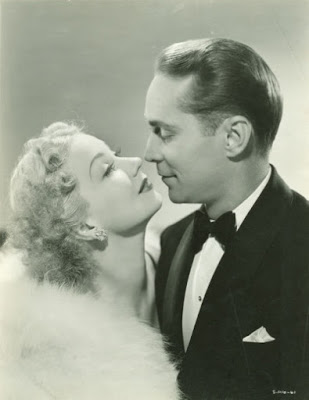 Clearly, they didn't consider this a B film with those two actors but even more so with the director - Busby Berkeley. There are no dance numbers in this one but there are a bevy of beauties as it takes place in the middle of a Beauty Pageant. With all those girls it wouldn't have killed Berkeley to put on one of his patented musical numbers, but no such luck. Instead, we get a few dead bodies, the usual loving barbs between our couple and a mystery that again has no real clues to lead us to the killer.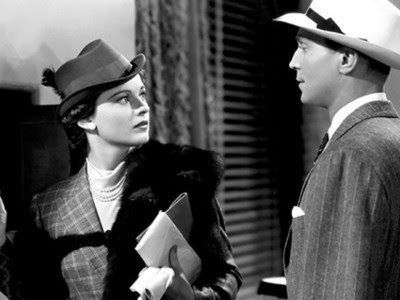 This one takes us out of the rarified air of rare books to the beach where a friend of Sloane is helping organize the pageant. Sloane has his hands full - with girls most of the time once they hear he is a judge. But then murder comes along and just as in the other two films the friend is suspected and tossed into jail. He needs a new set of friends. Ruth Hussey, Lee Bowman, Allyn Joslyn and the curvaceous Mary Beth Hughes are on hand to fill out the cast. All three of these come in a DVD set at a reasonable price if I recall.