The Saint - Films 4 - 6
---
The Saint's Double Trouble (1940) - 5.5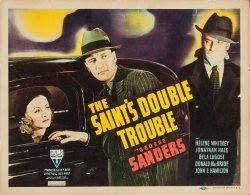 For the price of a ticket you get two Saints and two George Sanders. Can't complain too much about that in this fourth in the Sander's Saint series from RKO. It comes in at a tidy 66 minutes. It isn't exactly exciting or fast moving - but the final ten minutes is classic Saint as he sets up a man to be killed by the police and effortlessly slides back into the shadows adding to his legend and leaving a woman behind.
It begins with Bela Lugosi in Cairo sending a mummy to a Professor in Philadelphia using Simon Templar as the sender. Through the mail. A mummy. Must happen all the time. Hidden in the mummy are two batches of diamonds that they plan to retrieve. The Boss in Philly is a lookalike for Templar - down to the posh manners and refined English accent. Templar also happens to come to Philadelphia to see his old friend the Professor - and not only that but Inspector Fernac (Jonathan Hale) who has a love/hate relationship with the Saint also is in the City of Brotherly Love. It must be an episode of This is Your Life featuring the Saint! Too bad Teal could not make it.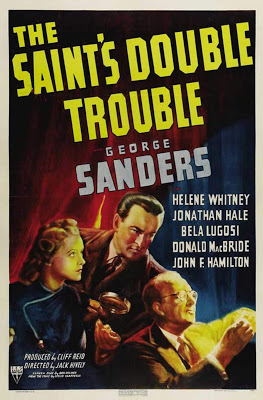 A few murders take place - they get pinned on the Saint as they always do - and the Saint and the Boss keep trying to impersonate each other much to the confusion of the other characters and the audience. The Boss has two B film nitwits working with him - the one with the bum leg is of course called Limpy. Then Lugosi comes to Philly to make a full house. Let the party begin, Lugosi looks happy just to be there as he smokes his cigars, leans back and wonders why they bothered to hire him since they give him little to do - but he was looking forward to that paycheck no doubt. The girl left behind is Helene Reynolds - a blue blood in real life - the grandniece of Alexander Graham Bell and the cousin of Teddy Roosevelt - but even more blue blooded was marrying the heir to the R.J. Reynolds tobacco fortune in 1936. But sadly for her that didn't last and she tried her hand at films without a lot of success. Good enough for a late night watch.

---
The Saint Takes Over (1940) - 6.0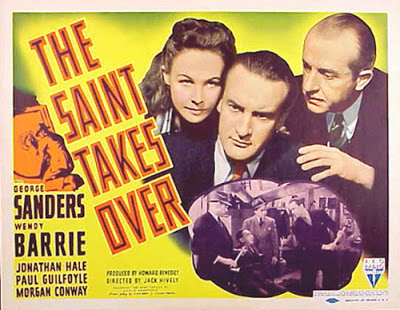 This is a good one that could have been even better if not for the movie morality code of the time. It is the fifth George Sanders - Saint film. Sanders was a busy actor in 1940 with eight films going back and forth between B film fare like this and more prestigious films such as Foreign Correspondent, Rebecca, The House of Seven Gables and The Son of Monte Cristo. Of course in those he was not the star as he was in the Saint films. I wonder if Sanders is more appreciated now then he was back then. He improves every film he is in whether villain which he was often or the good guy. If I see his name in the cast, I know it is worth watching. Not that he thought that - in his autobiography he can barely recall many of these films and thought them quite rightfully forgettable.
There is a lot of killing going on here. Always a plus in a film like this. Templar is on a liner coming to New York to help his old friend Inspector Fernack (Jonathan Hale) who has been framed by a group of five partners in a crime syndicate and has been drummed out of the police department. On the ship Templar helps out a lady when she has been cheated in bridge and pulls a meetoo moment which is strenuously rejected by the lady. One's perception changes with the times - I was more shocked by the unwanted kiss from Templar than the murders that follow. The lady is played by Wendy Barrie who must have been a favorite of Sanders or RKO because she appeared in three Saint films all as different characters and then when Sanders moved over to the Falcon she came along for the first two films.



Once Templar is in New York someone begins killing members of the five and poor Fernack always seems to be on hand as is Templar. They blackmail one of the minor crooks to help them - played by Paul Guilfoyle like a Damon Runyon character - and he adds a little comedy to the film and loves the Dick Tracy comic. He sort of specialized in playing low down squirrely crooks. Templar is of course a step ahead of both the bad guys and the cops - and in a set up as old as Methuselah he gets the crooks to confess while the cops are listening in. He uses a listening recorder that is as big as microwave to broadcast the conversation. This was directed by Jack Hively who directed the 4th, 5th and 6th film in the series.

---
The Saint in Palm Springs (1941) - 5.0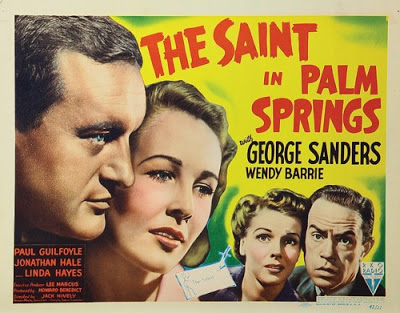 This was the final film in which George Sanders appeared as The Saint and it is unfortunately rather a lackluster finish. For tax reasons the Saint franchise was to move to England where they had credits to use. It seems odd to be moving production to England in 1941 during war time but I guess a buck was incentive enough. Sanders did not go along and the role was taken up by Hugh Sinclair for two films and Louis Hayward for one. Hayward had actually starred as The Saint in the very first film in the series, The Saint in New York. Sanders was to move over to the Falcon films which were so close to the Saint that the author Leslie Charteris sued the film company.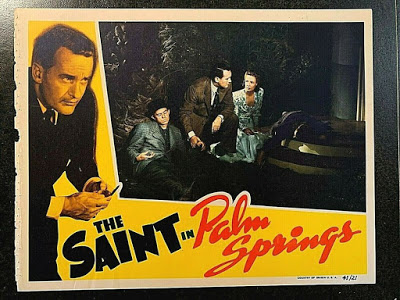 This one just feels lazy - indifferent plot, Sanders looks more bored than normal and they bring back much of the same cast and director as the previous film. The Saint is not at the top of his game as he allows Fernack to talk him into protecting a man and his valuable stamps. Two minutes later the man is dead, Nice job Templar. He then takes a train to Palm Springs - which back in those days must have taken days but in the film about 20 minutes. I am pretty sure they had airplanes then. He is transporting the stamps to the dead man's niece - played by Wendy Barrie and runs into Pearly Gates (Paul Guilfoyle) from the last film who is the hotel dick in a resort where Templar is staying. What a small world.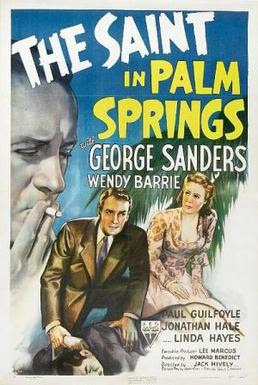 It gets a bit annoying as Templar keeps getting the stamps stolenfrom him, gets them back and then keeps setting traps that back fire. All with these stamps as bait. There are a couple more murders and a spot of tennis thrown in - ah wooden rackets - and some droll conversations. But it doesn't make up for a turgid pace and a mystery that should have been wrapped up in 15 minutes.