The Saint - The First Three Films
---
The Saint in New York (1938) - 7.0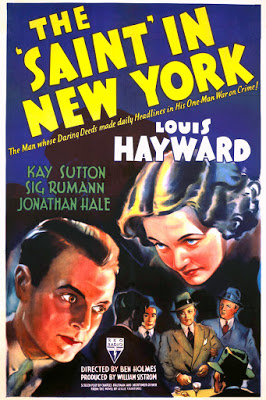 This is the first in the RKO Saint film series and stars Louis Heyward as Simon Templar aka The Saint. The character of The Saint was created by Leslie Charteris, born in 1907 in Singapore to a Chinese father and an English mother. He went to school in England but his mixed race heritage always made him feel apart, slightly disdained - and perhaps this led to his Saint character - a loner, righting wrongs but always murky in his allegiances to the law - often breaking it to help others and occasionally himself. The precedents of this sort of gentleman thief/Robin Hood are many from Raffles to The Lone Wolf in pulp literature, but clearly The Saint has had the most longevity with over 50 books going into the 1960's, a couple of TV series and a number of films.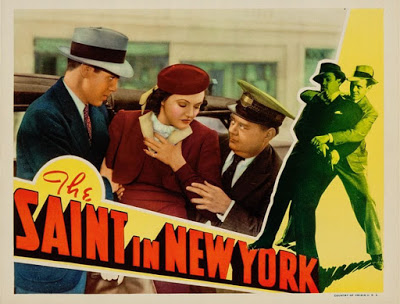 Charteris's first Saint novel was in 1928 - Meet The Tiger - and The Saint of New York was written in 1935. The book (which is one of the few Saint novels that I have read) is very violent and fairly immoral by standards at the time. It was surprising therefore to see how closely the film hewed to the book - with a few changes to put Templar into a more positive light but not by much. In the book The Saint kills without compunction and in total cold blood - not so the film version - but he still kills a lot and is happy to. Templar is hired by a civic group to come to NYC and clean it up of crime. The police are able to arrest crooks but they always get off. This vigilante agreement is actually ok'ed by the Police Commissioner and given a wink and a nod by Inspector Fernack (Jonathan Hale) who shows up in five of the nine films in the series. So The Saint goes to work and the bodies begin to pile up - ruthless, charming, always confident and pretty darn close to being a psychopath. At 69 minutes it moves along briskly without an ounce of baby fat.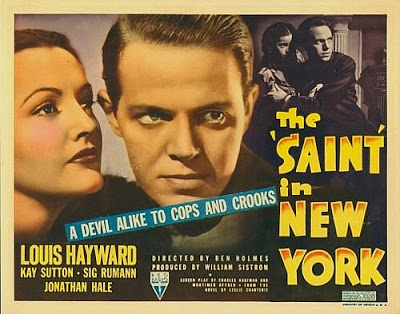 A few familiar faces - Sig Ruman as one of the crime bosses and the almost always affable Jack Carson as an unsmiling thug. The surprise to me is Louis Heyward who was to make it big a few years later in The Man in the Iron Mask and The Son of Monte Cristo. He always seems too youngish looking and facile to me, but he hits all the right notes here giving The Saint an unsteady personality - making jokes at inopportune times, shrugging off danger but with a glint in his eye that feels like a cobra always ready to strike - behind the charm is a man who can sleep well at night after killing someone.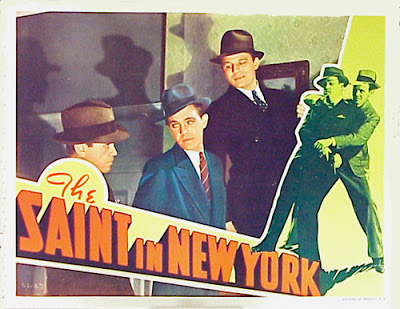 The role of the Saint was to pass on to George Sanders in the next film but fifteen years later Heyward was to again become the Saint in The Saint's Girl Friday.

---
The Saint Strikes Back (1939) - 6.0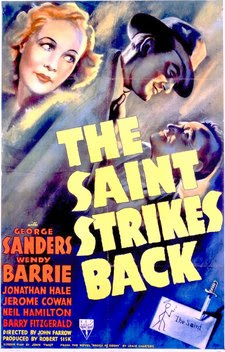 This is the second film in the Saint series and for reasons unknown to me they dumped Louis Heyward for George Sanders. Many folks who are avid readers of the book feel this was a bad mistake - that Heyward got the cruel essence of The Saint down while Sanders is too charming, too much a bon vivant and lacked that psychotic glint that Heyward had. All true but I always enjoy Sanders in everything I see him in no matter if he is playing the villain, a cad or the hero. There was no one like him in the movies. Always charming, urbane, articulate, slightly superior, snobbish, cutting, often bored and a pleasure to watch.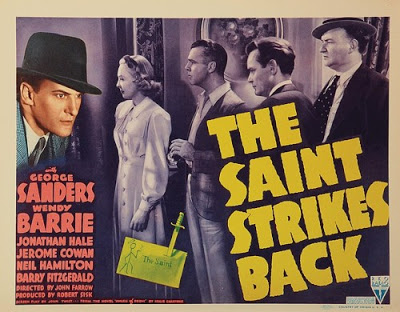 He always strikes me as the most British of British actors with his upper class Cambridge accent, but in fact Sanders was born in Russia - in St. Petersburg in 1906 to a high class family with Royal connections. They escaped Russia in 1917 with the Bolsheviks taking over - and saw that many of their friends were being executed. Not only George but his older brother as well who later changed his name to Tom Conway and went into show business. Sanders was in a number of different trades before getting into theater and then films. He rarely showed much love for the films - quite the opposite feeling that much of what he appeared in was rubbish and most actors idiots. But he liked the money and the glamor I think - married to Zsa Zsa Gabor at one time.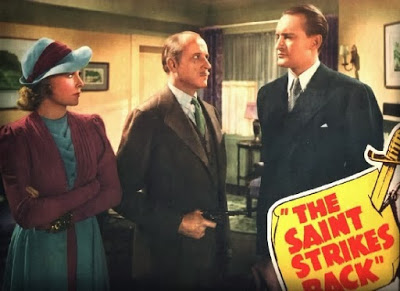 I was looking through his autobiography written in 1960 to see what he had to say about The Saint and The Falcon films. Nothing. He writes that he barely recalls most of the films he was in and is only proud of a few of them. Still one might think he would have something to say about these two series as they are probably what most people remember him most for. Yes, they were B films but he was the lead - something that he rarely got - he was almost always in a supporting role. But he didn't think much of these and in fact when he switched from The Saint to The Falcon he asked them to please write him out of the role after 3 films and his brother Tom took over the role.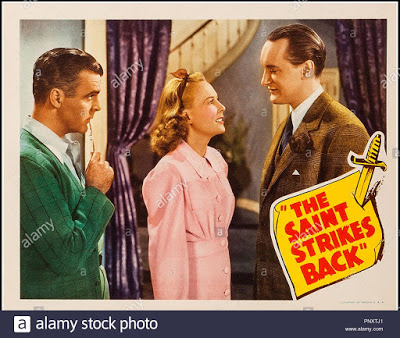 But though he may not have thought much of these films I very much enjoy them for all their many faults, their shoddy scripts, the giant holes in the plots, the B cast, the interior shooting and so on. They are exactly what you want out of a B film - around an hour long and plots that move along like a train in a hurry with a few killings along the way. And of course a woman who can't stop being attracted to The Saint.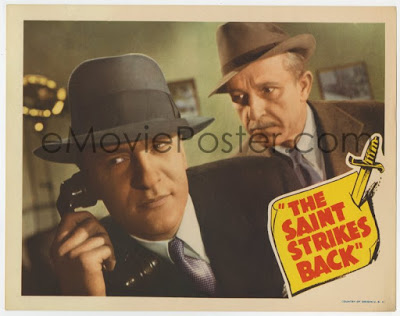 In this one The Saint no longer seems like a vigilante psycho but he is still quick on the trigger and takes a few people down. He is in San Francisco this time but the plot still manages to import Inspector Fernack (Jonathan Hale) from NYC though he is used a little bit more as comic relief in this one which is a shame. He is there to again bring down a criminal gang and discover whether the police father of a girl (Wendy Barrie) was really guilty of corruption. The Saint is always the smartest guy in the room and a step ahead of everyone - and Sanders in his smug manner is perfect for that.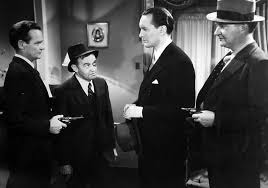 A few other familiar faces - Jeremy Cowan, Barry Fitzgerald and Neil Hamilton (Superman TV show). A good enough start to Sanders taking over the role for me. It is directed by John Farrow (father of Mia and married to Maureen O'Sullivan) while he was still in his B film period. He was to go on to much bigger films.

---
The Saint in London (1939) - 7.0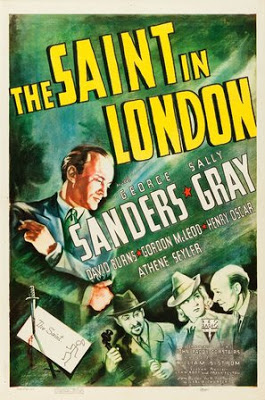 The third film in the Saint series shifts the story back to the Saint's home ground of London. And it appears from the credits that it was actually shot there which might explain why I have not heard of any of the supporting actors or the director, John Paddy Carstairs. But putting that aside or perhaps because of that, this is surprisingly well-scripted with no giant plot holes, a believable and cohesive narrative and filled with clever and witty dialogue that had me laughing at times. And this witty dialogue was not just given to the Saint but was spread among the characters - even Inspector Teal gets a few choice words.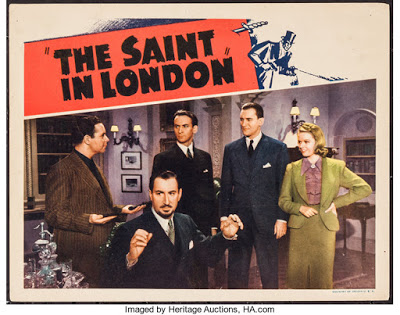 Yes, Inspector Teal who should be a familiar character to those who watched many of the Roger Moore/Saint TV series as the bumbling policeman always intent on arresting the Saint but never able to come up with the goods. In this film version played by Gordon McLeod he is a very good cop working with the Saint. So no Inspector Fernack in this one.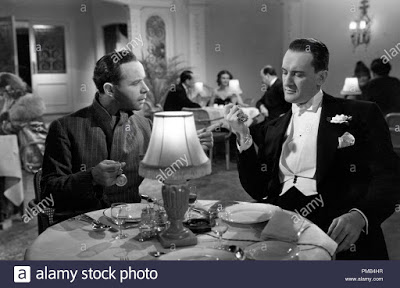 While going into a posh restaurant the Saint is pickpocketed and pickpockets the man in return. When the man comes in to reclaim his watch, Templar decides to hire him as his assistant and it is a great match and makes the film. Dugan played by David Burns as a tough ex-con from the USA is as ready with the quips as his fists and has a verbal exchange with Inspector Teal that is worthy of Groucho Marx in its intended obtuseness. It is a shame he didn't become a regular in the series.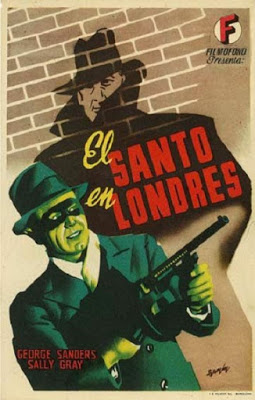 This time around the Saint (George Sanders) has been hired by British intelligence to crack open a gang of spies who are trying to steal millions in a foreign currency. Being the gentleman he is, The Saint leaves his famous calling card of the stickman telling the head spy that he is coming after him. He gets himself a girl Friday (Sally Gray) and the three of them do a bit of safe cracking, knocking heads and killing. At 72 minutes it goes by in a flash. Not even a stop over for romance.

---
Leslie Charteris and Roger Moore