The Topper Films
---
Topper (1937) - 7.0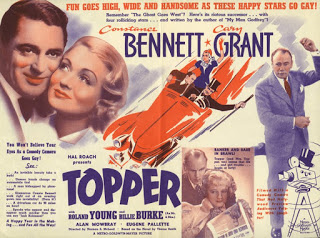 For good reason this is considered one of the classic screwball comedies from the Golden Age of Hollywood and like so many of those screwball comedies made during the Great Depression it focuses on the lives of the rich and famous. Peculiar how people doing so poorly so enjoyed seeing how the rich lived. Now this doesn't fall into the romantic screwball genre as the loving couple were already married - and dead - but it is a deliciously debonair light-footed comedy that always charms.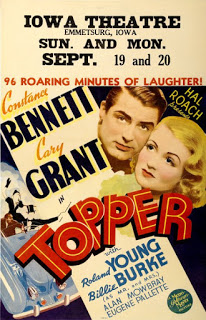 Looking back it is surprising to note that Cary Grant was billed second to Constance Bennett but at the time Grant was not fully formed as the dashing elegant romantic lead he was soon to become. In fact, he had been in a bunch of bombs and directors didn't seem to know what to do with him - often stuffing him like a slimy sardine into dramatic roles in which he looked more a gigolo than a film star. That changed to a large degree with Topper as they finally came close to creating the image we have of him today. The film was very popular and in its wake Grant was to go on a tremendous run of classic films with The Awful Truth, Bringing Up Baby, Holiday, Gunga Din, Only Angels Have Wings, His Girl Friday, My Favorite Wife and Philadelphia Story - all in the space of four years. He would not be billed second again.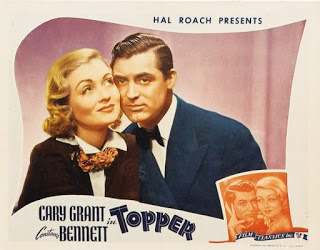 In truth though, the star of this film is Roland Young who plays Topper. Roland Young was for all intents a character actor but he rose to the top simply because the characters he often played were wealthy, dithering, abashed, lost at sea but mainly charming. I always look forward to his being in a film. Topper is laced with a few other terrific character actors - Topper's wife is played by Billie Burke soon to be famous for being Glinda the good witch in The Wizard of Oz, the hotel dick is Eugene Pallette of the famous bull frog voice, Alan Mowbray as the all-knowing butler, Arthur Lake as the harassed bellboy and porter who was to take his squeaky voice to the Blondie series as Dagwood within a year and even Hedda Hopper drops by for a cameo.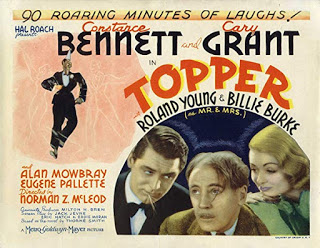 The Kerby's (Grant and Bennett) are from the privileged class - their money seemingly inherited, their lives one big party, their attitudes very selfish - kind of a F. Scott Fitzgerald and Zelda who never grew up and never took on any responsibilities. They are killed in a car crash but don't make it to the next step - up there - because they have never done a decent thing for anyone else. They choose as the target of their ambition their banker, the poor Topper who leads a humdrum life with a society obsessed wife and wants more. They decide to show him how as their good deed. To me being a ghost like them isn't a bad deal - they can either disappear or become visible just as if they are alive - they can drink, dance and have fun - with all the benefits of being ghosts. Why would you want to move on?

In the end they seem to think they were successful and are awaiting the word but there are two more Topper films so maybe it didn't come!

---
Topper Takes a Trip (1938) - 6.0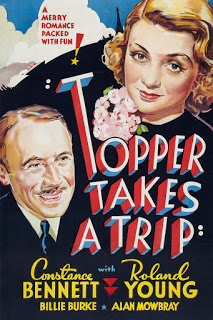 At the end of Topper (1937) all seemed well in the world with Topper (Roland Young) and his ditzy wife (Billie Burke) reconciled and the Kerby's (Cary Grant and Constance Bennett) on their way to heaven after having performed a good deed. But then the film was a smash and they had to come up with a sequel. Without Cary Grant unfortunately. Grant was a free agent - he claims to have been the first - and he was now in a very good position to choose film projects that he liked. He choose well but opted out of this film. But Roland Young, Constance Bennett, Billie Burke and Alan Mowbray the butler are back. The film doesn't quite have the charm of the first film or the clever dialogue but it is passably amusing using many of the same devices for laughs - Young's mumbling dialogue, Burke's air head thinking and Mowbry's arched eye-brows of disapproval. It also has of course loads of reaction shots from passerby's at the ghost's antics.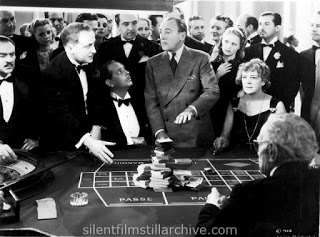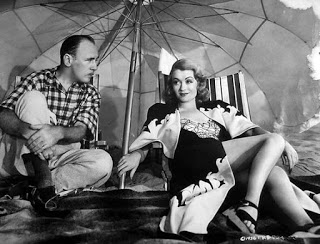 Marion Kerby is called back from the beyond to fix things again as Topper is being sued for divorce by his wife. George Kerby is AWOL replaced by a ghost dog - maybe the producers (Hal Roach) were trying to say something to Grant. Grant was more charming. The divorce does not go through and so Mrs. Topper goes to Europe to get one and is quickly courted by a gigolo Baron. Topper and Marion come to her rescue.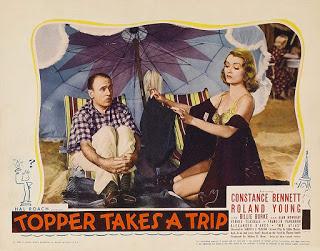 Both films were based on books by Thorne Smith written in the 1920's -available on Kindle - that were big sellers and made Smith a load of money. With which he promptly took up an extravagant life style and drank himself to death at the age of 42 in 1934.

---
Topper Returns (1941) - 7.5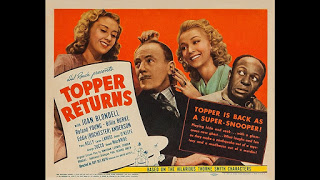 Some three years after Topper Takes a Trip this third and final Topper film was released and it is surprisingly enjoyable taking a very different tack than the first two. The Kerby's do not return - I mean how often could you bring that dead couple back and Cary Grant was a huge star by this time and probably not affordable by Hal Roach Productions. Still they put together a terrific cast of character actors and come up with a totally chaotic never slow down screwball comedy. Roland Young as Topper is back as is his wife Billie Burke who almost steals the show with her never ending slew of Gracie Allen like nuttiness and her perfect comic timing.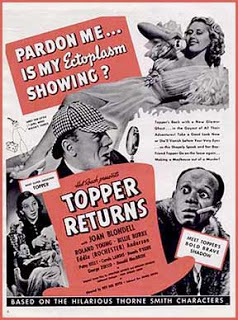 Alan Mowbry is gone as the butler but his replacement isn't bad - the great Eddie Rochester Anderson who at one point threatens to go back to Jack Benny. And since there is a near haunted house with hidden doors and chairs that flip you into a dungeon, there has to be George Zucco and Donald McBride as the blithering not too bright cop and the romantic lead is Dennis O'Keefe. To replace Constance Bennett they give us two blonde leading ladies - both fairly well-known - the wonderful Joan Blondell who made a career out of being a wisecracking tough talking babe and the cutie pie Carole Landis.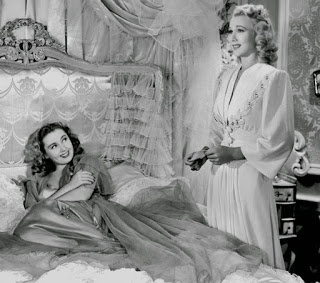 Landis and her gal pal Blondell go to visit Landis's father who she has not seen for most of her life. He is a doddering old man who tells her that tomorrow the estate in her mother's name will become hers. Oh oh. That is never a good sign especially with the creepy doctor Zucco, a couple of Lurch-like servants and a Mrs Danvers (Rebecca) like housekeeper. The two friends get separate bedrooms but decide to switch - leading to Blondell getting murdered by mistake by a hooded killer. What is a girl to do when she has been murdered but turn to Topper who lives down the road - he must be in the ghost's registry as FTG - friendly to ghosts. From this point on the film descends into total screwball silliness.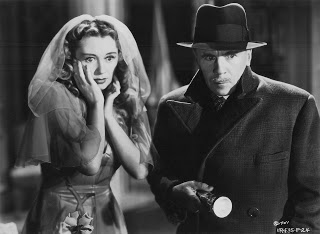 It seems likely that this script was for something else that with a few twists they turned into a Topper film. Jonathan Latimer is the scriptwriter and he is mainly known as a hardboiled writer of fast moving detective fiction in the 1930's and 40s of which I have read two. He doesn't strike me as a natural for Topper. So the Topper series goes out on a high note - no idea why this was the end of it - but Topper came back as a TV series in the 1950's but with all different actors.