---
In 1933 at the age of 49 author Earl Derr Biggers unexpectedly died and brought the Charlie Chan series to an end though the films were to go on for many more years. In an era of xenophobia by much of America – and much of it in particular targeted at Asians – Chan had somehow struck a congenial chord and had become enormously popular. At that time pulp novels were often first serialized in magazines and the Charlie Chan books had appeared in the Saturday Evening Post to much fanfare and so after Biggers's death, the magazine went in search of a new Asian literary hero and found him in the works of an upper crust New Englander.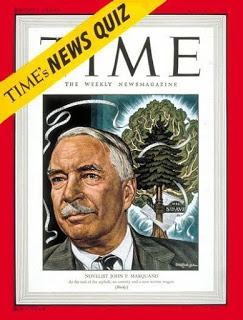 John P. Marquand came from good breeding as they would say in those days – his cousin was Buckminister Fuller – and he went to Harvard where he wrote for the Harvard Lampoon. After graduating he served in Europe during WW I and after coming home he began his writing career. Marquand was to become a well-known very respected writer in his lifetime – winning the Pulitzer Prize in 1938 for The Late George Apley and his 1941 novel H.M. Pulham Esquire received great critical recognition. But before and during these books that looked with a jaundiced cynical eye on the lives of the upper class and those aspiring to it, he created an Asian character for the Saturday Evening Post who was to become in its time almost as iconic as Charlie Chan; Mr. Moto.
Marquand was to write six Mr. Moto novels; five before WWII and one much later in 1957. The first one was serialized in 1935. 20th Century Fox was to make eight Mr. Moto films starring Peter Lorre between 1937 and 1939. Of course, there was a major issue with both the books and the films as WWII appeared on the horizon – Mr. Moto was Japanese and it became increasingly harder to portray a hero of a country that the USA was on a collision course with. Mr. Moto was to disappear for a lengthy period of time until the films began to be shown again on TV decades later. His portrayal by the chameleon Peter Lorre, who was the Heinz 57 varieties of actor playing all types of ethnicities in his long career, generated a whole new batch of fans. Today you can get the whole series in a DVD package.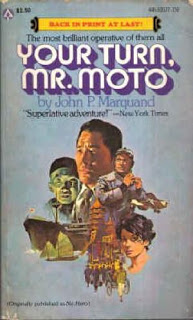 Lorre is one of my favorite character actors who did on occasion get the lead – as in these Moto films and in the terrific Eric Ambler adaptation, The Mask of Dimitrios – with memorable co-starring roles in The Maltese Falcon, Casablanca, Arsenic and Old Lace and Beat the Devil. But of course he started as an actor in Germany – his birth name is Laslzo Lowenstein - of Hungarian descent – Jewish – born in what today is Slovakia. He had astonishingly expressive eyes that could go from playful to psychotic in a heartbeat and these were used to great effect when he played the serial killer in M (1931) that became an international hit. Being Jewish he had the acuity to leave Germany in 1934 for Hollywood.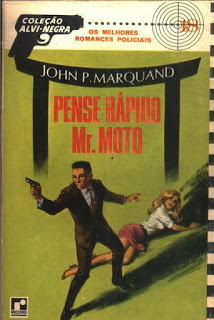 The Moto films are I expect considered B films – small budgets, no big stars but often a solid group of character actors, routine scripts, a running time of about 70 minutes – but Lorre is great in them and dominates the screen even at his height of 5'3''. Menacing at times, mischievous at others, a master of disguise and accents - and at this point in his life before he later pushed towards corpulence he was remarkably physically adroit with his judo and acrobatics. Mr. Moto works for an International Government Crime organization always flashing his card that gets him immediate respect and co-operation whether he is in the jungles of Laos or Shanghai or Egypt. He tackles and up ends gangs set to commit assassinations (Mysterious Mr. Moto), stops Asian uprisings intent on driving out the white man (Mr. Moto Takes a Chance), thwarting saboteurs planning to blow up naval ships (Mr. Moto's Last Warning), seeking the treasure of Genghis Khan (Thank You, Mr. Moto), smugglers (Think Fast, Mr. Moto and Mr. Moto in Danger Island), various thieves trying to steal the Crown of Sheba (Mr. Moto Takes a Vacation) and even stepping into a Charlie Chan script and solving a murder (Mr. Moto's Gamble). For the most part Mr. Moto shows no particular allegiance to Japan and the plots rarely edge into the world events that were already occurring at the time. How very different in fact from the books.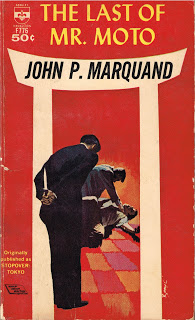 In reality the only things that the movie Moto has in common with Marquand's Moto are his name and his nationality. 20th Century Fox changed everything else for American consumption. Looking back, it is quite surprising that the Mr. Moto of the books was popular because at least in the first two novels that I have read (Your Turn Mr. Moto (1935) and Thank You Mr. Moto - 1936) Moto is a Japanese agent in the employ of the Emperor with very much an expansionist agenda that he is working towards. In Thank You Mr. Moto he has a discussion with an American and argues that Japan is rightfully doing just what other imperialistic nations have done – acquired other areas for resources and power. In the first novel, the main Western character is already wondering if Japan and the USA will go to war. For some context, Japan had invaded Manchuria in 1931 and the second Sino-Japanese war began in 1937.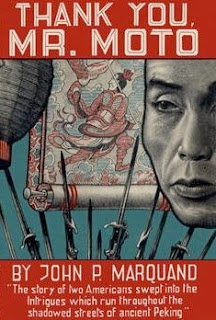 One of the peculiar things about the Moto novels is that Mr. Moto is rarely in them – playing instead a role in the shadowy background who appears from time to time to push his agenda with intimidation, force or murder. In both these books, the protagonist is an American ex-pat living in Asia who has left his identity as an American behind him and taken on the role of a jaded uncaring internationalist. The events in the books force them to come to terms with who they are and to redeem themselves for the woman they love. In Your Turn Mr. Moto an ex-WWI heroic fighter pilot turned drunk agrees to spy on the Americans and goes from Tokyo to Shanghai before he changes his mind and has Mr. Moto try and kill him on a few occasions. In Thank You Mr. Moto an ugly American ex-pat living in Peking gets involved in a plot where the Japanese are working with a Chinese warlord to cause havoc in the city. Moto is a complete professional – kill when it is necessary but only then.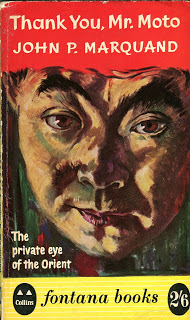 The books are very well-written for this sort of genre – thoughtful, suspenseful, with admittedly stereotyped Asian characters but culturally knowledgeable and perceptive about the life of ex-pats overseas. This one bit caught my attention "One could not help wondering what force of circumstance had gathered these dancers (ex-pats) together, strangers in a strange land from every end of the earth. Some had run from disillusion only to find more of it. Some had run to escape disgrace and probably found that running did no good. Some of us had come seeking something new and there was nothing new. But there was one thing which we all had in common – a certain dangerous initiative, not possessed by our countrymen at home".
---
Think Fast, Mr. Moto (1937) – 6/10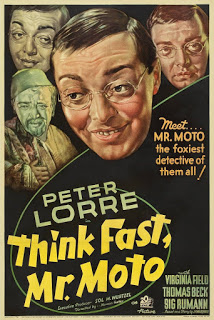 This is the first in the Mr. Moto film series (and is one of the titles of Marquand's books but that is the only similarity) and it gets off to a quick start with Mr. Moto (Peter Lorre) disguised as a rug peddler in San Francisco's Chinatown during Chinese New Year. He discovers a dead body but instead of informing the police he books a ticket for Shanghai. He is trying to run down a smuggling ring who are using a shipping company as their means of transporting illicit goods. The head of this gang comes in the unlikely form of Sig Ruman who I have seen in so many comedies that it is a bit hard taking him seriously. The femme fatale is played by Virginia Field who showed up in two future Mr. Moto films as different characters.
This has a few pluses going for it. Shanghai for one though obviously not really Shanghai. White Russians and dangerous streets where people keep trying to kill Moto. There is one great scene of Moto using his jujitsu skills and tossing a fellow around the room and eventually cold bloodedly throws him to his death on purpose – much like the book Moto would do without a shred of remorse. Moto's assistant is the interesting Lotus Long who was of Japanese descent and appeared in a few films during the 1930's – in two Moto films and three Mr. Wong (played by Boris Karloff) films. In this film Moto says he is the head of an exporting company which is being hurt by the smuggling and that detecting is just a hobby. In other films his profession varies.
---
Thank You, Mr. Moto (1937) – 6/10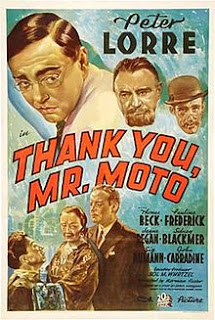 Mr. Moto is back in the second film in the series. This is more of an adventure with Moto being hired to look for seven Chinese scrolls that will lead to the treasure of Genghis Khan. That sounds a bit silly admittedly but it all plays out in tense and rapid time. It begins with him in the disguise of a camel jockey on a caravan in the Gobi desert but after killing one fellow and being chased by the police he is once again the urbane and in this one slightly sinister Mr. Moto living in Peking. Another gang is after the scrolls and two innocent Americans are caught in between as are a Chinese mother and son (Philip Ahn) who have some of the scrolls. Lorre has some good moments as Mr. Moto in this – his usual jujitsu comes into play but even more so his ability to make Moto an ambivalent character who at times can be quite cold and scary. Also appearing is John Carradine as the less than honest antique seller, Sig Ruman returns from the previous film and Thomas Beck who had been the male romantic lead in Think Fast Mr. Moto is also back in a similar role. That made me curious about him. Turns out he had an interesting life – an actor, a poet, a painter, a pianist, a trained engineer, a Major in the US Army during the war, an advertising executive and a open homosexual. He left acting in 1939 after Fox would not raise his salary. He also was in four Charlie Chaplin films.
---
Mr. Moto's Gamble (1938) – 5/10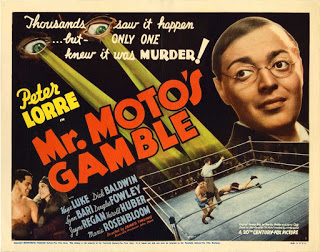 Not a lot to recommend this one due to the origin of the film as mentioned in the other reviews. Maybe Charlie Chan would have fit better but having Mr. Moto do Charlie Chan, aphorisms and all, just feels disappointing. This is the third film in the Moto series and after the first two in which Moto is at times calmly homicidal this is a weak sister. Still a nice supporting cast with Luke Keye as Charlie Chan's son, Ward Bond who was within a few years able to find his true genius in Westerns, Perry White - I mean John Hamilton, Lynn Bari who shows up in so many films in that period and of course Maxie Rosenbloom whose voice and accent are unforgettable and who had over 200 professional fights in the ring.
---
Mr. Moto Takes a Chance (1938) – 5.5/10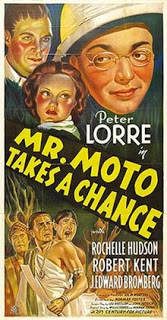 A slight improvement over the previous film Mr. Moto Gambles, but still not close to the first two in the series. Putting Moto into a jungle environment just feels shoddy as if they were able to borrow the Tarzan sets from MGM for a few weeks. The fly over of Angkor Wat - one of my favorite places in the world - was rather cool though as this film takes place in what I think was Laos - on the map it seemed just north of the ancient city of Luang Prabang - at the time a French colony. Moto is a sleek cool at times cruel detective/spy who just feels more at home in the urban jungle. This sets him apart from most film heroes of the time. At one point he seems quite willing to see one of the Western comedy relief guys killed in order to protect his identity.
This is about a native rebellion to oust the foreigners from Asia - Tarzan had a similar plot in one of his Weissmuller films - and now some 75 years later I guess we are suppose to root for the imperialists but it isn't easy. Also, how they plan on wiping out the white men with only enough guns to fill a basement is hard to see. You have to wonder if George Lucas saw this as a kid on TV and got his inspiration for Yoda from Lorre dressed as an old wizened holy man. Maybe somewhere in the back of his consciousness because seeing Lorre flying around and tackling people twice his diminutive size sure looked like Yoda.
---
Mysterious Mr. Moto (1938) – 7/10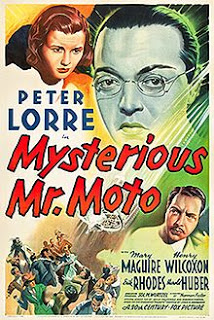 In this fifth outing in the Mr. Moto series, Moto is back in fine form after having to substitute for Charlie Chan in the 3rd and then being exiled to the jungles of Laos in the 4th. Here he goes from an escape in Devil's Island to the foggy dangerous streets of London trying to stop a League of Assassination. Quickly paced and good narrative.
It has a solid group of B actors that you come across often in these types of films - lots of familiar faces. It was also good to see Mr. Moto's seductive assistant back after last seeing her shot in the back in the first film in the series, played by Lotus Long. Lotus Long was part Japanese and part Hawaiian and also appears a few of the Mr Wong series with Karloff. She played Tokyo Rose in the 1946 film Tokyo Rose.
---
Mr. Moto's Last Warning (1939) – 6/10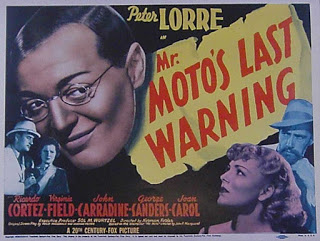 A good supporting cast gives this 6th film in the series a nice lift. George Sanders right before he landed his Saint roles plays a polite French saboteur, John Carradine a spy, the ubiquitous Virginia Fields who had been in Think Fast Mr. Moto as a totally different character and Ricardo Cortez in his typical villain role.
This was made in 1939 when the world sat on the edge of the precipice that it soon fell into and this film certainly edges very much into that as an unnamed country is doing its best to cause a rift between England and France. Of course what is left unsaid is that Japan was also very much into this mess and that was what was to undo the Moto series very soon. It was hard having a Japanese hero when Japan itself was in the midst of its conquests that were clearly against the interest of the USA.
Still this is a solid spy yarn and I appreciate that good guys die and that Moto not only doesn't save them but doesn't even show any grief - this is what his business is about.
---
Mr. Moto in Danger Island (1939) – 6/10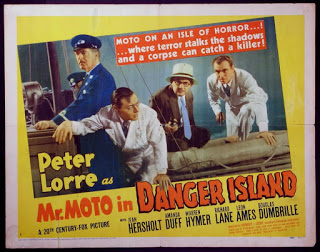 By this time the Mr. Moto series is winding down as it was getting a bit iffy having a Japanese detective as the hero in a film. World events were overtaking the films and the books of Mr. Moto. Though this was produced in 1939, these events are not even a shadow on the narrative. Moto is after diamond smugglers in Puerto Rico and a long list of suspects could be the top dog.
It is a decent though not particularly inspiring Moto film. The best moments probably take place right at the beginning when he flips Ward Bond as a professional wrestler a few times - Bond had been a boxer in Mr. Moto's Gamble. He was soon to become a regular and well-known character actor in many a Western often with his drinking buddy John Wayne.
Another one of the cast is Jean Hersholt who was another well respected character actor back then appearing in over 100 films - but his name is probably most familiar today for an award that is always announced at the Oscars - The Jean Hersholt Humanitarian Award. He plays Sutter in the film.
---
Mr. Moto Takes a Vacation (1939) – 6/10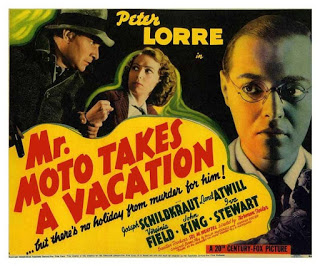 A bit too much comic relief in this final entry in the Mr. Moto series, even bringing in black comic Willie Best for a bit, but still a fairly solid mystery with a couple gangs trying to steal the Crown of Sheba. It was 1939 and war was coming to Europe and Japan was invading China, so Mr. Moto quickly found himself to be a relic of another age.
As in all the Moto films it is really Peter Lorre that you tune in for more than the stories. He is great fun to watch though obviously the films are below his acting talent but he seems to give it all he has and it was certainly better than being back in Germany for this Jewish actor.
Also of interest to perhaps no one but me, but Virginia Field shows up as the blonde in her third Moto films, all as different characters. There was one more Mr. Moto film made in 1965 starring Henry Silva as Mr. Moto called The Return of Mr. Moto but I have never seen this.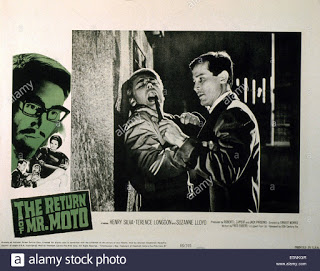 ---