Crime Doctor (1943) – 6.0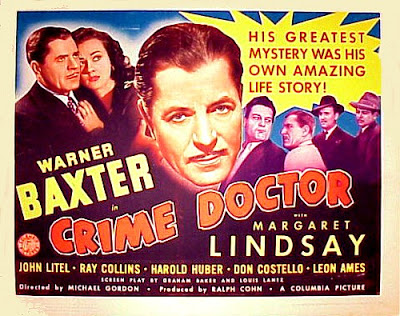 Warner Baxter had been a big star in Hollywood during the silent film period and into the 1930's. He won an Academy Award in 1929 for portraying the Cisco Kid in the film In Old Arizona and was to play the Kid a few more times when talkies came around. He also starred in 42nd Street and in 1936 was the top paid actor in Hollywood. But by the 1940's Baxter was into his fifties and looked it - as haggard and wan as a man in the drink. So he was doing B films like this series of 10 films of Crime Doctor that ran from 1943 - 1949. By then Baxter was not feeling very good - very bad arthritis and he was to die in 1951. He had been born in 1893 and survived the San Francisco earthquake though he had to live in a tent for weeks. In 1910 he went into vaudeville and then the theater before films in the early 1920's. He was to say "I was a failure and a success three times in Hollywood. I have even had trouble paying my rent. My three depressions were suddenly ended by three picture. each of which boosted me higher than I had ever been. In Old Arizona ended a two-year slump. The Cisco Kid brought me back into popular favor after a series of bad stories. And 42nd Street revived me after The Cisco Kid had worn off." . By this time he had had a nervous breakdown and resigned himself to playing in character roles or in B films. The Crime Doctor came along initially as a one film item in which he and his co-star Margaret Lindsay (who had been in seven Ellery Queen films) were really auditioning to see if Baxter could take the lead in the Ellery Queen series. But instead this film did well enough that they made a series of it with Baxter but without Lindsay. The Crime Doctor had begun as a half hour radio show that had over 11 million listeners.
This is the first in the series and sets up the rest to come. He plays an amnesia victim who becomes a doctor and then slowly begins to realize that in his previous life he was a criminal. Some good B co-stars with him - Ray Collins who was later of course to become Perry Mason's nemesis, Lt. Tragg (and who had been the first Crime Doctor on the radio), John Litel who usually plays good guys such as Nancy Drew's father could also do tough bad guy as well as he does here - he was a WWI war hero in real life joining the French army before the USA entered the war, Margaret Lindsay who is always lovely but never quite made it to the A films but always looks good such as in the Ellery Queen films and both Harold Huber and Leon Ames just show up constantly in these old B films.
---
The Crime Doctor's Strangest Case (1943) – 6.0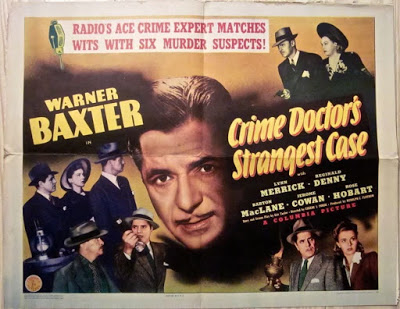 In this second entry in the Crime Doctor series, Dr. Ordway (the Crime Doctor) has managed to shed his girlfriend from the first film and is now a respected psychiatrist who apparently solves crimes in his spare time. This is pretty typical B mystery fare of the time - a murder with a household of suspicious acting and looking suspects. One might expect Ordway to solve his crimes with the use of psychiatry but they are done in the usual manner as he is always ahead of the bumbling cops.
What sort of puts this one a step ahead is a nifty performance from Lloyd Bridges - in particular one scene in which he pretends to be a psychotic killer to his wife and is really kind of scary. The other performance of note is the nutty old slightly sinister housekeeper played by Virginia Brissac. I took a gander at her credits on IMDB and they go back to 1913! She has 159 credits and died at 96 years old in 1979. Her last film appearance was in Rebel without a Cause. Other familiar faces in the cast are Reginald Denny, Barton MacLane and Jerome Cowan. Decent enough for me to continue watching the series.
---
Crime Doctor: Shadows in the Night (1944) – 6.0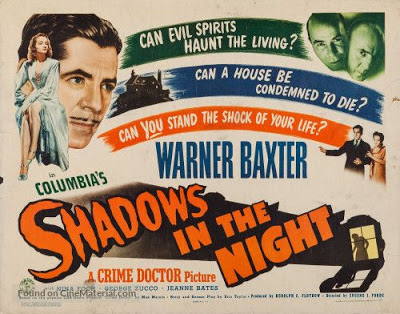 The third in the Crime Doctor series is solid B film entertainment. Warner Baxter doesn't give the Crime Doctor much personality - to me he always seems like a B film Ronald Colman but in the 30's he was very popular. A lot of that doesn't translate to the modern day. The film is a jumbled mix of an old creepy house sitting on a cliff overlooking the ocean full of odd suspects, dead bodies, dark shadows, a mysterious hypnotic gas that causes sleepwalking and the always sinister George Zucco walking about like an oncoming plague. Not a lot of it makes sense and there are too many people to keep track of, but at about 60 minutes running time it will do just fine. Nina Foch who many might remember as the wealthy dame in An American in Paris some 6 years later is the damsel in distress.
---
The Crime Doctor's Courage (1945) – 7.0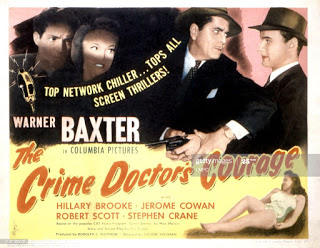 This is the fourth in the Crime Doctor series (of a total of 10 films) and so far it is the best yet. It begins as a potential serial killer film with two brides dying right after being married to the same man - but then strangely morphs into a possible vampire film leaving the question of serial killing a loose thread never answered. Warner Baxter as the Crime Doctor plods through it as he usually does giving off the voltage of a wet rag. All these films in the series would have benefited from a more charismatic actor.
It was directed by George Sherman, as steady and hard working a director as you could find - over 120 director credits to his name - many of them westerns - and he moves things right along as a good B director had to do - with a few flourishes. The writing credit goes to Eric Taylor who seems to have made a living primarily doing B film scripts with credits in the Crime Doctor series, the Ellery Queen series, the Whistler series and the Dick Tracy films.
Columbia provides a solid group of supporting actors - Hillary Brook (The Woman in Green -Sherlock Holmes), the mom in Invaders from Mars and on the old Abbott and Costello TV show, Lloyd Corrigan whose face and voice you would recognize in an instant and Jerome Cowan who shows up all the time - 220 acting credits - so no wonder.
---
The Crime Doctor's Warning (1945) – 6.0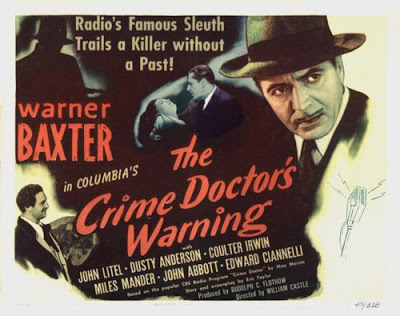 This fifth in the Crime Doctor series is a notch up from the first two. The mystery is decent enough with a few added creepy touches that comes close to the border of horror. That is probably due to the director William Castle who was just at the beginning of his directing career and was gaining a reputation at Columbia for bringing in his films on time and on budget. He was to direct three of the Crime Doctor series and three from The Whistler series. The Whistler series in particular sharpened his horror film instincts. Later on Castle became famous as much for as marketing skills - once handing out insurance policies to the audience if they were scared to death while watching his film - as for his films. But he produced/directed some solid horror films - House on Haunted Hill, The Tingler, The Old Dark House and 13 Ghosts - and he was the producer of his most famous film, Rosemary's Baby.
Models are being killed and one of Dr. Ordway's patients has blackouts in which he remembers nothing and seems likely to be the killer. Ordway of course realizes that he must be innocent and so sets off to track down the killer. Nice ending.
---
The Crime Doctor: Just Before Dawn (1946) – 6.0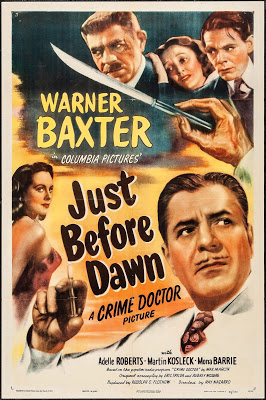 This is the 6th film in the 10 film Crime Doctor series made for Columbia Pictures from 1943 to 1949 with Warner Baxter playing the title role in all ten of them. For those just tuning into the Crime Doctor for the first time, the character had once been a master criminal until he had an accident and lost his memory. Not knowing who he was he studies for years and becomes a doctor and a psychiatrist. Then he is recognized by an old member of his gang and it all comes out - but he is such a valued member of society that he gets a pardon. When not doing his doctor duties, he also solves crimes! That all happened in the first film if I recall. He has been catching murderers ever since.
Now when people meet him they go "You are the Crime Doctor". In this one he gives insulin to a diabetic but someone has switched it for poison. The cops tell him - well you were there and you administered the shot, so why don't you solve it. Our police hard at work. Lots of suspects, a few more dead bodies, disguising himself as a jail bird on the lam, faking being blinded by a gunshot and finally allowing himself to be poisoned in order to draw out the killer makes for a decent B film that clocks in at 65 minutes. All in a day's work for the doctor.
It is directed by William Castle who was going back and forth between this series and The Whistler series before he was to strike out on his own and make all those low budget horror films in the 1950's and 60's that made him famous.
---
Crime Doctors Man Hunt (1946) – 5.5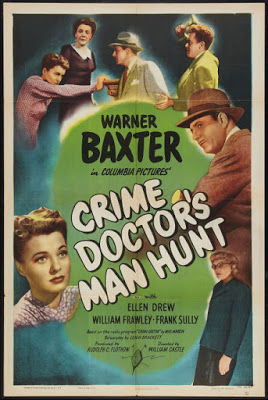 Warner Baxter is back again as the Crime Doctor in the seventh film of the ten film series. This one is directed by William Castle who was directing a few of The Crime Doctor films as well as The Whistler films during this period. Baxter who had once been one of the top leading men with an Oscar in 1928 and at one point had the highest salary in Hollywood had been primarily stuck in the Crime Doctor films since 1943 with no where to go till he retired in 1950. This film is fairly solid with a good B script that creates a mysterious atmosphere and a few surprises. The Crime Doctor Robert Ordway is out one night when he sees two men carrying a former patient of his who appears to be dead. But when he informs the police nothing can be found of the dead man, the two men or where the killing could have taken place. So Ordwell being the Crime Doctor has to of course follow up. This leads to one of those splendid south California mansions with a mile long drive way and finely manicured hedges that proliferate in so many of the noir films of the 1940's as does the dysfunctional family within. In the cast is Ellen Drew as the fiancée of the dead man and the wonderful William Frawley as the police detective. Frawley of course was to gain everlasting fame as Fred Mertz, the next door neighbor on I Love Lucy. He had been around for decades in films, but I don't often come across him.
The film comes in at a tight 58 minutes that doesn't waste a moment and I expect much of this is due to the scriptwriter Leigh Brackett. Brackett was an anomaly in the 40's - a female scriptwriter of noir. She had published a crime novel called No Good from a Corpse in 1944 that led to some work in Hollywood - this film and something called The Vampire's Ghost. But the novel then came to the attention of Howard Hawk who read it and thought the writer might be the right person for an upcoming project he had in mind. But he had no idea Brackett was a female and later said this "In walked a rather attractive girl who looked like she had just come in from a tennis match. She looked as if she wrote poetry. But she wrote like a man".
The project was The Big Sleep and she shared writing duties with none other than William Faulkner who at that time was the author of a number of books that didn't sell for spit. But he had a high opinion of himself and so he comes in to meet his co-writer and tells her - let's write alternate chapters and then walks out and she never saw him again. Which may explain why The Big Sleep confuses so many people but is still one of the greatest noir films ever. She wrote it she says with Bogart in mind as she was a huge fan of The Maltese Falcon that had inspired her to write her novel. Some of her future screenwriting credits are Rio Bravo, El Dorado, Rio Lobo, The Empire Strikes Back and one more attempt to bring Chandler to film - the controversial The Long Goodbye directed by Altman.
---
The Crime Doctor – The Millerson Case (1947) – 6.0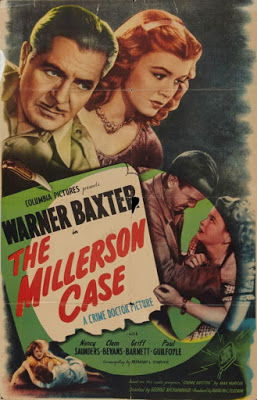 I am rounding the bend with the Crime Doctor series. This the eighth one with two more to go. All in all, fairly enjoyable for B films that whiz by in an hour or so. This was one directed by George Archainbaud, not a name many will know any more but he started off directing films in 1917 and has a ton of credits - mainly though in B films but a few that I enjoyed like a couple of the Hildegard Withers films and the Return of Sophie Lang. But doing B films prepared him for the grueling and rapid work needed on TV in the early days when TV shows had to be wrapped up in three days of shooting and a couple days of stitching it together. Westerns seemed to be his forte with many episodes of The Range Rider, Hopalong Cassidy, Buffalo Bill Jr, Annie Oakley, The Adventures of Jim Bowie and The Gene Autrey Show to his credit. TV shows that have almost disappeared, but were around when I was growing up.
This one is a change of pace for the Crime Doctor (Warnet Baxter) as he decides to take a vacation to do some hunting and fishing. The town he goes to is like a page out of Mayberry where folks gather to play checkers in the general store, everybody knows everybody, they square dance on Saturday nights and the town sheriff is as old as the town but more bow-legged. A nice place to have a relaxing vacation. In theory. In reality it is knee-deep in secrets, hate and fooling around - a small town Peyton Place. And with the Crime Doctor on the scene you know murder won't be far behind.
A case of typhoid fever breaks out and the Dr. is called in to help - people are dropping like flies though no one seems particularly grieved - but in checking the blood samples of the deceased the Dr. notices an anomaly - it isn't typhoid - it's murder!! With enough suspects to keep me off balance until he figures it out after another attempted murder and another murder.
---
The Crime Doctor's Gamble (1947) – 5.5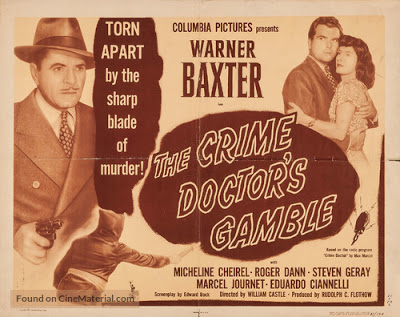 This is the ninth in the Crime Doctor series with only one more to go. As has always been the case it stars Warner Baxter and as was often the case it was directed by William Castle. It is a solid B mystery with a few suspects and a few murders that the Crime Doctor aka Dr. Robert Ordway has to make his way through to get to the killer. The Crime Doctor goes to Paris to give a few lectures and enjoy the nightlife and some stock footage almost convinces us that he is there. He meets up with an old friend who is a Chief Inspector who carouses with Ordway stopping off at one seedy establishment where in one dance the man grabs the woman by the hair and twirls her around. In another act a knife thrower - with his face covered - throws knives at his daughter - also masked - which is clearly not being faked. Masked I assume because the real actors did not want to do this!
But as usual Ordway is dragged into murder and the man the police arrest Henri isn't sure if he killed his father or not as he was drunk. He just married the daughter of the knife thrower who also may be a suspect as is the knife thrower and her old lover and pretty much everyone in the film. So expect a lot of English (which apparently everyone in Paris speaks - those damn G.I.s) with charming French accents - but I was curious how many of the actors were faking it or really French and nearly all of them were the real thing. Most of them had escaped from France before the Nazis came and landed in America. A few were vaguely familiar such as Maurice Marsac who showed up in small roles in a lot of films including The Jerk and Steven Geray from Austria who was also in many films in small roles and also TV. You would definitely recognize him.
---
The Crime Doctor's Diary (1949) – 6.0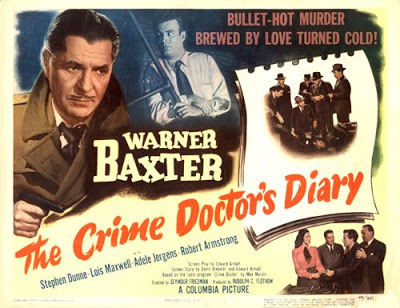 Well, it is finally time to say goodbye to the Crime Doctor with this tenth and final film in the series. It ran over six years and all of them starred Warner Baxter as Robert Ordway aka The Crime Doctor. In the first film he is a master criminal but in an accident he loses his memory with no idea of his past and so sets out in a life of medicine and psychiatry. After that first film when he redeems his past, it never really comes up in the other films - he is just a psychiatrist who gets called in by the police to advise them and ends up solving the case of course. Baxter plays his character with deadly seriousness throughout - never giving him a light jovial moment or even a trace of romance (after the first one). It is as if he were to really laugh, his face would crack into pieces. This ends up giving the films the same mood. While most of these crime series from that period swivel between crime and comedy, this one never does. No dames, no funny sidekicks.
They were produced by Columbia which gives them a higher status than a second feature film from the Poverty Row studios. These were specialized units that brought their films in on time and on budget - but with a lot more talent than a typical Poverty Row programmer. For example, Baxter had been a top headliner back in the 1920s and 30s with at one point having the highest salary among actors and though by the time this series started he had fallen down a few notches, his was still a well-known name. And a large studio such as Columbia always had a fine group of character actors on contract so the films are often full of familiar faces though I can't often put a name to them.
This one is a basic example. Robert Armstrong (King Kong) is an ex-racketeerer, Walt Bissell plays a simpleton who composes songs, Don Beddoe has over 300 credits on IMDB. Then there is the woman in love - I have to admit I did not recognize her - I might have if she had said Good morning 007. The only real Miss Moneypenny. Lois Maxwell. Playing her part in perfect American accent. I had always thought she was English but actually she was from Canada. She was a bit of lovely crumpet when she was younger who never took off in Hollywood, moved to Rome where she was in Aida with Sophia Loren and then moved to the UK and tried out and got the job of Miss Moneypenny in Dr. No for two days work at 50 pounds a day. Little did she know,
The Crime Doctor leaves us with a pretty good murder mystery with a few likely suspects and though I had a small inkling that turned out right it was very small. The film has two competing businesses that I have seen in a few other films from the same period so I assume they are based on fact. But I can't find out what they are called. They are similar to jukeboxes placed in bars - but instead of records inside - the patron would call the service to play a record and if they had it they would. So in this film you have all these women scurrying around looking and playing records that would only go to this one place. I wish I know more about them. So a solid way to end the Crime Doctor. Baxter was fairly ill by this time and had very bad arthritis (which they tried to fix with a lobotomy!) - you can sense it in his thickening torso and slow movements - and in 1951 he died from pneumonia.