Penguin Pool Murder (1932) – 5.5/10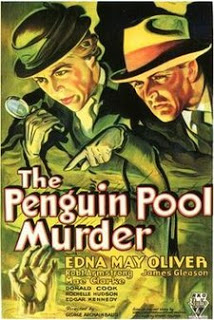 This is the first film in a series of six that were based on the novels of Stuart Palmer in which the spinster amateur detective school teacher Hildegard Withers works alongside Police Inspector Oscar Piper to solve murders. The first Hildegard Withers novel from Palmer was in fact this one written in 1931 and there were to be fourteen in total as well as a number of short stories. Though largely forgotten these days (though some are available on Amazon in Kindle format) they were very popular at the time - as were the films. Palmer was also a film scriptwriter who was behind a few of The Falcon and Bulldog Drummond films. Withers along with the Miss Silver mysteries by Patricia Wentworth and Miss Marple from Agatha Christie was one of the very few female detectives at this time and like the other two is unmarried.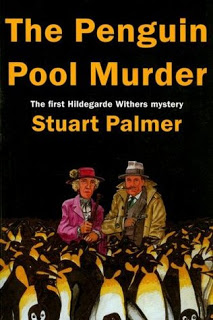 The film only runs a bit over an hour but certainly has a decent pedigree in that it was produced by David Selznick during his stint at RKO and the acting skills of veterans Edna May Oliver, James Gleason, Mae Clark (Frankenstein and Public Enemy) and Robert Armstrong, who was to gain some fame a year later as the showman in King Kong.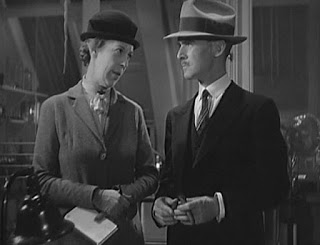 The mystery itself is nothing to write home about as most viewers will see it coming like a giant meteor miles away, but rather the pleasure of these films - especially the first three in which Oliver plays Withers - is the developing friendly/antagonistic relationship and banter between Withers and Inspector Piper (Gleason). Played by these two older actors who had both been on stage before moving into films in the early 1920's, they are a joy to watch. Both moved from the silent era into talkies with no problem. Gleason was to be Piper in all six films but Oliver left for MGM after the first three.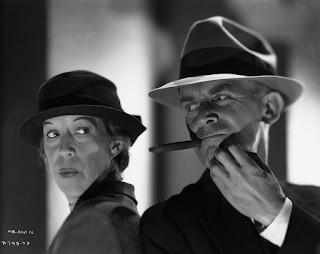 Hildegard Withers is supervising her unruly class at an aquarium where she first trips up a pickpocket with her umbrella and then witnesses a dead body falling into the penguin pool. When Inspector Piper arrives Withers becomes the witness who will not go away. She discovers that she enjoys this detecting thing and between the two of them they arrive at the solution (though as is typical of all these amateur detective films it is the amateur who does most of the brain work). The book and film take place right after the collapse of the stock market in New York City and that plays a part in the film. The formula is basically set in this first film and continues throiugh the series.
---
Murder on the Blackboard (1934) – 6/10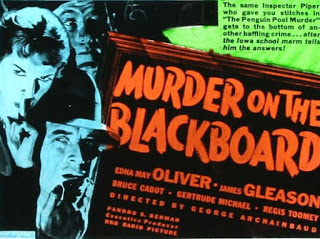 Murder is much closer to home for Hildegard Withers in this second film in the series. At her school she discovers the body of the female music teacher in the cloak room that has disappeared by the time her policeman friend Inspector Oscar Piper arrives. The chemistry between the two of them is snappier in this film and there are some moments of sly sarcastic humor from both that hits home. At the end of the previous film - The Penguin Pool Murder - the two of them were seen rushing out the door to tie the knot at City Hall but it was never consummated apparently as they are once again foils and friends to one another. In the books from Stuart Palmer there is an explanation for this - that on the way to sign their lives over Piper got a police call and had to leave and while gone Withers came to her senses and called it off.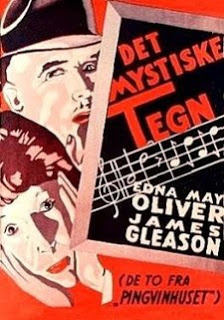 One of the reasons I enjoy these B films is that actors who generally fall into the category of character actors get larger roles and on occasion even get to be the headliners. That is certainly the case here. Both Edna May Oliver as Withers and James Gleason as Piper were often to be found in A films but with smaller roles. Gleason - who fought in the Spanish-American War! - had over 150 acting credits while Oliver had fewer but was a very well known figure appearing in such classics as Little Women, David Copperfield, A Tale of Two Cities, Drums Along the Mohawk and Pride and Prejudice.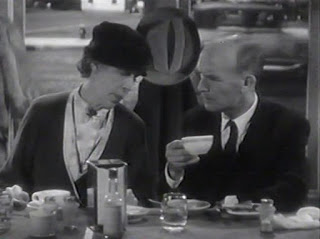 The mystery in this one is better than in the first as I had no idea who the guilty party was going to be and the murder and solution are a little bit more complicated. Part of the solution is based on musical notes written by the victim on the blackboard. The school Hildegard teaches at is a Peyton Place - the old leering principle makes passes at the young women, the janitor is a drunk and blackmailer, one of the male teachers switches romantic interests in mid-stream and Withers makes students write "gossip" 100 times.
Withers dominates this film and even has a hatchet thrown at her. One of the possible suspects is also a teacher at the school - this being a low budget film we only see a few teachers and a handful of students - who is Gertrude Michael who went on to do the Sophie Lang films.
---
Murder on a Honeymoon (1935) – 6.5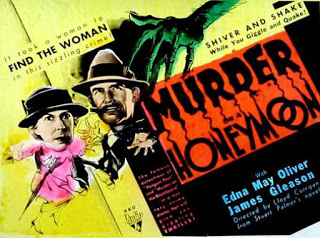 Hildegard Withers (Edna May Oliver) leaves the environs of New York City for a holiday in Catalina but murder follows her like an obsessed stalker. On the plane a passenger dies of a seeming heart attack and she immediately suspects that he died of foul play. Why? No reason. She just likes sticking her nose into murder. What's a vacation without indulging in your favorite hobby.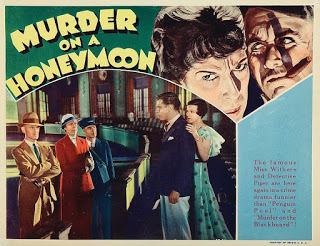 This is the third in the 6-film series and the best so far with snappy dialogue and a few bodies dropping dead from lead poisoning. Turns out that the man on the plane was a witness against a mobster and a contract may be out on him. Of course, she is joined by Inspector Piper (James Gleason) who pretty much arrests everyone at one time or another before Hildegard sets him on the right path.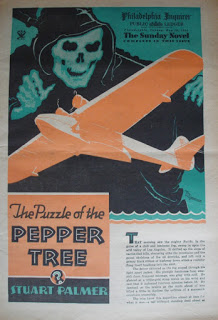 Included in the cast is Lola Lane (the inspiration for Lois Lane's name) as a wannabee actress and Leo G Carroll (The Man from U.N.C.L.E.) as a director. Also on hand unfortunately is Willie Best doing his "Yes suuuh" degrading dimwitted black routine that he always gets stuck doing. Hard to imagine people found this amusing once but then we have a woman running for Senator in Mississippi who would like to attend a lynching.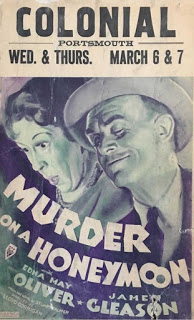 After this film Oliver signed a contract with MGM where she spent the remainder of her career - she died in 1942 at the age of 59 from an intestinal problem. After Oliver left, the role of Hildegard passed on to Helen Broderick for one films and Zasu Pitts for two before the series ended. Once Oliver left the films were never as popular. This film is based on Palmer's The Puzzle of the Pepper Tree and had the script pumped up a bit by humorist Robert Benchley.
---
Murder on a Bridle Path (1936) - 5.5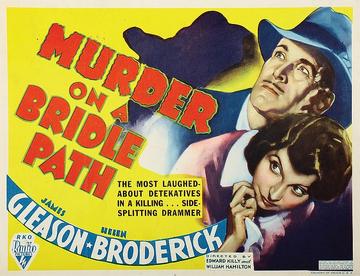 This is the fourth film in the Hildegard Withers murder mysteries and it is not bad at all. Not great either. Replacing Edna May Oliver, who had taken on the role of Hildegard for the first three films before moving over from RKO to MGM, is Helen Broderick. Just for this one film as Zazu Pitts takes over for the final two films. Broderick gives Hildegard a very different slant than did Oliver - more energetic and even more sharp tongued but I admit to missing Oliver whose arched expressions of dismay at the police stupidity always cracked me up. But Broderick was a very accomplished actress primarily known for her comedic acerbic performances as a character actor. She was also the mother to Broderick Crawford!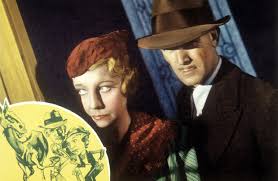 James Gleason though returns again as Inspector Piper and he and Hildegard work together to solve another murder. It takes place in Central Park where a not very liked woman is thrown from her horse and then killed. Murderer unknown. Hildegarde just happens to be walking her dog nearby. The plot moves along quickly from suspect to suspect and is over in about 24 hours - or 66 minutes if you prefer. The solution is a bit of a cheat as I was as clueless as Inspector Piper as to the killer and it sort of comes at you from left field. Not really fair if you are trying to figure it out. Based on the books of Stuart Palmer.
---
The Plot Thickens (1936) - 6.0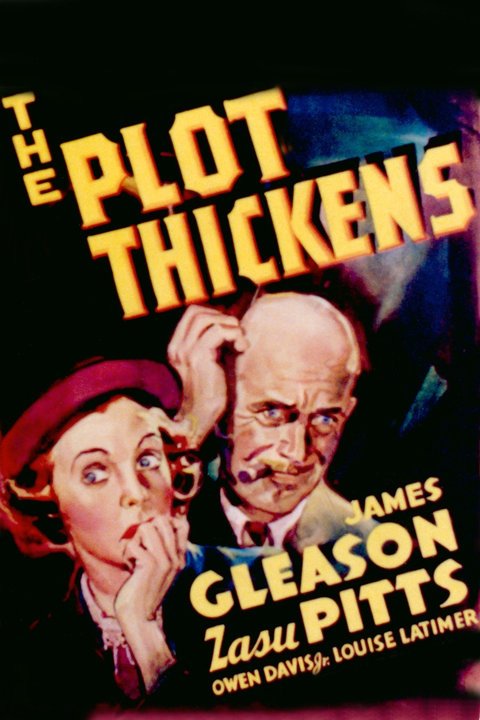 Hildegarde Withers is back for the fifth film in this mystery series based on the books of Stuart Palmer, but for the third time they switch Hildegarde on us by replacing Helen Broderick who had replaced Edna May Oliver with Zasu (pronounced Say Zoo) Pitts. Pitts was a well-known character actress at the time with her mournful face, fractured speech, addled expressions and peculiar high pitched voice. She was primarily cast in comedies such as Ruggles of Red Gap along with many comic shorts but back in the silent days she had starred in Von Stroheim's epic 9 hour film Greed - that was of course edited down to two and half hours by MGM and the unused reels have been lost.
Her Hildegarde is quite different from Oliver's better known portrayal of the character - making Hildegarde seem less haughty and not quite as sharp. In fact, Hildegarde's foil in all the films in the series Inspector Piper (James Gleason in all six films) at times seems ahead of her in solving the crime. It is a decent enough 65 minute B film that throws a lot of suspects at the viewer, false leads, the old rubber face gimmick, femme fatales and a twist or two or three. And some amusing comedy as well - sort of a perfect B film filler in those days.
---
Forty Naughty Girls (1937) - 5.0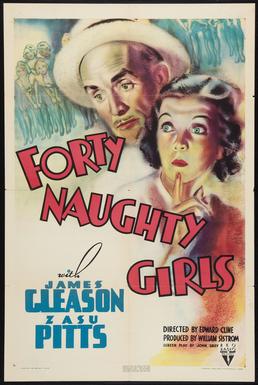 This is the final film in the RKO Hildegarde Withers series of six films. Don't get your hopes up regarding the forty naughty girls. I doubt that there were forty of them and they were nothing close to naughty. It is the name of a Broadway show where our two heroes Inspector Piper (James Gleason) and Hildegarde Withers (Zasu Pitts) decide to attend. For the encore there are of course a couple of murders. Perhaps tailoring this one to Zasu Pitts the film is more screwball comedy than mystery - some of it works, some of it doesn't. There is an entire segment of about 10 minutes in which Zasu, Gleason with the added element of Tom Kennedy wander around a dark basement mistaking each other for the killer. Clearly filler to get up to the 60 minute mark but kind of funny when Hildegarde is accidentally lifted up to the stage to join in a dance.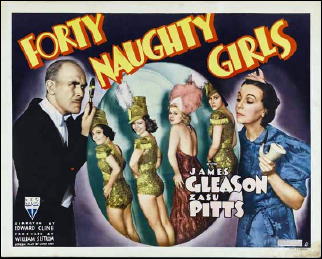 For me Kennedy is always a welcome addition to these low budget B films. Here he plays essentially the same character as he did in nine Torchy Blane films beginning the same year as this one - as a big dimwitted good hearted cop. Kennedy made a career - over 300 appearances - basically doing the same schtick and it always cracks me up. These specialized character actors that populated films from the 1920's through the 1940's are a thing of the past. The end of the studio system and B films put an end to them for the most part and there are just not enough films being made today for character actors to make a living any longer - and I don't think today's audiences would take to it. Like all those vaudeville acts on Ed Sullivan, they just disappeared. In many of the old B films, they were the best thing in it.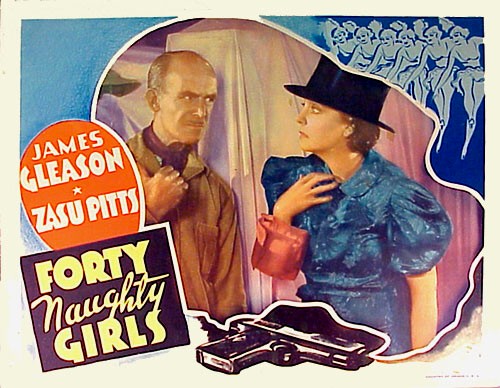 It takes about five minutes to figure out who is going to be the victim in this one - everyone in the play has a reason to kill him and someone does. They pull Piper out of the audience to investigate and Hildegarde soon follows as she tends to do when she smells murder in the air. The entire investigation from beginning to end takes place right along with the play still going on - even when another character is killed on stage. Which is a bit weird but creates some chaotic comedy as every time the Inspector tries to question someone, they have to rush back on stage. Not a great ending to the series and perhaps the reason for it - I like Zasu but she doesn't really make a great Hildegarde as she kind of bumbles along - Edna May Oliver created a distinct character in the first three films that is hard to deviate from.