The Michael Shayne Film Series
---
Michael Shayne: Private Detective (1940) – 7.0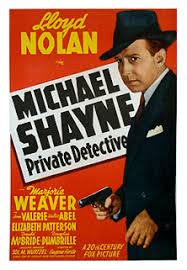 By the time this film was made Brett Halliday (aka Davis Dresser) had only written two Michael Shayne detective novels - this one is based on his second, The Private Practice of Michael Shayne, published in 1940. Halliday was to go on to write 50 Shayne novels altogether, the last in 1958, but other authors using Halliday's name were to write a number of more Shayne novels into the 1970's. So if you read one, start with books pre-1958. I have read a couple - one after 1958 and the very first one from 1939 - and the earlier one is much better. Back in the late 1930's hard-boiled detectives were still something of an anomaly in the world of crime novels. Of course, Hammett had been around for a over a decade and Chandler had written a number of short stories in the 30's but his first novel The Big Sleep was also published in 1939. Hard-boiled was still the stuff of pulp magazines like Black Mask and not really respectable enough for much of America. That was soon to change of course as a plethora of hard-boiled novels came out in the 1940s along with films like The Maltese Falcon.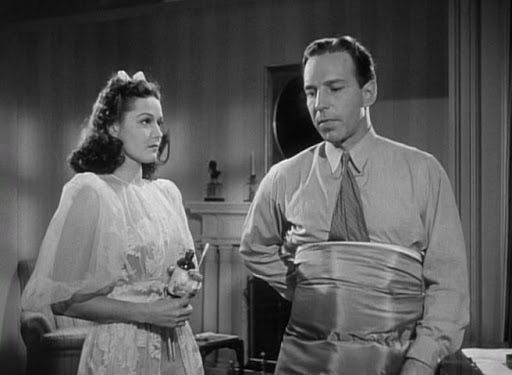 Halliday nee Davis Dresser had been a roustabout for much of his life. He dropped out of school at 14 and joined the army, went AWOL, they found him and realized he was only 16 and let him go. He went back to finish high school and then wandered the country job to job. He began writing short stories without a lot of success. His idea for Shayne came from meeting a detective while drinking in a bar in Mexico and getting into a fight and this tall red-haired men sitting quietly in the corner came to his help. A few years later on he ran into him again in a bar, sat with him, found out what he did and then saw him arrest two men. His Shayne is a large redhead working out of Miami (a little unusual for the time as well since most of these novels seem to take place in California or New York). He is tough, wise-cracking and takes no guff from the cops or anyone. He will go to the mat for his client and use any means at his hand - often not on the up and up. In this film we meet Phyllis Brighton who was to become his wife in the books but not in the films where she is forgotten after the first film. In fact, the films - seven of them from 20th Century Fox who were trying to replace Mr. Moto as Japanese had lost their currency - came out so fast that they had to base them on other sources after this one.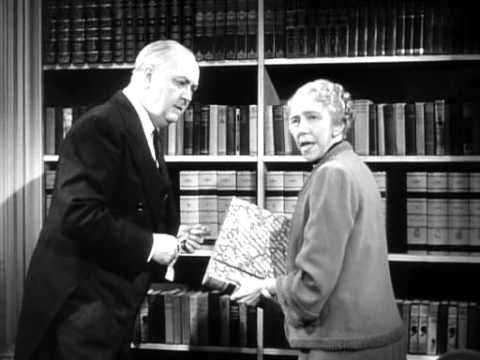 Lloyd Nolan who play Shayne in all seven of the Fox films is terrific in this first one. Not a redhead or very big but he cracks a few jaws here with authenticity and the wise-cracks spill out like a broken faucet. He is also charming, raffish and pugnacious. Fox had only intended to make this one film but it went over like cocktails before dinner and they ordered up more. I don't know if the others stand up to this one, but for a low budget B film this is really good. It is complicated enough, the dialogue is first class and fast and Nolan and the others make for a fine cast. Very entertaining and if this was a bigger budgeted film I would have rated it higher. It is always difficult to rate films like this that don't have great ambitions - should I apply the same standards I would to a top grade A studio film or rate it within the B genre it falls? Here that is the difference between a 7 and a 9.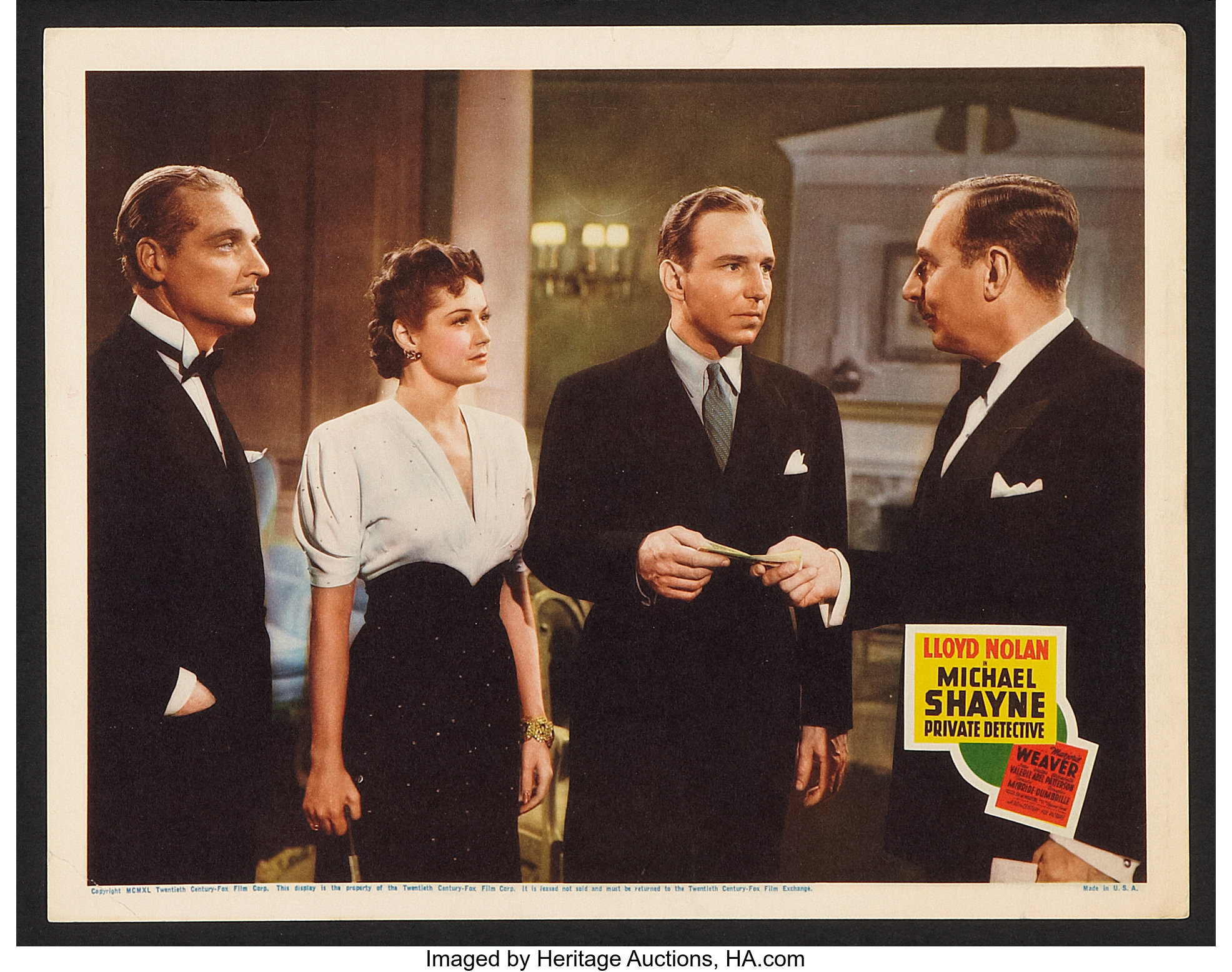 The debt collectors are taking away Shayne's furniture when the film starts so he is happy to take on a case from a wealthy friend - keep his daughter out of trouble while he is away on a trip. The daughter is well of age - Phyllis (Marjorie Weaver) - and has taken to hanging out with the wrong sort - gamblers in particular. Shayne tries his best but she has the habit of sneaking out and heading for the nearest casino. When her escort is later murdered the cops (slow burn Donald MacBride) think they can pin it on Shayne. He has other ideas. He has the help of Phyllis's elderly aunt (Elizabeth Patterson) who nearly steals the film away from Shayne. An old biddie who figures she can solve the case because she has done so on every Ellery Queen book she has read. Also on hand is Walter Abel and Douglass Dumbrille. Looking through Patterson's filmography, it seems like she played a lot of aunts! The go to actress for an old aunt but she is so much fun here that I want to keep an eye out for her. A solid mix of crime and comedy. Shayne's meet cute with Phyllis here is a lot different than the book where she comes into his office and tells him she is afraid she is going to kill her mother because of an Electra complex. Perfect wife material I guess.




Sleepers West (1941) – 6.0








"My name is"
Shayne "Carl Izzard"
"How did you know that?"
Shayne "I don't know. You just look like a Carl Izzard"

Michael Shayne is back in the follow-up to Michael Shayne, Private Detective" and is again played by Lloyd Nolan. Nolan had a great career though likely forgotten by most today. It spanned fifty years and over 150 credits. His last film was in Hannah and Her Sisters in the same year he died, 1985. He had everyman looks - nothing really sticks out - a slightly bullet head with a wide grin - but his patter was always smooth no matter the role he played - hero or villain. Good dialogue was his super weapon. In the 1930's and 40's he was the leading man in loads of B films that you have likely never heard of but he is always good in them (a lot of them up on Youtube). Later on he moved into being a character actor and on TV. He is one of my favorites from that period. These Shayne films are perfect for his quick sharp staccato delivery and wry sense of humor.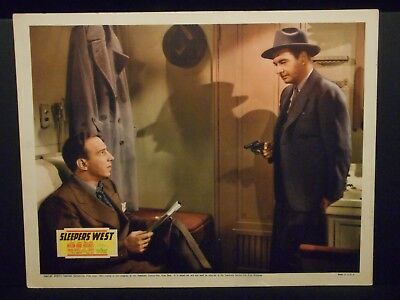 Most of this film takes place on train going from Denver to San Francisco. His job is to take a witness (Mary Beth Hughes) to trial to exonerate a man accused of murder and pin the rap on the son of a politician. In the train station, Shayne runs into an old flame (Lynn Bari) who he ditched at the alter a few years before (hey, what happened to Phyllis from the previous film - easy come, easy go). She is going to SF as well to cover the trial for a newspaper and her fiancé (Donald Douglas) is along for the trip. So is a man (Louis Jean Heydt) running away from his life and wife and finally of course someone is on the train to stop the witness from testifying. Isn't that always the case. Take a plane. By the end of the trip everyone knows everyone more than they should. Solid film, quick moving but it has no payoff - it just kind of slides home.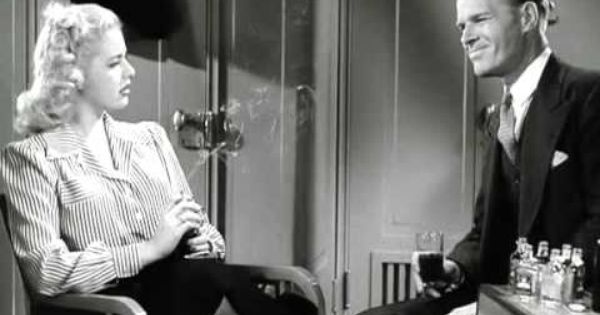 Every time I come across Mary Beth Hughes I always wonder why she didn't become a bigger star. A Marilyn Monroe type way before Monroe - curvy, blonde, pouty and wrapped in sex appeal like they were running out of it. She appears in two more films in the series but as a different character in each. And as a bonus for me is the comic relief that comes in the forms of the black porters - in particular Ben Carter and Mantan Moreland. The two of them worked together in vaudeville. And let's not forget Ed Brophy as the not very bright train dick (his specialty. Not being bright I mean) and Don Costello as the before mentioned Izzard. Plus just throw in a few other side characters like the train engineers and it makes for a solid ensemble piece to some degree. Good cast, fun film, a couple good laughs but it needed more punch.




Dressed to Kill (1941) – 6.0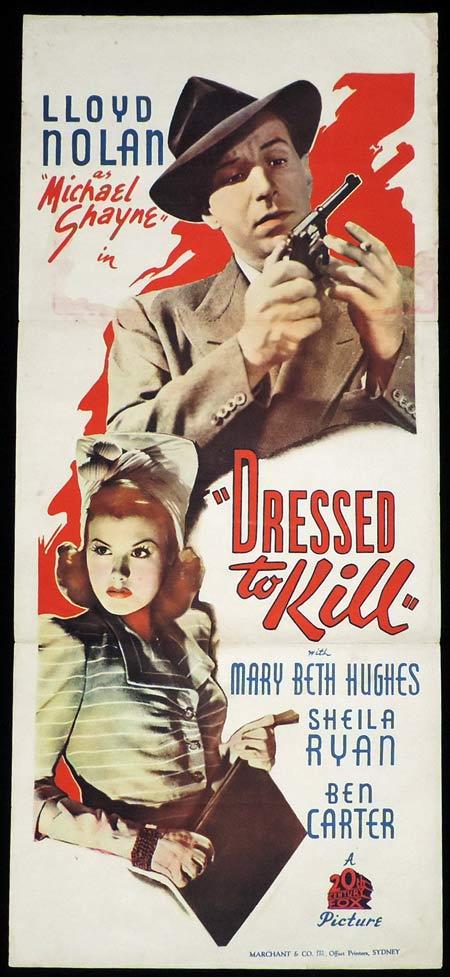 I am glad to see that 20th Century Fox took my advice regarding Mary Beth Hughes who was quite the dish in the previous Michael Shayne film. They bring her back in this one as the lead female character but oddly not the same one. Here she is a show girl engaged to Shayne and it is their wedding day. You can guess how that is going to go in the third film in the series. 1941 good times. Shayne buys a nice suit for $20 leaving $2 as the deposit - the tailor tells him to stay safe because it is so difficult reclaiming suits from the morgue. He also tells Shayne that he is Dressed to Kill - which is where the title comes from. It is a good investment because Shayne stays in that suit for the entire film as the plot rips through murders, twists and turns like a 100 yard dash.




This was directed by Eugene Forde who also did a good job on the previous two, He was part of Fox's B film unit for fifteen years and knocked off a lot of films - a bunch in the Charlie Chan series - though after his gig at Fox ended in 1947 he retired for the most part. He knows how to keep these B films on their feet and on budget. He also has a knack for keeping the dialogue snappy and rat-a-tat-tat. He brings back the team of Ben Carter and Mantan Moreland as some comedy (that is likely to offend some today) in the midst of murder. Not train porters this time but cleaners in the theater where Mary Beth Hughes is working. I am not sure if this is a promotion or not. I was reading an article on Myrna Loy the other day who went to the studio executives and complained about the limited roles that blacks got - "can't we at least have a black with a briefcase walking to work?". Not in 1940. Loy also told the HUAC committee to subpoena her if they dared. They didn't but that is another story.




Shayne (Lloyd Nolan) and his girl on are their way to get married, but you know that isn't going to happen. On the way down the stairs Shayne hears a scream and goes to investigate. He finds two dead people sitting at a formal dinner table set for four - the woman with a hole in her forehead and the man with a huge fake dog's head covering his face. Shayne sees dollar bills waiting to be picked and gets some from the newspaper ($100) and then from one of the many suspects. He needs it for the honeymoon. The hotel manager is shocked. "It looks like I may need to upholster that chair now". Shayne agrees and helps himself to the dead man's cigars. Good ones he tells someone later. I didn't buy them.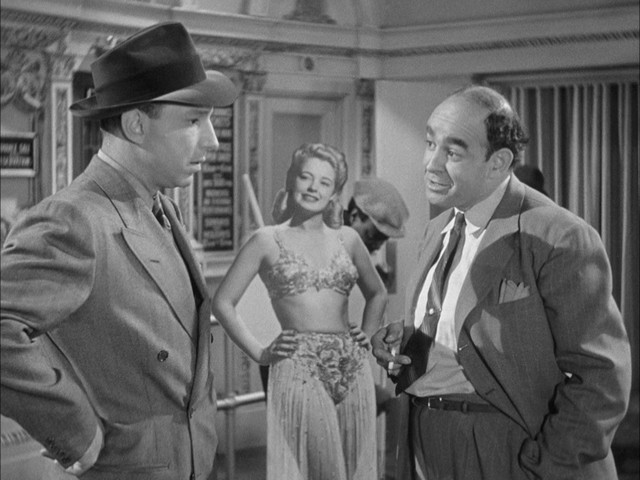 This time the cop is played by William Demarest which means comedy ahead. That might be the one criticism of the film - Demarest, Demarest's nitwit assistant ("Hey look at this. His bed was never slept in" "Yes funny that he didn't get up from the table after being killed and go to sleep"), Carter and Mantan plus Shayne's quips adds up to perhaps too much comedy in a murder mystery. But I enjoyed it.




Blue, White and Perfect (1942) – 6.5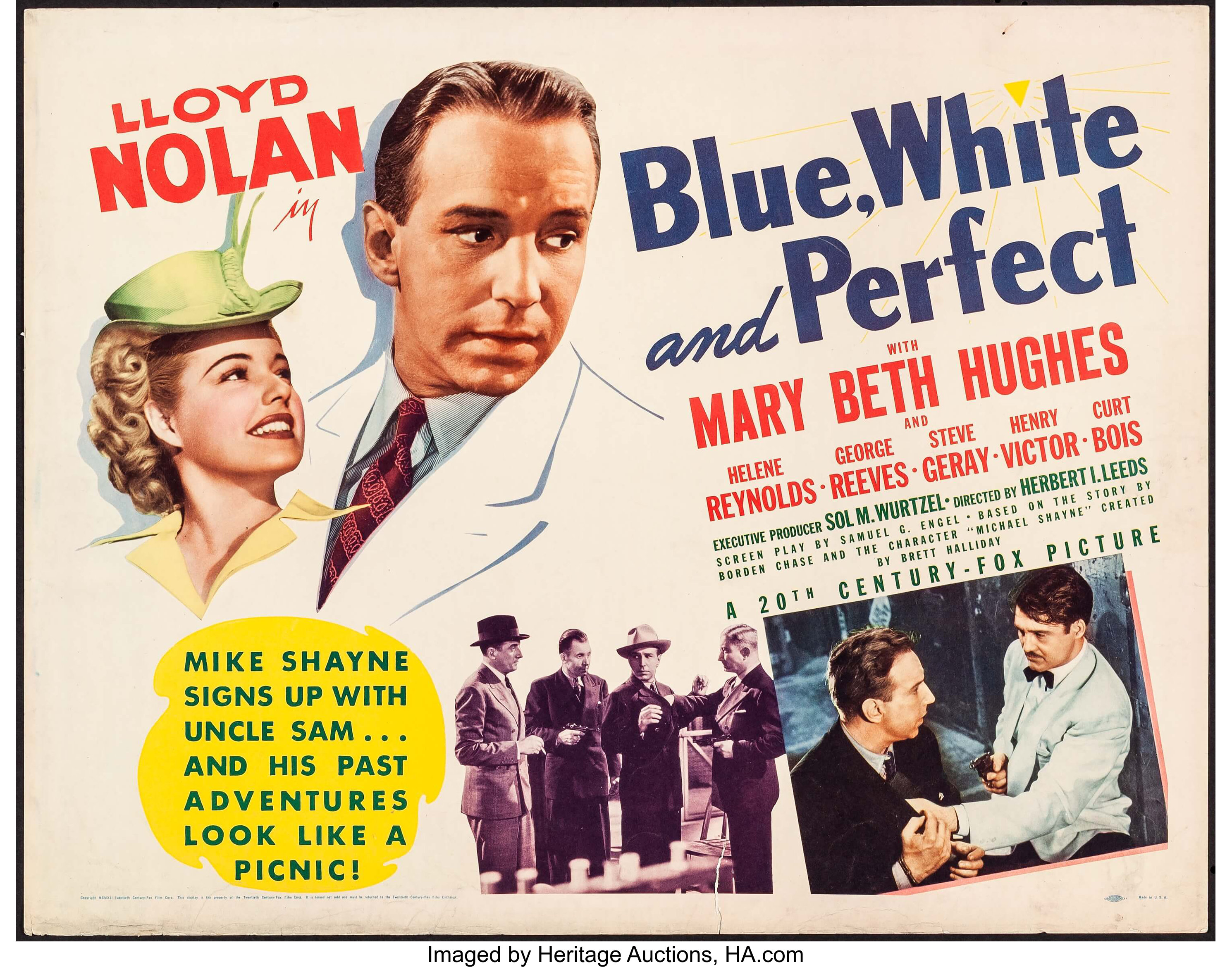 It is 1942 and war is on its way to Michael Shayne as he finds himself involved in a nest of Nazi vipers with names like Vanderhoefen and Hagerman in the fourth film in the series. There is a new director as well as Herbert Leeds takes over the reins for the final four films. He is another 20th Century Fox stalwart of the B film unit with a Charlie Chan and a Mr. Moto to his credit. He drops much of the humor of the first three films - no Mantan Moreland or Ben Carter in this one and not even the usual dumb for laughs cop. I missed the humor. It felt a bit too standard without it. Still it is solid enough bolstered by some star power - Lloyd Nolan and a star of the future - George Reeves being totally charming and dapper. Also along for the trip is once again Mary Beth Hughes and again as a totally different character but she looks great in all of them.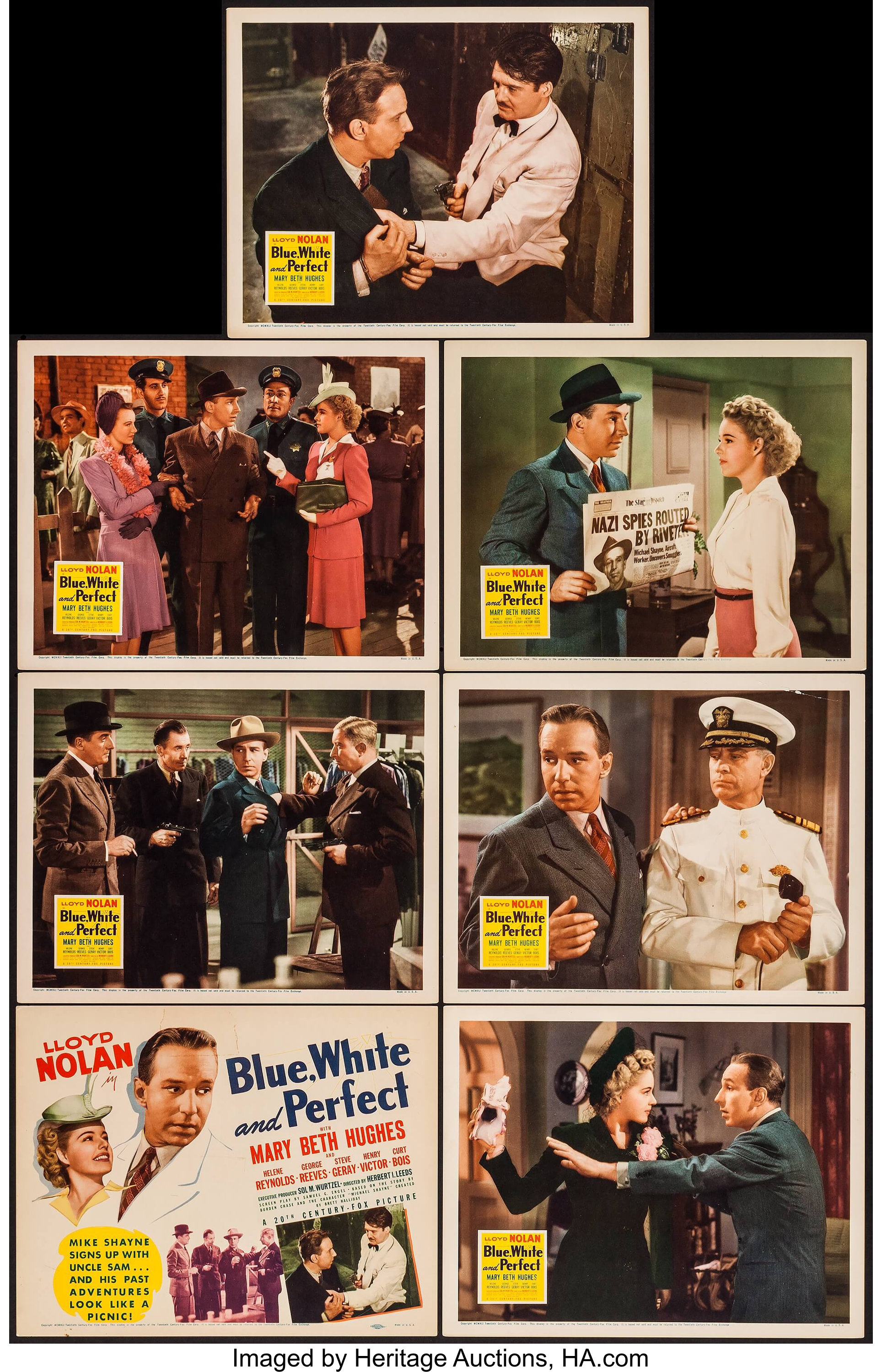 And this character is again engaged to Shayne - kind of a running joke - Bulldog Drummond had the same one - but something always intervenes. She gives Shayne a choice of her and raising rabbits or being a detective. So he joins a factory involved in the war effort and on day one comes across a theft of industrial diamonds and is on the case and on the chase as the thieves board a liner for Honolulu. He cons his girl out of a $1,000 and is on his way - unfortunately for me leaving her behind and out of most of the film. Lots of intrigue - the suave Reeves comes on the scene - a good guy or a bad guy is hard to tell - but someone keeps taking shots at Shayne with a silencer. When they got to Hawaii I was a little disappointed that Charlie Chan, a Fox character, didn't show up to help. Wise man knows when to stay out of the way of Lloyd Nolan. And Mr. Moto was on the other side. In fact, when the film was made - released in January 1942 - Mr. Moto may have been planning Pearl Harbor!




The Man Who Wouldn't Die (1942) – 6.0








This is a pretty good Michael Shayne film - the fifth in the series - even though it feels apparent that the filmmakers are squeezing Shayne into a character as best they can. The film is based on a novel called No Coffin for the Corpse - great title - by Clayton Rawson. It was part of a series of mysteries in which a magician The Great Merlini solved the crimes. The Great Merlini actually shows up in the film - for about a minute. But they take the basic premise of the film and then change nearly everything to make it a Michael Shayne movie. All the films after the first one were not based on Brett Halliday books - they just borrowed the character. It works though as Shayne is at his snappiest with quips, it is a good mystery that had me flummoxed and like all these Shayne films never stops for a nap. Herbert Leeds is directing again and brings back the comic element to some degree.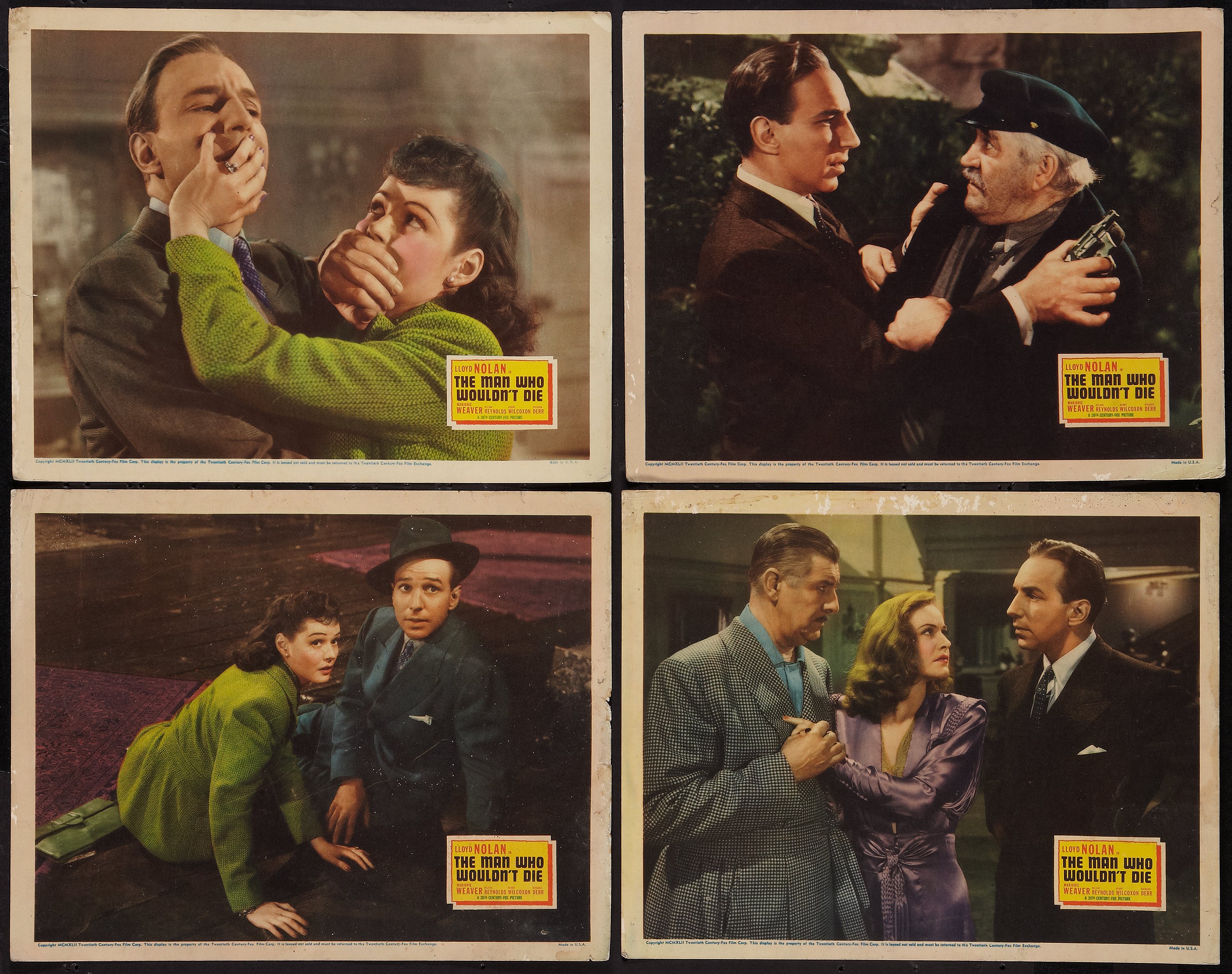 He also brings back two actresses from previous Shayne films - all part of the Fox B unit I guess. Not Mary Beth Hughes again sadly as I was getting quite infatuated with her face - but Helene Reynolds who was a devious but attractive woman in the previous film, Blue, White and Perfect, and Marjorie Weaver who was Phyllis (the girl Shayne marries in the books) in the first film, Michael Shayne, Private Detective. I wonder if audiences got confused back then with all these actors showing up in different parts. Wasn't she his fiancé in that last film? I thought she left him. I guess not.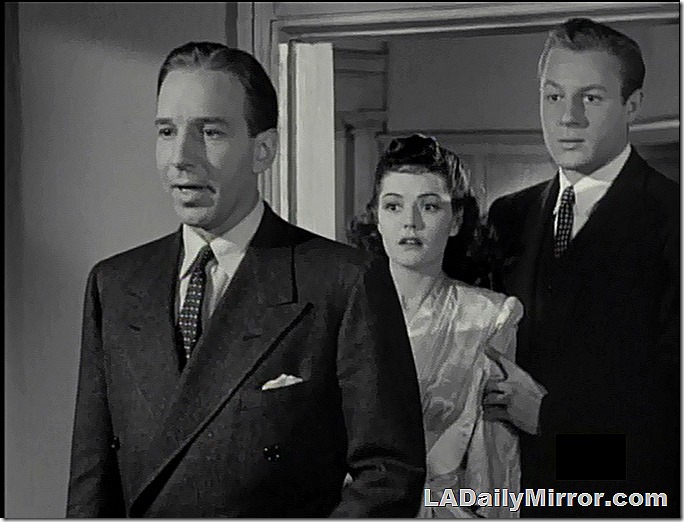 In this one Weaver is Catherine Wolff the spoiled daughter of a wealthy Washington DC bigwig and after someone takes a shot at her in bed she calls in her friend Shayne to investigate. But impersonating the man she just married who the family hasn't seen. In the first scene we see this family and friends (minus Catherine) burying a man in the middle of the night. All is clearly not right in the Wolff Family Mansion but the film keeps the mum on what is going on. Living in the house is Reynolds married to the wealthy man, Henry Wilcoxon as an associate who has a lab right out of Metropolis and a few others including servants of course. I always feel bad when I see Wilcoxon in a film like this - barely a secondary character - a mere seven years previously he had been King Richard in The Crusades and Marc Antony in Cleopatra for Cecil B. Demille. Well shot with good atmosphere, lots of thunder and lightning, a dead man who won't die and two pretty dames.




Just Off a Broadway (1942) – 5.0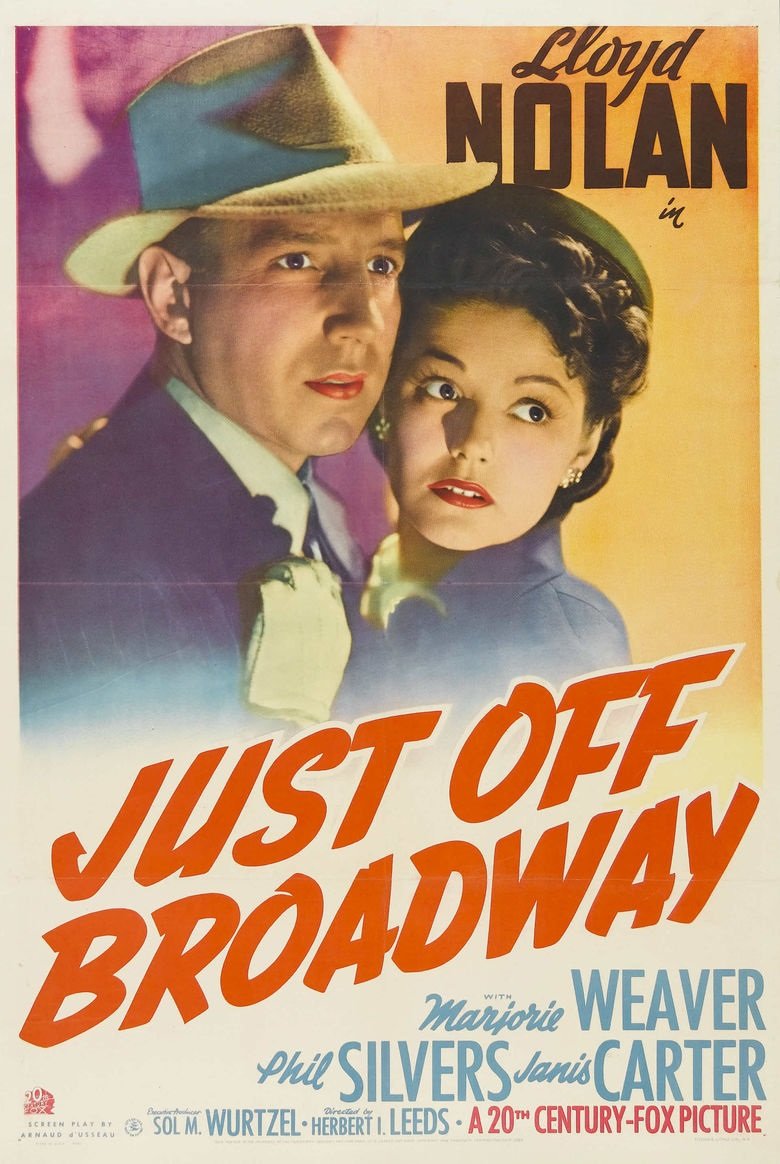 This is the sixth in the Michael Shayne series so far and the weakest - but still watchable enough (even on my phone). It is very silly on a few counts but keeps moving like a man late for dinner. Only one more after this. In this one a woman is accused of killing her lover and Michael Shayne is on the jury and sequestered. Now I recall one of the Miss Marple/Margaret Rutherford films where she was as well and was the lone dissent. And then went on to solve the case after the jury was released. Shayne goes her better. He solves the case while still on the jury. And tries it.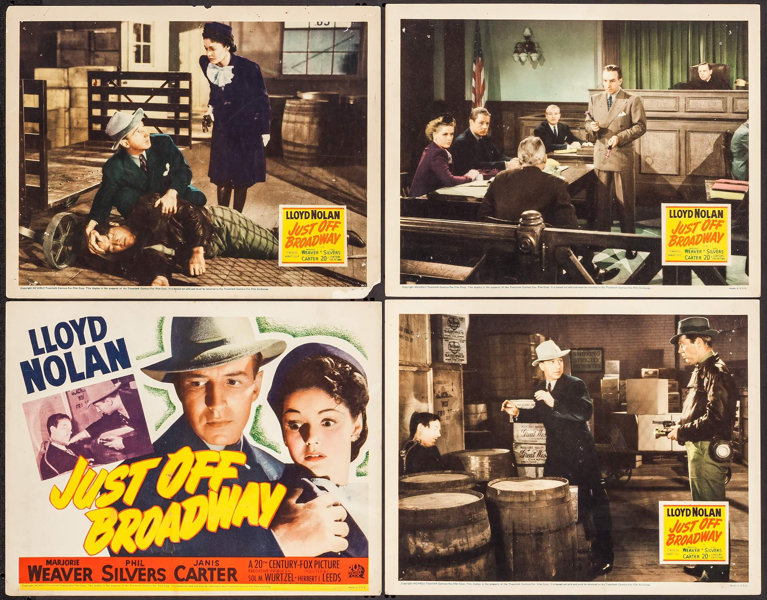 It all happens in one day. He sneaks out of his locked hotel room where the jury is being held and in one night - along with a reporter (Marjorie Reynolds in her third appearance in the series as a different character) - he finds a dead body, is chased by the cops, is chased by a photographer (Phil Silvers being his usual annoying but amusing character) who wants to prove that Shayne is breaking the law by skipping out of his room and solves the case. And then the next day in the courtroom he gets out of the jury box and leads the questioning of the witnesses. And nobody objects. I could be wrong but I don't think a jury member was allowed to do that in 1942. So not up to par of the other films in the series. This one is from an original script by Arnaud d'Usseau, who was a fairly successful playwright - also wrote the script for Horror Express - but may be best remembered as having to appear before Senator McCarthy and telling him that if the Senator wanted to discuss Communism he would be glad to in an open forum, but otherwise refused to answer any questions. And then left for England!



Time to Kill (1942) – 7.0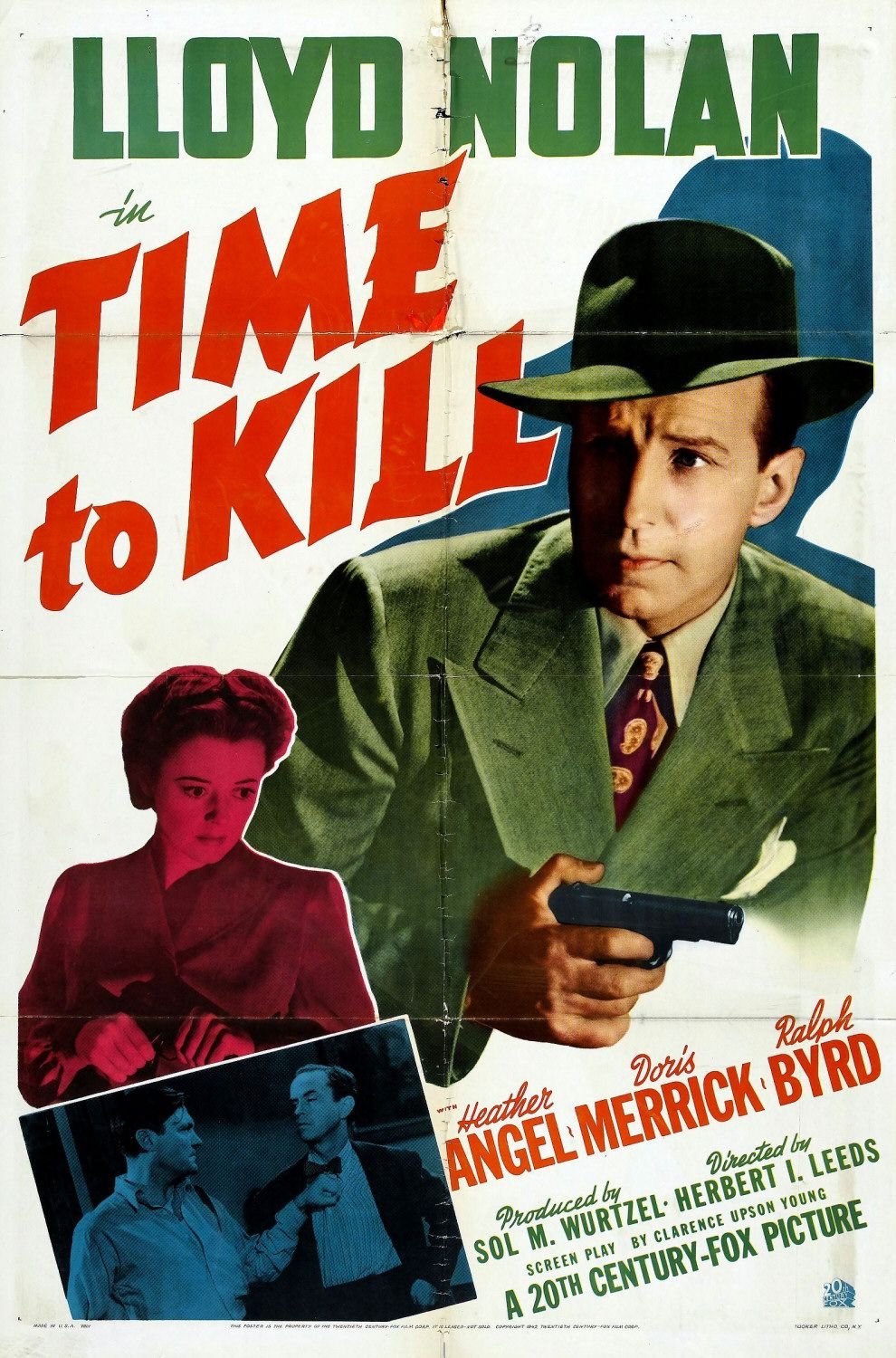 This is the seventh and final film in the Lloyd Nolan/ Michael Shayne series. Considering that the character of Michael Shane was in a lengthy series of detective books by Brett Halliday beginning in 1939, it seems odd that the film is based not on one of his books but on the High Window by Raymond Chandler for his detective Philip Marlowe. For a 60-minute B film it is pretty good - a bit of tough grit and wisecracks to go along with a bunch of dead bodies. It is certainly much better than The Brasher Doubloon in 1946 starring George Montgomery that is based on the same source. It is actually amazing how much of the book they were able to cram into the film.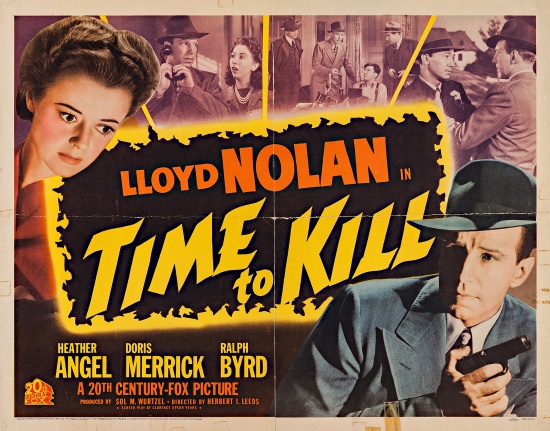 All in all, these films are of high quality for a B film series. Usually they start off strong and then the budgets get reduced and the quality suffers. But I attribute the quality of this series to having only two directors and Lloyd Nolan who is always fine. Another Michael Shayne series began a few years later at a different film company (PRC) starring Hugh Beaumont of Leave it to Beaver fame and I have not been able to find any of those but PRC is a low budget outfit. There was also a TV series of the character that was on in 1960 and ran for 32 episodes and starred Richard Denning in the role. Some of those are up on Youtube.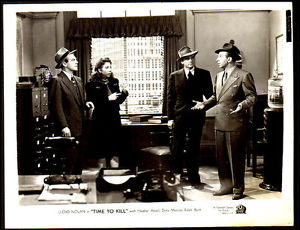 As in most of these films, there is a solid cast - I once again run into Richard Lane, a character actor who I have seen a lot of lately - in the Boston Blackie films and in Brother Orchid - funny how that happens. And as the dame in the film Heather Angel is a doll - I don't recall her looking that good in all those B film Bulldog Drummond movies. It is a classic book that is a great read but for some reason both film versions that Hollywood made are of the B variety.

---